Discover how you can help your child learn at home with this fun, simple game ideas from our new book 100 Fun and Easy Learning Games for Kids. Using everyday items from around your home you'd be surprised how easy it is to help your child learn to read and count with purposeful activities created just for them to explore and play.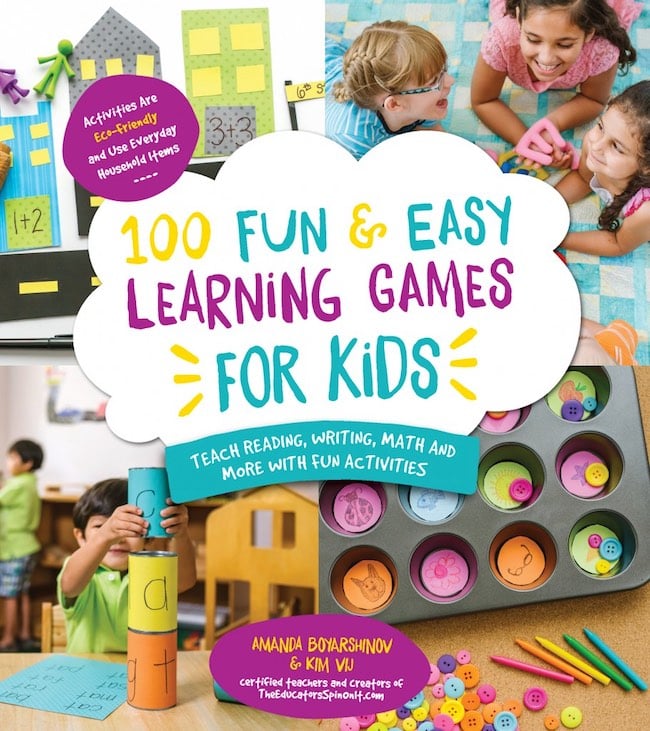 (As an Amazon Associate I earn from qualifying purchases.)
100 Fun and Easy Learning Games for Kids: Teach Reading, Writing, Math and More With Fun Kid Activities is here!
Our educational book for parents and teachers of children ages 3-7 is published by Page Street Publishing, distributed by MacMillan and we cannot wait to share it with YOU!
It's here! We are SO VERY EXCITED it's here!
We are over the moon excited to bring to you our debut educational book, 100 Fun and Easy Learning Games for Kids by Amanda Boyarshinov and Kim Vij (That's us!)
And it's now available to BUY ONLINE or available at major book stores!!!
You are not going to believe how easy it is to support your child as they learn to read, write, add and explore the world!!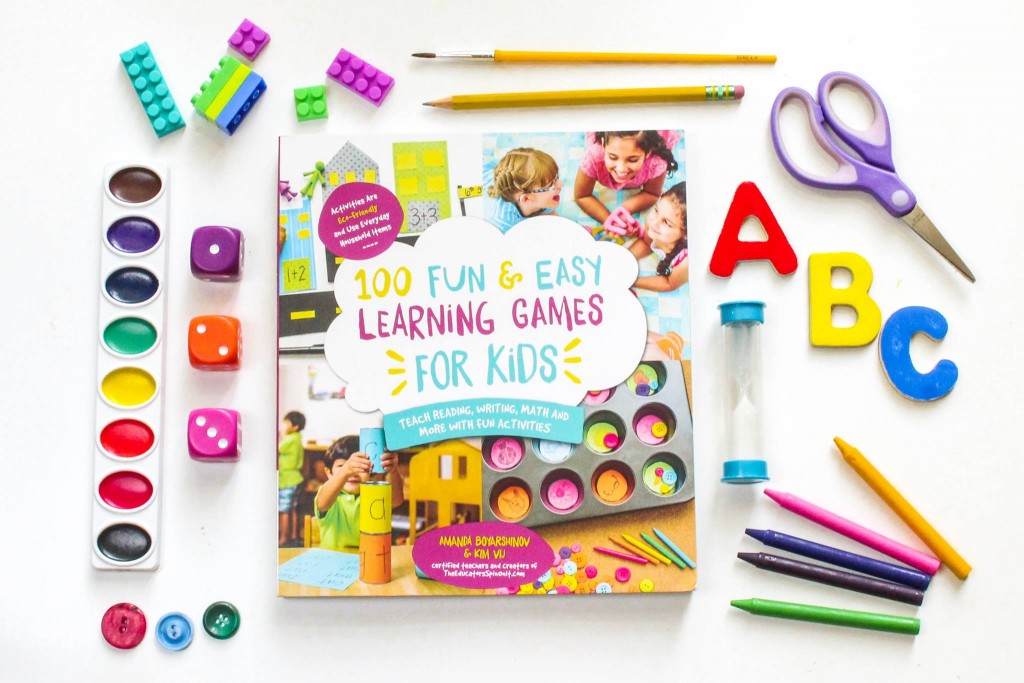 What's 100 Fun and Easy Learning Games for Kids About?
This book is packed with easy-to-make activities to make fundamental skills of reading, writing, math, science, music, art, and social studies fun. It is 208 pages packed with 100 learning games AND each game has 3 alternate game ideas. That means, there is really a total of 400 learning games for your kids to make and play!
You'll find a little bit of everything- quiet and calm learning games, outdoor activities, math games to work on in small groups, and adventure games that get you running and giggling. Whether you are looking for a simple 15 minute learning game to reinforce academics after school or an hour hands-on learning activity to do with your child, this book is for you.
Each educational activity uses materials found in most households and craft closets.
Inside, you will learn how to make simple learning games for children ages 3-7. Our activities are simple and easy to make. We want to help YOU make meaningful moments with your children.
This book is great for:
• teachers
• parents
• grandparents
• babysitters
• daycare providers
• nannies
• and other care-givers of young children ages 3-7.
Tell Us More about 100 Fun and Easy Learning Games for Kids!
This book has 100+ Learning Games with Step by Step Instructions on How to Make and Play
When writing this book, we wanted to make sure that parents and teachers could pick up this book, flip to any page, and make the game easily. We're busy parents too. We wanted to make activities that didn't require any expensive equipment. Most directions have less than 4 steps and the materials are items most of us have stored in our art supplies or kitchens.
Learning Games for Active Kids
As former teachers and parents to 3 kids, we know that children need to move! We have provided games for children to get their whole bodies engaged. Perfect for the kinesthetic learners! There are games for kids to jump, run and squirt! Great for getting the wiggles out AND learning.
Academic Areas Covered
You'll find a little bit of everything we believe is important to early childhood education – reading, writing, math, science, and social studies. It is not a curriculum, rather an enrichment to your child's current learning environment.
Whether you're are a parent looking for new ways to bring more learning into your after school fun or a teacher looking for classroom ideas, this book is for you.
How can I make learning fun?
What can I do with my kid after school?
Is there a way to make spelling words less of a chore?
I want to teach my child how to read. Where do I start?
Do you have activity ideas to get kids excited about math?
How can I help my child remember sight words?
What can I do to help my child be a better writer?
This book has learning games to answer all of these questions and more!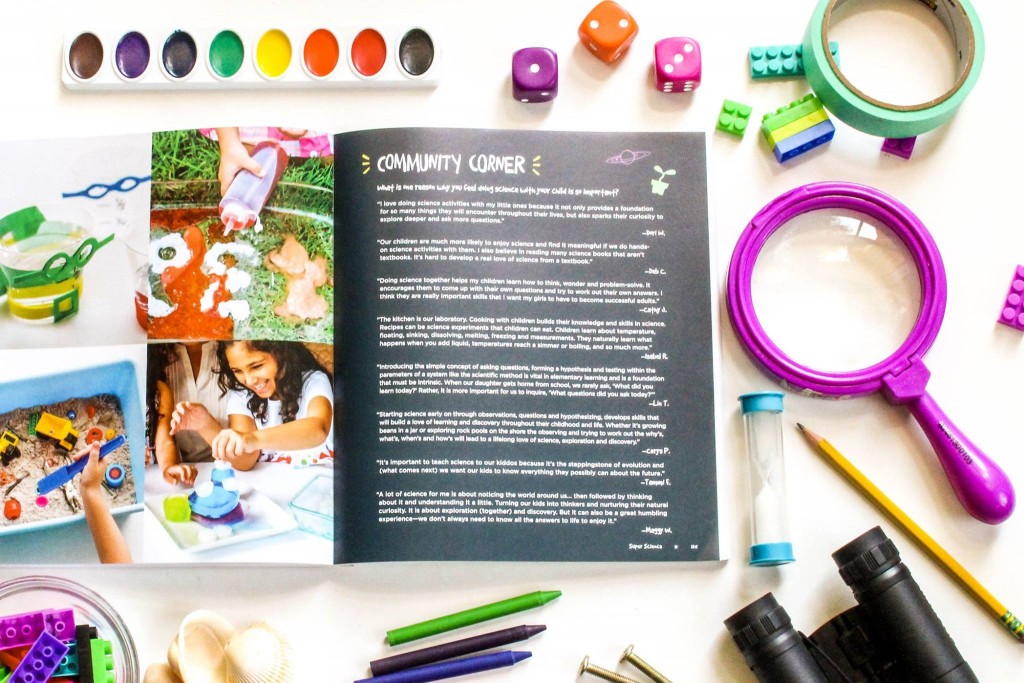 Why OWN 100 Fun & Easy Learning Games for Kids?
We appreciate your support immensely!
The Educators' Spin On It blog first started because we were hosting educational play-dates for our children. We believe academic learning can and should be fun.
Our friends kept asking for us to share more and we found we LOVED sharing ideas. We have shared activities for babies, toddlers, preschoolers, and grade school children in person and on the blog. With many thanks to you, our blog has grown with over 1.5 million community members and we continue to be asked for new ways to make learning fun and exciting.
We wanted to make our ideas available to YOU at any time of the day. 100 Fun and Easy Learning Games for Kids is something we are very proud of and hope it makes it into your bookshelves. (Can't you see yourself sipping on coffee in the morning flipping though pages to pick an activity to do after breakfast?)
Buy a copy for you and maybe one for your friend or favorite teacher too. I know I love getting new books to inspire me to learn and connect with my kids.
How to BUY!
Click on any of the links below to purchase online: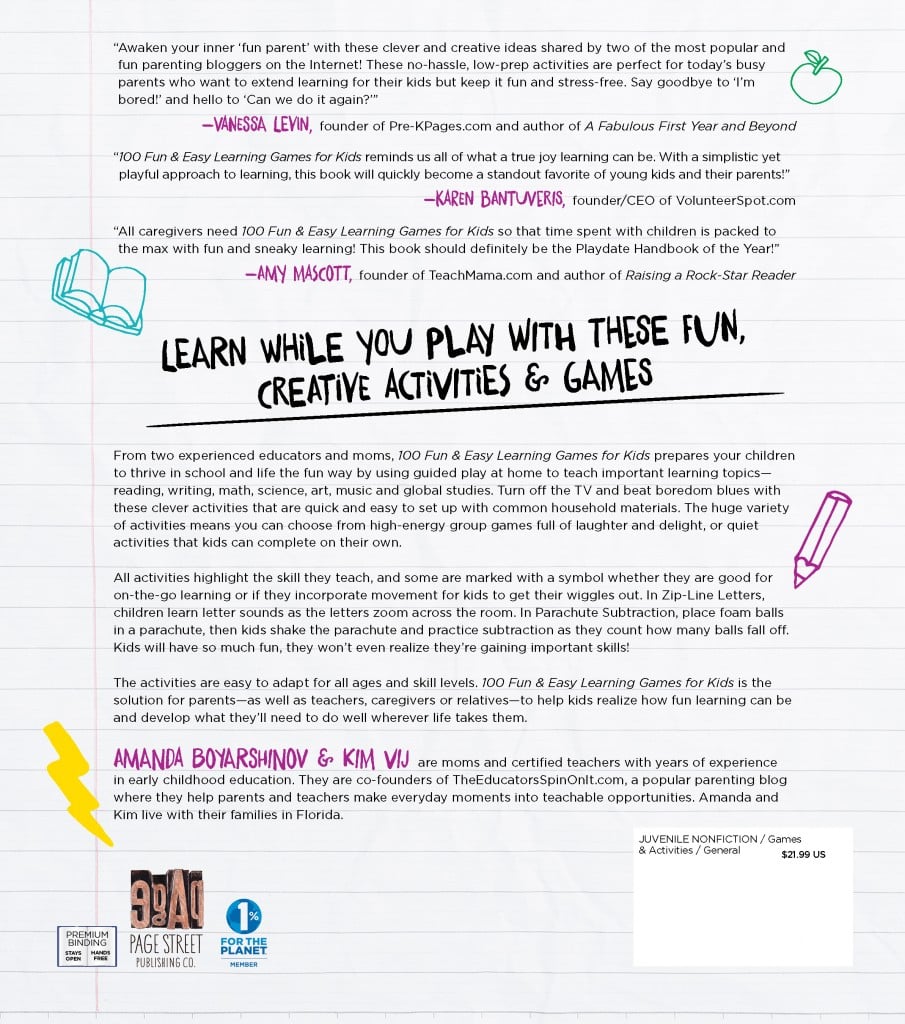 Many thanks to our family and friends that have helped with editing, loaned us some of their craft supplies, and helped with the photo shoot for the book. You will have the chance to meet them in the upcoming months – because they are truly awesome people and are passionate about raising happy and healthy kids. We couldn't have done it without you!
Learn MORE  about the Authors Kim Vij and Amanda Boyarshinov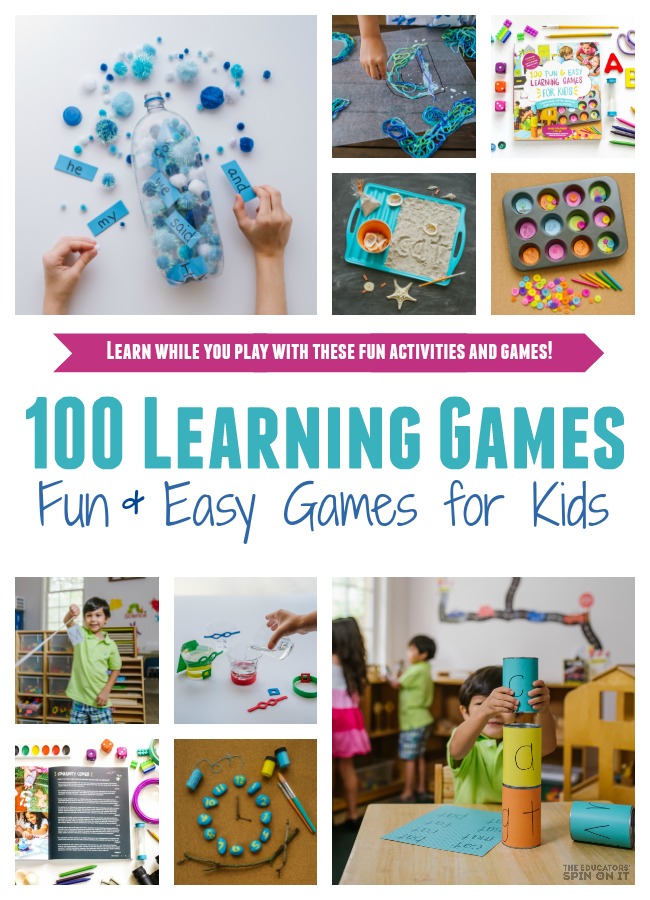 Available Online at all major Books Stores!