Making everyday moments into teachable opportunities is the focus of The Educators' Spin On It. The site was created by educators, certified educators, and experienced teachers, currently work-at-home moms, who have found blogging and Pinterest as a key social media tools to share resources with parents.
We believe that parents are their children's first and most important teacher. You will find activity ideas on The Educators' Spin On It about reading, math, science, literacy, cooking, gardening, crafting, writing, and learning a second language for Ages 0 to 8.
These are things that we feel all children should have the opportunity to experience.
You can find activities on our website for your child about:
SIGN UP FOR OUR NEWSLETTER to receive Themed Weekly Activity Plans with your child!
ACTIVITIES FOR ALL AGES OF CHILDREN
Each of our subject areas are can be found in our varied age groups to help you navigate our site to find just what you need for today to do with your child.
Here's a few fun facts about The Educators' Spin On It.
Our average reader is 25-34 years old, female, American, married with children and is reading from the comfort of her home or a mobile device.
As of January 2022, The Educators' Spin On It has:
MORE INFO
Get to know The Educators' Spin On It Creators
Click here for more about Kim Vij
Visit www.kimvij.com

BIG NEWS! We wrote a book called 100 Fun and Easy Learning Games for Kids and The Big Book for Kids Activities available to BUY online in major book stores. Click here to learn more.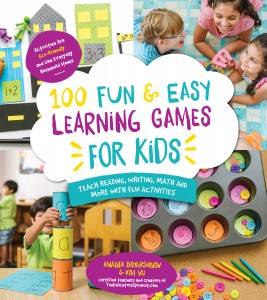 The Educators' Spin On It were awarded "Best on Pinterest" in Parents Magazine
Sunshine Blog Award Winner for Educational Blog in 2014 & 2015
We enjoy bringing the best companies to families and teachers and would love to work with you! Email us for more information and rates and to request a media kit.
Thanks for your interest in working with The Educators' Spin On It. We are always thrilled to make new connections for early childhood education.