The best Chicka Chicka Boom Boom activities for kids! Explore over 35 alphabet and coconut tree inspired activities, crafts, and even snack ideas to go along with this popular children's book. You and your child will have hours of fun learning about the alphabet with simple materials around your house.
Are you ready to get started?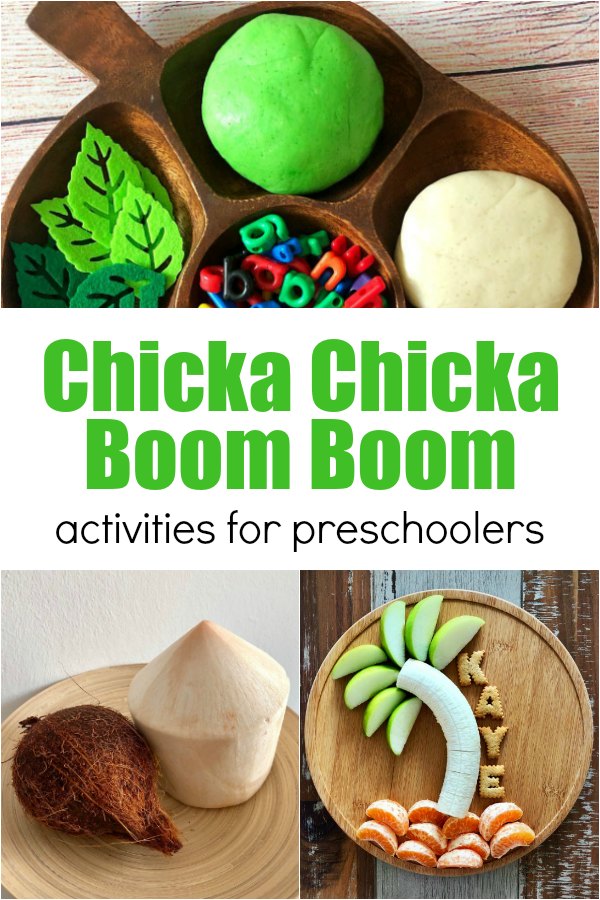 Disclosure: This post contains Amazon Affiliate links.
One of my favorite alphabet books is Chicka Chicka Boom Boom. The playful text and colorful illustrations introduce your child to the letters of the alphabet both upper case and lower case.
Here's a collection of activities for hours of fun with the alphabet!
Chicka Chicka Boom Boom Activities
There are so many fun ideas to use this this story. In this article you will find some of my very favorite ways to have fun with this book. From alphabet crafts, coconut tree science to even some delicious snack ideas all inspired by the story Chicka Chicka Boom Boom.
First start by printing these Coconut Alphabet Letters to get your learning station set up for hours of fun.
Head outside for this adorable Sidewalk Chalk Chicka Chicka Boom Boom Alphabet Game!
Create an adorable sticky coconut tree for this book for allow your child to stick the letters all over the tree just like in the book. You can even use recycled play dough lids, like this alphabet tree, for a more colorful option.
Have some fun with math for your older kids with this multiplication coconut tree. For younger kids just change to number recognition or addition and subtraction.
This resources includes Chicka Chicka Boom Boom printable activities and centers to introduce or review basic concepts, alphabet and math skills in an early childhood classroom.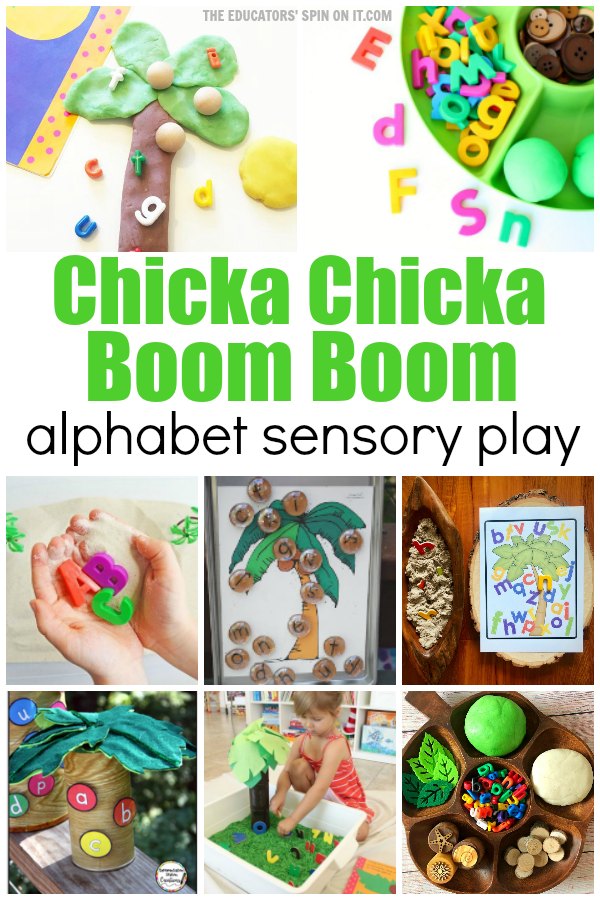 Chicka Chick Boom Boom Alphabet Sensory Bins
Play dough can be used to set up a sensory experience with just a few items like these featured with letter beads, felt leaves and a few pieces of wood.
We love how these wooden balls are use for setting up a Storytime playdough for Chicka Chicka Boom Boom. Take a peek at this playdough sensory play with buttons for the coconuts.
Take advantage of your magnetic letters by creating a can coconut tree, they your child can spend hours and hours attaching their letters Chick Chicka Boom Boom Magnetic Tree.
Use your magnetic door or side of the refrigerator for a larger than life Alphabet Coconut Tree.
Get the printable Coconut Tree with Letters or use this one.
Make this Sensory Activity with Kinetic Sand and this printable We recommend using these magnetic foam letters, plastic letters or wooden letter.
Make a interactive coconut tree with this glass gem coconuts.
Make very own Chicka Chicka Boom Boom DIY sensory bottle. This sensory bottle is super simple and so much fun to make. Perfect for your little Chicka Chicka Boom Boom fan!
Add a little water play to this story by creating an alphabet soup letter bin with your foam or magnetic letters and water.
Chicka Chicka Boom Boom Snack Ideas
Make this adorable fruit snack inspired by the story with apple palm frawn, banana stem and mandarin oranges for the sandy grown. Plus add the letter crafts to tie in the story.
You might even want to consider making coconut bread. Here's the recipe.
Create a delicious snack with letters by baking alphabet cheese crackers or even alphabet graham crackers.
Love the letter cereals that are available. You can use them to make this Coconut Tree Snack with apples and a pretzel rod.
Look at how cute adding letters to any plate makes for the perfect snack, even at a playdate or birthday party.
Here's an easy recipe to make with kids for Alphabet Cookies!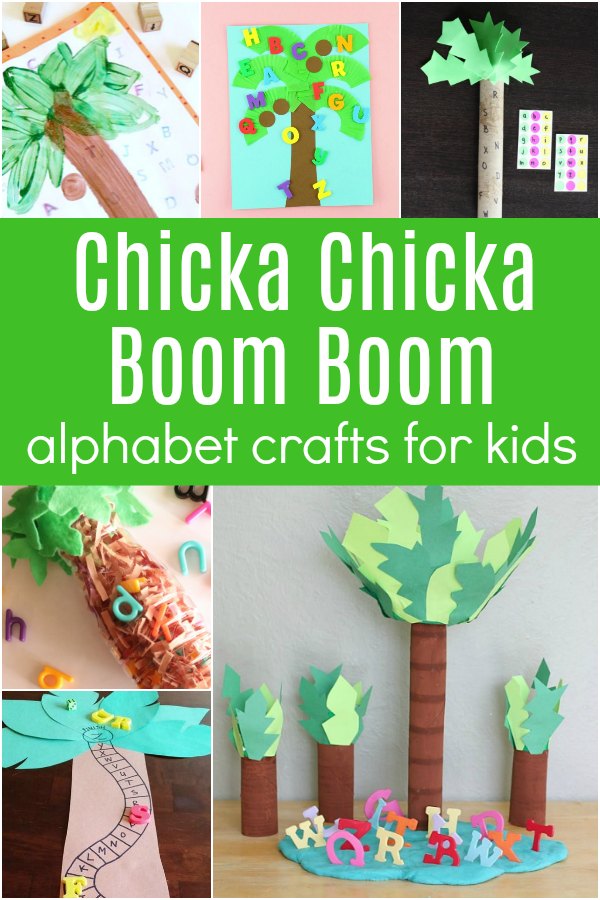 Chicka Chicka Boom Boom Craft Projects
Create this simple activity with alphabet stamps and by drawing a coconut tree or finding a printable one online. You can make it a matching game too with alphabet cards.
With foam letters stickers you can create so many fun projects for this book. One easy one is a Toilet Paper Role Coconut Tree.
Pull out the paint for a handprint Coconut Tree or a hand painted version. Then you can pull out your alphabet stamps to create your very own Painted Alphabet Tree.
With a few green muffin tin liners and foam letters you can create this adorable Letter Coconut Tree Craft.
Make your own name with this adorable Chicka Chicka Boom Boom Name Craft using foam letters. (I told you they can be used for so many things with this story.)
Grab your empty paper towel role and your leftover dot stickers for this alphabet coconut tree in spired by this story. Or you can grab some paint to create this colorful alphabet tree the foam bowl is a brilliant way to capture the letters.
Learn the letters of your name by making a coconut name recognition tree with clothespins.
A simple activities for even your toddlers is it invite them to this paint the alphabet matching game.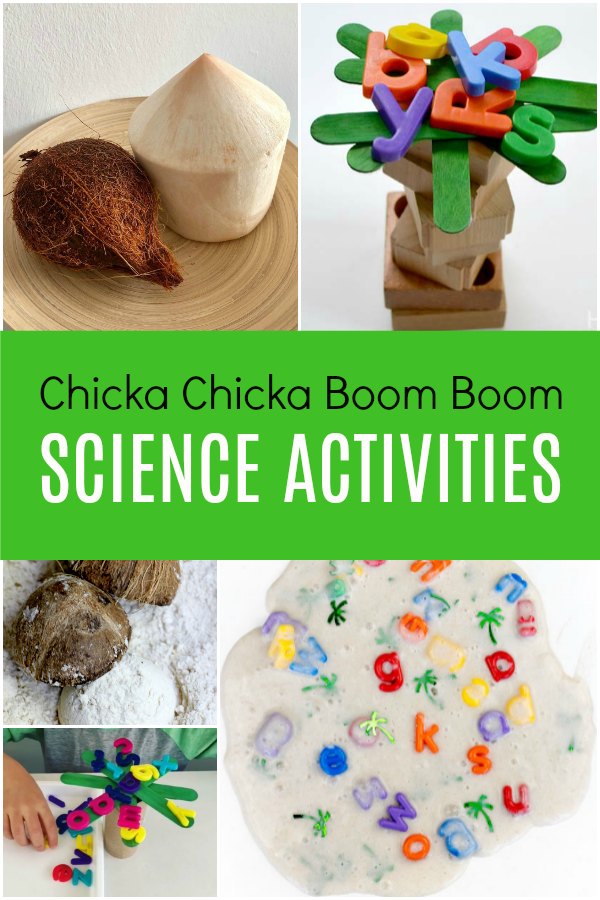 Chicka Chicka Boom Boom Science Activities
Take this story to a whole other level by exploring coconuts together. Head to the story and purchase a coconut. Make it a science discovery experience by pulling out your magnifying glass.
Explore coconuts with your 5 Senses using these ideas. You could even make your own coconut cloud dough to play with the dried shell.
Add a little more fun to your coconut science by building your very own Coconut Tree STEM Challenge with popsicle sticks and a paper tube.
Or add a little fun to building with block and try this Chicka Chicka Boom Boom STEM Activity.
Make your own Chicka Chicka Boom Boom Board Game a simple–kind of a mix between Candy Land & Trouble.
Get ready for some sensory fun by making your own Alphabet Slime and add a coconut tree confetti to go along with the story.
There are so many ways to create activities to go along with the book Chicka Chicka Boom Boom. I can't wait to hear about which one you try first.
Many of the gorgeous photos featured in this post came from Little Miss Kaye, a member of our Virtual Book Club for kids. Thank you so much for allowing us to share on our site. Take a moment and go take a look at her gorgeous instagram account with inspiring ideas with her preschooler.
We invite you to share your Chicka Chicka Boom Boom photos in our Weekly Virtual Book Club for Kids Facebook group and join along each week with our themed activities and books. Join Here