Exploring food in a new city can be so much fun but a little overwhelming too. We had the opportunity to explore the city of Chicago and had an amazing time. However it was this fun food tour with Chicago Food Planet that made us stop and really appreciate the diverse culture Chicago has to offer.
"Eat. Walk. Be Merry." How can you not love a company who have that as their motto.
We received complimentary tickets from Chicago Food Planet to share about our experience on the tour with our readers. We accepted the invitation and shared on my instagram account at each stop while we were on the food tour. All opinions expressed are my own… ok confession well maybe my husband's too.
Chicago Food Tour
Chicago Food Planet offers four different types of tours as you explore Chicago. Even on our trip to Chinatown in Chicago I was able to peek at their tour there and see what they'd recommend. Plus a little tweet out and they responded back with a link which was super helpful.
Here's a peek at our experience on the Gold Coast and Old Town Tour.
We first met in the Gold Coast Area of Chicago, the homes in this area are so pretty and the spring flowers made everything so happy and cheerful. We met with our group at Lou Malnati's home of the deep dish Chicago style pizza.
One of my favorite features on the food tour was the history and details the guide is able to share with you about the location and food you're sampling. The pizza to be honest was hard to resist eating just one slice, it was so delicious but we had to save room for the rest of tour. We did work our way back there on another day to enjoy our very own deep dish pizza in Chicago.
One nice thing is that the tour book includes coupons as well.
Then we walked over to Tee Gschwendner for some raspberry mango green tea and a little background information about the types of tea.; I was amazed at the variety of loose teas they had available.  It was the perfect time for the tea as we had a little walk ahead of us to Old Town Chicago.
Next up was Kamehachi which is the first sushi restaurant in Chicago. We sampled their sushi and saki in the upstairs area which had beautiful Japanese interior design influence. Our guide Angela was such a treat to listen to at each stop as she explained in detail this history of the restaurants in Chicago.
Across the street we ventured over to The Fudge Pot with a little back scene tour of their shoppe and some history about chocolate. We enjoyed our chocolate covered butter toffee, wish we would have stopped to bring some home to our girls or perhaps a molded chocolate, they had so many choices to choose from.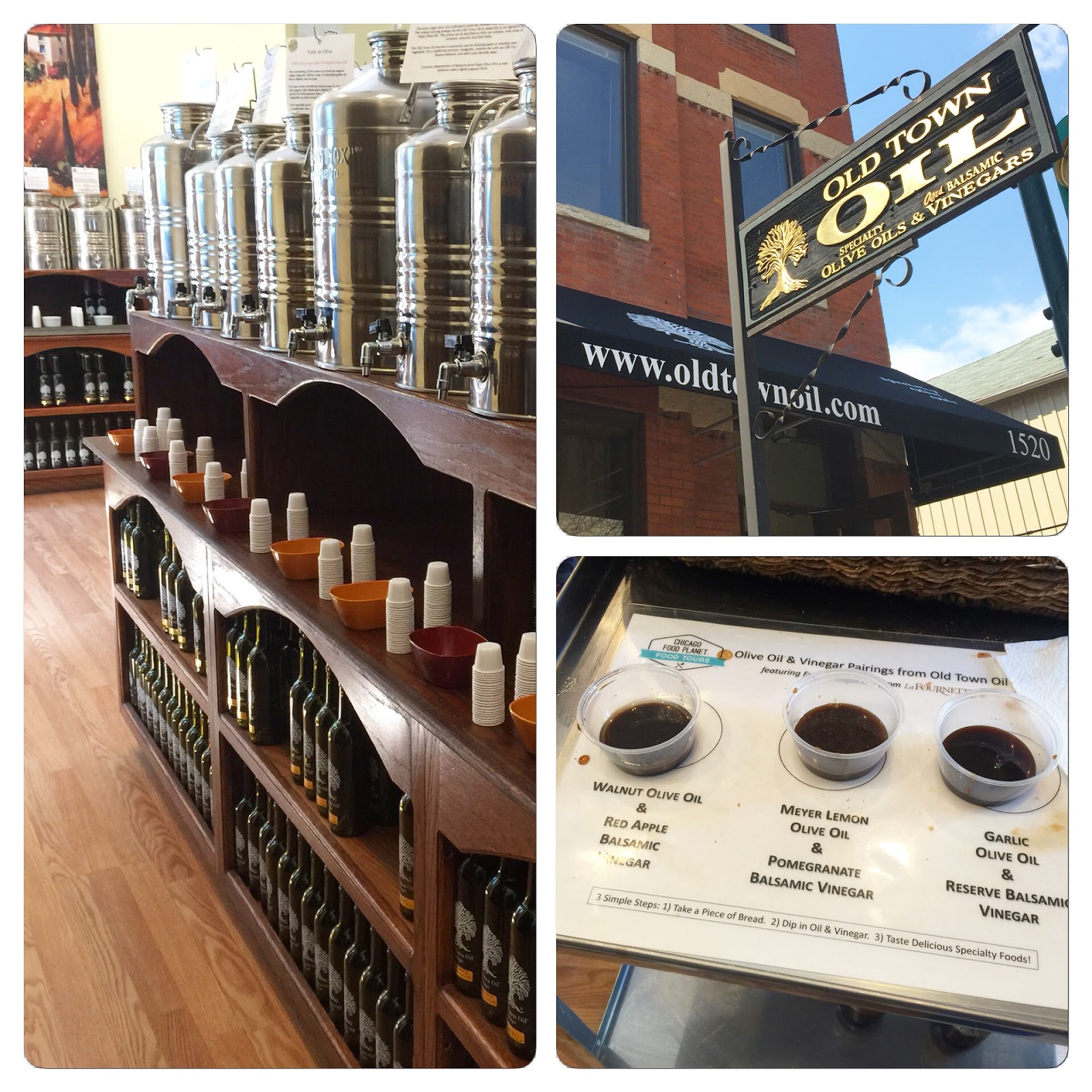 When I met my husband I was exposed to so many new spices with Indian food but those were nothing to our next stop at the world famous The Spice  House. We ventured to a gorgeous outdoor area in the back and explored a variety of cinnamon and a few other spices.
Our final destination was a big win in my books with Europeans pastries at the Delightful Pastries. The was the first time I had tried a pierogi, so delicious! Plus the macarons where so moist and popping with color and flavor.
My husband and I had such an amazing time together on this 1.3 Mile trip to explore 7 Chicago hot spots for food. Once we finished up we continued north to do a bit more sightseeing in Lincoln Park including the Lincoln Park Zoo and Chicago History Museum. I must admit walking the streets of the town in Gold Coast and Old Town was such fun appreciating the architecture and local businesses in Chicago.
Although it was just my husband and I on this trip, I can imagine how much fun our kids would have had on this food tour with Chicago Food Planet. Food Tours can be a useful tool for exposing your child to new foods and location in a fun environment. One of the teenagers on our tour tried sushi for the first time and found out she liked it. We look forward to bringing our kids with us the next time we go on a Food Tour while traveling. It's the best way to explore a city, through their tummies.
Have you ever gone on a food tour? Where? Share your experience in the comments below.
Thank you Chicago Food Planet Tours!
Click here to read more about Things to DO in CHICAGO
Click here to see more ideas for Places to Travel