Want to learn more about Navratri with your child? Explore this collection of Navratri Activities for kids including videos, books and crafts for your child.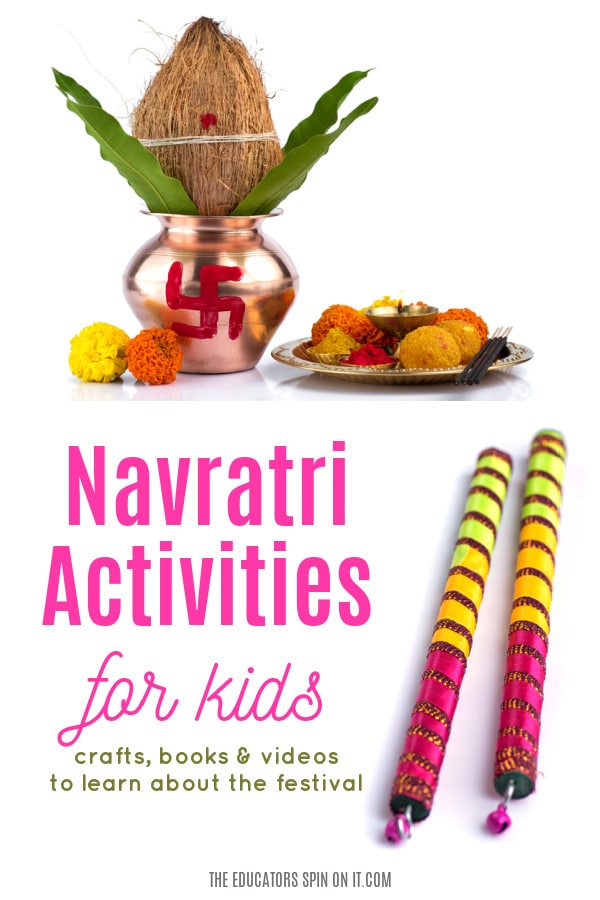 What is Navratri and why is it celebrated?
Navratri is a 9 day festival celebrated around the world. It has many different traditions based on the culture in various geographic regions. Devotees celebrate Navratri during these 9 days by paying their respect to the nine incarnations of goddess Durga. This festival celebrates the victory of good over the evil and success of truth over lies.
I've put together a collection of videos, books and activities for you to learn about this festival with your child.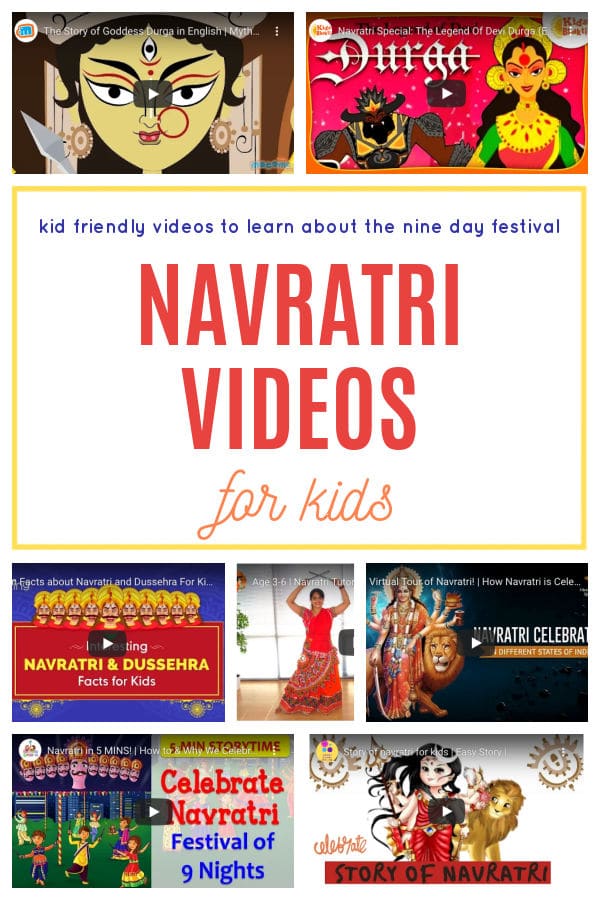 Navratri Videos for Kids
This is a collection of videos about Navratri for your child. They've been mom, teacher and Dadi Ji approved.
Navratri Special: The Legend Of Devi Durga
Fun Facts about Navratri and Dussehra for Kids
The Story of Goddess Durga
Virtual Tour of Navratri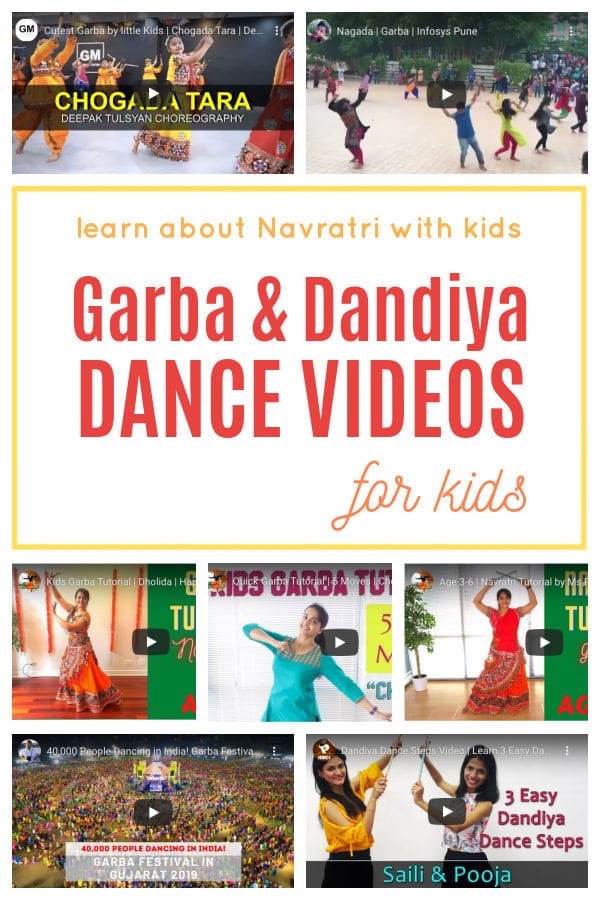 Garba and Dandiya Dance Videos for Kids
During Navratri there is a popular dance that is one of the most unique experiences to participate in.
Garba dance is traditionally performed during the nine-day Hindu festival Navratri. Either the lamp (the " garbha Deep) or an image of the Goddess, Durga is placed in middle of concentric rings as an object of veneration.
Dandiya is a socio-religious folk dance originating from Indian state of Gujarat and popularly performed in the festival of Navaratri. The colorful sticks used during Dandiya represent the sword of Goddess Durga, which is why this dance form is also known as 'The Sword Dance.'
The difference between Garba and Dandiya is Garba is performed before Aarti (worshipping ritual), while Dandiya is performed after the Aarti, as a part of the celebration. Men and women join in for both Raas Dandiya and Garba.
Do you know why the popular dance form of Navratri is called 'Garba'?
Why Garba and Dandiya are performed during Navratri
Dandiya Dance Steps Video for Beginners
Cutest Garba Dance for Kids
Kids Garba Tutorial
Garba Dance in Pune, India
40,000 People Dancing in India at Garba Festival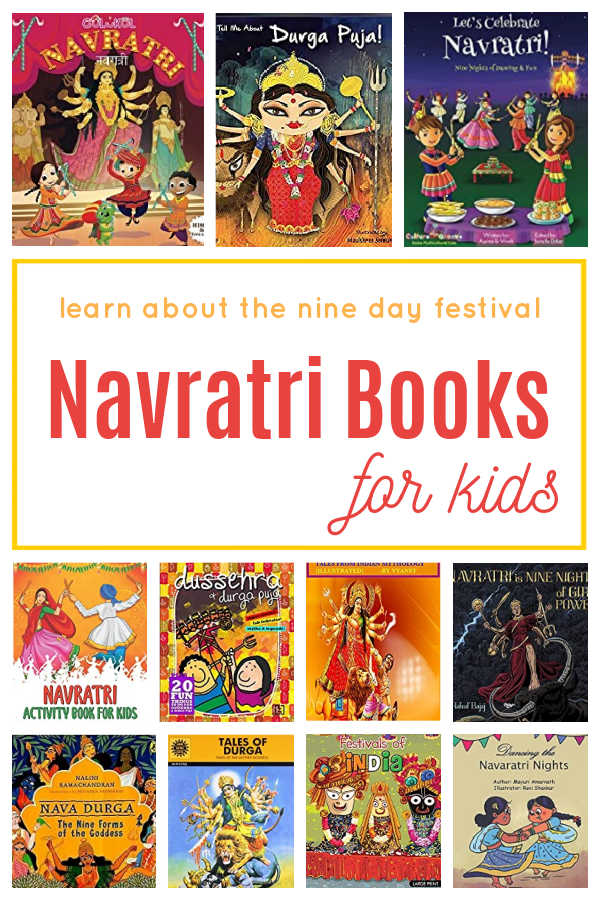 Navratri Books for Kids
Let's Celebrate Navratri! (Nine Nights of Dancing & Fun)
by Ajanta Chakraborty and Vivek Kumar
Listen to the Read Aloud of Let's Celebrate Navratri
Listen to the Read Aloud of Dancing the Navratri Nights
Navratri Craft Ideas for Kids
There are a few symbols of Navratri that kids can learn about through making crafts. They can create dandiya sticks or an image a Goddess Durga.
Here are a few more suggestions for Navratri Crafts for kids
Learn About the Nine Forms of Goddess Durga
Goddess Durga is worshipped for nine days during Navratri. This festival holds great importance in the Hindu religion. Each day is dedicated to worshipping a manifestation of the Goddess.
There are nine forms of Goddess Durga that are worshiped with nine different prasads or bhog. Here are the nine forms of Goddess Durga:
Goddess Shailputri is the first manifestation of Goddess Durga. She holds a Trishul in one hand and a lotus in the other and rides a bull called Nandi. Goddess Parvati was born as the daughter of Himalaya and in Sanskrit, Shail means the mountain, thus she is known as Shailputri.
The second day of Navratri is dedicated to Goddess Brahmacharini. The goddess holds a rudraksh mala in one hand and a sacred Kamandalu in the other. The meditative form of this goddess symbolises Goddess Parvati when she engaged in her deep meditation.
The third day of Navratri is of Goddess Chandraghanta. She is a 10-armed goddess with a crescent moon on her forehead, which gives her the name Chandraghanta.
Chaturthi or the fourth day of Navratri is of Devi Kushmanda. The name Kushmanda is derived from three words – 'Ku' (little), 'Ushma' (warmth or energy) and 'Amnda' (egg), which means the creator of the universe.
Goddess Skandmata who is worshipped on the fifth day is also known as Panchami. Skandmata is a four-armed deity, who carries a lotus in two of her arms with a sacred Kamandalu and a bell in the other two. She also carries a little Kartikay on her lap and because of this Kartikay is also known as Skanda. She is seated on a lotus.
The sixth day of Navratri is dedicated to Goddess Katyayani, who is a form of Shakti. Also known as the warrior goddess, Katyayani is considered as one of the most violent forms of Goddess Parvati. She has four arms and carrying a sword. She is the daughter of Sage Katyayan and rides a lion.
Saptami or the seventh day of Navratri is of Goddess Kaalratri. As per legends she sacrificed her skin color and embraced a dark complexion to kill demons. She is a four-armed deity who rides a donkey, carries a sword, a trident, and a noose. She has a third eye on her forehead that is believed to contain the entire universe.
Durga Asthami or the eight-day of Navratri is dedicated to Goddess Mahagauri. She is a four-armed deity who rides on a bull or a white elephant. She carries a Trishul and a damru in her hands.
The ninth or the final day of Navratri is of Goddess Siddhidhatri. She is projected as a four-armed deity sitting on a lotus, holding a mace, discus and a book and lotus in her hands. This form of Goddess Durga signifies perfection.
After fasting for nine days, young girls are invited to the devotees' houses, where they wash their feet as a mark of respect, and then offer food to them. The food, which is also called bhog, often includes poori, kala chana, rice, and halwa. It is after feeding the young girls and sending them away with gifts, that devotees break their fast.
Why do we feed girls on Navmi?
For Navratri, the celebration ends with the celebration of Lord Rama's victory over Ravana on Dussehra. For those that celebrate Durga Puja, the celebration ends with the victory of Goddess Durga over the demon Mahishasur.
More information about Navratri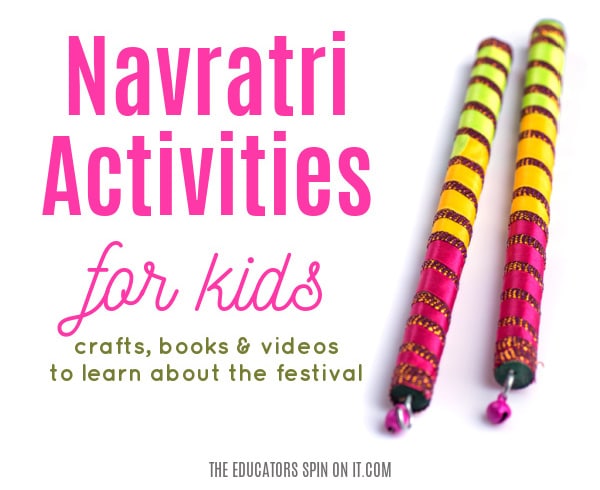 Additional Hindu Festival Activities for Kids