Make your weekdays flow easier with these prep-ahead breakfasts and lunches from a busy mom of 3! From storage to reheating Alea shares with you and me her meal prep tips for how to get ready for a healthy start to your day with ready-to-go meals.
Are you ready to get organized with your meal planning to kick off each day?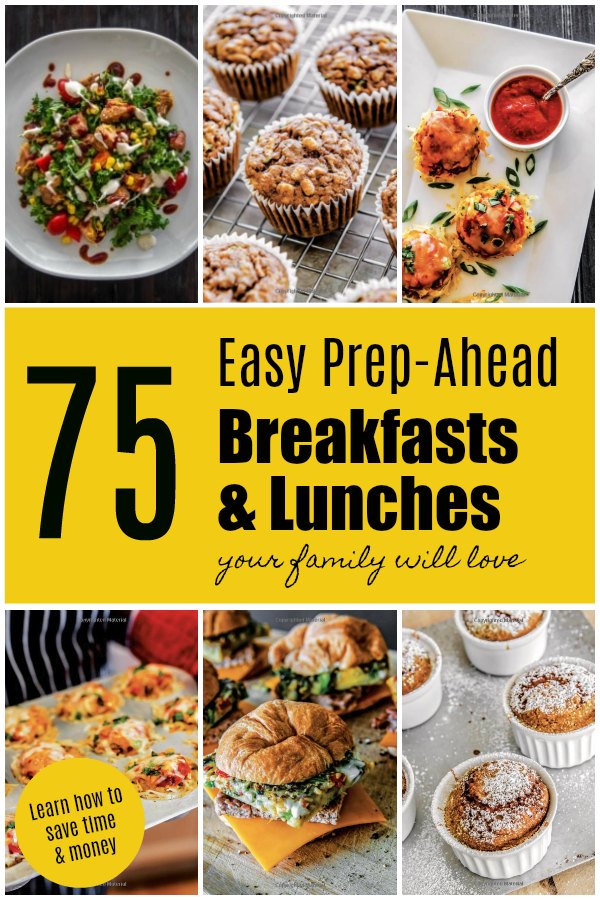 Disclosure: This post contains Amazon affiliate links, all opinions expressed are my own. 
Today is the big day, this new delicious cookbook is now available at all major bookstores and online! It's called Prep-Ahead Breakfasts and Lunches: 75 No-Fuss Recipes to Save You Time and Money
.
There's one area of planning that as a busy mom I always wish I was a bit more prepared for each day and that's breakfast and lunch with my family. My talented friend Alea Milham takes the guessing game out of my days, by providing make-ahead tips from storing to reheating with delicious recipe ideas in her latest cookbook. Go get your copy today!
Here's a peek at the gorgeous cover!
Prep-Ahead Breakfasts and Lunches: 75 No-Fuss Recipes to Save You Time and Money
Prep-Ahead Breakfasts and Lunches
Simple do-ahead techniques help you savor even the busiest weekday mornings.
Ready to end the days of skipped breakfasts and takeout lunches? This new recipe collection from Alea Milham, author of Prep-Ahead Meals from Scratch and founder of the blog Premeditated Leftovers, is bursting with fresh, time-saving ways to feed your family and yourself as you start each day with a plan.
Prep-ahead breakfast recipes
Find breakfasts the whole family will enjoy, with options like Italian Vegetable Mini Frittatas, Garlic and Rosemary Sweet Potato Pancakes and Strawberry Rhubarb Baked Oatmeal.
Grab and go lunch recipes
Packing lunch doesn't have to mean you have to dive everyday into a salad! Smart Batch cooking and ingredient prep make makes grabbing a flavorful meal from your lunch bag a no-brainer. Try out the Bourbon Beef and Quinoa Bowl, Chopped Chimichurri Steak Salad and Chicken Marsala Pockets for our prep head lunch recipes you'll love!
Make-ahead snacks and desserts
Alea even snuck in some snacks and desserts into this meal prep book so we can skip the pre-packaged snacks. I can wait to try Alea's prep-ahead recipes to make my own treats and desserts, too. The best part is that they are written so clearly with step by step directions that you can even make them with your kiddos in the kitchen with you and get them involved too.
When the whole family get's involved in meal prep it can be a game changer for all involved. Who's ready to get organized with their meal planning?
Ready-To-Go Meals for Your Family
This book will help you build money-saving habits and use creative cooking strategies. From flavorful hot cereals and breakfast breads to one-bowl wonders and salads on the go, quick morning and afternoon meals will become the highlight of your day. With Alea's expert advice, you'll have your fridge stocked with homemade grab-and-go meals, full of ingredients you can feel good about for you and your family.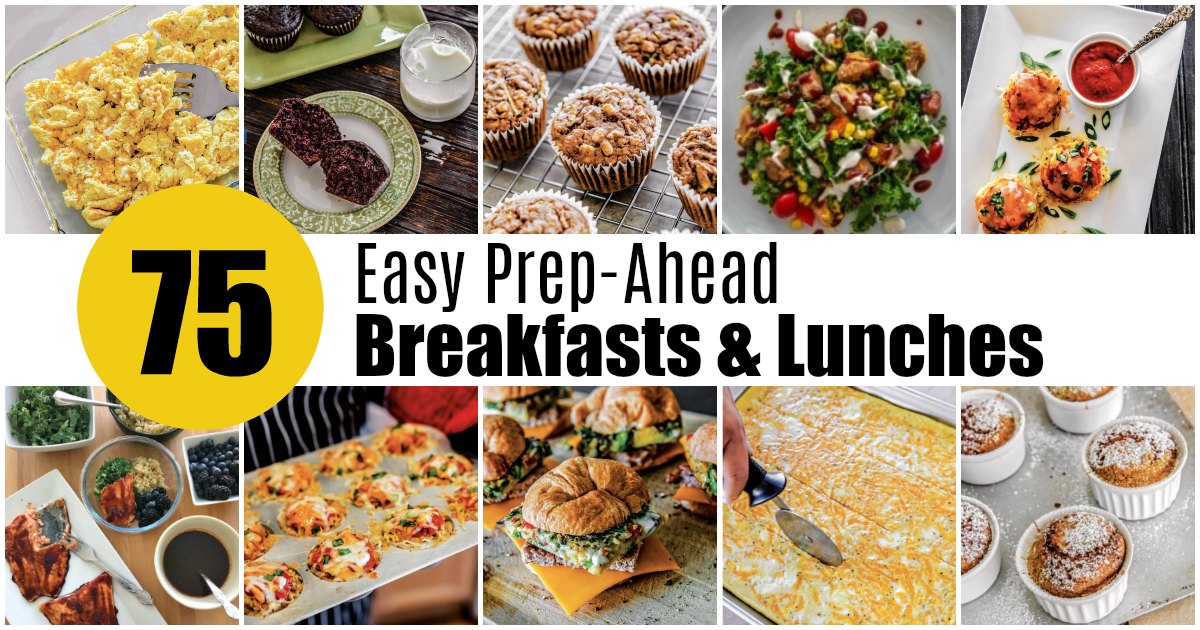 Here's a peek at the Table of Content from this new recipe book for meal-prep!
Table of Content for Prep-Ahead Breakfasts and Lunches
Part 1: Make-Ahead Breakfasts
Chapter 1: Simple Egg Dishes and Breakfast Sandwiches
Chapter 2: Quick Breakfast Breads
Chapter 3: Hot and Cold Cereals That Satisfy
Part 2: Make-Ahead Lunches
Chapter 4: One-Bowl Wonders
Chapter 5: Salads on the Go
Chapter 6: Must-Have Sandwich Wraps and More
Chapter 7: Easy Soups, Stews and Chili's
Chapter 8: Make Ahead Desserts
Part 3: Pantry Staples
Alea walks you through how to strategically plan out how you're going to start this prep-ahead concept with proven strategies that are working for her busy family of 5. Love all the tips that she's included into the recipe book for you and me to make life easier and a bit healthier too. You can listen to a Podcast interview here where she shares they why's and how's and more prep-ahead strategies too.
I'm officially ready to tackle my meal planning with this new cook book Prep-Ahead Breakfasts and Lunches: 75 No-Fuss Recipes to Save You Time and Money
Will you join me as we prep head for our mornings and afternoons with our kiddos? BUY YOUR COPY NOW