Explore our top fun activities for kids at home with these creative ways to keep the kids entertained and sneak in a little learning too!
BIG NEWS! We're celebrating our 12th birthday of The Educator's Spin On It!
Hard to believe that it's been twelve years since we first started this website for parents. So many things have changed since then. Our kids have gotten older, that's for sure and our experiences have grown as individuals and as a family.
Fun fact: My husband is now a little part of behind the scenes on our site as well as my kids.
There's one thing that hasn't changed and that's my passion for creating for you fun ideas to do with your kids. Sharing ways to ensure you're able to give them just what they need to grow and become smart, happy, and loved kids.
I was looking through our 1000+ kids activities on our site from over the years and found that there are some things our website's visitors like you are often drawn towards. I thought it might be fun to do a top 10 activities for our 12th birthday.
We'd love to know which post is your favorite from the site, so please leave us a comment to let us know.
Top 10 Fun Activities for Kids
Top 10 Activities from The Educators' Spin On It since July 2011….
Go ahead and click on each of the highlight links to check out these fun kids activities or take a look below and click on the images for more info.
One thing I noticed as I looked through remembering all our ideas from over the years is that you are drawn to similar topics again and again.
Parenting
STEM Ideas for Kids
Children's Book Activities
School Holiday Activity Ideas
Easy Kids Crafts Ideas
Games for Kids to Play
Recipes for Kids to Make
And a lovely surprise topic….Kindness Activities
I thought it might be fun to share with your our top kids activities for creative ideas to do with your child at home.
STEM Activities for Kids
50+ Stem Activities
STEM Books for Kids
Spring STEM Activities
Caterpillar to Butterfly Balloon
Books Activities for Kids
Eric Carle Activities
30+ Lorax Activities
Year Long Virtual Book Club for Kids
School Holidays Activities for Kids
40+ Easter Activities for Kids
Christmas Activities for School Ages
Easy Diwali Crafts for Kids
Easy Kids Craft Ideas
Drip Painting Rainbow Fun
Rangoli Craft Idea
Mother's Day Paint Resist
Games for Kids to Play
Ball Games for Kids
Stacking Apples Game
100 Fun and Easy Learning Games
Recipes for Kids to Make
Teddy Bear Picnic Dessert
Football Shaped Party Appetizer
Edible Flag for 4th of July
Kindness Activities for Kids
Kindness Songs
Kindness Elves Activities
Kindness Elves Printables for Busy Parents
Parenting
Raising a Strong Willed Child
How to Write a Placement Letter
Helping Kids Learn about Self Regulation
Our Top Activities for Kids since 2011
Here's a fun little breakdown by year which kids activity was the most popular on The Educators' Spin On It. Which one is your favorite? Leave a comment below!
2012 – Eric Carle Activities
2013 – 30+ Lorax Activities
2014 – Easy Mother's Day Paint Resist Craft
2015 – 50+ STEM Activities
2016 – 6 Ball Games for Kids
2017 – Spring STEM Activities
2018 – Drip Rainbow Painting
2019 – 40 Easter Activities for Kids
2020 – Caterpillar to Butterfly Science Activity with Balloon
2021 – 30+ Virtual Field Trips for Kids
2022 – 100 Christmas Books Every Child Should Read Before Age 10
2023 – 10 Things To Put In A Children's Piñata
This brand new post 30+ Virtual Field Trips for Kids took off in March of 2020 and has been a big hit with visitors ever since. Be sure to grab the printable Travel Log too for your child to track their virtual tours!
It's now our MOST POPULAR POST on our site!!!
Top Sites for Parents for Kids Activities
I'd also like to give a big thanks to the following top websites that have sent us new visitors from their sites over the past nine years. I feel so lucky to call each of these site owners and bloggers my friends.
They share such creative ideas for parents and are amazingly talented individuals personally. I've been very lucky to have had the chance to meet each of them in person at conferences where I attended as a speaker to teach about Pinterest Marketing.
There are many other sites along with these top 9 listed on our list of Top Female Bloggers You Need to Know, be sure to check out the others too as you explore new activity ideas for your child.
One of the coolest things that happened from our website is that our publisher reached out to use to write a book called 100 Fun and Easy Learning Games for Kids.
Then we got invited to contribute to a 2nd book called The Big Book of Kids Activities.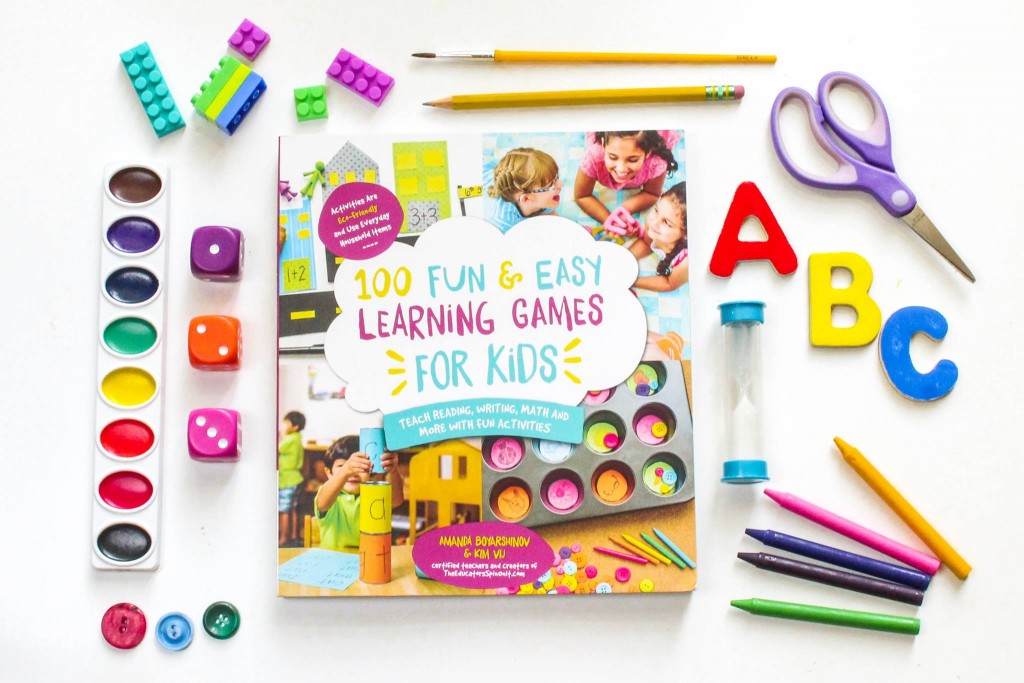 Fun Activities for Kids Will Keep Them Entertained for Hours!!!
Stuck at home with the kids and have nothing to do? It's easier than you think to grab a few supplies and let their creativity shine. These fun activities for kids are easy, DIY, and can mostly be done with everyday items that you have around the house.
We've got your recipe for happy kids. Best of all, none of our fun activities require an electronic device or an app, so you don't have to worry about too much screen time.
For more ideas for at home please check out our website with over 1000 Kids Activities. You can explore them by topic or by age by using our menus.
Then grab a copy of our book 100 Fun and Easy Learning Games for Kids OR our The Big Book of Kids Activities on Amazon!
Thank you so much for helping us celebrate 11 years of kids' activities at The Educators' Spin On It!
Sign up for our Newsletter to get our latest ideas for kids.