Do you want to celebrate the teachers at your school for teacher appreciation week? We recently discovered a fun way to celebrate your teacher's superpowers in her classroom. Here's how…
Teachers truly are our modern day superheroes.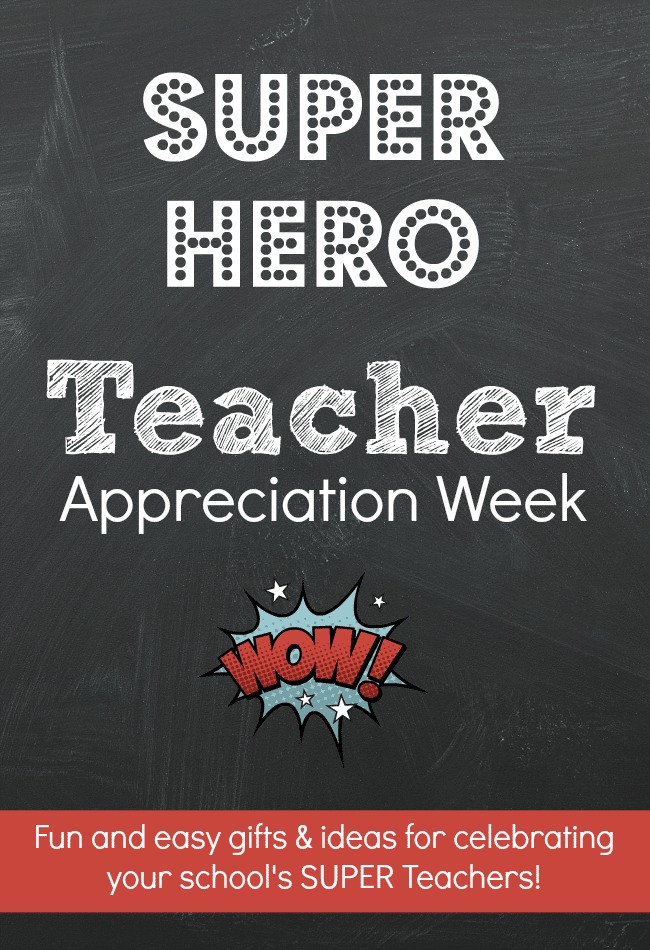 Teacher Appreciation Super Hero Themed Week
Day in and day out they show up before the sun rises to prepare for the day. They work all day long making sure that each student is working to their fullest potential.
They are usually there long after their contract tells them they are able to go and work unpaid ensuring that their classrooms and students are all taken care of with preparation, assessment, grading, and creating classroom environments to help maximize their learning.
Lesson plans have become far different from what many were trained to do in college but yet they adapt and move forward becoming tech savvy in the process.
They stretch behind their training to ensure that students physical and social needs are reaching their fullest potential as well. You know that teacher who went above and behind to ensure your child was successful. They are in each and everyone one of our schools in the world… but do you tell them how amazing they are?
Teachers find themselves juggling their own families, their students' families, their coworkers families and most likely they are evening juggling their children's friends and teammates families at times. Typically they are the ones we all turn to when we need an answer about our child.
And even though they are not on duty at school they find the time and energy to be there for you answering your questions and helping you solve problems. It's in a teacher's core to ensure that everyone around us is learning and reaching their full potential.
In my eyes…. that's a superhero.
This past week I had the joy of experiencing what happens when a school lifts up their teachers as SUPERHEROS!
Here's what our Teacher Appreciation Volunteers planned for the week.
They sent home this attached handout to each family at the school and also shared on the school newsletter, website and facebook page.
Planning for Teacher Appreciation Super Hero Week
MONDAY
WHAT IS YOUR TEACHER'S SUPER POWER? WRITE IT ON THE STAR AND ADD IT TO THEIR DOOR!
TUESDAY
SHOW YOUR APPRECIATION! WRITE A NOTE OF THANKS TO OUR TEACHERS AND STAFF.
WEDNESDAY
BRING YOUR SUPER TEACHER A SUPER SWEET TREAT!
THURSDAY
STOCK OUR HEROS BY BRINGING IN A SCHOOL SUPPLY
FRIDAY
EVEN SUPERHEROS NEED A BREAK! COMBINE POWERS WITH YOUR CLASS AND PLAN A SUPERHERO SURPRISE FOR YOUR TEACHER
How to Involve Families of All Budgets in Teacher Appreciation Week
One of the things that I adore about this week is that most of it is effort from students and parents and not a lot of money. Finding ways to celebrate teachers that all students can participate is in important.
Keep in mind that most schools have students who come from homes with a variety of incomes. And if you ask most teachers it's the little things that melt their heart, so go show your teacher how much you think of them as your SUPERHERO!
Teacher Appreciation Ideas on Pinterest
Need ideas for how to plan your Teacher Appreciation? My go to source would be Pinterest! There are tons of superhero themed ideas there. Here's a link to get you started https://www.pinterest.com/search/pins/?q=teacher%20appreciation%20superheros
Psst… here's a whole bunch of people who's already starting boards about Superhero Teacher Appreciation… check them out!
https://www.pinterest.com/search/boards/?q=teacher+appreciation+superheros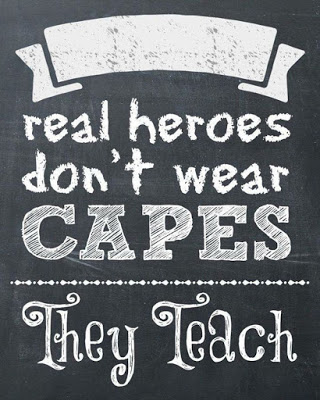 Image Source Happy Go Lucky Blog
Why Teachers are Real Life Superheros (Huffington Post)