I'm a hybrid Mama and fall somewhere in the "crunchy spectrum" as my Californian friend calls me, meaning I try to live eco-friendly when possible. We garden with our kids, make our own breads, and use cloth napkins. Lately, I've been eyeing the glass water bottles my friend has been bringing to our park playdates.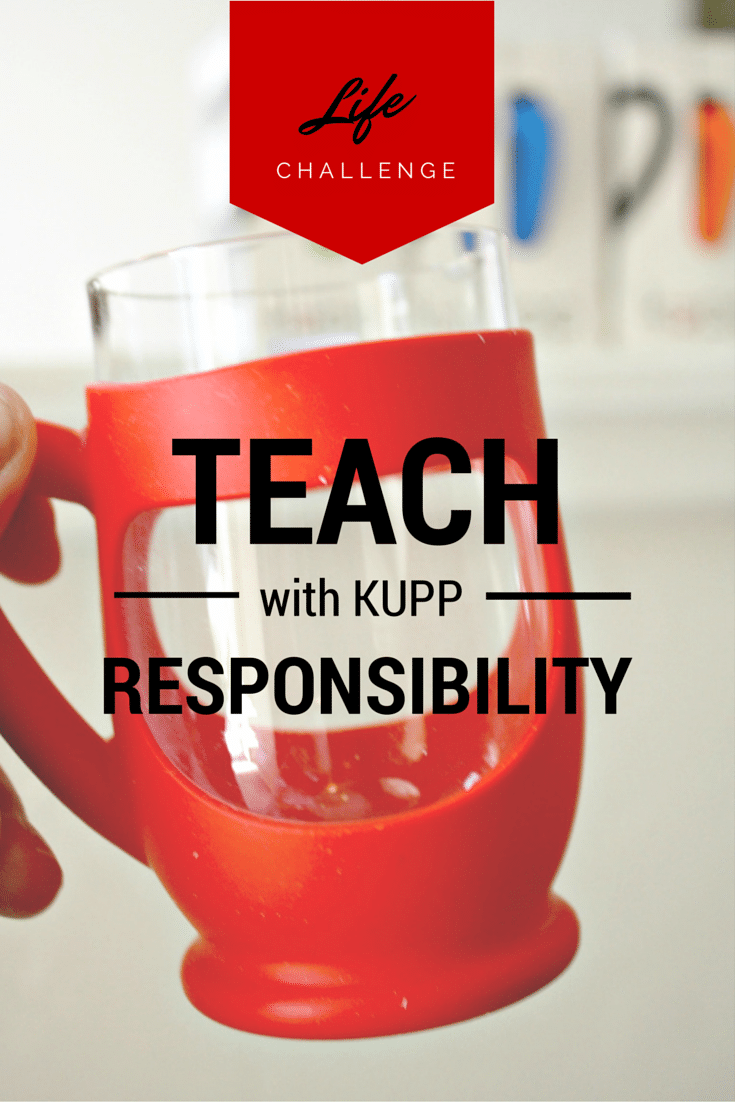 The plastics that we are using so much with our kids worries me a bit, but there are not a lot of alternatives. When Moms Meet offered me a chance to review the KUPP, I jumped on the chance.

Moms MeetSM program, May Media Group LLC, provided me with a set of 4 KUPP's to review. The opinions in this article are 100% my own. I'm including some Amazon Affiliate links to the KUPP so if you decide to take the challenge with your family – purchasing through this link comes at no extra cost to you, but I earn a small portion for advertising =) This helps me keep writing and sharing awesome products and ideas with you! WIN-WIN!


How did we fare with the KUPP challenge?
Read on to find out!

Assign each of your children their own personal Kupp'.
My daughter gets the blue (her favorite color)
My 4 year old son gets the red.
Baby gets the orange (although I am very worried his glass will break on our tile kitchen floor)

Explain that their Kupp' is their responsibility
They have to set it on the table during mealtimes, clean it once they're done, and put it away.
I showed them were the cups would be on our counter and how to rise them off after mealtimes.

At the end of the week, reflect on the experience:


My kitchen counters are cleaner.
My preschooler is washing out his cup after each meal.
My kids are not arguing over what color cup each one gets.
And all the glasses still look like new after 5 runs through the dishwasher.
My four year old is actually relishing in responsibility and said, "Mom, I sure wish they made water bottles too."
Teaching Responsibility with The Kupp

I really feel that limiting the amount of items our kids are responsible for, can actually make it easier for them to be responsible.
Spending time to teach what is expected of them and allowing the opportunities to practice being responsible is also important.

My preschooler easily stepped up to the plate (or glass) in this instance. By showing him what I expected and then following through with it, he easily switched routines and starting washing and caring for his own drinking cup.

My husband, was a little harder to get sold on the whole one cup per kid idea. He kept digging through our cupboards to pull out the plastic cups to fill at dinner time. It wasn't until my 4 year old looked at him one night and said, "Dad, you don't need to do that, we already set the table."



What about the Price of The KUPP???

As a "crunchy mom," I'm all about saving a little green (you can take this term both ways). These cups come with a little sticker shock. But, then I did the math. Last month, I bought 2 sets of plastic cups from Khols for $6 each. So, 8 cups totaled $12.00, less than the cost of one KUPP. BUT, after 2 washes in the dishwasher, the pictures were coming off the cups and they look, well, used. The kids were leaving them places. And I'm guessing in a couple months they may end up in the recycle bin. I also don't know what plastics are doing to my kids liquids and insides (sorry, just a mom, no science training).

If I have to buy plastic cups several times a year, this adds up. Now that I have a set of Kupps, I am really hoping that we can make them last. Not only will it save us $$$ green, but also ECO green in the long run.
More About The Kupp
• The Kupp' is a six-ounce glass outfitted with a colorful silicone sleeve. It's designed for kids ages 3-10.
• The firm grip and silicon sleeve helps to protect the glass from damage while providing a safe, toxic free vessel to drink from.
• The Kupp' comes in four vibrant colors that represent the environment: blue for water, green for earth, orange for the sun, and red for warmth.
• The Kupp' is the perfect serving size for children, and allows them to become more conscious of waste and consumption.
• The Kupp' is made in the USA using imported glass, and all materials are sourced from environmentally-friendly manufacturers that adhere to EU and US regulations.
• All glass is recyclable, certified lead and cadmium free, and is made from a pure soda-lime formula. It is also dishwasher safe!
• The grip-friendly silicon sleeve is BPA/BPS free and made with medical and food grade silicon to prevent damage. The sleeve does not have to be removed when washing, which makes cleaning your Kupp' very simple.
• The adorable Kupp' is designed to resemble a smile so kids are naturally attracted to it!
• The retail price of the Kupp' is $16.99 each.
Join in and try the challenge! I hope these cups will work as well with your family as they did with ours!
I received this product for free from the sponsor of the Moms MeetSM program, May Media Group LLC, who
received it directly from the manufacturer. As a Moms MeetsSM blogger, I agree to use this product and post my opinion on my blog. My opinions do not necessarily reflect the opinions of May Media Group LLC or the manufacturer of this product.