Let your kids travel through time to explore the world from the comfort of their own home. Here's a quick guide to the popular Magic Tree House Chapter Book Series with a list of 54 fun and easy activities to accompany each book.
As a mom, I love that my kids feel like Jack and Annie are their friends. I've also read the books along with my kids, and can attest that the books deal with some difficult topics at very age appropriate levels. They have adventure and magic, without the scare.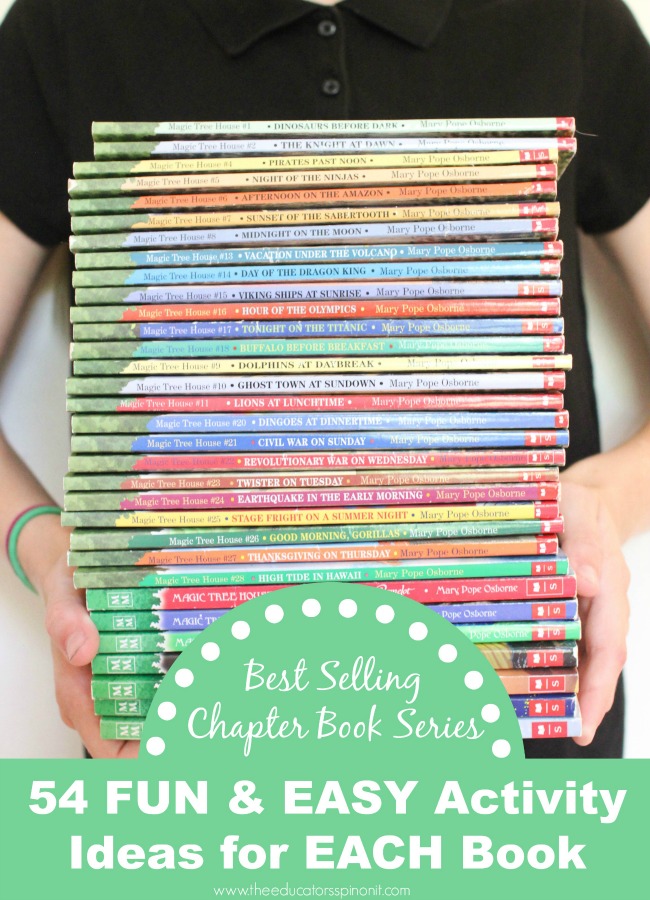 About the Magic Tree House Chapter Book Series
The Magic Tree House Series by Mary Pope Osborne is a bestselling middle-grade series for young children. The pace, action, and the characters in the book series are all perfectly suited together, ensuring that you are not only able to grab the child's interest but that you maintain his or her interest throughout the story.
Because they are so popular, most of the books are available in the public libraries. We decided to purchase the entire set all together many years ago – because they are that good – and we have read and re-read the entire collection several times.
Age Range: most books are 6-9 years old, towards the end of the series 7-10 years old.
Recommended Grade Level: 1st – 4th Grade, 2nd -5th
Lexile Measures: around 310L. Click on the name of the book below to see the exact Lexile Measure.
Around 70 pages
Published by Random House Books for Young Readers
Price Range $2.97-$15. Soft cover chapter books in sets are the best value. Hardcover and books on CD are more expensive than the paperback books.
The books in this article are affiliate linked to Amazon, but you may be able to find them for a discount through Scholastic, used books stores, and even library book sales. Click on the links to read customer reviews and more details about each book.
We have found some of the books at garage sales too! (If they are doubles of what we own, I purchase them and donate them to our local teachers!)
Magic Tree House Chapter Book Series Main Characters
The Magic Tree House chapter books by Mary Pope Osborne revolve around the two main characters, siblings Annie (age 7) and Jack (age 8). In the series, the siblings discover a tree house located in the woods near their home.
The tree house can transport the siblings to different historical periods and places. Beginning with book 29, Jack and Annie receive quests from the ancient wizard Merlin the Magician.
Magic Tree House Chapter Book Series Settings
In the series, the characters get sent to various locations around the World for the purpose of achieving a particular goal, which often involves rescuing an important historical figure or document. The series currently has a total of 51 books. Each volume will often follow an arc that begins and ends in the treehouse. Each story is full of suspense, guaranteeing that the young ones will at one point find themselves in a precarious position, even though things always turn out well in the end.
Meet the author of the Magic Tree House Chapter Book Series – Mary Pope Osborne. (She raves about the importance of going outside, in your community and spending time with family and friends – going on your own adventures)
Want to Know More About the Magic Tree House Chapter Book Series?
The writing in the Magic Tree House Chapter Books is simple to read for young readers, but not babyish, and has great pacing. Historical facts and events are interwoven into the fiction story line. There is a non-fiction Magic Tree House Chapter Book series that accompany some of the stories. We have found these books informative in nature and a little bit harder to read.
As the series progresses, you will notice that the language changes from simple, to a bit more sophisticated. They start to get harder with the Merlin Mysteries, book 29 and later. With the change in language, you will also see that the plot changes to incorporate more fun, making it ideal for older readers who may be interested in this kind of stories too. One thing that does not change is the level of scariness incorporated throughout the series.
I personally feel like the books deal with tough topics such as war in very age appropriate ways. If you ever feel that a topic may be more advanced than your child is ready for – read the book prior to them reading it. We found that discussing the books we both had the chance to read not only showed our children that reading was important, but also gave us the opportunity to discuss some topics that would not normally come up in dinner table conversations.
Any parent who has school going children between the ages of five and eight years will find that the series makes for a great evening read. While the series is ideal for first and second-grade children, they can also be read to advanced kindergartners. We purchased the set of books 1-41 for my daughter when she was 4 years old and read them out loud to her one chapter at a time.
At the end of each chapter we would predict what we thought would happen next. At the beginning of each new day, we would take turns summarizing previous events in the story.
She then read them all within a few month span of time when her reading took off in kindergarten and again in grade 3, because she "couldn't remember" every story and they were worth her time to re-read.
Note: The Magic Tree House Series later books are also referred to as Merlin Missions.
Magic Tree House Chapter Book Series and Activity List
Here is a list of books 1-53 with an easy related activity parents or teachers could do with their child after reading the book to further extend learning.
For free lesson plans connected with each book, visit Mary Pope Osborne's Classroom Adventures Program. On this site, visitors click on the icon of the book they are looking for lesson plans for. If you are a teacher and have created a lesson plan to accompany one of the chapter books, you can submit your idea to be featured here as well.
From painting a scene from the book to creating a timeline of important events, here are a list of the books and an easy activity you can do before, during, or after reading the book. Amazon Affiliate Links to Books
Many of the Magic Tree House Series come in both print and audiobook editions. The library audio book versions are narrated by the author, Mary Pope Osborne.
#1: Dinosaurs Before Dark – Make a dinosaur diorama
#2: The Knight at Dawn –  Dress up as a knight (directions to make your own shield here) and play pretend.
#3: Mummies in the Morning – Visit a museum (We went to the Science Museum of Minnesota They have a mummy on exhibit.)
#4: Pirates Past Noon – Write your own treasure map.
#5: Night of the Ninjas – Take a trial martial arts class at a local studio.
#6: Afternoon on the Amazon – Draw a picture of the Amazon.
#7: Sunset of the Sabertooth – Write a story that takes place at the time of cave people and woolly mammoths.
#8: Midnight on the Moon – Bake moon bread.  Directions to make it here.  FACT TRACKER: Space
#9: Dolphins at Daybreak – Visit the ocean. Look for dolphins.  FACT TRACKER: Dolphins and Sharks
#10: Ghost Town at Sundown – Research online what clothing looked like in the past.
#11: Lions at Lunchtime – Watch an educational video about African animals.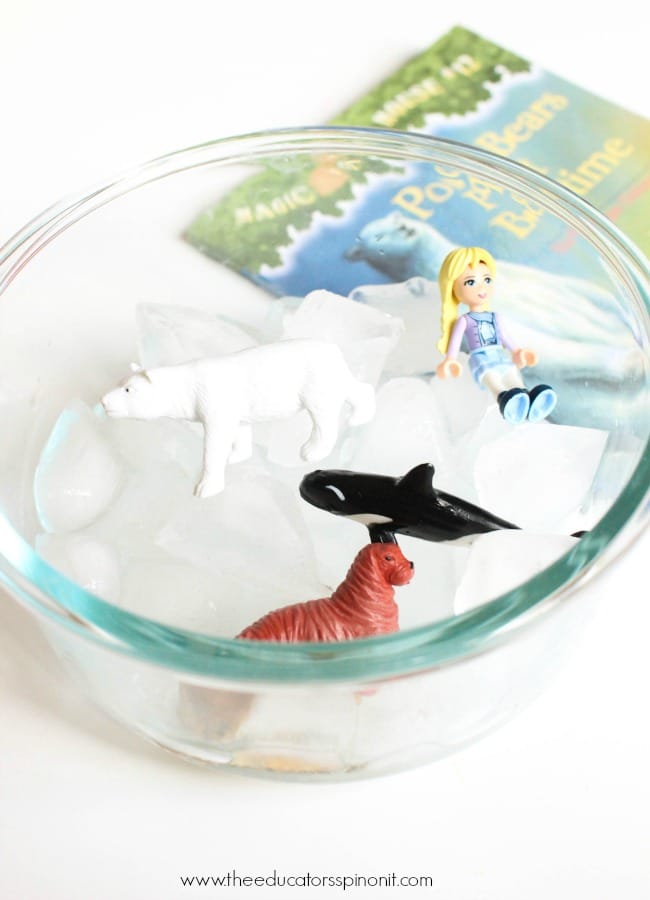 #12: Polar Bears Past Bedtime –Make a small world play space with ice and polar animals. FACT TRACKER Polar Bears and the Arctic
#13: Vacation Under the Volcano – Find Rome on a map of the world. FACT TRACKER Ancient Rome and Pompeii
#14: Day of the Dragon King – Make a paper dragon with crayons and water color paint. FACT TRACKER China: Land of the Emperors Great Wall
#15: Viking Ships at Sunrise – Find Ireland on a map or globe. FACT TRACKER Vikings
#16: Hour of the Olympics – Write a comparison essay. How are the Olympics similar today and in ancient times? FACT TRACKER Ancient Greece and the Olympics
#17: Tonight on the Titanic –  Check out a book from your local library about the Titanic. FACT TRACKER Titanic
#18: Buffalo Before Breakfast Make a list of plants and animals found on the Great Plains.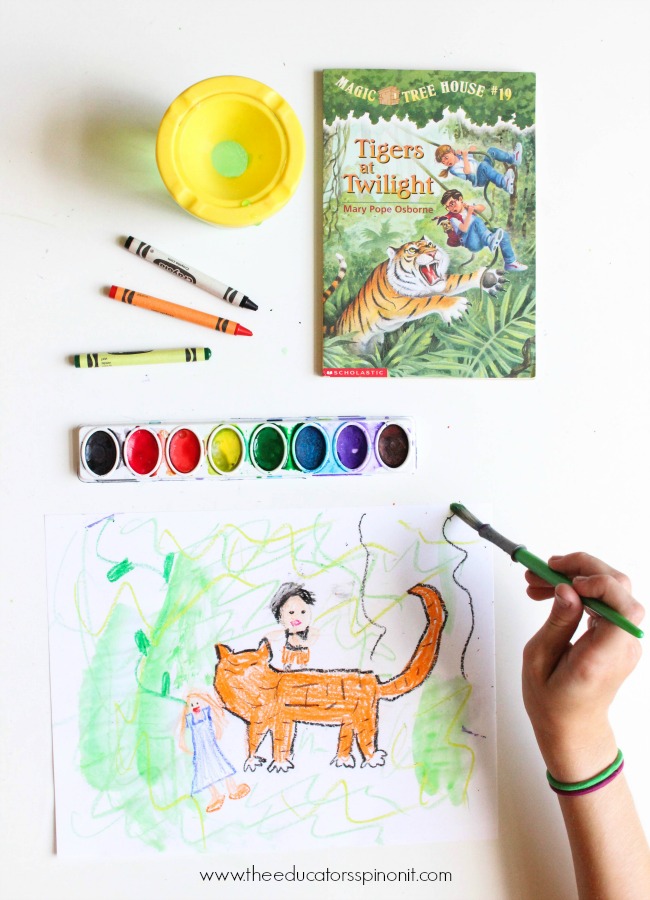 #19: Tigers at Twilight Crayon and water color paint a water color resist scene of the forest in India.
#20: Dingoes at Dinnertime Pick two animals from the story and compare them.
#21: Civil War on Sunday Create a timeline of important dates in USA history.
#22: Revolutionary War on Wednesday Write a list comparing life during the revolutionary war to life today. FACT TRACKER American Revolution
#23: Twister on Tuesday Discuss your family emergency plan in the event of bad weather. FACT TRACKER Twisters and Other Terrible Storms
#24: Earthquake in the Early Morning – Research and find out where and why earthquakes occur.
#25: Stage Fright on a Summer Night Write, practice, and perform a short play for your family.
#26: Good Morning, Gorillas – Write a short story with a gorilla as the main character.
#27: Thanksgiving on Thursday – Cook a Thanksgiving feast (no matter what time of the year it is!) FACT TRACKER Pilgrims.
#28: High Tide in Hawaii – Cut a surfboard shape out of tag board and decorate it. FACT TRACKER Tsunamis and other Natural Disasters.
#29: Christmas in Camelot Use a compass and make up a direction game to "save" one of your toys.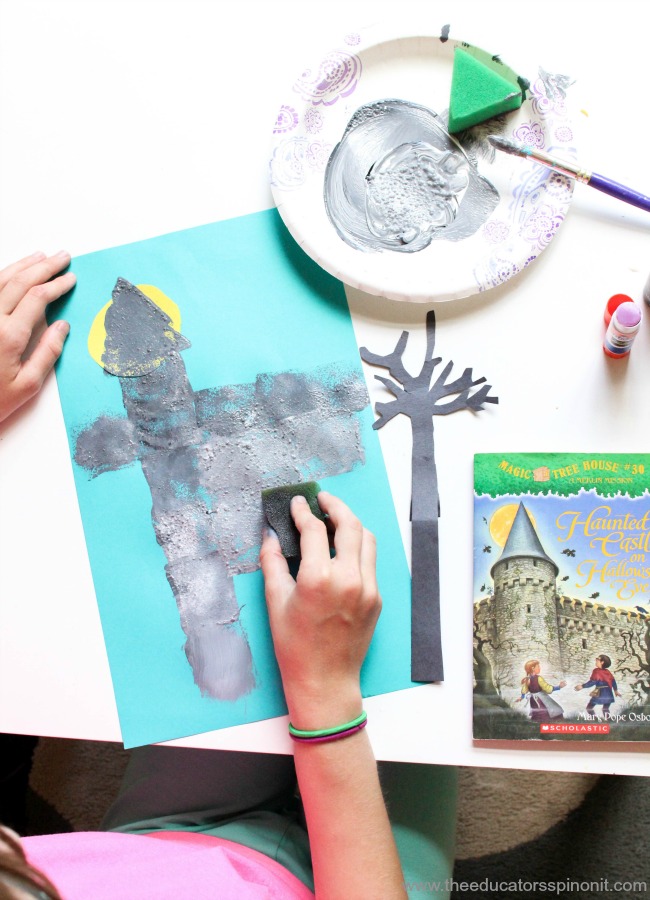 #30: Haunted Castle on Hallows Eve * Cut a sponge and dip in grey paint. Sponge paint a castle.
#31: Summer of the Sea Serpent Make up a riddle of your own.
#32: Winter of the Ice Wizard Create a 3-D ice castle using ice cubes and salt.
#33: Carnival at Candlelight Make a lantern using a mason jar, wax paper, permanent marker and battery operated tea light.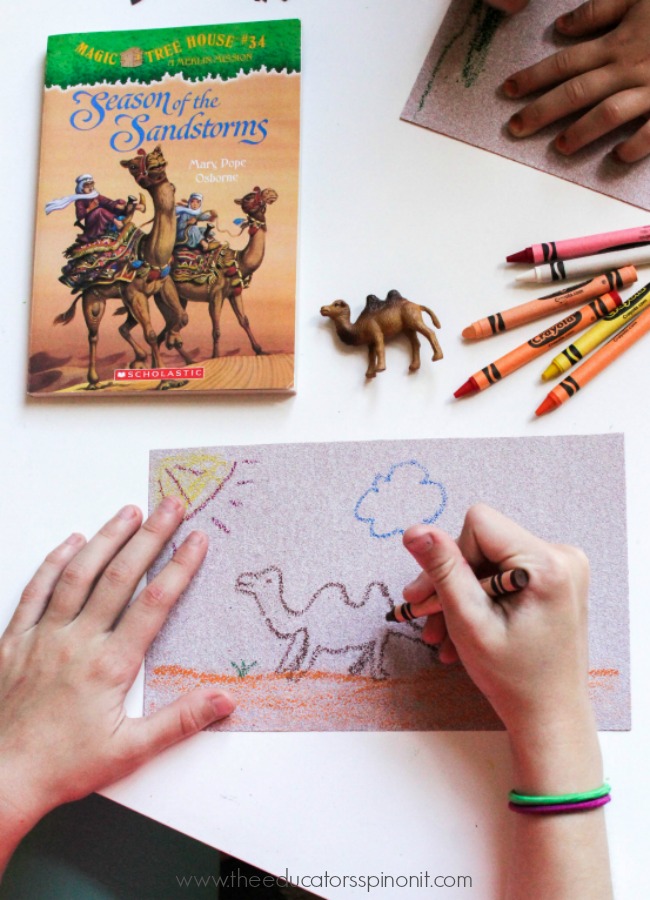 #34: Season of the Sandstorms *Color on sandpaper.  Can you make a camel?
#35: Night of the New Magicians Chalk a giant Eiffel Tower on your sidewalk or driveway.
#36: Blizzard of the Blue Moon Print a picture of you on a pieces of paper.  Use a q-tip to stamp a ton of snowflakes on the picture to make it look like a blizzard.
#37: Dragon of the Red Dawn Order or make your own sushi! Here's how we set our DIY sushi station at home.
#38: Monday with a Mad Genius Design and build a simple machine.
#39: Dark Day in the Deep Sea Visit an aquarium or pet store with fish.  Read more information about each. FACT TRACKER Sea Monsters
#40: Eve of the Emperor Penguin  Make a set of penguin math counters using lids. Act out penguin word problems. Step by Step directions on how to make them here. FACT TRACKER Penguins and Antartica
#41: Moonlight on the Magic Flute Listen to one of Mozart's masterpieces.
#42: A Good Night for Ghosts. Tell a ghost story FACT TRACKER Ghosts
#43 Leprechaun in late winter Design and build your own leprechaun trap. FACT TRACKER  Leprechauns and Irish Folklore
#44 A ghost tale for Christmas time. Do something nice for others.
#45 A Crazy Day with Cobras Hide & Seek with plastic snakes.
#46 Dogs in the Dead of Night  Write about your favorite scene of the book. FACT TRACKER Dog Heroes
#47 Abe Lincoln at Last! Find and count the $ with Lincoln on it in your house.  FACT TRACKER Abraham Lincoln
#48 A Perfect Time for Pandas Visit an arboretum and find bamboo FACT TRACKER Pandas and Other Endangered Species
#49 Stallion by Starlight Read 2 more books about horses. Compare and contrast.
#50 Hurry Up! Houdini Learn and perform a magic trick.
#52 Soccer on Sunday Grab your soccer ball and head outside for a quick game. Work on passing the ball.
#53 Shadow of a Shark – Sculpt a shark out of play dough or clay. Don't forget the dorsal fin.
#54 Balto of Blue Dawn Find and watch a short video clip on dogsledding.  We liked this one What Your Kids Can Learn From Sled Dogs on YouTube. It's 3 minutes long. Preview your videos first. Some I watched on YouTube about dogsledding contained profanity. FACT TRACKER Dogsledding
54 fun and easy activities for the Magic Tree House Books!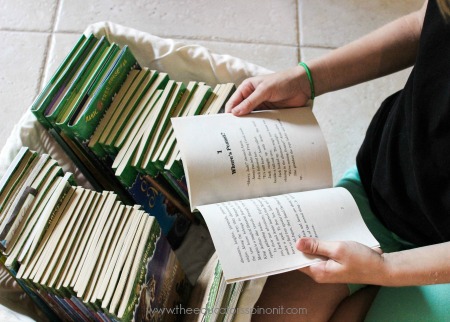 See all the Magic Tree House Series on Amazon here.