It's the middle of summer break! Are you looking for a few fun things to do with your child? Check out our July Activities for Kids. It includes our Free Summer Activity Calendar!
Here are our top picks for July Themes and Activities for Kids…
July Activities for Kids
We've put together this list of fun and educational July activities for kids below. Be sure to start off your July fun with a few summer virtual field trips!
You can use the table of content for easy reference to these fun summer activities for kids that we've divided into different July Themes for Kids. This month's themes are Fourth of July, Summer STEM Activities, Gardening, Sharks, Ball Games, and Sidewalk Chalk.
Want more summer themes? Try these June Activities for Kids!
Fourth of July Activities
Kick-off your 4th of July with these fun patriotic activities for kids. Explore these red, white and blue activity ideas!
Summer STEM Activities
A fun way to spend your summer days with your child is to plan for STEM activities. Here's a collection of ideas to encourage your child to explore science, technology, engineering and math this summer.
Summer Garden Activities
As the summer kicks into full swing, the garden is a fun place for the kids to spend more time in. Here are a few garden activity ideas for July!
Explore our collection of Gardening Activities for Kids
Shark Week Activities
Each July there's a special week that's fun to join along with called Shark Week with the Discovery Channel. Here are a few activity ideas, books and even videos to explore together.
Summer Ball Games for Kids
Summer means you have a lot more time to get outdoors. Here are some fun ball activities for the kids to learn to play together this July.
Sidewalk Chalk Games for Kids
It wouldn't be summer without some sidewalk chalk. Add a little summer learning and extra fun with this collection of sidewalk chalk activities.
Summer Olympics
Summer Virtual Field Trips
Looking for a way to get away, even if it's just virtually? Explore these kid-friendly summer themed virtual field trips for kids.
Want more virtual field trip ideas? Try these 30+ Virtual Field Trips for Kids!
Disclosure: This post contains Amazon affiliate links.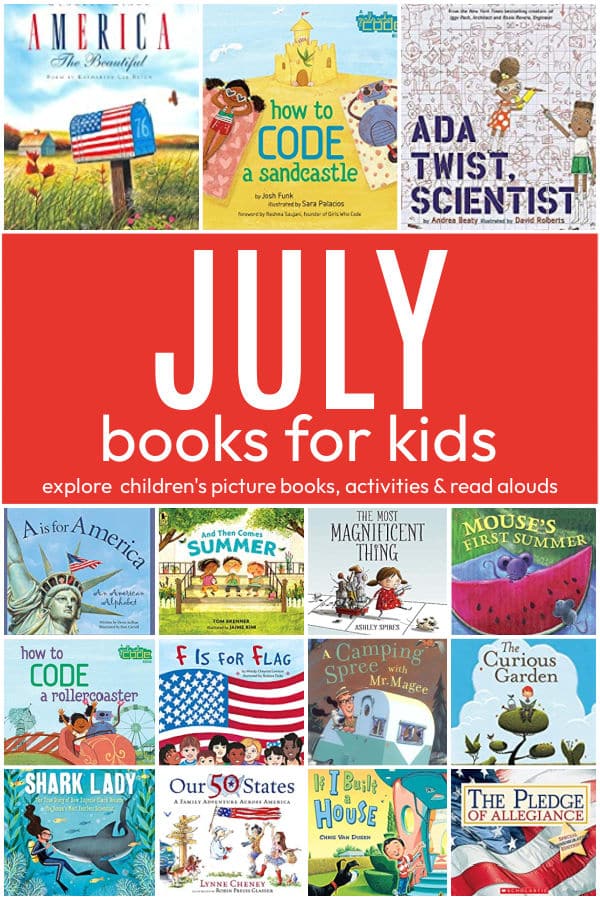 July Books for Kids
As a teacher, I'd recommend doing one key thing during the summer is to encourage your child read as much as possible. It's the perfect time for them to explore their favorite books and authors to fall in love with reading.
Here are a few summer books we'd recommend for the month of July that go along with the activities we've provided in our July Activity Calendar.
The Pledge of Allegiance by Scholastic
America the Beautiful by Katharine Bates
F Is for Flag (Reading Railroad Books) by Wendy Cheyette Lewison
America : A Patriotic Primer by Lynne Cheney
A is for America by Devin Scillian
Our 50 States: A Family Adventure Across America by Lynne Cheney
Ada Twist, Scientist by Andrea Beaty
Rosie Revere, Engineer by Andrea Beaty
Iggy Peck, Architect by Andrea Beaty
Zoey and Sassafras Books by Asia Citro
The Most Magnificent Thing by Ashley Spires
If I Built a House by Chris Van Dusen
Explore this collection of STEM Books for Kids
The Curious Garden by Peter Brown
Up in the Garden and Down in the Dirt by Kate Messner
Lola Plants a Garden by Anna McQuinn
A Camping Spree with Mr. Magee by Chris Van Dusen
How to Code a Sandcastle by Josh Funk
How to Code a Rollercoaster by Josh Funk
Want more? Take a look at these Gardening Books for Kids.
Want more? Explore our large collection of Shark Books for Kids!
Take a look at the Best Ball Books for Kids!
Explore our Summer Olympic Book Picks too!
Printable July Activity Calendar
Want more activity ideas for summer fun? Take a look at our June Activities for Kids!