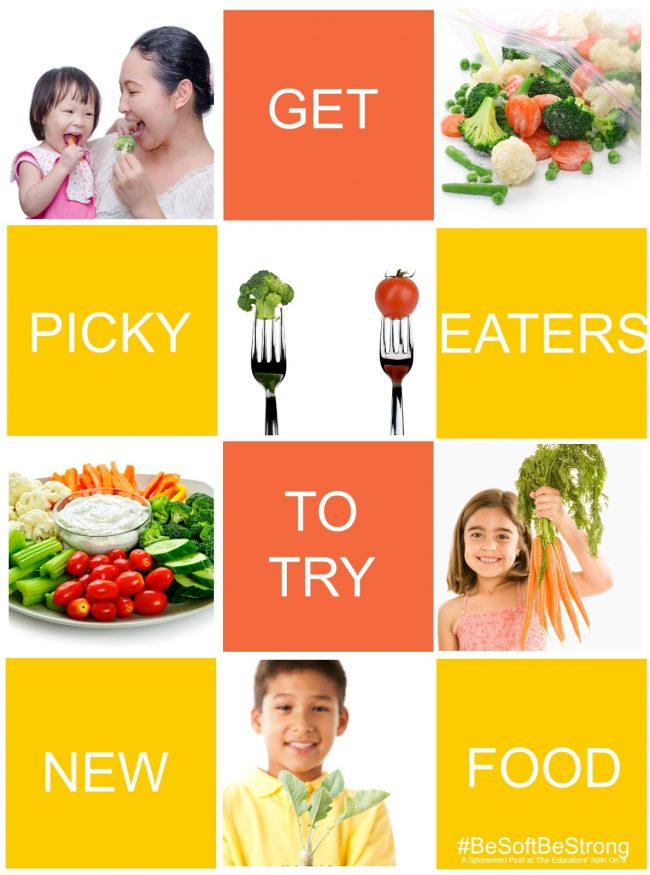 This is a sponsored conversation written by me on behalf of Georgia Pacific.
The opinions and text are all mine.
I'm on a mission to get my kids eating healthier and try new foods. Unfortunately, getting picky eaters to try new foods is no easy task.
I add vegetables to smoothies.
I bake muffins with veggies.
We even add shredded vegetables to lasagna!
But, it's not enough. We still struggle every day to maintain the recommended amount of fruits and vegetables.
Thankfully, I've got a great group of mom friends who were willing to share their take on getting picky eaters to try new foods.
Getting Picky Eaters to Try New Foods
Not sure when to be soft or strong as a parent?
Read on to see how our community of moms gets picky eaters to try new foods.
My Picky Eater: My middle child will only eat vegetables when they are fresh out of the garden. I add grated vegetables to my muffins, layer them in my lasagna, and throw a little bit into our smoothies, but it's still not enough. I know he is not getting his daily recommended servings of fruits and vegetables. I believe that good eating habits start young, and want to make sure to set his body up for a healthy and active life. It's a fine line though between making the dinner table a battle ground and making sure his body is fueled with the good stuff. I'm not alone on trying to get picky eaters to try new foods
Here are some tips for getting picky eaters to try new foods from Moms around the world. We share a common goal of raising happy, healthy families.
I try not to push either. Sometimes I offer an alternate sauce. For instance, one of my twins started eating meatloaf after I let her put pasta sauce on it instead of ketchup (not sure how I got a kid who doesn't like ketchup!)
Heather  – Books and Giggles
Swoon Over Good Food

"I did baby led weaning with one child and purees with the other and still ended up with two picky eaters! If its a new food or something I think they won't eat I always put something on the plate I know they like to try and make it less of a big deal, so tonight was pasta bake (sauce! eek!) with cucumber and carrot sticks. Plus lots of 'mmmm, this pasta bake is AMAZING' style reviews while we're eating. They'll normally try at least a tiny bit."
Kate – Crafts on Sea
Keep Presenting Foods
"I have twins: one will try anything and one is very picky. My best tip is to not pressure or force them to try new things, just present new foods in very small quantities and give them the opportunity to try them when they are ready. And don't give up after 1 or 2 tries, it can take a LONG time before they take a taste!"
Laura – Sunny Day Family
Serve Veggies Frozen
We serve veggies frozen and the kids LOVE IT.
Paula – Beauty Through Imperfection
Grow Your Own
When my kids grow veggies and fruits (and even herbs) in the garden, they feel so much more connected to the food and proud of what they've done. They had never tried figs before, but as soon as our figs were ripe they started picking them and tasting them. There's something about growing your own food that lures kids out of their pickiness!
Becky – Kid World Citizen
Serve Healthy Foods Every Day and EAT them Yourself
Be consistent and serve veggies each night and eat them yourself! They're watching and actions speak louder than words when kids are concerned. 
Justine – The Typical Mom 
House Rule: You Must Try a Little Bit
As a mom to 5, most often there will be at least one person who doesn't like something. Since I don't short order cook, they are required to eat at least a little of the offending food. It's amazing what repeat exposure will do for growing to like something. Now to help it down the first several times, ranch sauce works wonders in our house. It's amazing what they'll eat with it.
Kim – Frugal Minded Mom
Give 3 Specific Options – Let them Choose ONE!
In situations where our toddler/preschooler doesn't want to eat anything because she doesn't like a texture or taste, we give her three defined options. (If they're already made, we place them all in front of her). She has to eat one of them or the equivalent to one of them if all in front of her.
We also have defined what is food and what is a treat. So ice cream, sweets, etc. are treats and we don't eat them when hungry, but as a supplement when we finish regular food.
Kara – Karacarrero.com
Let them Pick a Fruit or Vegetable when Shopping
Take them shopping with you and let them pick out something they'd like to try from the fruit and vegetable aisle – giving them a bit of control makes it much more likely they'll try something new.
Grace – Eats Amazing 
Keep it Separated

Casseroles are tempting because they are easy and inexpensive, but kids tend to shun "mixtures." I know mine do! Besides, you may find that simple, plain foods are actually easier to prepare in the end. Finger foods tend to be a big hit, like sandwiches, vegetables and dip, sliced fruit, and simple pastas are often popular.
Jennifer – The Jenny Evolution
Be Soft, Be Strong