FabKids provides age appropriate clothing that are fashionable and fun for your child. By mixing and matching pieces from the FabKids line you can create budget friendly outfits that look adorable and last.
I'm sharing this as part of a sponsored series by FabKids.
Shopping for Kids Clothes
Having two daughters, a few years apart from each other, means that as a mom I spend more time than I'd like to admit to searching the store aisles for kids clothes for them to wear. The early years as babies and toddlers were fairly easy, there's so many options out there to choose from. However once they entered grade school my sweet little Kindergartner seemed to only have choices that seemed like pre-teen outfits.
Plus as sisters ages 5 and 10 they are still in the phase of wanting to have matching outfits at times, which is hard to do at many stores who limit how large of a size their clothing line goes.
Now a few years later my oldest is even more limited with the stores that she can shop at to find kids clothes that are suitable for her age and have great style. Frankly shopping for school clothes was a nightmare for us this back to school season, getting the style that seemed age appropriate for them within our budget but still looked adorable. I don't even want to count up the hours we spent driving around town to find something.
Are you in this same stage with your kids clothes?

Here's a solution that we found for the best deals of kids clothes… FabKids.com!
FabKids Review
You can visit the FabKids website with your child each month to look at the selections available. On your first visit you'll fill out a quick quiz that will help provide FabKids the info they need to send you the best options fitted for your child's interest and size.
When you choose their subscription service called the VIP, Very Impressive Parent. As a VIP on the first of each month, you get personalized recommendations for clothing. You can agree to pay the monthly fee of $29.95 or you have the option to "skip the month" and avoid getting charged that month. You have 5 days to decide what you're going to do.
A helpful feature is that with the VIP you can skip as many months as you want, and can continue to get great deals and stay a VIP member. You can also easily cancel at any time. If you forget to shop or "skip the month," your credit card will be billed $29.95 by the 6th for member credit, which can be used to purchase anything on the website. By becoming a VIP member, you also earn reward points with each purchase you make.
These points can be used to get free clothing.
Check out FabKids and get your first VIP outfit for $15.00, which is an amazing deal!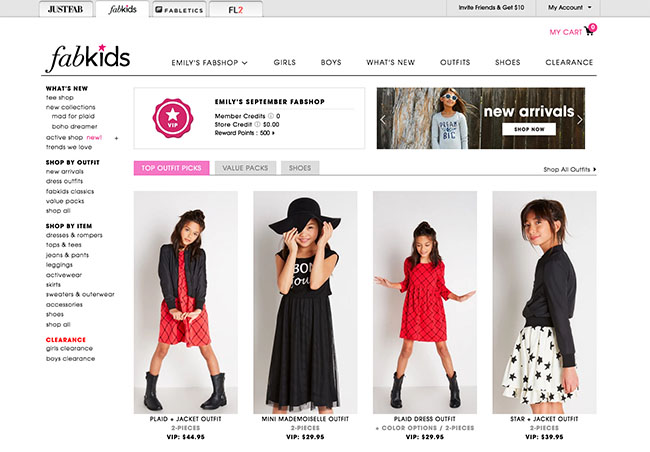 Finding a Clothing Store for Kids Online
I have to say that I'm thrilled we've found a solution for shopping for clothes and shoes for kids that works for all of the kids sizes in our home with our budget. FabKids does send a few additional emails with special deals for VIP members which so far seem to be affordable. With having a subscription based Kid Clothing that arrives monthly, I also feel like the kids are a little more invested in their clothing options because it's a big deal when the arrive in the adorable pink packaging that they've helped to picked out.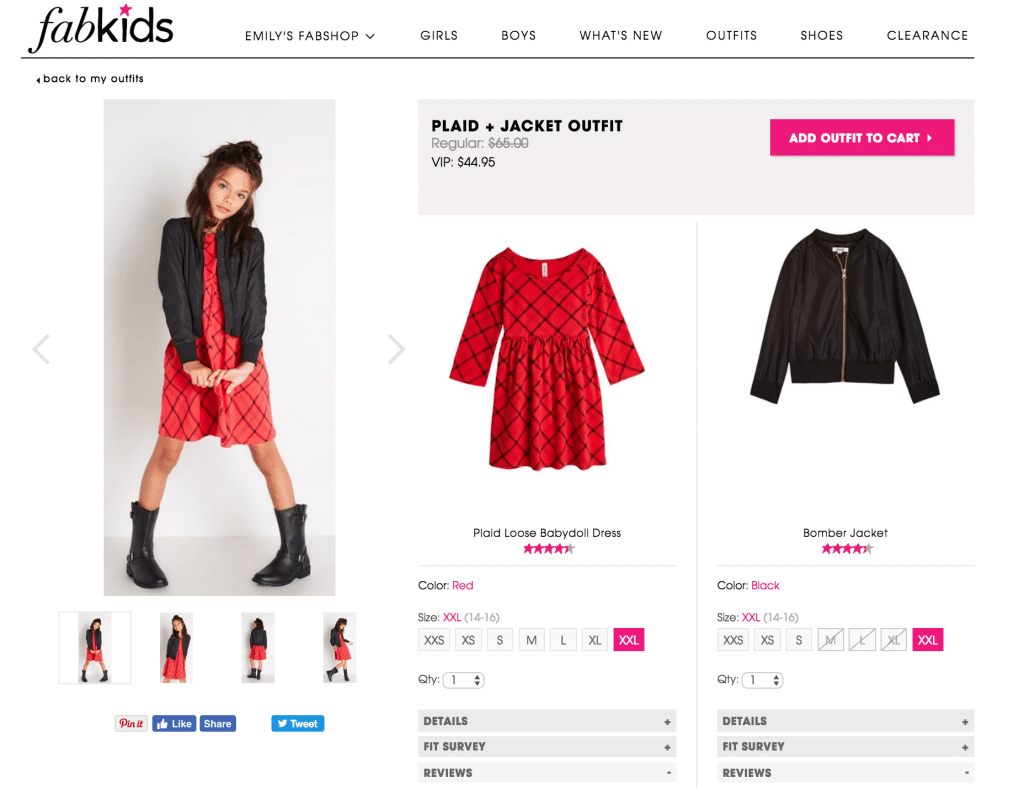 This is our family's first leap into online ordering for clothes and I'm so glad that we've done it and become a VIP member. We choose this dress and jacket combo for big sister and a two dress value pack for little sister. They can mix and match all they want, they said it reminded them of our recent trip to London.
The fall line from FabKids has been adorable for the past few months and I can't wait to see what comes next month!
What advice do you have about clothing shopping with kids?