Getting kids (especially girls) excited about engineering through play is definitely a win in my book! We are a hands-on, minds-on kind of family.
Just last week, we hosted a Goldie Blox Bash for friends to test out the building materials.
Read on to find out more!
*This is a sponsored post. All opinions are 100% my own.*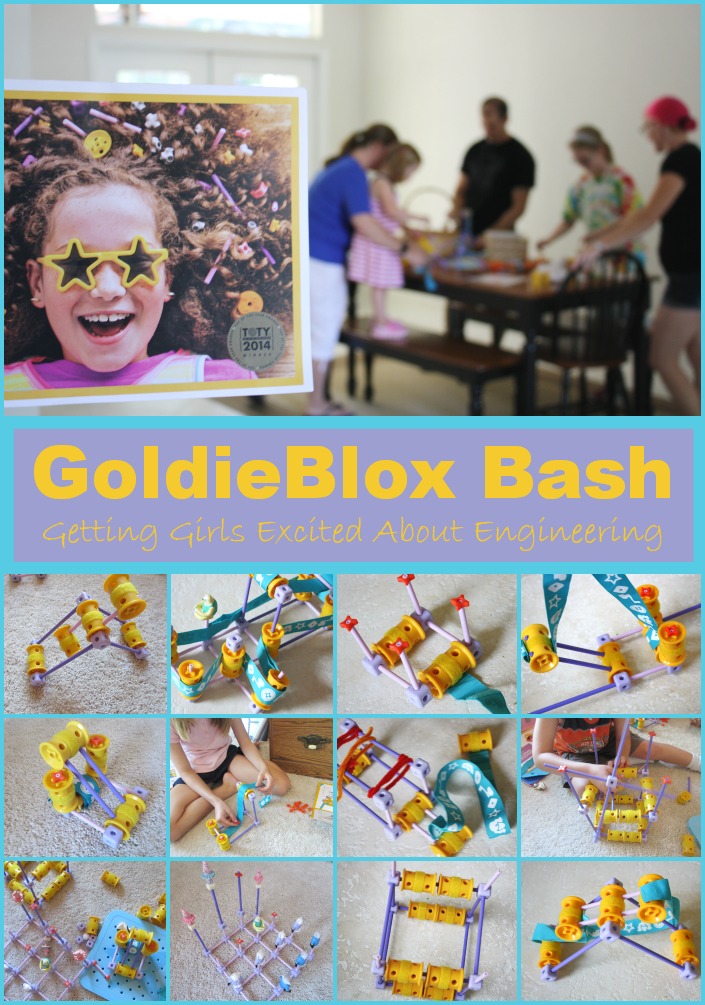 What is YOUR favorite toy that encourages building???
My kids are big builders. We have many different sets and I would like to say that I encourage all of my 3 kids (boys and girls) to think like an engineer. My daughter even attended Camp Invention, an awesome week long invention camp that teaches STEM through modules. I WANT my kids to think like inventors too!
Really, I just want my kids to think!!!
I was over the moon when accepted to review and host a Goldie Blox Bash with our friends, courtesy of MomDotMedia.
What is GoldieBlox
GoldieBlox is designed with the intent of encouraging girls to become involved in STEM activities from an early age – to fill the pink aisle with construction and chemistry sets. It is a toy designed with my 8 year old daughter in mind.
She LOVES princesses and dolls.
I've never seen her in a pair of jeans – only dresses or skirts.
She is a creative thinker who plays pretend will small dolls.
Her favorite colors are purple and turquoise.
She is also a scientific thinker, curious about the world.
The minute we opened the box at the door – it was love at first sight.
My kids got busy building and building and building some more!!!! In fact, in the 7 days before our GoldieBlox Bash, the kids spent at least 1 hour each day building, creating, designing, and inventing.
Goldieblox Review
So what did our friends think of GoldieBlox? They thought the building materials were AWESOME!

We had 12 kids and their parents over to test them out! The kids ranged in age from 2- 10 years old. There was one 2 year old, two 3 year olds, 2 four year olds, 2 five year olds, a six year old, a seven year old, 2 eight year olds, and a ten year old.

What I was surprised is that ALL of the children played and interacted with the materials, building and designing. Some worked independently and other built with their parents.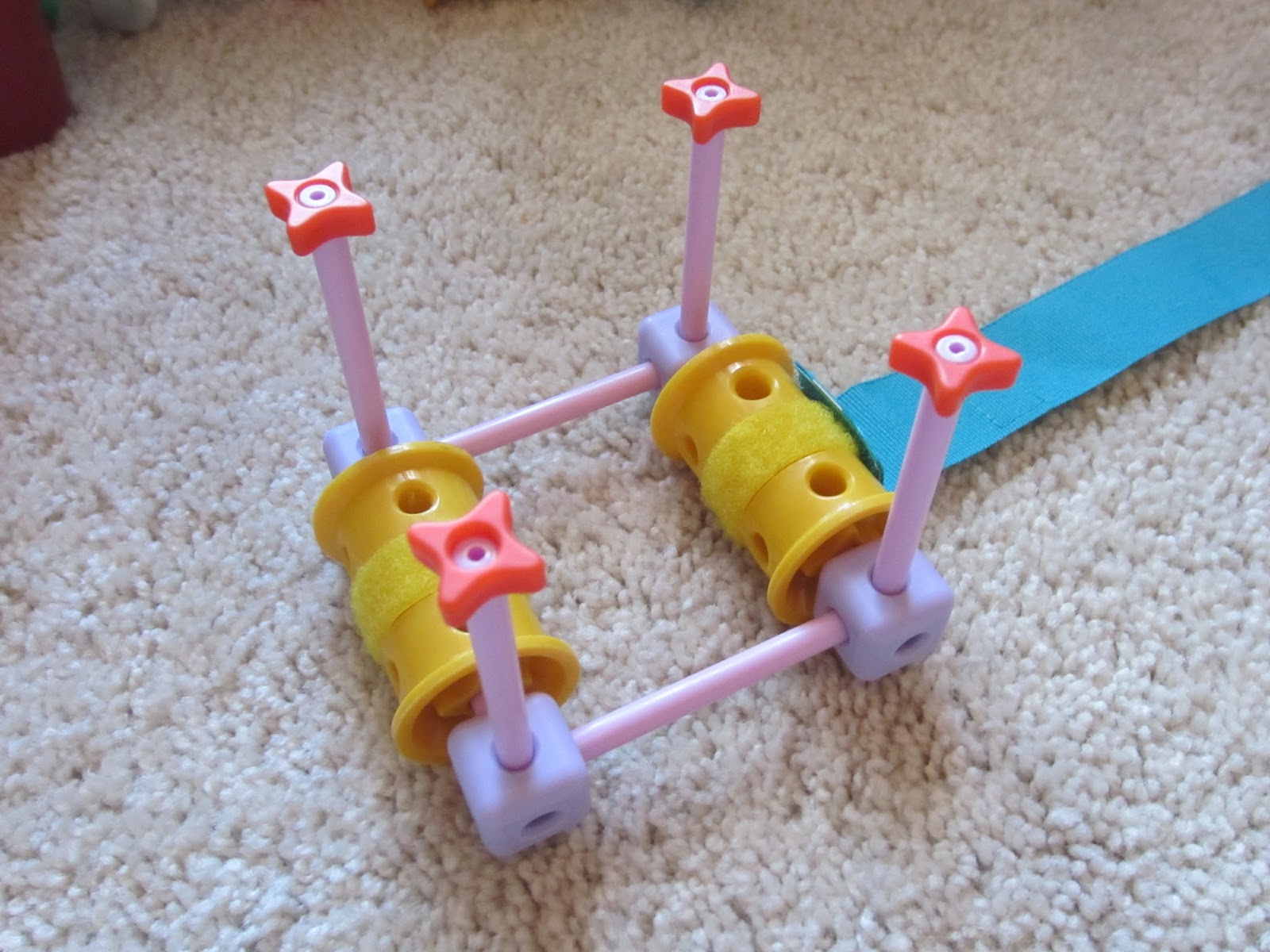 Mom of 4 year old, "These are sooo cool. We need to buy these for Sarah for Christmas."
Dad (in the middle of building), nods his head in agreement.
Mom of 4 year old, "And for my husband too!"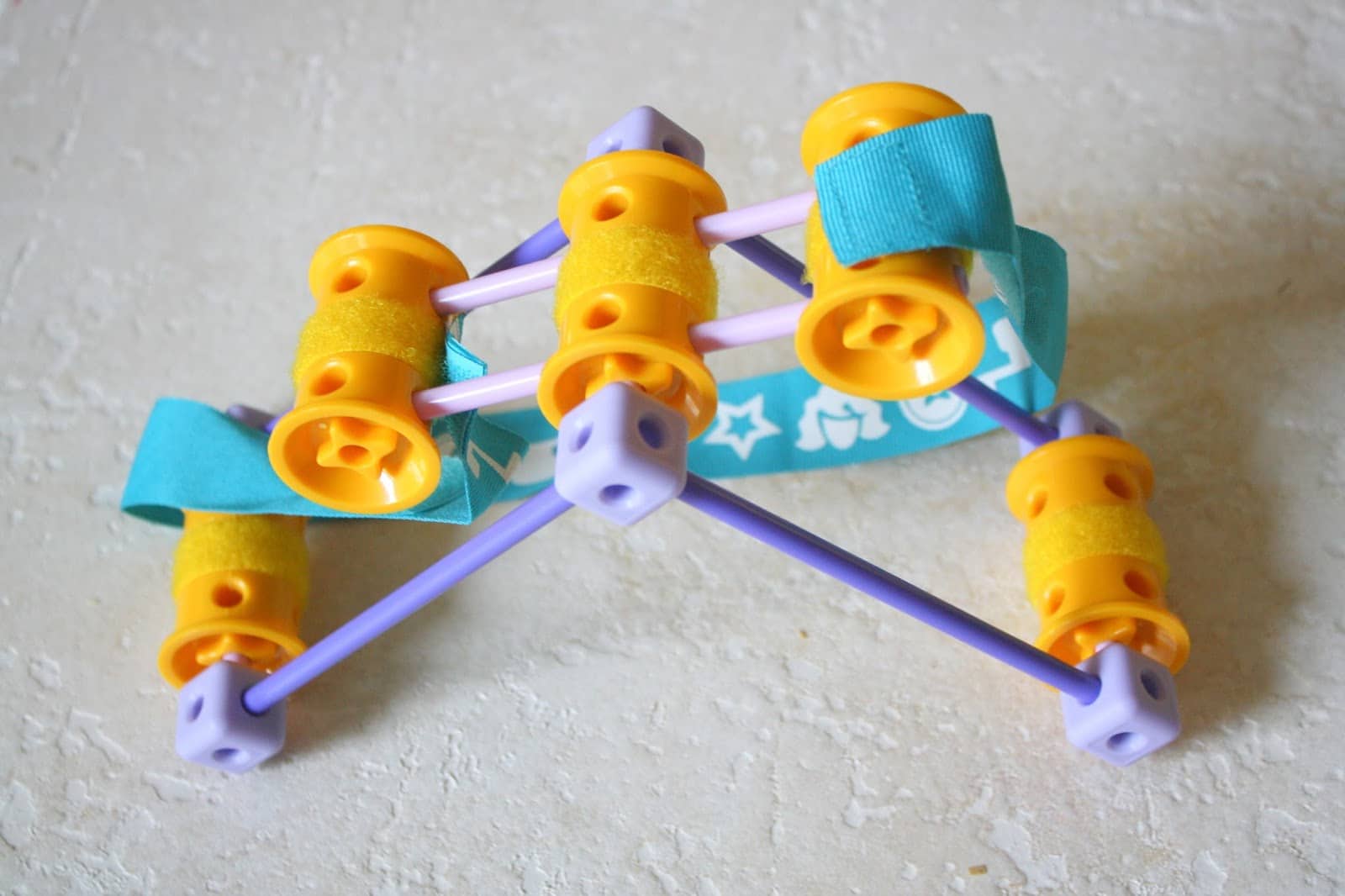 Other Dads chimed in that this a really neat toy for them to build with their little princesses.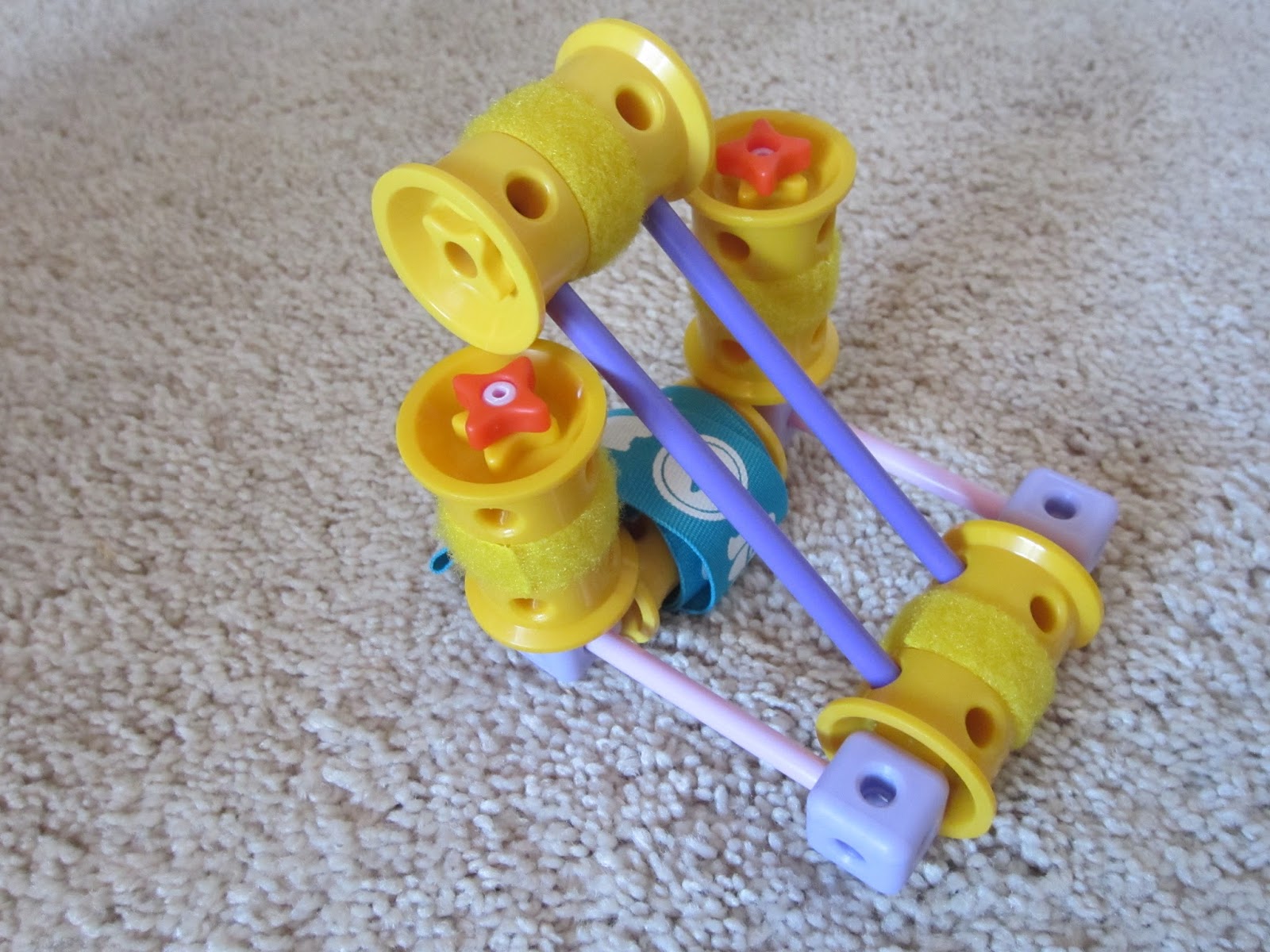 One friend (a 10 year old) said she was too big for little kid toys. We showed her the different designs at the back of the book and she stayed building the longest, making each project shown!!!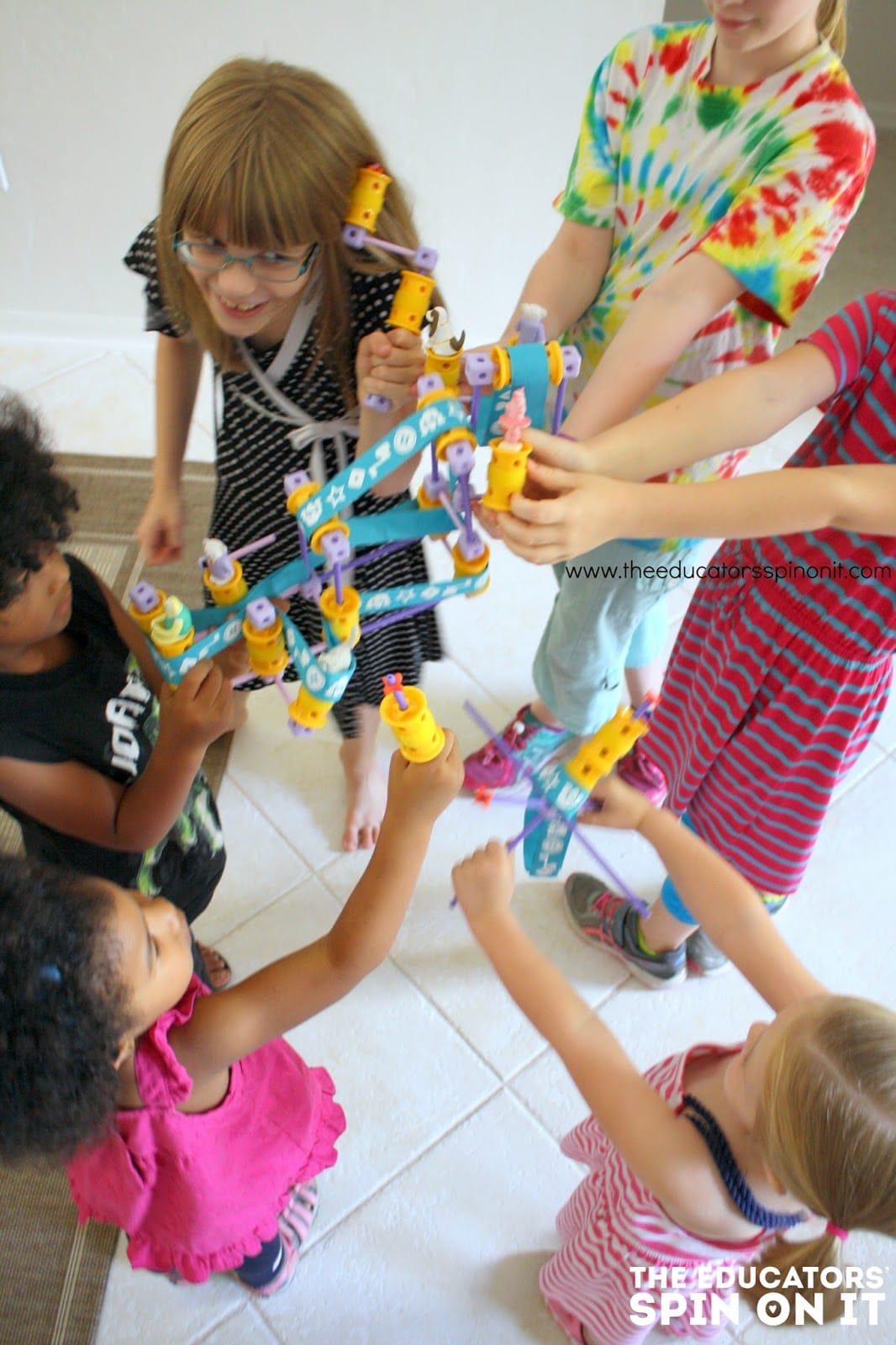 The accompanying book didn't receive as rave of reviews. Several of the girls read it and said, "way too girly." They skipped to the back building diagrams.
A couple of parents commented that it was way too pageant oriented and princessy for their tastes.
I giggled when one of the girls thought that the dolphin didn't make a very good villain. "Everyone LOVES dolphins," she commented. Other kids thought it was really cute.
Would I recommend GoldieBlox toys to other parents?
YES – Most Definitely! The kit is well thought out and provides for not only the building of the featured activity, but more independent play as well. The blox look very well made and should last for a while. It also was a good mix of colors that was visually appealing.
Would you like to learn more about GoldieBlox?
Visit their website GoldieBlox.com
Facebook Pinterest Instagram Twitter

Follow along with the hashtag #unbloxing on your favorite social media to see more pictures of engineers discovering GoldieBlox and #LookatGoldie for more ways parents and teachers are using GoldieBlox with their children.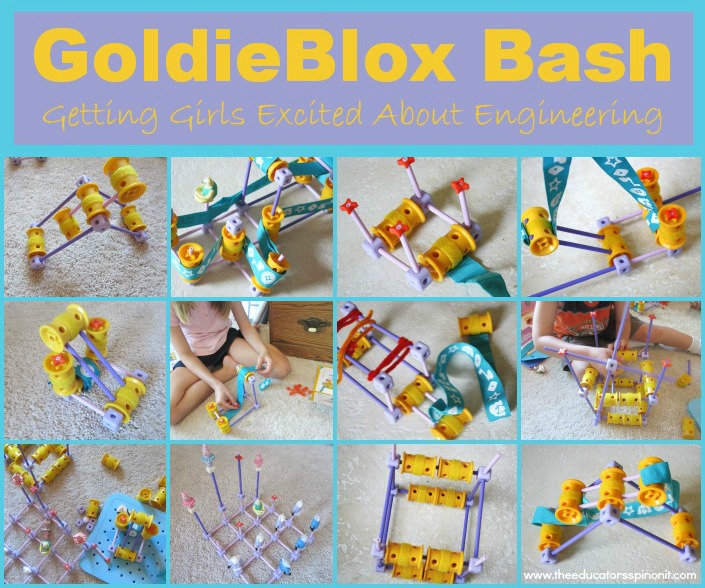 Don't miss the article from The Educators' Spin On It:
3 MUST Read Tips for Raising Engineers