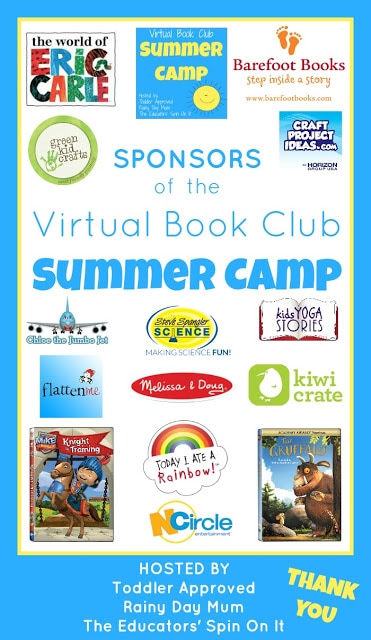 Are you ready to join us for the Virtual Book Club Summer Camp?
Have you signed up?
Cerys of Rainy Day Mum, Kristina of Toddler Approved and me, Kim, from The Educators' Spin On It are Hosting and sharing with you book themed activities that can easily be adapted for children Ages 2-8.

Join families all over the world as they participate in fun book themed activities at home that we've created just for you!  I just discovered a comment this morning on our site from one of our readers that made my day!
"My daughter is 6, and we are geared up go join next week! We gathered our supplies and books today, and decorated themed supply boxes for each week. Looking forward to it…so grateful for this FREE program!!"  Stacey
Can't wait to share with her and all of you all the fun things we have planned for you in the next 5 weeks!  HINT… next week is filled with BUGS! Grab this button and share with friends or on your website!
Are you ready to join!  Sign Up by entering your email address! 


Starting on June 24 all participants will be emailed your supply list and activity suggestions for setting up your Virtual Book Club Summer Camp at home. Each week following you will receive a new planner for the next week with everything you need to get you going.
We will update the Books Themed Activities each week from all three Websites on this page.  However you need to sign up to receive the Complete Virtual Book Club Summer Camp Planner with all of the activities which include…
Crafts
Cooking Adventures
Fine motor Activities
Gross Motor Fun
Language Activities
Math Activities & Games
Science Exploration
PLUS we'll also be sharing our Sponsors and Special Giveaways exclusive to our Participants.  Trust me you will LOVE them!  We can't thank our sponsors enough who make this camp FREE just for you!
Let's give a BIG THANK YOU to our Gold Level Sponsors

Keep on the lookout for additional sponsors who will be featured throughout the Summer Camp!