Resources for getting our kids involved with breast cancer awareness month. Teachers, friends, grandparents, aunts and moms surround our child and until we find a cure at times your child may need to understand more about breast cancer and how to support their loved ones.
Here are some breast cancer awareness for children resources to help you talk with your child.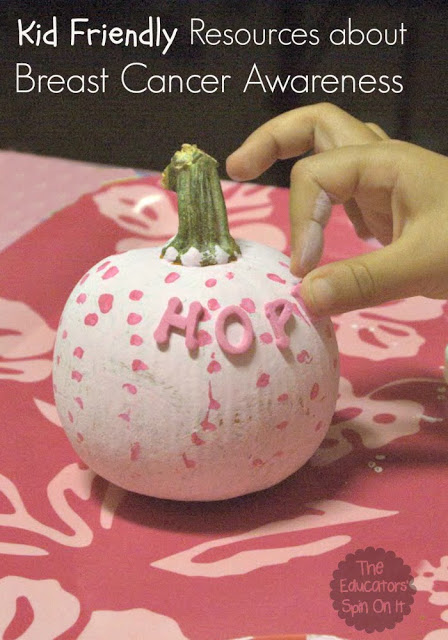 We invite you to join us today as kid bloggers join together to GO PINK for breast cancer support. We're sharing on our blogs various ways that you can help to support research for the cure. We're sharing simple ways we can support each other as we fight breast cancer with our friends and family members.
We participated in Small Hands Creating HOPE Project. Mama Smiles opened up this project to benefit the American Cancer Society. If you donate $15 you also get a free ebook full of kid friendly crafts.
Websites for Information for Talking to Kids About Breast Cancer
As we look at our children, words are sometimes hard to find to explain what's going on when a loved one has been diagnosed with cancer and going through surgeries and treatment.
We found a few websites with resources for talking with your child about cancer.
Please help end cancer by donating to the Breast Cancer Research Foundation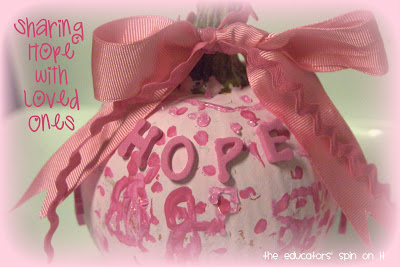 Books for Children About Cancer
Reading with your child about a topic is a great way to help them understand and also to understand that it's sometime that happens to others too.
Here are a few books about Talking with Kids about Cancer.

Mom Has Cancer! (Let's Talk About It Series)

You Are the Best Medicine

Punk Wig
Hair for Mama
Nowhere Hair: Explains Your Cancer and Chemo To Kids

The Kids' Guide to Mommy's Breast Cancer
Kids Friendly Crafts to Teach and Show Support to Loved Ones
Here's a kid friendly way to support Breast Cancer Research. Here are some ideas for cards and for volunteering to support cancer patients. We decided to paint a pink pumpkin and talk about Breast Cancer with our daughter this year. We talked about what types of words of encouragement could we give to someone.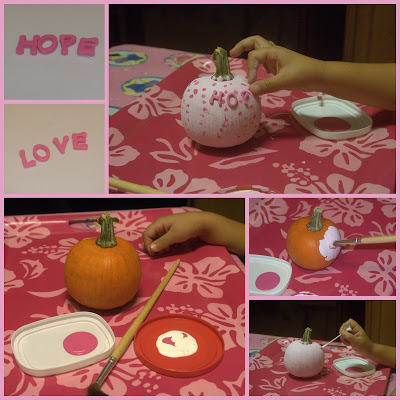 Here's where it's your turn. Let's work together to increase funding for breast cancer research. Let's join together to encourage support for the women and men who surround our lives every day! October 22 isBreast Cancer Awareness Day.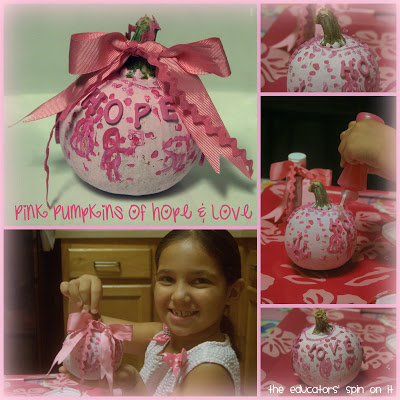 We're hosting a Go Pink Blog Hop. We invite you to share your Go Pink Themed posts about how you are reaching out into your community, into your own homes and even at playgroups to provide support for this cause.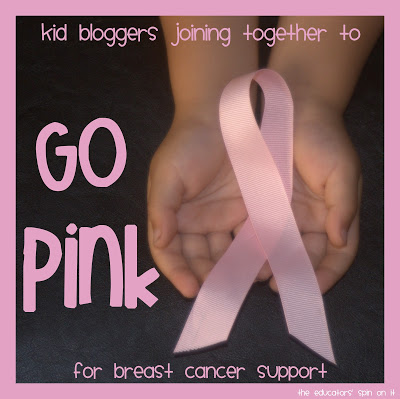 Kid Bloggers Go Pink is cohosted by
The Educators' Spin On It   Rainbows Within Reach ~  Projects for Preschoolers   ~   Raising Figure Skaters   ~  Kindergarten & Preschool for Parents & Teachers  ~  Home Learning Journey  ~  Go Kid Yourself  ~   Mama Smiles   ~  The Good Long Road
10 Things You Should Know About Breast Cancer
One out of eight women will be diagnosed with breast cancer… that's one every three minutes.
One woman will die of breast cancer every 13 minutes… nearly 40,000 women each year.
Monthly breast self examinations and annual clinical exams and mammograms in women 50 years and older could prevent as many as 30 percent of those deaths.
The American Cancer Society recommends women begin annual screening mammograms at age 40. Women should begin breast self examinations as early as in their 20s.
Breast cancer death rates have been steadily decreasing due to increased awareness of the importance of early detection and because of improved treatments. Today, there are more than 2.5 million breast cancer survivors in the U.S.
Between 5 to 10 percent of breast cancers are linked to inherited genes. Women who have inherited these genes are 80 percent more likely to develop breast cancer. If your family history includes close relatives on either your mother's or father's sides who have had breast cancer at an early age, you may wish to seek genetic counseling to learn if you are at higher risk for breast cancer.
If your mother, sister or daughter have had breast cancer, your risk for it more than doubles. Genetic counseling and aggressive surveillance/treatment may be recommended by your doctor.
More than 85 percent of women diagnosed do not have a family history of breast cancer… that's why breast self examinations and annual exams and mammograms by your doctor are so important to early detection, treatment and survival.
You can reduce your risk of breast cancer with simple lifestyle choices… maintain a healthy weight… exercise regularly, even if it's just a brisk walk 20 minutes each day… eat healthy foods…. and drink alcohol in moderation.
Tobacco use is clearly linked with many kinds of cancers and other diseases, such as cardiovascular disease. If you smoke, consider quitting.
* Adapted from American Cancer Society materials