One Mom's advice on discovering the facts about dense breast tissue and tips on how to be your own advocate.
It's National Breast Cancer Awareness Month and I wanted to share a special friend with our readers.
Sarah is a mom of 2 who I met while my daughter was in Kindergarten as Homeroom Parents together. My hope is that her personal experience with fighting breast cancer and learning about additional risks of dense breast tissue will make each of us be inspired to be advocates for our own healthcare.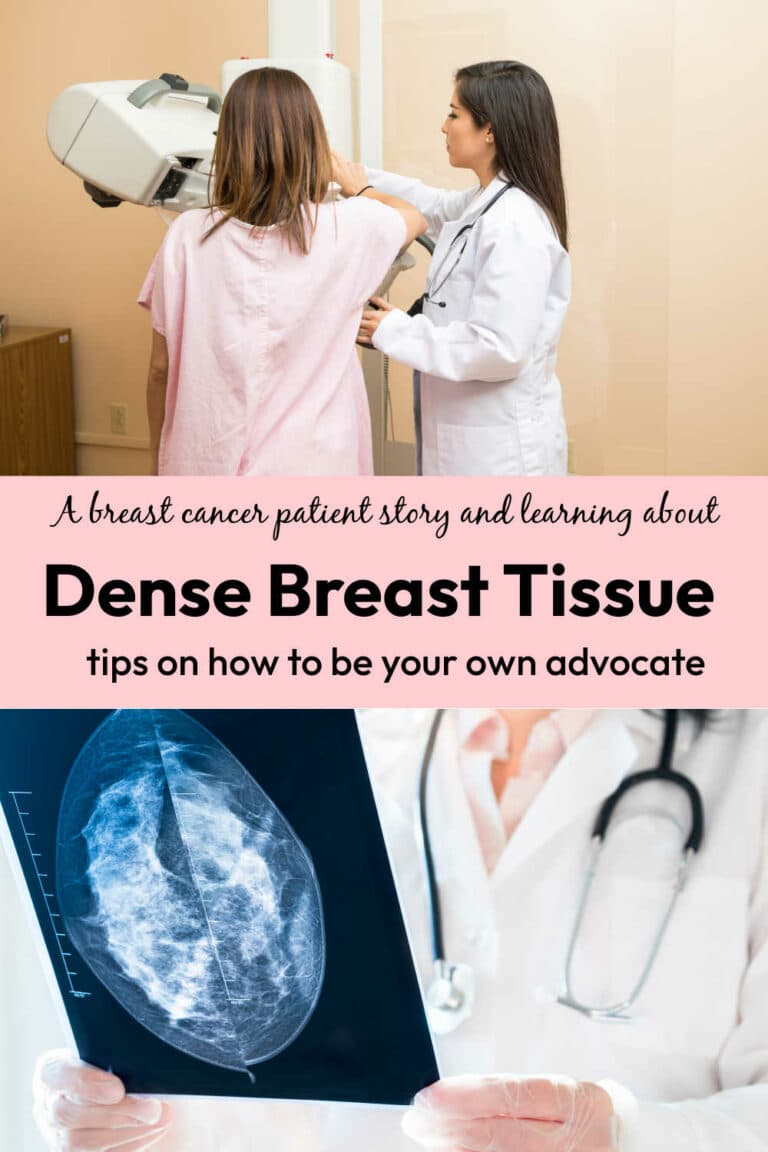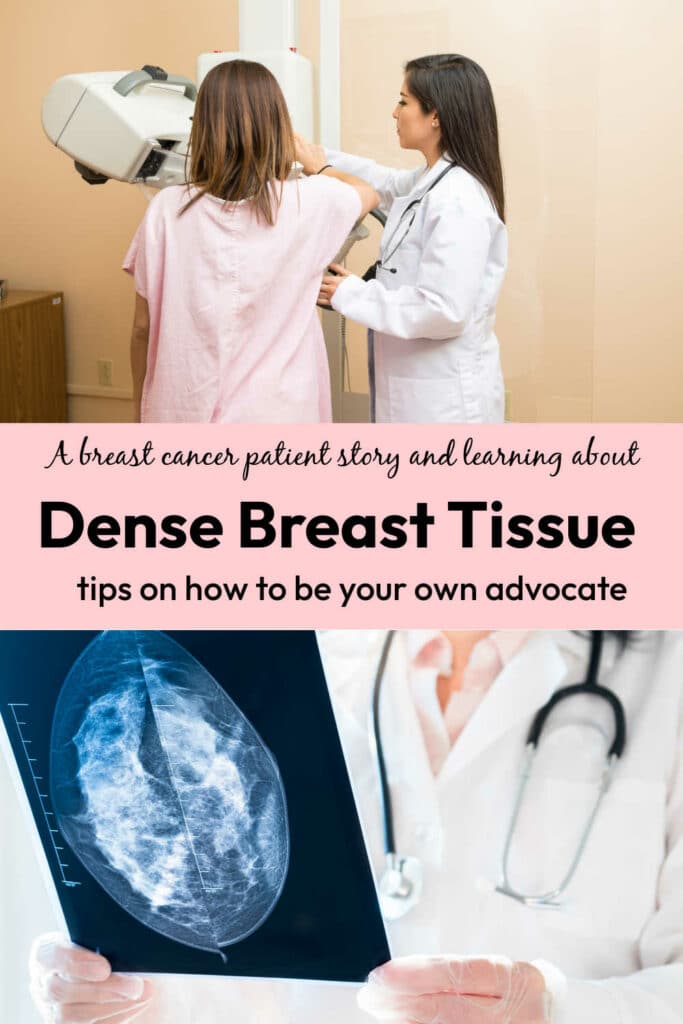 Sarah's Personal Story about Breast Cancer …
Kim asked me to write a bit about my experience with breast cancer for breast cancer awareness month. I so appreciate the opportunity to share with women and educators. I am a speech-language pathologist, consider myself an educator, and have loved working with teachers for many years.

I was diagnosed with breast cancer in March of 2013. What I want most to share is that I had no known risk factors. I'm now 44, have been a vegetarian for over 20 years, am a marathon runner, and generally considered myself healthy and fit. I'm married, have 2 school-age children, and work part-time, so have the usual confusion and chaos of mothers everywhere!

In February of this year, I noticed a change in my breast. While putting on a running bra in front of our bathroom mirror, I noticed that my left nipple inverted when I raised my arm. I had never noticed this before. I felt a thickened area of tissue in the same breast, but not a "lump" that I associated with cancer.
Still, I followed up with appointments, of which I was overdue of course (see above mention of children, work and life). My first appointment was a diagnostic mammogram, followed by an ultrasound.
I won't belabor the facts but came out with a negative mammogram and ultrasound, and a great relief!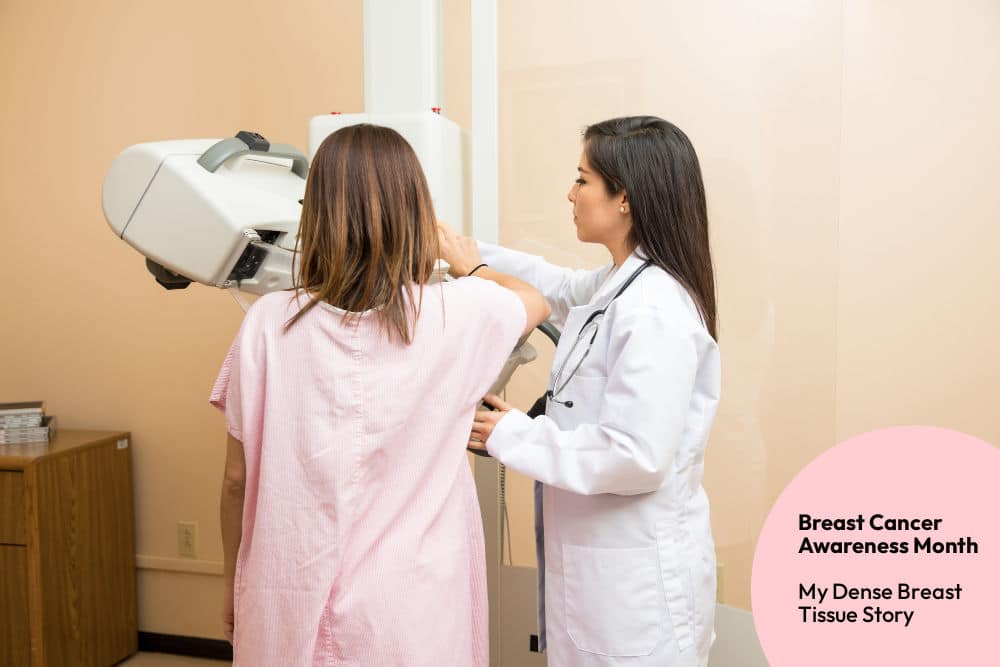 Just a month later I felt a lump under the SAME arm. I went immediately to the gynecologist's office and was referred to a breast surgeon. I had never heard of a breast surgeon!
My world was about to be turned upside down and then some! I was diagnosed with invasive micropapillary breast cancer stage IIb, ER+, PR+, and Her2+. These are all hormone markers of cancer that were "good news" as they responded well to treatment.

I was stunned, as I had had a negative mammogram and ultrasound just 4 weeks before! (More on this later.) I most feared chemotherapy, which I began first, 6 treatments, every 3 weeks. After just 2 weeks my hair was falling out in clumps. My brave and calm husband shaved my head. It was almost a relief to have this behind me.

I did quite well with chemotherapy. I was able to continue part-time work, and take care of my children and family, with lots of extra help from my husband. The medical world has made great progress with chemo side effects and anti-nausea drugs. I was told people now gain weight during chemo — insult to injury for one constantly struggling with the scale!

Chemo was followed by a bilateral mastectomy with reconstruction which proceeded to knock me out. It was a quick recovery, but I had no experience of being ill. It was reminiscent of having a baby and having run a marathon on the same day! My spirits through all of this were relatively good.
Of course the mind goes can go to dark places, but I held on to the possibility of being "cured".

Post surgery pathology reports were devastating to me. I was not cured. Cancer was still in my lymph nodes which meant my prognosis was not a cure but 80% survival at 5 years. I kept thinking this was a rate for recurrence of cancer and had to clarify multiple times that this was my SURVIVAL rate.
I recognized this was a wonderful "cancer prognosis", but as many of you may understand, not so great for a mother with young children. In my mind there was a 1 in 5 chance I wouldn't be here to raise my children. . .
I sank into the darkest depression of my illness. . .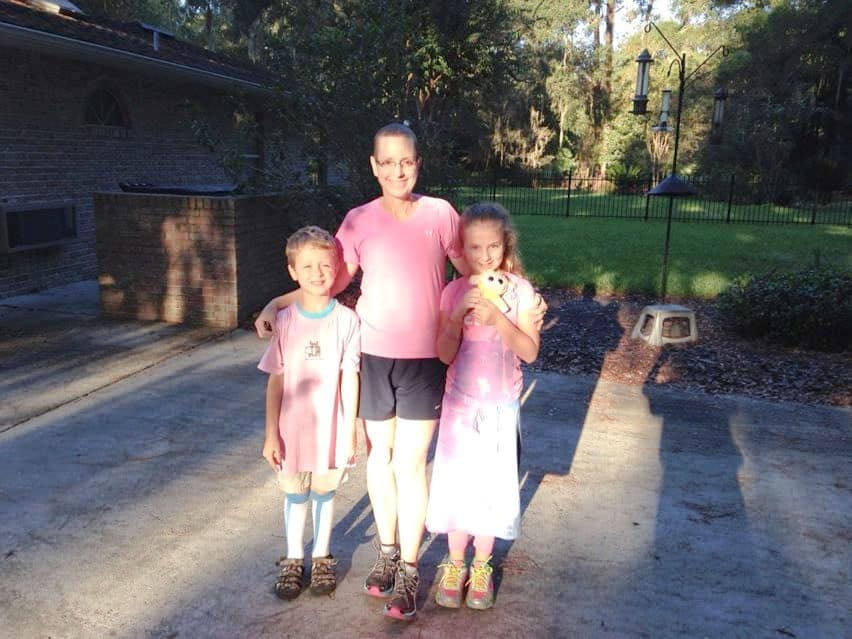 I am doing better now, still receiving treatment, and will soon begin 6 weeks of radiation. I've struggled with how this all could happen, no risk factors, a missed diagnosis, chemotherapy, and a real possibility of not surviving.
My most amazing discovery was a risk factor I had never heard of, breast density.
Learning more about Dense Breast Tissue
Looking over past mammograms, I had in fact, dense breast tissue, often described as fibroglandular.
This is known to increase breast cancer risk as well as decrease the accuracy of mammograms.
Again, I was stunned to discover that state by state, doctors were being legally required to tell women the density of their breasts and the associated risks. Required?!? Why should this information not be eagerly shared?
Florida, where I live, does not yet have a law requiring this. It's as though we are living in some antiquated time, where women are deemed over-reactive, and not trusted to make our own informed decisions about our health.
I was never told I had dense breast tissue, I never knew I had a higher risk of breast cancer, I did not know that mammograms were less accurate in dense breast tissue. I have since learned that my initial mammogram was "suspicious" and cannot fathom how my doctor found nothing in the ultrasound.
While I believe there was negligence in my situation, I'm more overwhelmed by the systematic withholding of information from women. We need to have information about the density of our breasts. We need to know that increased breast density increases our risk for breast cancer.
We need to know that mammograms are not as accurate in dense tissue. I would plead with women to consider carefully the questions you ask during routine check ups.
Be persistent. Be vigilant. Be your own advocate.
I would love to hear from any of you with thoughts or experiences to share.
For more information on dense tissue: www.areyoudense.org
Peace, Sarah
For kid-friendly resources about Breast Cancer and Breast Cancer Awareness month visit…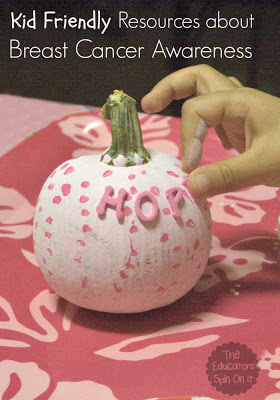 Thank you so much Sarah for sharing your story of how you were first diagnosed and your treatments. I know it's changed the way I look at many things especially my medical screenings and I hope others too. You are such an amazing person and we continue to lift you in our prayers as you battle Breast Cancer.
On our website we have many resources to discuss Breast Cancer Awareness with children. There are activity suggestions and book suggestions since we know there are many families going through similar situations and supporting families by reaching out to their friends and teachers in need of support.
I'm looking forward to supporting the walk that Sarah's friend is hosting in her honor this next month.

I encourage you to take a look in your community there are so many ways to connect and support each other as we fund research to find a cure for Breast Cancer.
Do you have a Breast Cancer Story to share?
Disclosure: This is a personal experience with Breast Cancer Diagnoses and Treatment. Please reach out to your own health care professional for their medically trained expert advice on preventative care and medical treatments.
Here are some additional resources for you may find helpful…