Home-made gifts come from the heart. These sugar scrubs are not only made with love, but extremely useful and delicious smelling. They would be a great gift for kids to make.
Get Ready for the Sugar Scrub Making Party
Gather enough supplies for a small group and invite your friends over for a mommy and me sugar scrub making party!
I would do this activity with kids ages 5 and up. Younger children may be able to help with parent assistance. You know your kid the best!
Step 1: Purchase and order the supplies depending on the recipe you select.
Amazon Affiliate Links
Essential Oils (optional)
Mix-ins
Cute Containersfor Storage
Step 2: Send invite via e-mail or call friends.
This get-together is perfect for a group of 3-5 grade schoolers and their moms.
Step 3: Day of: Set out a sugar scrub making station.
Include
ingredients for the recipe
Step 4: Make the sugar scrub according to the directions.
Step 5: Package the sugar scrub.
Put the sugar scrub into the containers.
Top with a label.
Tie a cute bow around it.
Here is how Dixie Crystals set out their scrub station for 200+ women. You could do something similar with your small group. Make sure the area is wipe able. I would recommend using a vinyl tablecloth if you have one available.
Here are some sugar scrub recipe ideas for all the seasons!
The perfect Fall sugar scrub recipes:
Pomegranate Sugar Scrub
Candy Corn Sugar Scrub
Pumpkin Body Sugar Scrub
Winter sugar scrub recipes:
Chai Tea Sugar Scrub
Cranberry Sugar Scrub
Gingerbread Spice Sugar Scrub
Peppermint Sugar Scrub
These sugar scrubs scream summer:
Blackberry Lemon Sugar Scrub
Coconut Lime Sugar Scrub
Cucumber Sugar Scrub
Orange Dreamsicle Sugar Scrub *
Spring sugar scrubs
Rose Petal Sugar Scrub
Strawberry Cream Sugar Scrub
Mint Chocolate Sugar Scrub*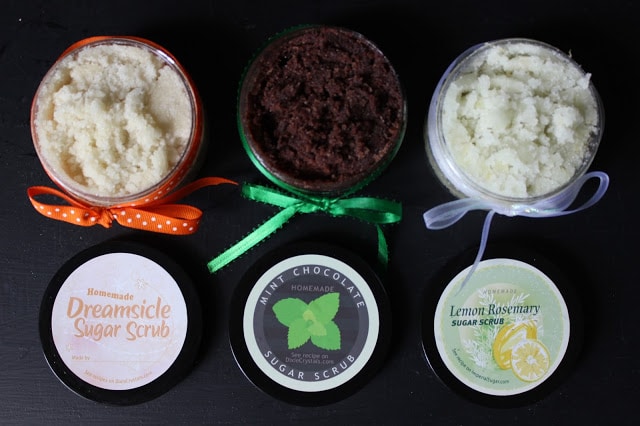 * I had the opportunity to make these at the Food and Wine Conference in Orlando. They have been an amazing exfoliater and I am now hooked on making and using sugar scrubs!