Christmas carols and holiday decorations surrounded us this past weekend during our visit to SeaWorld Christmas Celebration. Waves of holiday spirit splash over you with everything you can imagine for the Christmas holidays with your family.  Santa Shamu, ice skating to carols, sea of trees, and even the story of Christmas with live animals in a manger.  

Did you see my #seaworldchristmas photos on Instagram I shared? (Click here to view)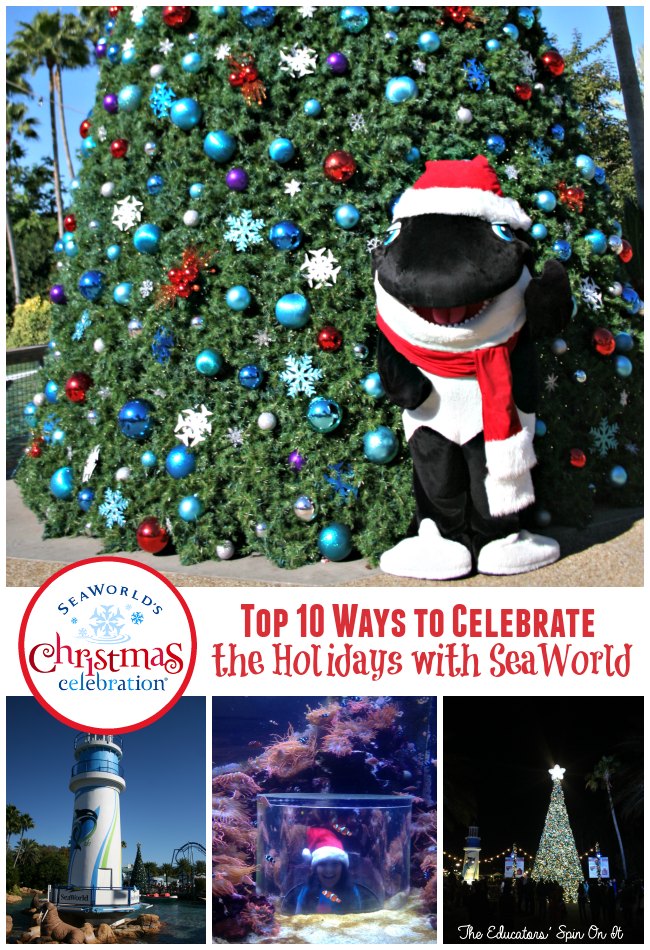 SeaWorld Christmas Celebration 
This past weekend we were invited by SeaWorld as media to attend their Christmas Celebration in Orlando, FL. It was so much fun to wake up the girls with a big SURPRISE we're going to SeaWorld today!  For many years our family has enjoyed scheduling a trip to spend the day and night there. Starting in late November, the entire park is transformed into a Holiday Wonderland. For us with our busy schedules, this visit helps to create special holiday memories together for our family with so many moments that are unforgettable.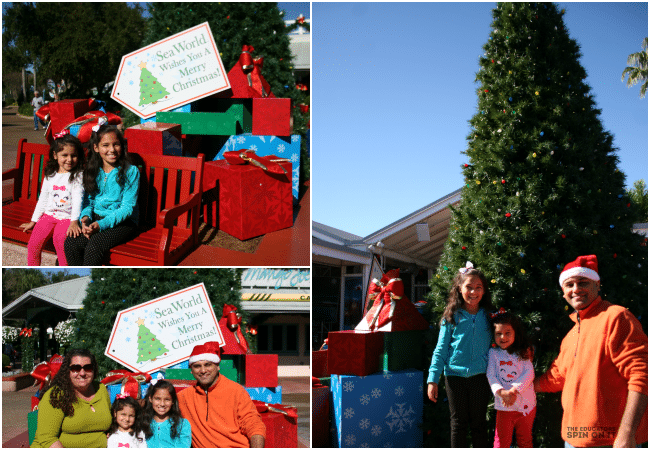 SeaWorld Christmas Celebration is available Nov 22 to Dec 31, so you still have time to go! PLUS they have a Buy One Get One Deal going on for next year which would make a terrific gift for Christmas for the family!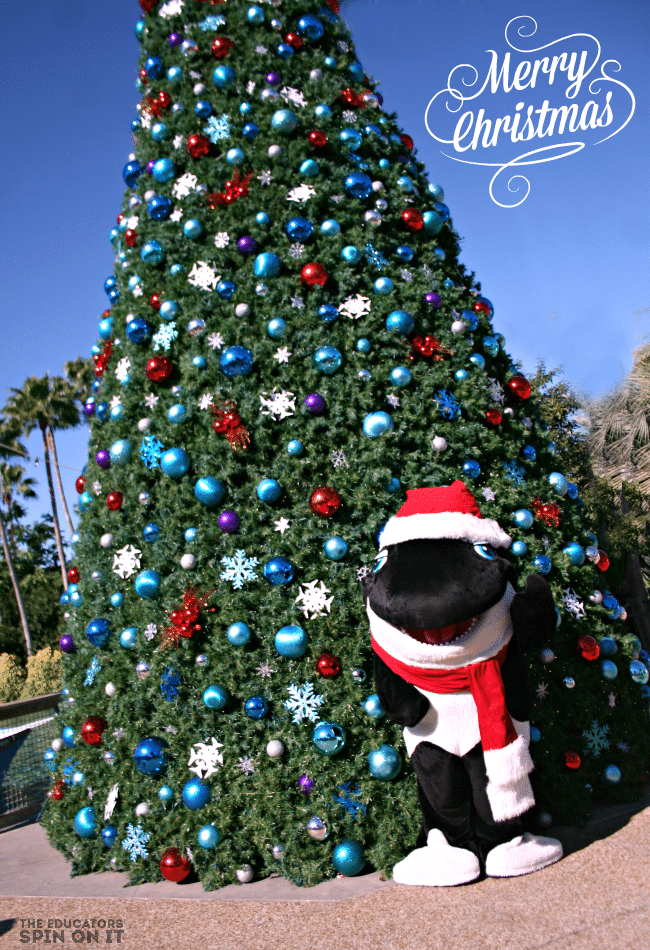 As you enter SeaWorld you first starts with the HUGE Christmas tree that welcomes you as you enter Seaworld.  Shamu is often there with his Santa hat, so plan to stop for a photo opportunity.  We even grabbed our Santa hats at home to bring with us this trip to make it even more special for the kids. The decorations as you arrive make you feel like you've stepped into a Christmas story. Be sure to give yourself time for photos during your trip as there are lots of photo opportunities.  We're sharing tons with you in this post, I couldn't  choose just a few it's that much fun!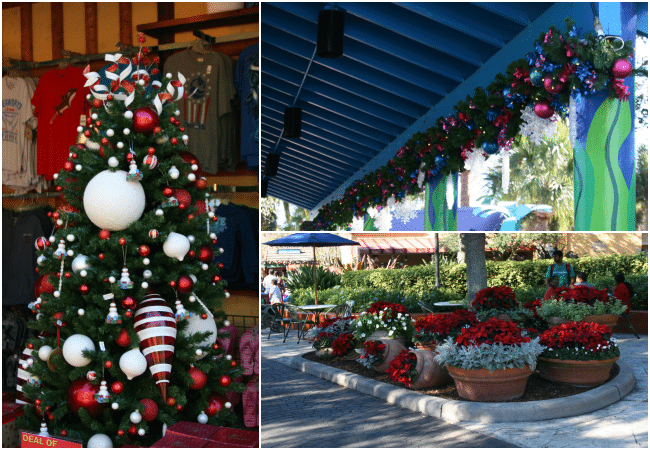 My biggest tip for planning out your SeaWorld Christmas Celebration trip is to look online ahead of time at the schedule and decide what you want to see and do as a family.  During the holidays this transformation at SeaWorld allows you additional opportunities for your family to enjoy so plan accordingly. At an additional cost SeaWorld provides a Christmas Family Fun Tour, Santa's Fireside Feast  & Christmas Show Seating. 

We like to arrive early when the park opens so we can also see all the Sea Life at Seaworld and still have time for the special evening events.  Right now my daughters favorites exhibits are the Penguin Encounter and the Aquariums under the Manta Roller Coaster. Here are our top 10 Favorites at Sea World During the Christmas Celebration! 


Top 10 Ways to Celebrate the Holidays with SeaWorld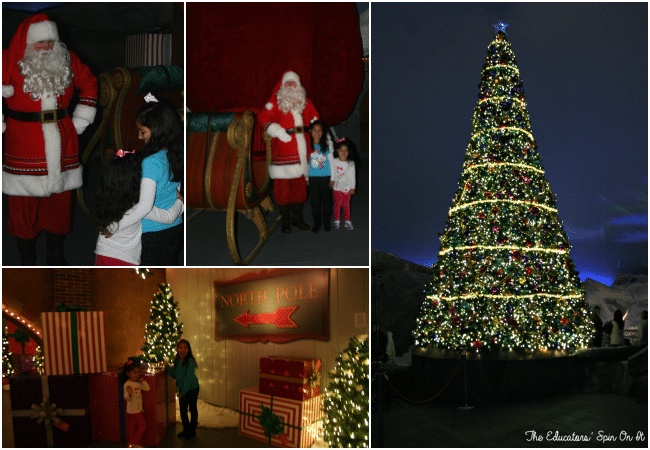 The Polar Express Experience 
First things first we headed to see a very special visitor at SeaWorld.  We had the chance to become a part of the story Polar Express, trains as all! We watched a video as we journeyed to the Wild Artic to discover the North Pole and scenes from the movie including a very large Christmas tree and SANTA himself along with his sleigh!  Love the special touch as you leave with the ticket with the words BELIEVE.  It's quite magical with your child to experience.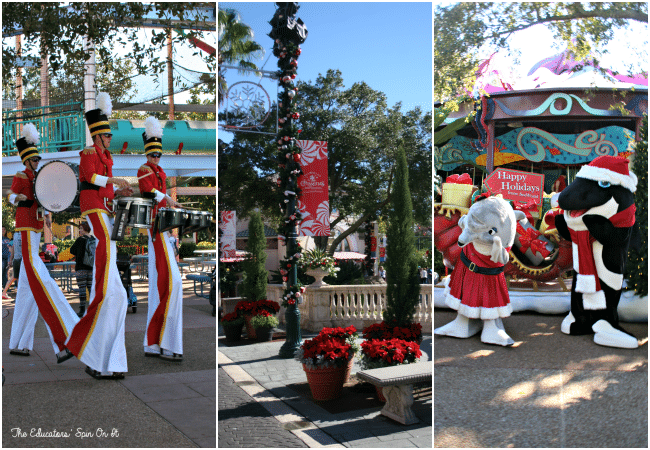 Shamu's Happy Harbor Rides 
Then we headed to the children's section of called Shamu's Happy Harbor. We were surprised that our 4 year old was tall enough now to ride all the rides at 42inches.  There were hardly anyone in line so she had a blast with her big sister and Mommy and Daddy riding them for the first time. As we were riding the rides drummer boys walked by with elves playing the drums!  Plus as we left we had a photo opportunity with Santa Shamu and Mrs. Clause Dolphin.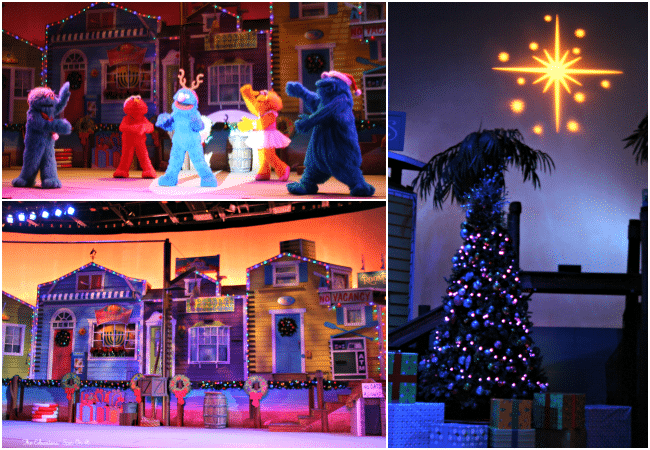 Next up on our list was to visit Elmo and his friends to see what Elmo's Christmas wish was.  With bubbles and snow and Holiday music and dancing this show was a big hit with my two girls who are 4 and 8.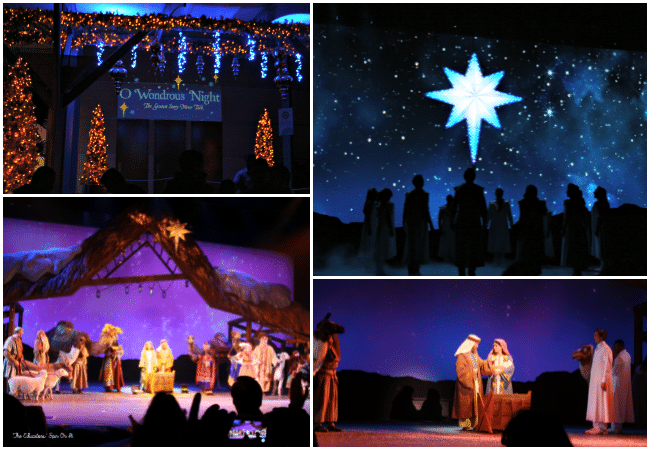 O Wondrous Night 
This was a special show for our family, we had not yet seen O Wondrous Night in previous years.  The lines at times can be long for this show, so be prepared to arrive early for a spot for your family. Through 30 songs seamlessly put together the angels sing the story of Christmas. There are adorable puppets that each tell their side of the night Jesus was born, it's a creative way to keep the kids entertained and parents too. The end is really moving with a true living nativity including camels, goats, sheep, an alpaca, a zebu and a flock of white doves.  The audience at the end gave a standing ovation, which I hear happens at just about every show.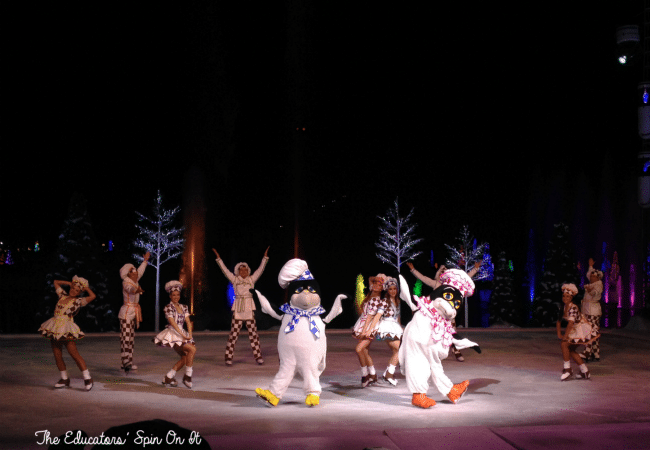 Ice skating outdoors in Florida? Yes it happens at the SeaWorld Christmas Celebration and I'm in love!  The combination of songs and costume changes makes it such a special experience to watch. The talented team of skaters take your breath away and help you find your holiday spirit. The surprise element is the water fountains with lights and sea of trees behind the performers that are choreographed to the music.  Simply breathtaking.  
The last show that we went to was to see the Orca whales performing to Holiday Music.  It focuses on the everyday miracles that surround us in our lives.  The big surprise for me is the way the utilize the water fountains to light up with the music making it a light and water show along with the whales, musicians and trainers.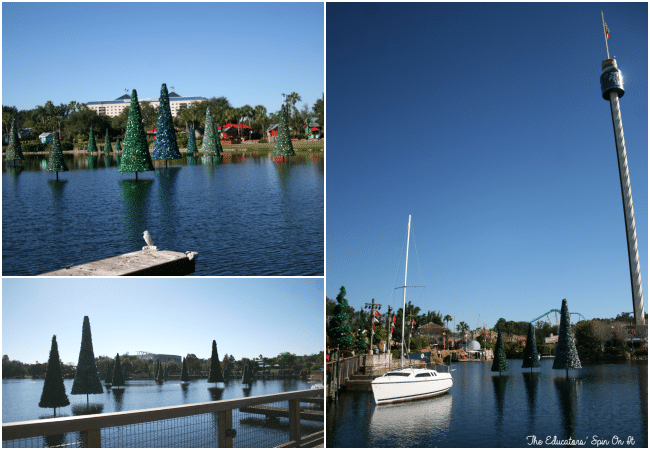 Sea of Trees 
Day or night the Sea of Trees puts you in the holiday spirit.  The entire waterfront is covered with over 100 Christmas trees that dance with lights to the holiday music.  The first show that they start it's fun to stand on the bridge and be surrounded by the light and music show.  


Holiday Reflections: Fireworks and Fountain Finale 
Even though it's a bit later in the night for little kids after sunset, it's a must see for the holiday season.  SeaWorld celebrates the holiday season with soaring fountains, dazzling tree lights, and festive fireworks, choreographed to joyous holiday musical favorites. Our favorite spot to watch is fireside near the waterfront.  There are a few vendors there too with hot chocolate and holiday treats for the kids.  Plus it's close to the exit of SeaWorld to save a little bit of time as you leave.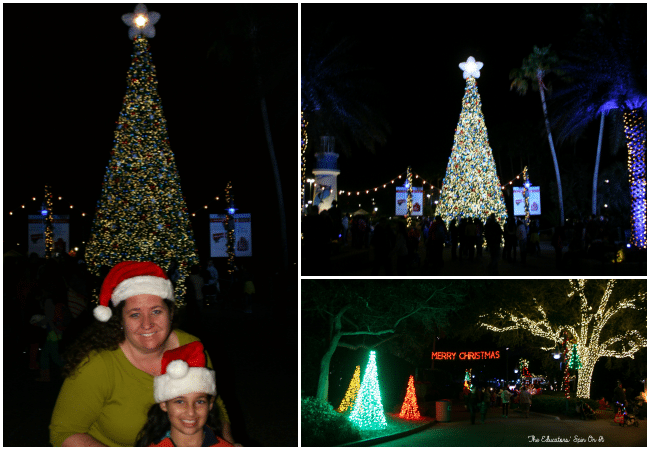 Snow Flurries at SeaWorld's Christmas Celebration
The best part is as you leave it's snowing!  Yes at least it's the one place in Florida I know it will snow for my kids to experience for just a little bit and imagine what it's like to have a white Christmas.  



This experience was one that my family will remember for many years to come.  We had so much fun spending the day together allowing the Christmas spirit into our hearts.  We enjoyed listening and singing to Christmas songs, the beautiful Christmas decorations and characters dressed up like Santa Clause.  For us the memories of our trips will be one special gift to our family for Christmas.   


Ticket Information about #SeaWorldChristmas Celebration 
SeaWorld's holiday shows are included in regular park admission. One-day tickets are $95 ($90 for ages 3-9). The park is offering one free child's admission with each paid adult. That offer runs through Dec. 31.  In additional they have special holiday seating available to help ensure you're able to see all the shows up close that your family wants to see. 
Disclosure: SeaWorld provided us with 4 media tickets for our family to experience and share about their Christmas Celebration. All opinions expressed are my own from years of enjoying this special event with my family.#seaworldchristmas