Help keep your preschoolers math skills sharp this summer with this collection of easy to prepare, hands-on, play based activities. Make learning part of your every day summer plans.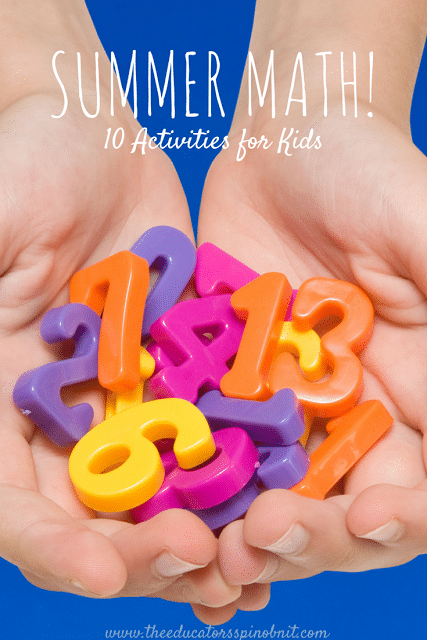 10 Fun Math Activities to Keep Your Preschooler Learning All Summer
Affiliate Links are included in this article.
1. Head to your library and check out some math books. Including literature into your summer plans is a great way to expand your child's mathematics vocabulary. Read more…
2. Build towers with blocks. Yes, when in doubt, bring out the blocks. Blocks are great for counting, sorting, and even adding. Use block towers to practice simple addition problems. Knock them down for some subtraction! Read more…
3. Count and Snack Snack time is a great time to sneak in math activities throughout your entire summer. Try this Goldfish snack game to practice counting and number recognition. Make a snack mix using different shape foods and have your kids sort them out. Scoop a bowlful of cereal and see if there are more than, less than, or equal to 100 pieces. Read more…
4. Bring out your measuring tools. You may have a ruler, a tape measure, a thermometer, a calculator, even a scale. Make a point to bring one of these mathematical tools out for summer exploration and learning. Teach your children how to use them. Young children may surprise you with what they can learn. Our 2 year old grabs the thermometer and asks us how hot it is outside. Read more…
5. Play Trains! If your kids are anything like mine, we play trains at least one morning every week. The kids love to build new track paths and argue over who gets the favorite train cars set up the train cars. Extend their play by encouraging color sorting, counting, addition, and patterning. Read more…
6. Bring out the puzzles. They are an amazing kids activity that will not only entertain but strengthen problem solving and spatial reasoning. We tend to bring out puzzles out right before dinner. Each child works on their own, and I can get dinner made. My oldest helps my youngest if he isn't able to figure out exactly where his pieces go. Sometimes, they even bring out the floor puzzles and work together to complete them. Read more…
7. Bounce your way to stronger math skills. That's right. Most of us have a few balls for outdoor play. Use them for sorting, counting, and ordering. Play catch to work on hand-eye coordination too. read more…
8. Play Preschool Board Games
. Candy Land is great for learning colors and practicing taking turns. Hi Ho Cherry-O
is a favorite preschool game for counting. The Sneaky, Snacky Squirrel Game
is good for fine-motor and 1:1 correspondence.
9. Hand over your digital camera (or buy a simple one for them to use) and let them photograph a number. Take those pictures and put them together for a home-made book. Work on one number a week and by the end of the summer you will have an entire collection of home-made number books! Read more…
10. Subscribe to have learning activities delivered to your door. We wrote last week about Animal Trackers monthly subscription boxes. A favorite of my older child is also the new Tinker Boxes from Kiwi Crate, Kiwi is running a limited time Summer Discovery Series with hands-on kids projects delivered to your door with 2-3 projects and all the materials. Read more…
Top 10 Summer Fun and Learning from the #PlayfulECE team: