One fun and tasty topic to read about with kids is ice cream. Here's the best collection of Ice Cream Books for Kids to read with your child.
This summer have fun exploring these ice cream books together for a tasty read! See our top picks of summer books for kids.
As an Amazon Associate I earn from qualifying purchases.
Ice Cream Books for Kids
There are so many delicious and colorful books about ice cream to enjoy with your child.
Should I Share My Ice Cream? by Mo Willems
Curious About Ice Cream (Smithsonian) by Bonnie Bader
Ice Cream: The Full Scoop by Gail Gibbons
Curious George and the Ice Cream Surprise by H. A. Rey
The Little Ice Cream Truck by Margery Cuyler
Ice Cream Summer by Peter Sís
Francesco Tirelli's Ice Cream Shop by Tamar Meir
The Ice Cream King by Steve Metzger
Vanilla Bean: A Story About Trying New Things by Katie Turner
Ten Scoops on Top! by Sarah R. Joseph
I Like You More Than Ice Cream by Brick Puffington
Is it Warm Enough for Ice Cream? by DK
Saffron Ice Cream by Rashin Kheiriyeh
The Sweetest Scoop: Ben & Jerry's Ice Cream Revolution by Lisa Robinson
Wemberly's Ice-Cream Star by Kevin Henkes
Paletero Man/¡Que Paletero tan Cool!: Bilingual English-Spanish by Lucky Diaz
What Can You Do with a Paleta? by Carmen Tafolla
Melt Like Ice Cream by Sarah Selvaggi Hernandez & Tessa Newell
Gorilla Loves Vanilla by Chae Strathie
Groovy Joe Ice Cream & Dinosaurs by Eric Litwin
Izzy The Ice Cream Fairy by Tim Bugbird
I Scream Ice Cream! A Book of Wordles by Amy Krouse Rosenthal
Alphabet Ice Cream by Sue Heap
The Sundae Scoop (MathStart 2) by Stuart J. Murphy
Scoop the Ice Cream Truck by Patricia Keeler
Just One More by Jennifer Hansen Rolli
Curious George Goes to an Ice Cream Shop by H. A. Rey & Margret Rey
Splat the Cat: I Scream for Ice Cream by Rob Scotton
The Scoop on Ice Cream!: Ready-to-Read Level 3 by Bonnie Williams
Ice Cream Soup (Step into Reading) by Ann Ingalls
Milk to Ice Cream (Rookie Read-About Science) by Lisa M. Herrington
From Milk to Ice Cream (Who Made My Lunch?) by Bridget Heos
From Milk to Ice Cream (Start to Finish, Second Series) by Stacy Taus-Bolstad
I'm really excited for you and your child to explore all of these books about ice together this summer. You may also want to explore more themed books during your summer vacation. Here are my top picks for summer books for kids.
Here are a few Virtual Field Trips for kids about Ice Cream to explore after you've read your favorite ice cream books for kids.
What do children learn from making ice cream?
Practice problem-solving, estimation, measurement, and other math skills by making ice cream! Cooking activities are a great way to teach kids about how to use measurement tools and apply their math skills in the kitchen.
There are only 3-4 essential ingredients needed for making ice cream: milk, cream, sugar, and flavorings. That being said, there are many other ingredients can be used to alter the flavor, texture, and consistency of your ice cream, but these four are the basics. Which makes it perfect to make with kids.
What is the science behind ice cream for kids?
Ice cream is an emulsion—a combination of two liquids that don't normally mix together. Instead, one of the liquids is dispersed throughout the other. In ice cream, liquid particles of fat—called fat globules—are spread throughout a mixture of water, sugar, and ice, along with air bubbles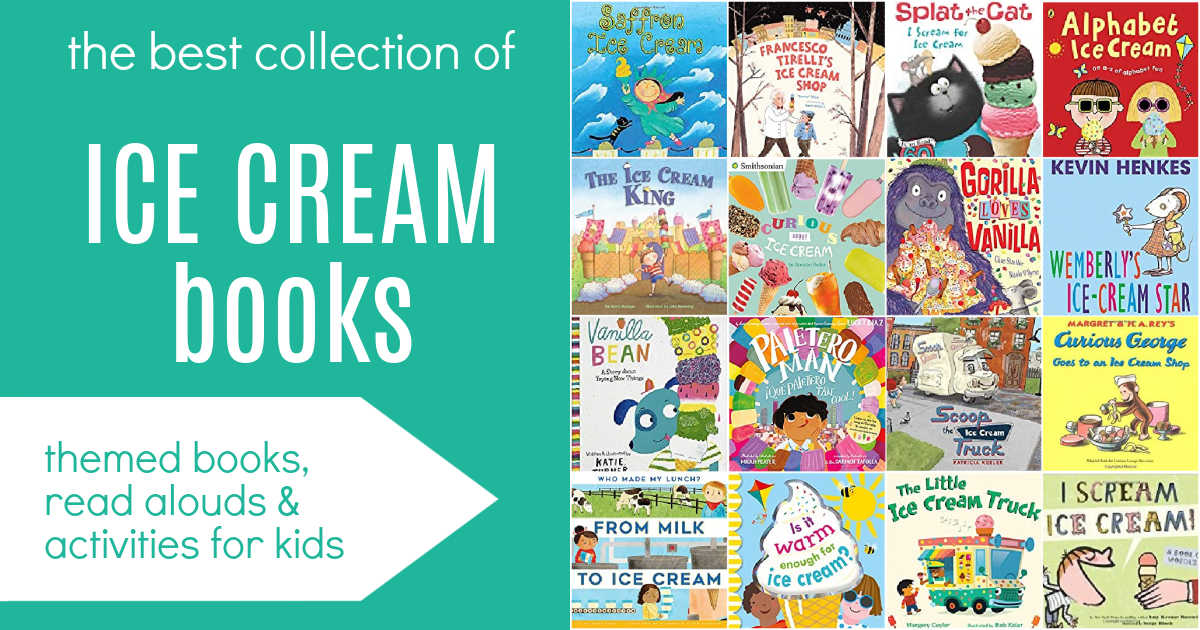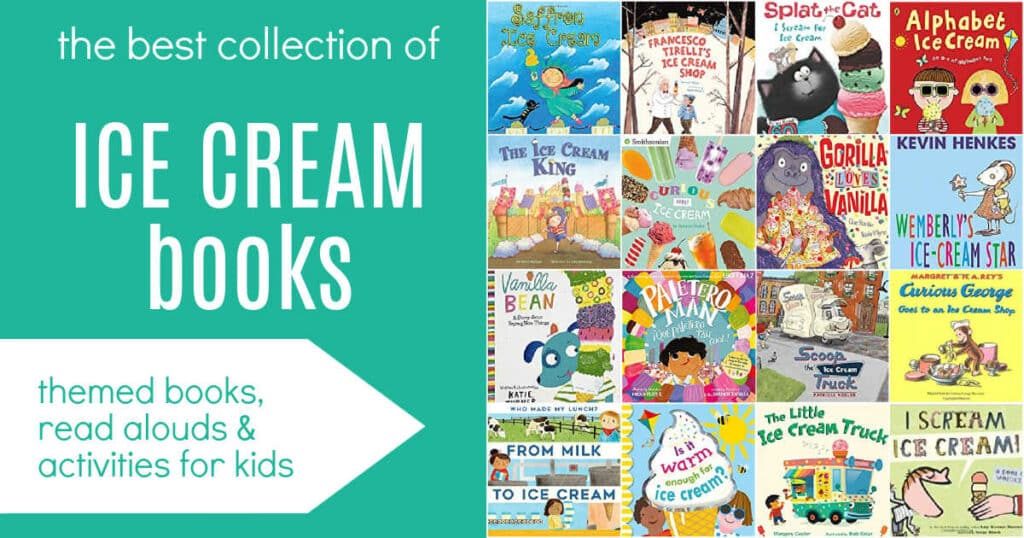 Ice Cream Recipe Books for Your Family
Want to make your own ice cream? Try these ice cream recipe books packed full of delicious ideas for flavors of ice cream to make.
Ice Cream Makers
Read for summer reading? Download our Summer Reading Challenge…
You may also enjoy these ice cream activities with your child…