My kids love to tinker and build. The other night, I went to tuck them into bed and had to shove several creations to the side with my feet, just so there was a pathway to the door. I love that they are designing and thinking, but the mess was too much.
We needed a better way for storing STEM Activities. Using the materials we already had, we turned an ordinary desk into a mobile STEM lab for the kids to use.
The STEM supplies now all have a home base. The kids are creating AND there are fewer "projects" strewn about the floor.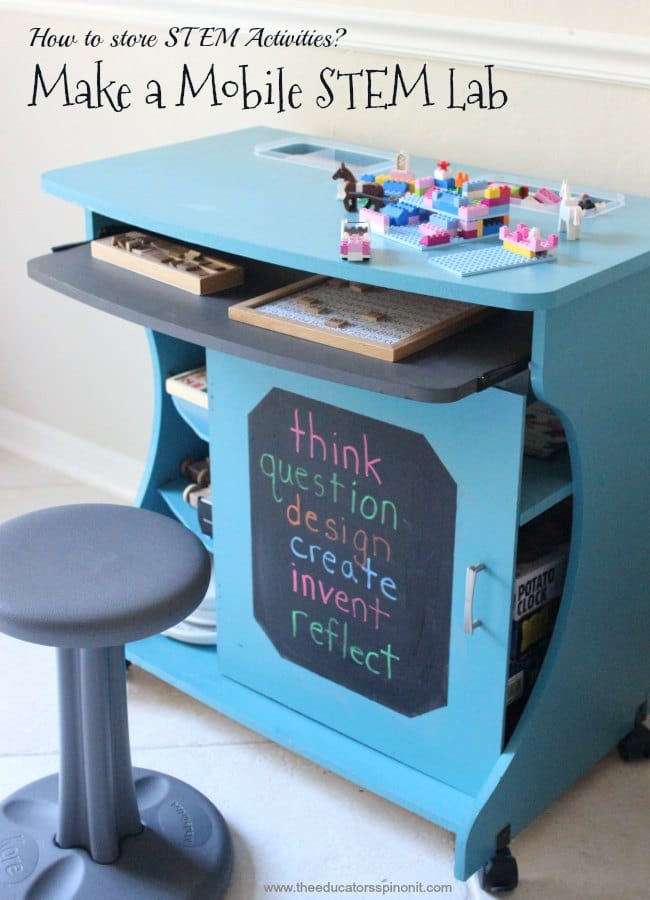 Affiliate Links
Storing STEM Activities for Kids: Setting Up
I'm sure you have everything you need to assemble your own STEM lab for your kids. STEM activities do not have to be expensive (and can even be free). Repurpose items you already own. Use recyclables when possible.
Materials Needed:
Big kid size desk or shelf. We painted an old desk teal, added a few shelves and cut out storage. It's nice if it on wheels for easy of movement if you want to try different areas. We have found that rotating learning stations is an effective technique for keeping kids engaged in their home (and classroom) environment.

Baskets or containers for storage. STEM challenges can be messy, have lots of extra little stuff, and need a variety of supplies. Baskets, boxes, ziplock containers, tupperwear, even empty jars can be used to store items. It doesn't have to be fancy, just functionable.

Kid size seating. This is important – when kids sit on a chair, their feet shouldn't swing, rather they should touch the ground. Most toddler chairs are too big for grade schoolers and the adult chairs are just a touch too tall. If your chair is too big, put a phone book underneath so that the kids can rest their feet. I believe in keeping kids active and moving.

I started looking at the best options for my kids and found these neat things called wobble stools. I reached out to KORE to find out more about their stools – and they sent us some to try!!!! Let me just say, I AM IN LOVE! The kids can wiggle while working. This keeps their muscles engaged and actually helps them stay focused for longer periods of time. Read more about their stools here.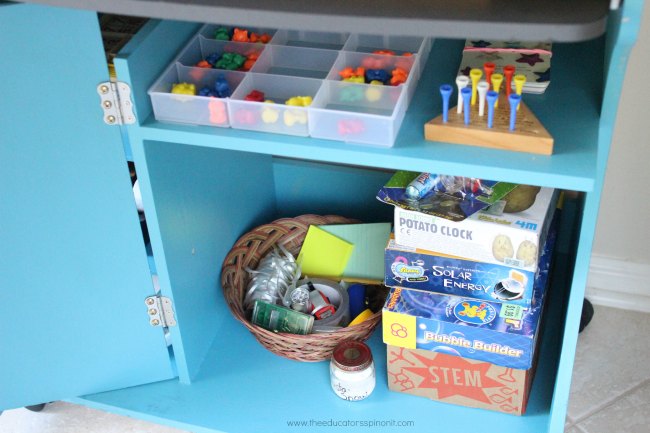 Open Ended STEM Activities for Kids: Supplies for Grade Schoolers
The following is a list of items that we have included in our Mobile STEM Lab. Store STEM Activities in the baskets and containers. Group like items together. If you have a lot of recyclables, make sure to have a bigger container. Label containers with a permanent marker if it is not obvious what gets stored inside.
NOTE: We do not have a child under 3 in our home anymore. Always make sure that you select materials to use that are the safest for your youngest child. Items such as magnets and small objects should not be available to children who may place them in their mouths.
A few directed STEM Lab Activity Kits for Grade Schoolers are a good resource to have in your mobile STEM lab as well.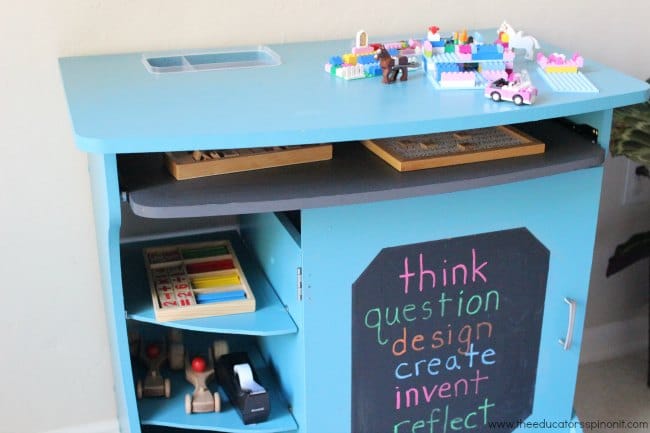 Teaching Kids How to Store STEM Activities
Set simple rules for your cart. Put them in writing. We have: Be safe. Use items as intended. Take care of anything you use before leaving the area.

Considering adding just one item to your cart at a time. Let your kids learn and explore with that item. Then add another item in.

Show your kids how to take out and put back items in the STEM Cart. Let them practice this while you are there watching. They may roll their eyes, but if they know the expectations ahead of time, then they will be more likely to clean up after themselves.

Give them time to explore and use the items. Add in new items when interest wanes.
You May Enjoy Other STEM Articles Here at The Educator's Spin On It: