Teach My Child About Triangles. Let's talk about TRIANGLES and extend our children's math vocabulary, while providing them with the opportunity to get creative!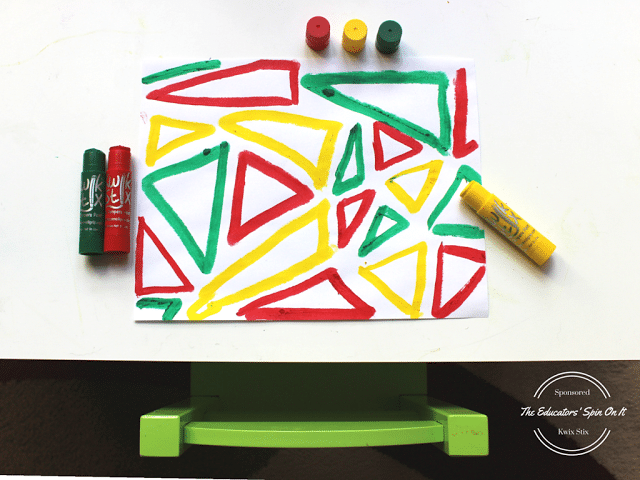 Teach My Child About Triangles is a FAST Prep activity. You can prepare this activity in less than 3 minutes. It is a fun, learning activity after school. Great for art and classroom teachers too!
Bonus – it is an open ended educational activity that is appropriate for a variety of ages. I set 4 pieces of paper out and a box of Kwik Stix on the kitchen table after the kids got home. (more about this REALLY COOL product later).
Best for Ages 3-9
Time duration: 15 minutes – 1 hour depending on the child's interest.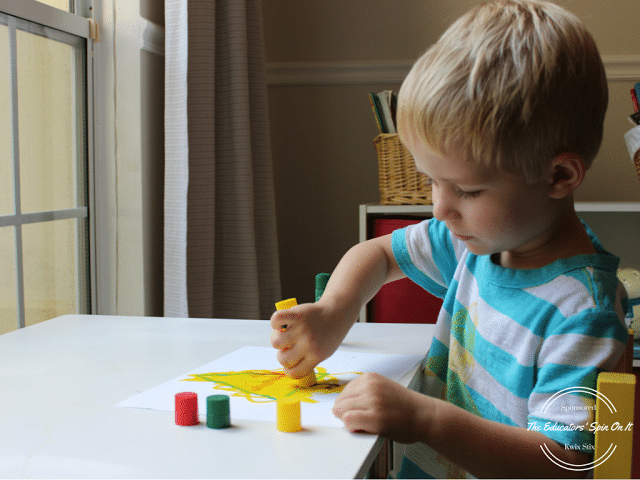 A big thank you to The Pencil Grip, Inc. for sponsoring this conversation and inspiring more kids to be creative! All opinions are 100% my own. Affiliate links.
Teach My Child About Triangles: Developing Math Vocabulary with Triangles
Our youngest kiddos are just starting to label the different shapes in our world. Being able to notice and then identify a triangle is one of the first steps.
Point out triangles when you see them in your home and when you are out in your community.
Count the sides.
Count the vertices (points).
The basic understanding is that if it has 3 sides and 3 vertices, then it's a triangle.
But there is more about triangles that you can share with your kids! As children progress through early childhood education, they are introduced to more math vocabulary. If you are a parent or care-giver, your child may have heard some of these words before. Ask them to tell you more about triangles. Be the one to start the conversation!
See what your child already knows and extend upon that information.
There are a variety of different triangles. The names of these are based on the lengths of the sides and the measurement of an angle. Angles are measured using a protractor. Although a protractor isn't typically introduced until upper grade school or middle school, the students are exposed to the different types of triangles much earlier.
Teach My Child About Triangles: Definitions
Equilateral Triangles have 3 equal sides and 3 equal angles.
Isosceles Triangles have 2 equal sides and 2 equal triangles.
Scalene Triangles have NO equal sides and no equal angles.
Right Triangles have one angle that is exactly 90degrees.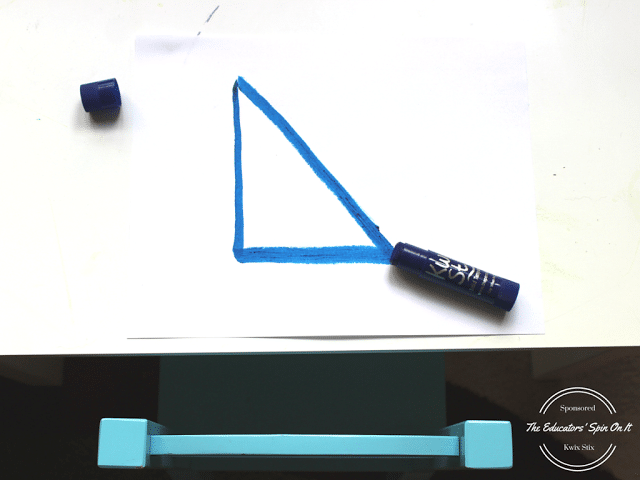 Teach My Child About Triangles: Kwik Stix Triangle Challenge
In this challenge, the child will paint a picture using one of the selected type of triangles. (Scroll through the article to see the triangle creations my kids made!)
Materials Needed
Directions for the Triangle Challenge
1. Talk about the different kinds of triangles. Go on a triangle walk around your home or neighborhood to look for triangles.
2. Provide children with the paper and Kwik Stix. Ask them to select one type of triangle and create a picture using that triangle.
3. When they are finished, encourage them to tell you about their picture and explain the type of triangle they painted.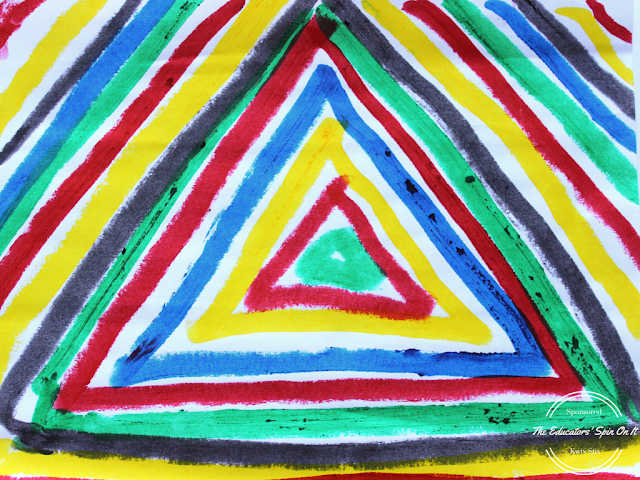 *Teacher Tip: Make sure to allow plenty of time for your children to explore using these paints before this challenge. I have found that they NEED time with free art exploration to find out how to use materials and gain familiarity with how they move and color.
About Kwik Stix
If you love the smoothness of paint as it glides across your paper…
If you love being able to hold a plastic tube without paint dripping down your arm…
If you love the vibrant colors of markers…
If you like a low-mess, high excitement project…
Then Kwik Stix must be added to your craft supplies!
Kwik Stix alleviate any mess created by painting while keeping all of the fun.
Did you see the white table we were painting on in the pictures above? I have to admit, I was a little worried about letting them paint right on it. (usually we use newspapers). I should have been worried, because my 3 year old painted ALL OVER it.
Thankfully, the paint rubbed right off the table and washed off his hands and face very easily. I WAS IMPRESSED and that doesn't happen often as I'm very critical of washable art supplies.
Not only that, but they dry in 90 seconds! YES – no pictures scattered around the room drying off. I could just stack them right up.
It's so easy:
Uncap, Twist, Paint
The Challenges:
Hard to Color Mix: It dries so quickly, that it makes it hard to mix colors. The kids were able to mix using two at the same time. The effect, however, was very subtle.
Additionally, we tried these paints on
cardstock
construction paper
cardboard
canvas
printer paper.
With the printer paper, the edges curled the next day. We put the papers under a heavy book to flatten. If you were painting something to hang on the walls, you may want to use a sturdier paper.
Kwik Stix can be ordered in a 6 pack, 12 pack and 96 pack via my ultimate favorite – AMAZON! (I ask for Prime for my birthday every year!!!)
Kwik Stix 96 Pack
For more math ideas, you may also like these…
Love it? Pin IT! Save it in your kids, crafting, math or art boards!
*LIKE THIS? PIN THIS*