Teach your preschooler about shapes with these adorable picture books! Our favorite children's shape books for preschool that feature circles, squares, triangles, and more as they explore the concept of shapes.
Which shape book will you read first?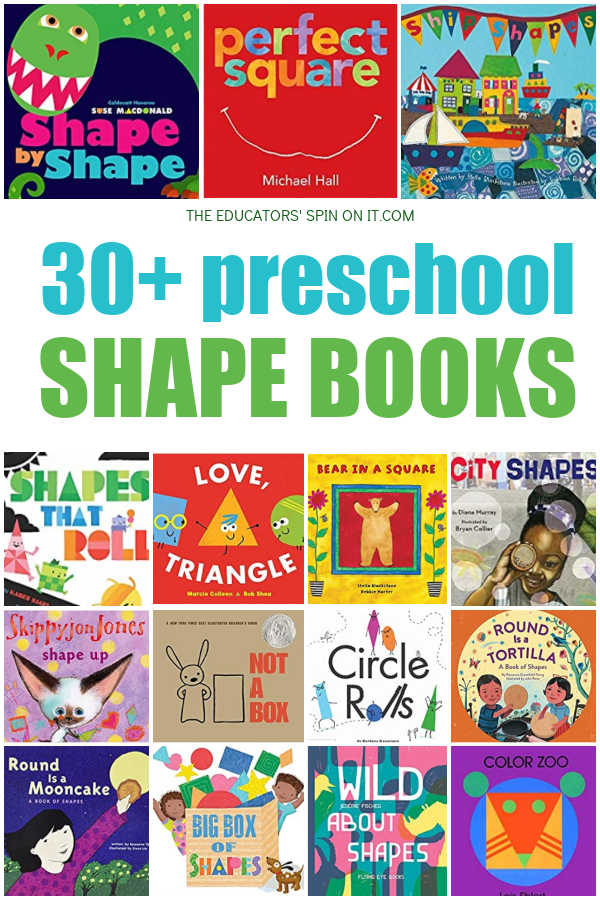 One of the first concepts that children learn about in math is shapes, both 2-dimensional and 3-dimensional. Below we're featuring some of our favorite books that help build an understanding of shapes for your child.
These books would be a perfect match for our Shape Stamps with Pipe Cleaners or Shape Dinosaur Activity with Playdough.
This post contains affiliate links to Amazon.
30+ Shape Books for Preschool
You'll find that the following shape books will become some of your child's favorite as they build confidence in identifying shapes. I've added a few extensions below each group of books for ideas to do at home with your child as book extensions.
Plus you can find a few more with our Weekly Book Club for Kids about Shapes.
Shape by Shape
by Suse MacDonald
Mouse Shapes by Ellen Stoll Walsh

Ship Shapes PB by Stella Blackstone
These featured picture books have inviting colors and illustrations that will encourage your child to read again and again as they learn about shapes.
The Shape Of Things by Dayle Ann Dodds
The Greedy Triangle by Marilyn Burns
Skippyjon Jones Shape Up by Judy Schachner
These featured shape books just might inspire your very own story about shapes. Pick a shape and see what type of story they are inspired to write with you as your preschooler learns about shapes.

Color Zoo by Lois Ehlert
Montessori: Shape Work by Harry Abrams

Color Farm by Lois Ehlert
These classic books give children the opportunity to see the shapes in the world around them and will inspire quite a few art projects! Which animal can you create with shapes?
Brown Rabbit's Shapes by Alan Baker
Not a Box by Antoinette Portis

My Very First Book of Shapes
by Eric Carle
Bunnies and shapes are quite adorable! Perhaps they may inspire a shape hunt around the house as a book extension to learn about shapes.
Perfect Square
by Michael Hall
Circle, Square, Moose by Kelly Bingham

Circles
by David A. Adler
City Shapes by Diana Murray
Round Is a Tortilla: A Book of Shapes by Roseanne Greenfield Thong
Round is a Mooncake: A Book of Shapes by Roseanne Thong
Crescent Moons and Pointed Minarets: A Muslim Book of Shapes by Hen Khan
Exploring the diverse world around us is a great way to connect shapes with your child's community that surrounds them. Take a trip and record the shapes your child sees around them.
Mail Duck: A Book of Shapes and Surprises by Erica Sirotich

Shapes That Roll by Karen Nagel

Tangled: A Story About Shapes by Anne Miranda
Walter's Wonderful Web: A First Book About Shapes by Tim Hopgood
We Love Squares! (Our Favorite Shapes) by Beatrice Harris
Bear in a Square by Stella Blackstone
Frankie's Food Truck by Educational Insights
Love, Triangle by Marcie Colleen
Circle Rolls by Barbara Kanninen
This Is a Book of Shapes by Kenneth Kraegel
Big Box of Shapes by Wiley Blevins
Wild About Shapes by Jeremie Fischer
Paris: A Book of Shapes by Ashley Evanson
Round by Joyce Sidman
Crescent Moons and Pointed Minarets: A Muslim Book of Shapes by Hena Khan
These books encourage your child to expand beyond the traditional shape identify and explore the world around them.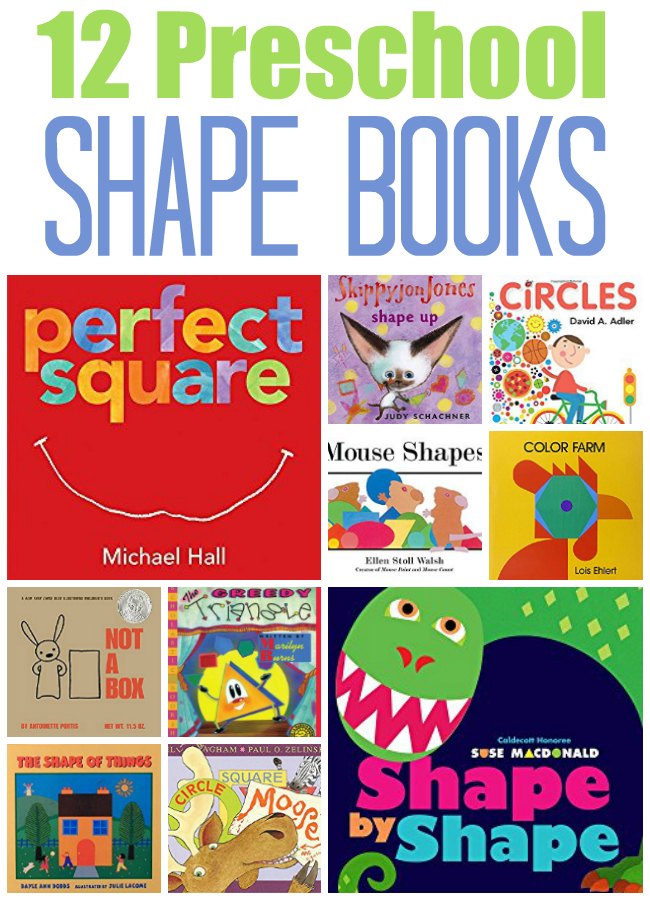 Books about Shapes for Preschoolers
Our Gruffalo Themed Shaped Animals are one of our favorite Shape Activities to go with a book. See if you can find other books that can be created from Shapes!
Our Weekly Virtual Book Club for Kids is featuring Mouse Shapes and Mouse Shapes Activities. Click here to see them all!