Pinterest can be a helpful tool to inspire you during the holidays. From holiday recipes to home decoration and even holiday gift ideas, you can find a variety of pins to help you in your holiday planning. This week's Wednesday night PinChat on 12/2 we'll be sharing ways to use Pinterest to inspire your holiday plans and delicious holiday recipe ideas.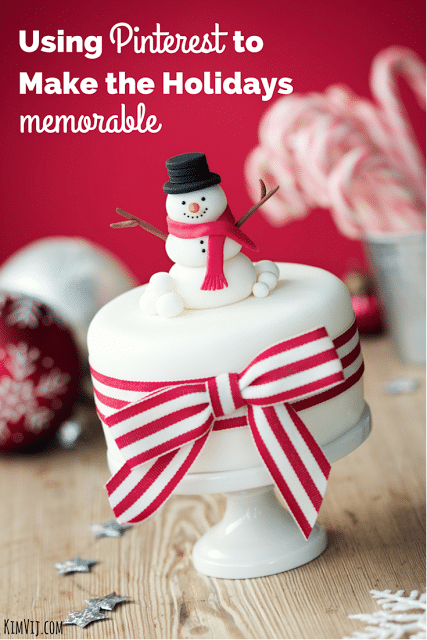 This is a sponsored twitter chat and post by Acorn Influence and Tyson®
Holiday Inspiration on Pinterest

Holiday inspiration for your home and meals can be found in a variety of places from magazines, tv shows and even websites. However, over the past few years there's been a huge trend in finding inspiration on Pinterest. Pinterest was created to be a bookmarking tool that helps you discover and save creative ideas. I have to mention that I believe it's done just that and more! Every day users have pinned their favorite ideas and content creators are pinning ideas for you to discover onto Pinterest.

This year I've created a new Pinterest board called Memorable Holidays. On this holiday Pinterest board I'm pinning holiday recipe ideas, table setting ideas and simply ways to make the holidays memorable with your family. Have you repinned from it yet?

The PINS are there to inspire me and hopefully you to be able to find ways to take holiday moments from "Good to Great" with Pinterest. This past week I shared how to take a Pre-made Cheesecake and turn it into a colorful Chocolate Peppermint Bark Cheesecake with your kids on The Educators' Spin On It. Did you check out how easy it was to make?

Looking for more ideas? Come chat with me on Twitter on Wednesday night this week. We're going to focus on Holiday Pins on Pinterest and how we can use them to take our ideas from "Good to Great"!
Join our Twitter Chat for #Joy2themeal #PinChat
on Wednesday, December 2 at 9pm EST.
Hosted by Kim Vij and Kelly Lieberman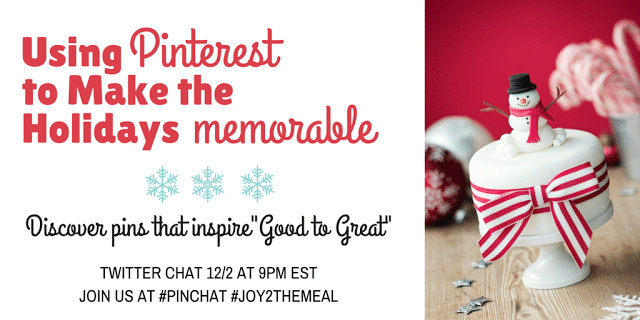 This new board Memorable Holidays focuses on just the holidays and shares PINS that I would normally have on a variety of Pinterest boards on my Pinterest Account: EducatorsSpinOn

Some of the boards I typically share holiday pins are on the following…
Now I'm hand picking the best of the best PINS just for you on the new Memorable Holidays Pinterest Board. Be sure to follow the board and REPIN to your Holiday Board on Pinterest! Let's find ways to bring Joy to the Meal together this holiday season!
Follow The Educators' Spin On It's board Memorable Holidays on Pinterest.
You're invited to a #PinChat on Twitter!
WHEN: Wednesday, December 2 at 9pm EST Use the hashtag #joy2themeal AND #PinChat to join the holiday fun!

Are you pinning for the Holidays? Share a link to your board in the comments below so I can be sure to follow you on Pinterest!