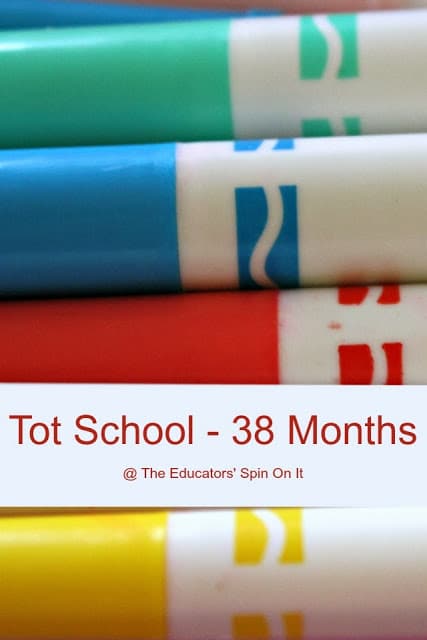 This week was full of music, coloring, science, math, art exploration and more.
I am SO excited.  You are looking at the first actual coloring that my son has done in his 3 years of life.  This isn't because we haven't exposed him to or used crayons with him, it is just that he has absolutely no interest in coloring or using any other writing materials.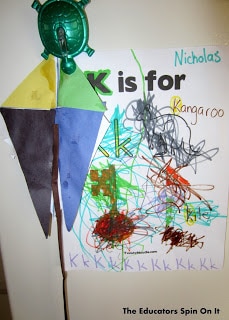 We attended our weekly tot-school where the focus was on the letter K.  He wanted to assemble the kite puzzle and insisted upon cutting it out once the triangles were assembled.  He did not want anything to do with the coloring sheet though.  I ended up just putting it in my diaper bag, hoping to try it again when we got home.
Sure enough, when I sat down with my 6 year old to do her "homework" he wanted to do his too.  He went to the diaper bag and got out the K sheet, sat beside his big sister, and colored for a whole 15 minutes.  Yipee!!!
Monday – Music
This week, we are revisiting some Mother Goose Rhymes; The Three Little Kittens and Sing-A-Song of Sixpence.  I introduced these on Monday and we have been singing and reading them every day.  Kids benefit from the rhythm and rhyme of these classic little poems and songs.  As we read our poems, we found all the K's in each.  Then, we used our Handwriting Without Tears wooden set to build the Capital K.
Tuesday – Science 
This week we are talking about parent animals and their babies.  I have a great set of board books that give a little clue and a picture about a baby animal on one page.  You turn the page and it shows the mom and baby together and gives the name for each.
 "Yap! Yap! Look at my pointed ears.  Who is my mommy?"
 "My mommy is a red fox.  I am her cub."
Not only does it teach animal names, but also habitats. We have been reading 5 of these books every day.  I now leave out some words and have him fill in the missing part.  I might read, " I am her _____." and he names the baby animal – cub!
Wednesday Math – Shapes
We are working on identifying shapes.  I'm using some shape puzzles like this
this one
 and this one
.  So far – he has the circle down pat.  We are still working on the rest!

Thursday – Art Exploration
My tot isn't the biggest crafter and would not choose art time as his preferred activity of choice.  SO, I need to be creative to keep his interest and to make it fun for him.  This activity can be adapted to any theme of your choice – just change the stamps to reflect your theme.  I just let him use any stamp he wanted!
Here is how I extended a simple 5 minute stamping activity to a 3 hour long morning art project!
1. Use a giant piece of paper and let your tot stamp all over it.  Join in the fun.  When you stamp too, you are modeling how to do it.  Make sure the whole paper is covered.  You can use self inking stamps for less messy fingers.
2. When you are done stamping, bring out the crayons for a little coloring.  We played a little eye spy game and colored all the suns yellow and all of the most of the monkeys green.
3.  Then, get out the water colors for a little water color resist.  We talk about patterns when we use water color.  It is a great, real-life ABC pattern.  Water, Paint, Paper, then repeat. Then it is time to set the project aside to go to something like a walk or slides on your outside playground
4. When the paint is dry, then it is time to cut.  I find that my son doesn't spend a lot of time cutting like my daughter did.  He still needs a lot of support using scissors. I help get his hands and arms at the correct angle and hold the paper in front of the scissors for him.  We then say – open, shut, open shut (again, another real-life pattern that also teaches some position words).  Keep going until your tot doesn't want to cut anymore!
5. Then, just when you think you are almost done – it is glitter glue time!!! Those little containers are hard to squeeze, but we try and make piles of glitter glue on the paper.  My tot then takes a paint brush and spreads the glitter glue.  This is less messy than actual glitter, but still adds the sparkle.  Just remember to wash your brush!
6. Last, but not least, when your project is dry, pack it in an envelope to give to someone you love!!!!
Friday Field Trip
Not really connected to our weekly theme, but because the weather was gorgeous, we headed to the beach for a day of playing in the sand and the waves.  Can't wait for our trip to MN soon, this hot weather does NOT feel like winter to me!

Hope your learning week was as delightful as ours!  If you want to connect with other tot-schooling families, we will be linking up with the tot-school at 1+1+1=1. 
Save