Great News!  We've come up with an  After School Planner that will help you plan out what you want to do each with with your Child.  We encourage you to get them involved in the planning so that they understand that homework comes first, then Family Responsibilities and  then it's time to add all the enrichment that makes the afternoon full of fun and learning…shhh don't tell them they're still learning.
We've found that once children understand the routine of the afternoon and evenings it helps them with focus and behavior issues.  Children will thrive with routine and you will find those moments of fun and learning that you're looking for.
Our After After School Weekly Planner contains the subject we like to do each day with our children.  Each day we fit one into our afternoon.  Art, Science, Cooking, Field Trips, Community Outreach.  Then we make sure everyday to include play, exercise and reading.  We try to include a theme to make it more exciting.  This week we'll be focusing on David McPhail's books to get ready for the Virtual book Club next week.  We'll also be focusing on Greece since our Around the World series is learning about food from Greece.  Can't wait to share with you this week!
Here's an example of how I used the weekly planner for my plans next week.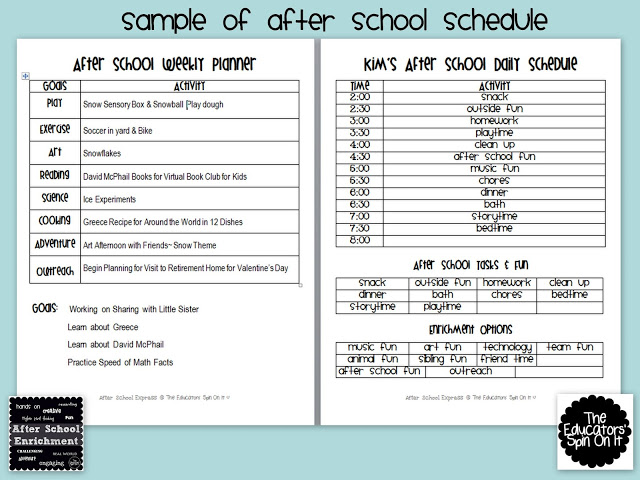 Once you've created your schedule you might be thinking now what do I do?  You can turn to The Educators' Spin On It each Monday where we share our activities for the week!  We also invite other bloggers to share their weeks too. Children engaged in after school activities tend to do better in school, value education and creativeness.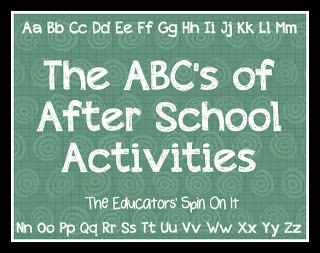 Did you see the ABC's of After School Activities? We shared with you some of our favorite activities for children After School.  You are your child's first teacher and this is a great way to incorporate learning after school too!  You can use our List of After School Activities or you can turn to other options.
One option is to turn to our Pinterest Boards.  We're always sharing ideas for Elementary Aged children in addition to Babies, Toddlers and Preschoolers.  We have a Reading, Writing, Math, Science and Social Studies Board for extra academic support for your child.  We also have enrichment boards for  Art, Music, Outdoors, Gardening, Cooking, Technology,  Community Outreach and Seasonal Crafts and Activities and more to build enrichment and literacy into your child's life.
With more and more budget cuts in schools and standardized testing it's these subjects that get less and less focused on.  Truthfully this is why Amanda and I are choosing to share our Ideas for After School Activities on The Educators' Spin On It.