We have two whole weeks off of school for holiday break and one of my goals is to plan for moments for Christmas Science Activities!  Many of us have a little bit more down time over the break with our kids so it makes the perfect time to surprise them with some science fun. Plus with Grandparents around too it can be a fun way for all ages to experiment together and give something to talk about and look forward to.  I've gathered my favorite Christmas Science Activities to share with you.  
Christmas Science Activities and Experiments for the Holidays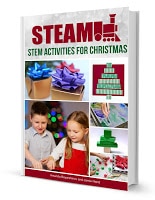 If you have a Preschooler at Home be sure to Purchase 
by Amanda and Jamie 
Excited to share with you the new STEAM KIDS Christmas ebook to add to your collection.  It is available starting November 9th.
A hands-on holiday countdown filled with science, technology, engineering, art, and math projects for kids.
Inside you'll find:
— 25 days of holiday projects for kids
— Printable, buildable advent calendar
— Christmas STEAM Challenge Cards
— Shopping lists to make prep easy
— And more!
All ready to help your kids:
question like a scientist
design like a technologist
build like an engineer
create like an artist
deduce like a mathematician
and, most importantly, play like a kid this December.
Available online for just $14.99 BUY NOW