Want grateful kids? Use our 30 gratitude prompts for kids to create a gratitude journal. A gratitude focused activity to encourage your child to be more thankful.
Here's how to kickstart this simple 30 day gratitude challenge!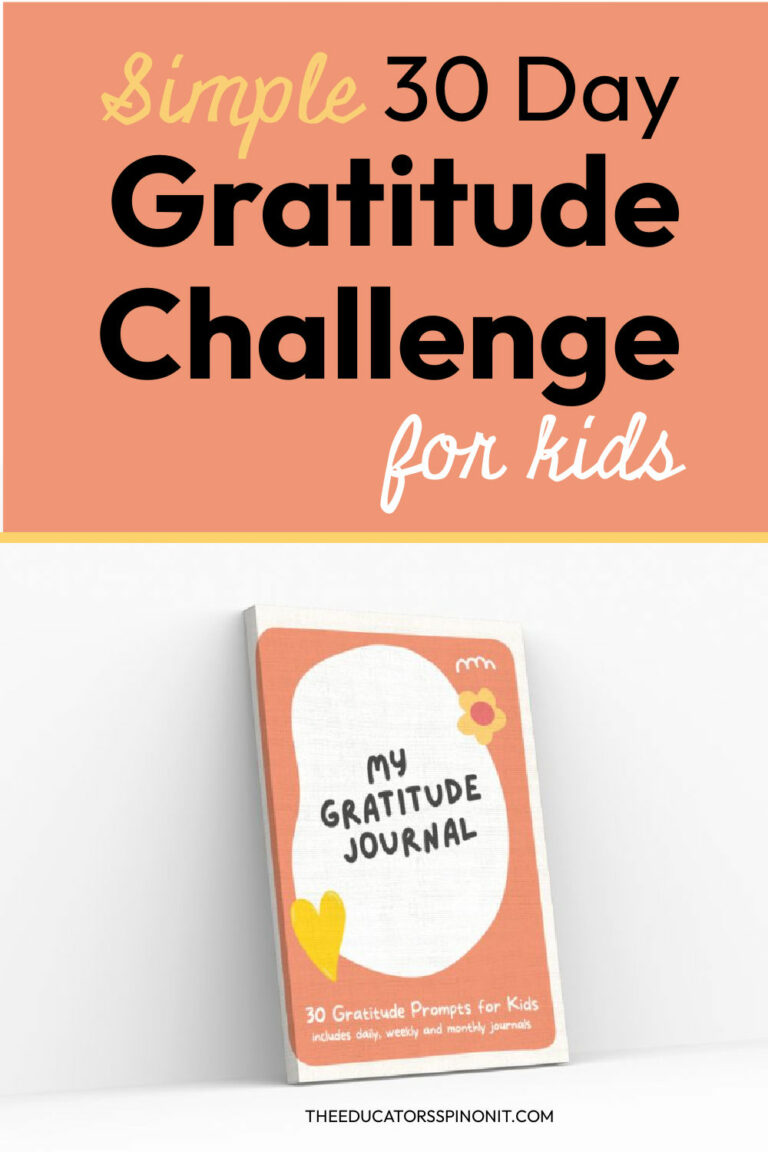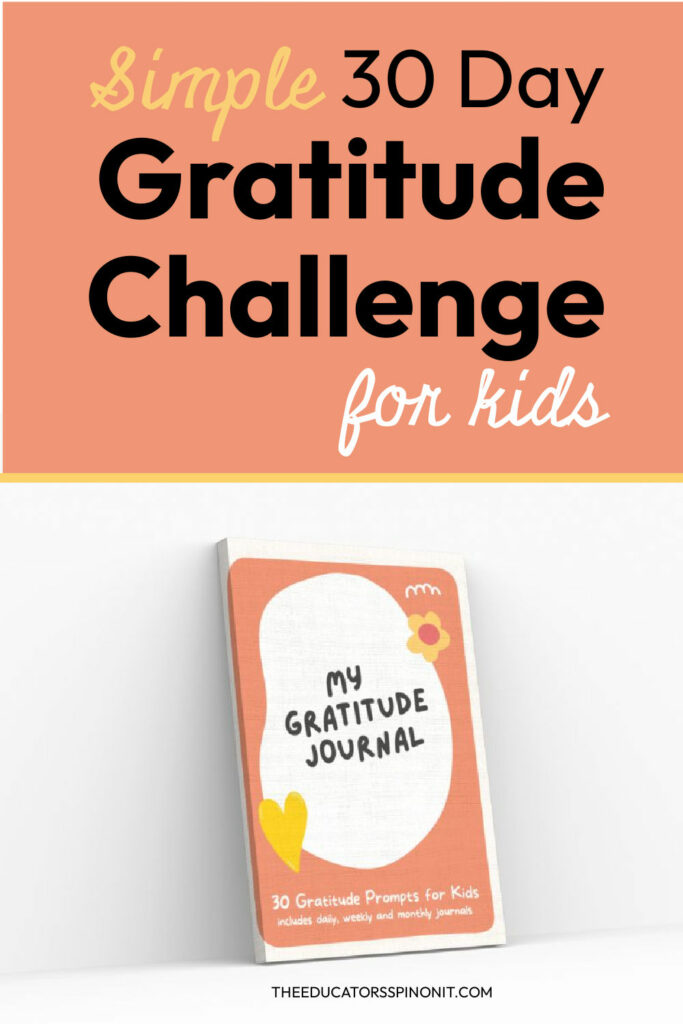 What are thankful prompts for kids?
One way to encourage children to observe the world around them and teach gratitude is by creating a gratitude journal together. This collection of writing prompts will help your child reflect on family, friends and their community to find all the things they are grateful for in their daily lives.
This gratitude challenge is a thoughtful way to connect and bond together with your child and their world. It makes for a sweet keepsake as well this holiday season.
Here are 30 questions to encourage gratitude in kids.
30 Gratitude Prompts for Kids
What is the best thing that happened to you today?
Who is your favorite person and why?
What is your favorite thing about school?
What is something that makes you happy?
Who makes you feel loved and how?
Name a friend and describe what makes them special to you.
What is your favorite toy?
Where is your favorite place to go?
Who makes you feel loved and how?
Describe one of your favorite memories this year.
What is your favorite thing about your home?
What was the last gift you received?
What is your favorite thing to do for fun?
What is something you use every day?
What skill are you most thankful for?
What is something that smells nice to you?
What is something nice your parents do for you?
What do you love about each family member?
What do you enjoy eating?
What is your favorite time of day?
Describe where you like to visit the most?
What is your favorite animal?
What is your favorite thing about your room?
What is your favorite song?
What accomplishment are you proud of?
What family tradition is your favorite?
What was your favorite trip?
Describe something that makes you laugh.
Describe a time someone was kind to you.
What are you most thankful for?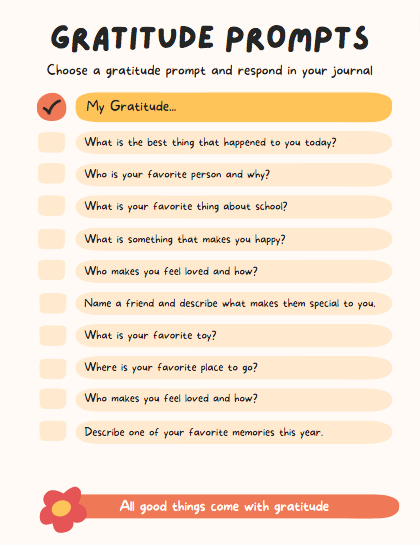 You made it! 30 Gratitude Prompts for kids to answer and explore more about themselves and the things that they are grateful for in their lives.
I used each of these prompts to create a printable gratitude journal for your child. The quickest way to raise thankful kids is to practice journaling!
Printable Gratitude Prompts for Kids
You can use these Printable Gratitude Journaling Pages for Kids to get started!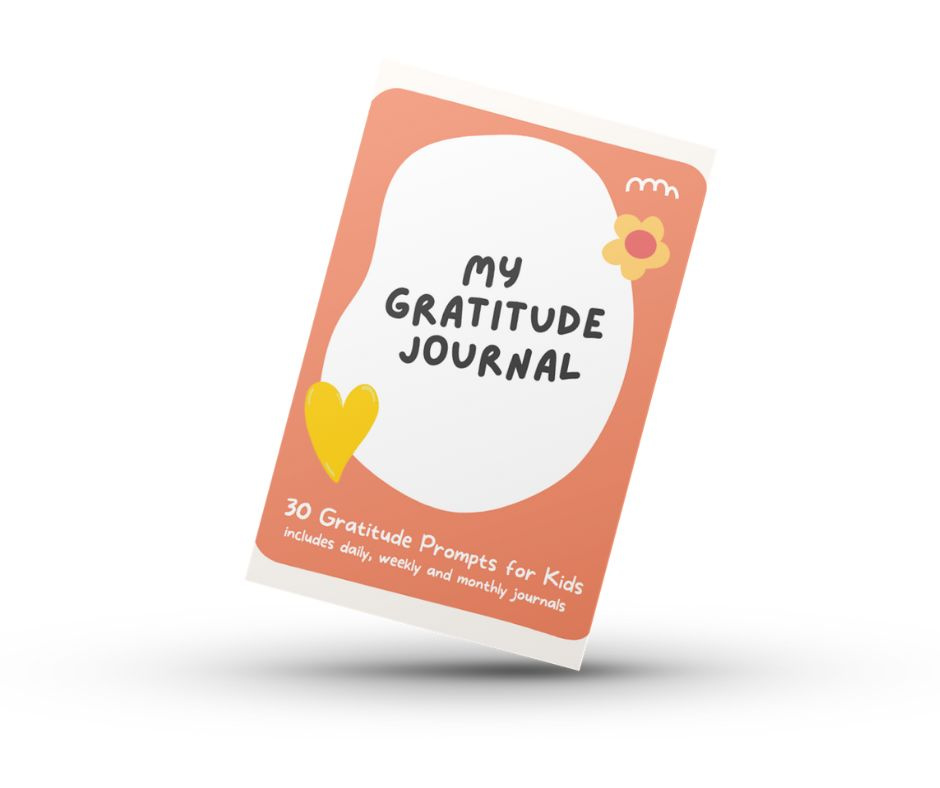 These simple 30 Gratitude Challenges are purposefully not labeled by number or put into a calendar format so that your child can pick and choose from the list to describe things they grateful for.
To take this gratitude challenge a step further, as a family, I'd encourage you at the dinner table each day, name three new things that you're grateful for. No repeats and no skipped days. On days when you can't think of three things, dig deep.
Dinner Table Gratitude Cards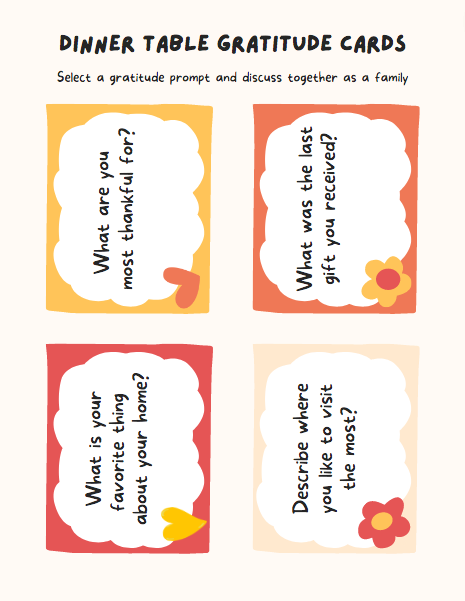 You can use these printable dinner table gratitude cards to help with this gratitude activity.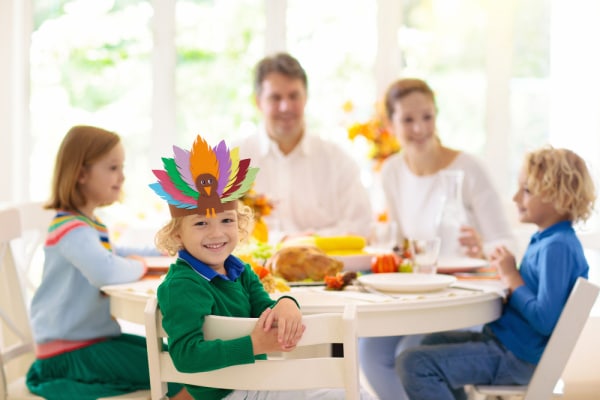 Gratitude Journal for Kids
Here's a look at the pages includes in this gratitude journal for kids. We've included prompts, response pages, weekly, daily and month journal sheets to pick and choose what you want to do together.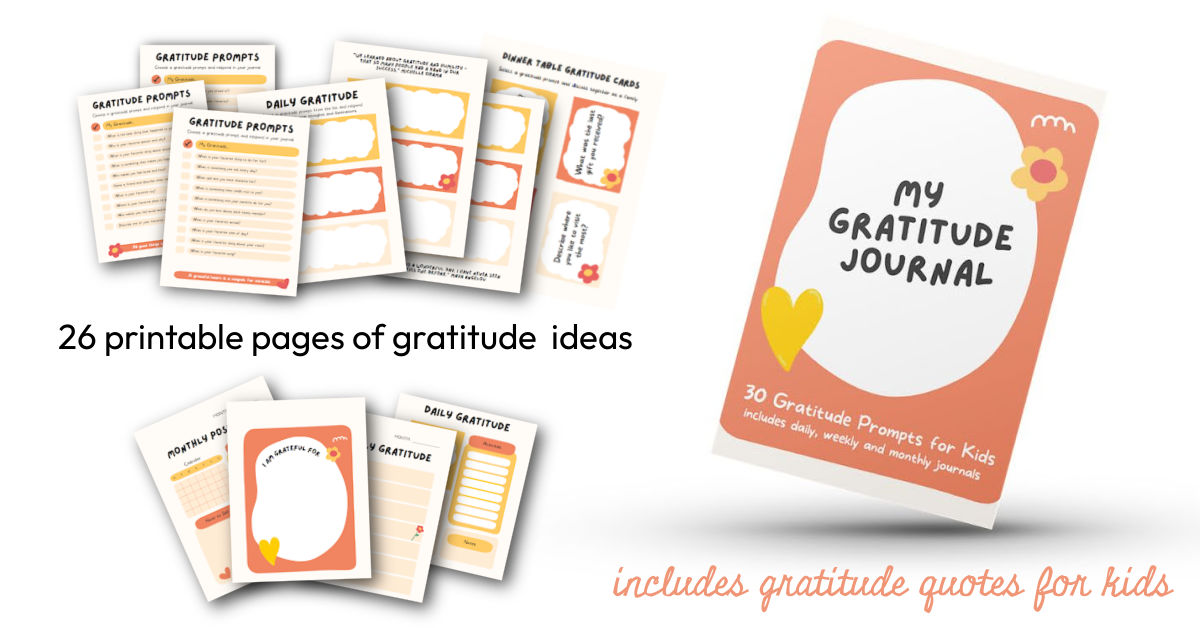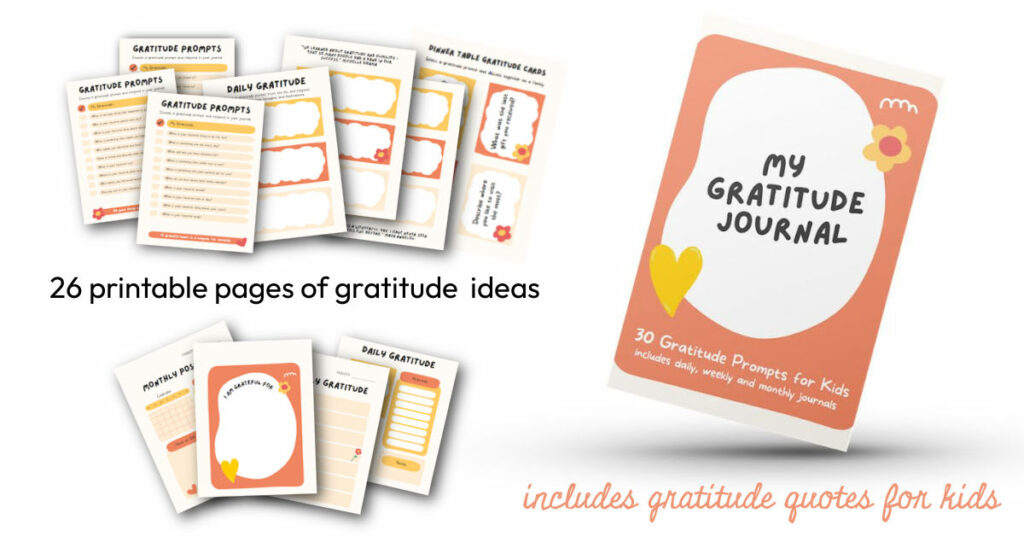 This gratitude journal contains 26 printable pages for your child.
30 Gratitude Prompts
10 Gratitude Journal Pages
9 Dinner Table Gratitude Card Pages
Gratitude Quotes for Kids
Monthly Journal
Weekly Journal
Daily Gratitude Journal
Gratitude Outline for art
You can print multiple sets to continue your gratitude journaling throughout the year.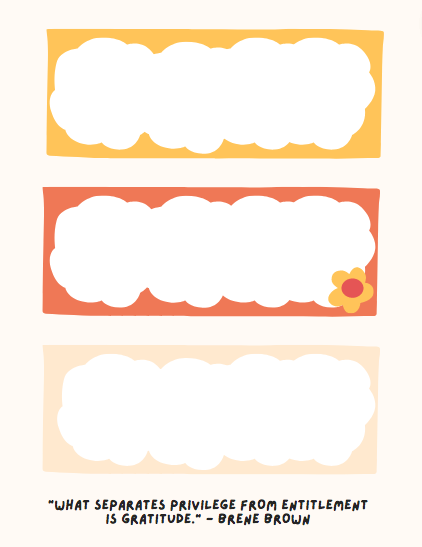 Gratitude Activities for Kids
As we focus on gratitude, here are a few craft ideas for sharing gratitude and thankfulness for your child.
Work on household chores and create a new way of Teaching Gratitude at Home with Your Child while getting your house ready for holiday guests.
Decorate the house with this easy DIY Thankful Banner Idea for Kids.
Create a Magnetic Thankful Tree to display in your home for Thanksgiving.
Here is a set of Kindness Elves Free Printables to inspire your family for a celebration of kindness and giving to others.
Disclosure: This post contains Amazon Affiliate links.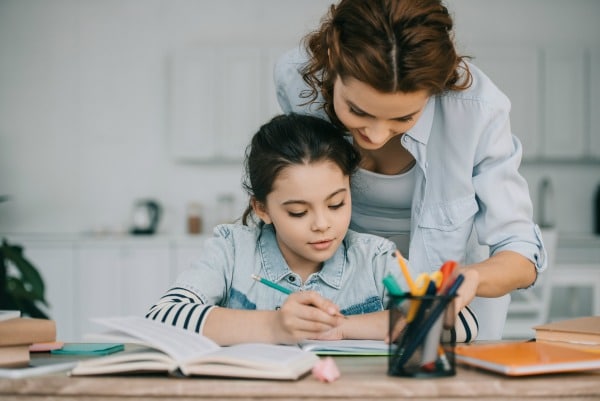 Gratitude Books for Kids
Here are some books that are focused on gratitude to include in your bedtime storytime this month as you take the 30 Day Gratitude challenge.
You may also find this heartwarming collection of Kindness books helpful too!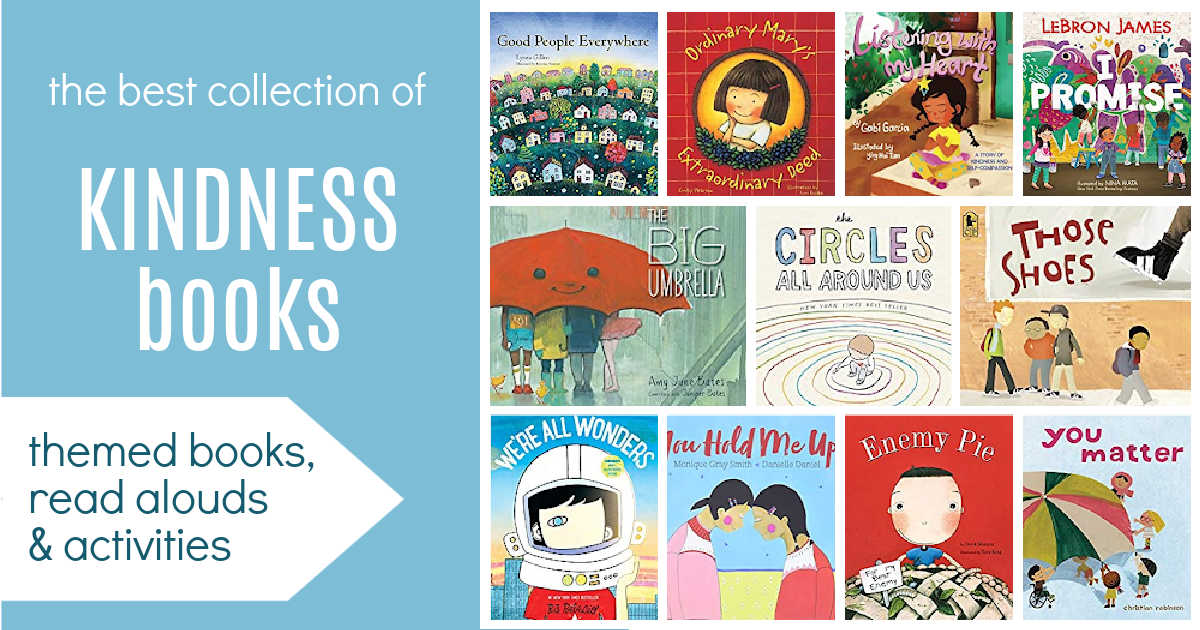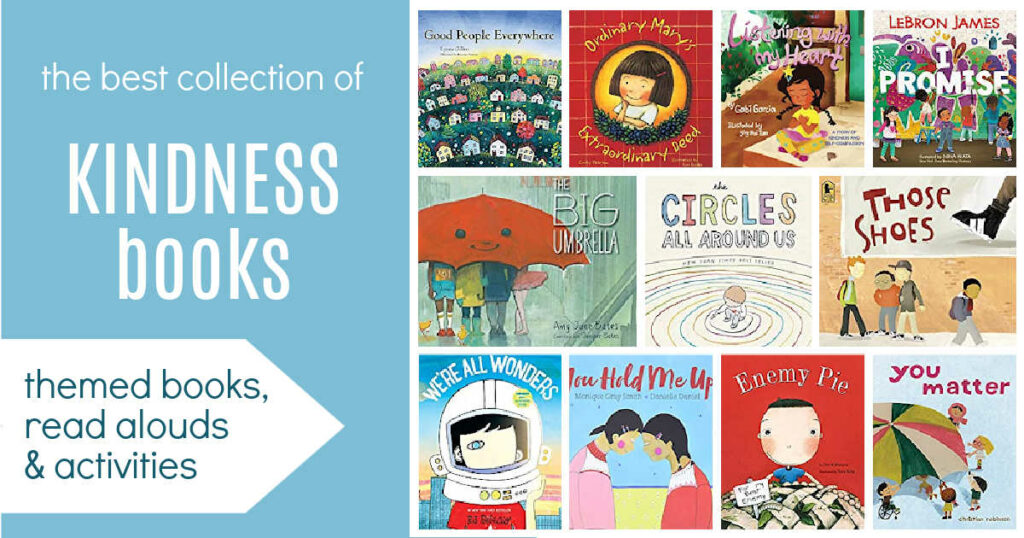 Gratitude Challenge for Kids