Children of all ages will delight in this ultimate collection of Christmas books. Cinnamon and evergreen spices waif through the house and little ones are snuggled up next to the tree reading books of Christmas.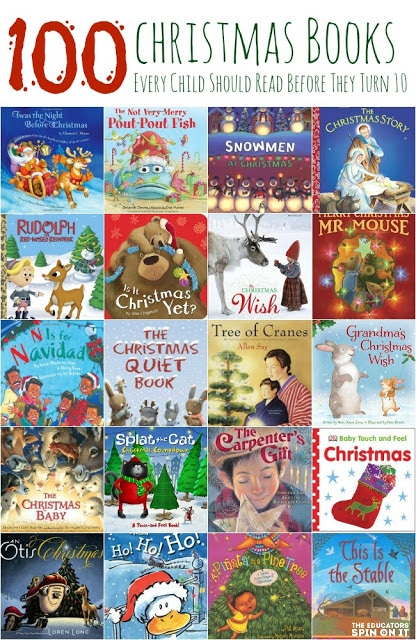 Disclosure: Affiliate links included to Amazon in this post.
Selecting the best Christmas book for your child.
I know they say, "Don't judge a book by it's cover," but I challenge you to do just that. Think about the stories you want to share with your child. Do you want a tale from another land? Are you looking for an outdoor, natural Christmas tale? or Are you drawn to the fun whimsical drawings?
Try to choose a variety of artistic styles. I learn towards the natural feel, but my son loves the whimsical illustrations.
Even the youngest babies will enjoy snuggling on a loved one's lap this holiday season. Select a sturdy board book they can gnaw and hold without worrying about damaging the pages. Toddlers will love the lift-the-flap books and interact stories as well.
Storing Christmas Books:
We like to store our seasonal books with decorations. This, however, does not work with Christmas books as we have so many (3 large bags full). Instead, I have a designated space in one of our closets for our Christmas book bags. We like to bring them out the day after Thanksgiving. It is a wonderful treat as the children will sit and read these for hours.
Using Christmas Books
Admittedly, the holiday season is busy. Between class and work parties, visits to Santa and trips to the store, it is easy to get caught up in the hustle and bustle of Christmas. Making time to slow down and read out loud to my children really helps us make meaningful connections every day in December. Children need these connections with family. It will help them better cope with the stresses of the season.
Set time aside for reading every day with your child.
Make it special with reading extras like hot cocoa and a roaring fire.
Wrap and give a book for every day of December. Use this as a countdown to Christmas.
Donate holiday books to a local school or charity in need.
Christmas Books for Kids
Click on the image or the title for a longer description of the book.
That's Not Santa! (Hello Reader (Level 1))
How Santa Got His Job
N Is for Navidad
The Night Before Christmas hardcover: The Classic Edition, The New York Times bestseller
The Nutcracker's Night Before Christmas
The Animals' Santa
Santa Claus and the Three Bears
The Littlest Christmas Star
Just Right for Christmas
Twas the Night Before Christmas: Edited by Santa Claus for the Benefit of Children of the 21st Century
The Wild Christmas Reindeer
Woodland / Natural Christmas Books
41. Donkey's Christmas Song

42.The Christmas Wish
43. The Reindeer Wish

44. Christmas Day in the Morning

45. The Message of the Birds

46. The Christmas Miracle of Jonathan Toomey

47. The Carpenter's Gift: A Christmas Tale about the Rockefeller Center Tree
48. Christmas Farm
Christmas Books with Your Favorite Characters
49. Merry Christmas, Mouse! (If You Give…)

50. Llama Llama Jingle Bells

51. The Biggest Christmas Tree Ever
52. Rudolph the Red-Nosed Reindeer (Rudolph the Red-Nosed Reindeer) (Little Golden Book)
53. Frosty the Snowman (Frosty the Snowman) (Little Golden Book)

54. Merry Christmas Mom and Dad (A Golden Look-Look Book)
55. Tractor Mac Saves Christmas

56. An Otis Christma
57. Little Blue Truck's Christmas
58. Clifford's Christmas

59. Biscuit's Pet & Play Christmas
60. Bear Stays Up for Christmas (The Bear Books)
61. Click, Clack, Ho! Ho! Ho!
62. Frozen Olaf's Night Before Christmas Book & CD
63. Disney Christmas Storybook Collection
64. The Not Very Merry Pout-Pout Fish (A Pout-Pout Fish Adventure)
65. Doc McStuffins A Very McStuffins Christmas
66. The Very Snowy Christmas
67. It's Christmas, David
Religious Christmas Books
68. The Christmas Story
69. The Animals' Christmas Eve (Little Golden Book)
70. God Gave Us Christmas
71. Room for a Little One: A Christmas Tale
72. God Bless Our Christmas

73. A Christmas Prayer

74. The Parable Series: The Pine Tree Parable

75. This Is the Stable
76. Who Is Coming to Our House? (Board Book)
77. Mortimer's Christmas Manger
Christmas Board Books for Babies and Toddlers
78. Is It Christmas Yet?

79. The Very Hungry Caterpillar's Christmas 123

80. Dream Snow
81. The Itsy Bitsy Snowman

82. Grandma's Christmas Wish

83. The Christmas Baby (Classic Board Books)
84. Lift-the-Flap Tab: Santa's Workshop (Lift-the-Flap Tab Books)
85. J Is for Jesus: The Sweetest Story Ever Told

86. Splat the Cat: Christmas Countdown
87. Bright Baby Touch & Feel Merry Christmas (Bright Baby Touch and Feel)
88. Merry Christmas, Little One! (Padded Cloth Covers with Lift-the-Flaps)
89. Where Is Baby's Christmas Present?: A Lift-the-Flap Book (Karen Katz Lift-the-Flap Books)

90. My First Christmas Board Book (My 1st Board Books)
91. Pop-Up Peekaboo: Christmas!
92. Baby Touch and Feel: Christmas (Baby Touch & Feel)
93. Duck & Goose, It's Time for Christmas! (Oversized Board Book)
94. Christmas in the Manger
95. Fisher-Price Little People: The Story of Christmas (Boardbooks – Board Book)
96. The Nativity Story (Candle Bible for Kids)
97. The Story of Christmas
98. Olivia Helps with Christmas (Classic Board Books)
99. Merry Christmas, Curious George
100. Llama Llama Holiday Drama
We made it to 100 Christmas Books every child should read before they turn 10!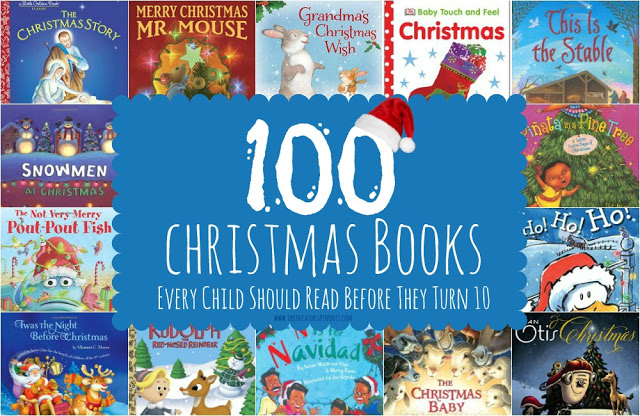 Our Readers Favorite Christmas Books for Kids
Edited – Our online friends have chimed in that some of their favorites were missing! If we left out yours feel free to comment on the post below, tweet me or stop by our Facebook page to let us know what YOUR favorite Christmas books are!!!!
Christmas Book Activity Extension Ideas
Did you enjoy this list of 100 Christmas Books Every Child Should Read Before they Turn 10?
Please share this list with your friends!
PIN IT to your holiday, Christmas, books, or reading Pinterest boards!