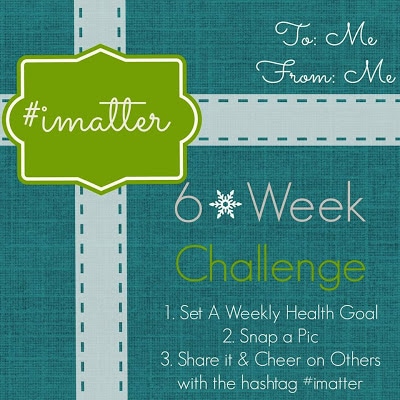 Are you ready? The Holiday Season is coming! My husband came home the other night as announced 40 days until Christmas and it made me lose my breath for a moment. I LOVE the holidays and all the special things you get to do. However the mental lists already started and I noticed that I get a bit stressed about getting all those things done as a Mom of 3.

Unfortunately the first thing that seems to get put off is taking care of ME. It's those times you skip a workout or walk because you have to get something done. Start staying up a later to get things done. You stop and grab a bite to eat instead of making it at home because you're already out or grab a caffeinated drink to have the energy to get everything done. We all do it, me included but I'd love for us to get together and inspire each other to not put it off but to focus on Healthy Goals together this holiday season to help balance our life. Why wait for New Year's?
So let's spend the next 6 week's focusing on making some Healthy Goals for ourselves to feel a bit more sane and full of energy with our choices.
It's simple to join #imatter Challenge
1. Set a Healthy Goal for Yourself each week.
You can do anything that works for you more water, exercise, 1 hour time alone, going to bed early, things that will help add balance to your life for you.
2. Take a quick Picture of Yourself as your work on your Healthy Goal during the week and SHARE IT on Instagram or anywhere you share photos with the hashtag #imatter
3. Cheer on People that are participating. Workout buddies are awesome and so motivating!
That's it… let's take the next 6 Weeks to make sure that we take healthy moments for ourselves so that we can be the best YOU to give to our families this year!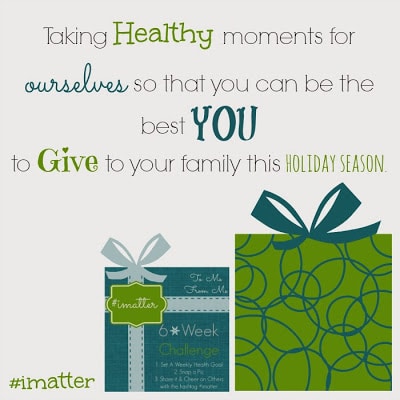 Are you on Instagram? You can find
What are your goals? Leave a comment below if you're joining the #imatter
Challenge!