Learning about the world is one of the things we want to share with our kids as they grow up in our homes. These featured toys explore the fun way to learn about the world with globes, maps, books, puzzles and more.
Here's some of our favorite toys for exploring the world.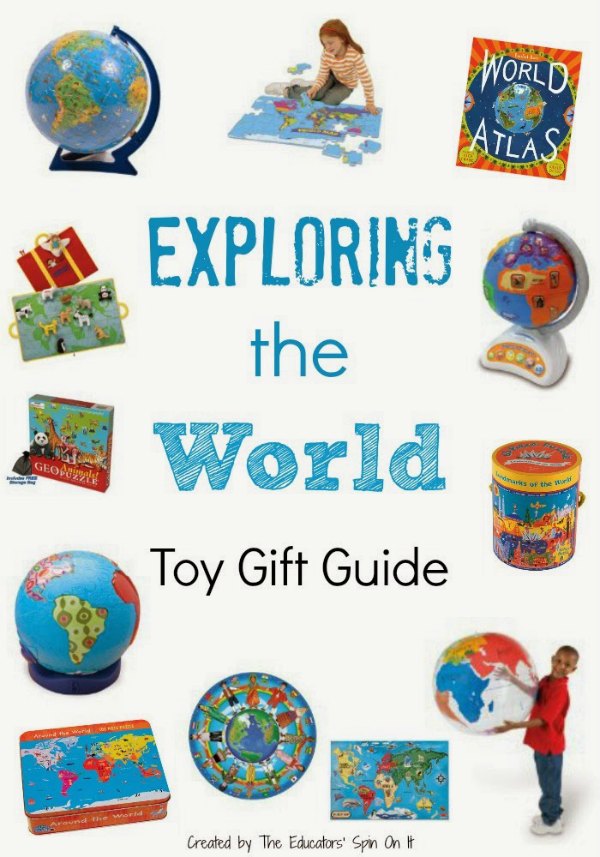 We've created a Toy Gift Guide for Kids with a theme is very dear to our hearts, Raising Global Kids! I'm sharing my favorite toys that teach children about the world. Through Maps, Games, Puzzles, Blocks, Books and more there are a so many ways to encourage your child at a very early age to learn about the world.
Here are some fun ways to discover continents, oceans, countries, landmarks, plants and even animals from all parts of the earth together this holiday season for year long fun.
This post contains affiliate links
Toys About the World for Kids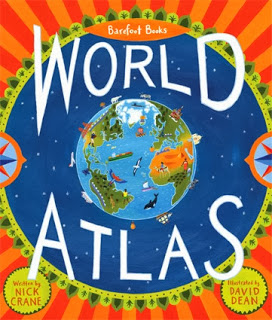 This is the atlas for twenty-first-century readers. It's packed with information about the way in which communities and cultures around the world have been shaped by their local environments, and it looks at the ideas and initiatives that are shaping the future.
Plus there is an award winning Mobile World Atlas App!
Children of the World Memory Game
Inspired by the popular sing along title, If You're Happy and You Know It! this memory game utilizes one of the greatest attributes of the book—the adorable children from all over the world—to encourage memory and matching skills. The object of the game is to match the boy and girl pairs according to the traditional dress, country name and color featured on each card.
Ages 4 to 7 years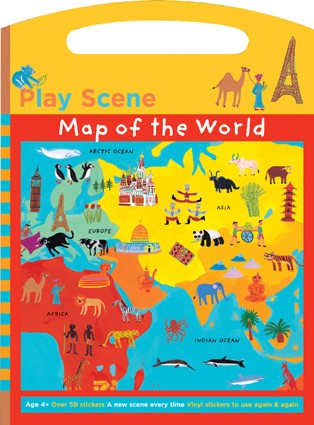 Discover the world with this color-coded map and stickers set. With over fifty reusable, vinyl stickers, for learning geography and iconic features of the continents.
Ages 4 to 9 years
Learn to Identify continents, countries, cities, and bodies of water by making it fun for kids to study geography, history, trade routes, climate and more. Includes repair kit, Activity Guide, and hook and string for hanging display from Learning Resources
Ages 3 and up

World Map Placemat
Perfect for any kids table this World Map Placemat is labeled with animals, plants and points of interest for kids to explore.
Ages 1 and up


B. Global Glowball Musical Toy
Push any continent to hear cultural music, push again for a different song. Roll it, babies and toddlers love to chase it around. Older children learn to recognize continents and their music styles. Turn on lights only mode for a gorgeous nightlight
Ages 6 months to 8 years

North American Bear Company World Activity Mat
Encourage your child to explore the world with Animals from the very beginning. This fabric zippered carrying case on the World comes with 10 soft animals, 2 soft dolls, 1 soft airplane.
Ages 1 to 6 years

Hape – Beleduc – Children Around the World 16-Piece Wood Puzzle
Each wooden piece comes with an easy grip knob handle for easy placement. Toy finishes are all non-toxic, child safe, and of the highest quality.
Ages 3 and up

GeoPuzzle Animals Jigsaw Puzzle w/Free Storage Bag
This Educational Animal Geography puzzle Contains 48 pieces that measures 18.5″x13″ when complete. The Pieces feature animals located in continent where they live
Ages 4 and up

Melissa & Doug World Map 33 pcs Floor Puzzle
33 piece Jumbo sized floor puzzle shows an Illustration of the world map which helps develop matching skills and for children to learn the continents
Age Range 3 Years and up

Melissa & Doug Children of the World Floor 48-Piece Floor Puzzle
This wonderfully illustrated circular floor puzzle introduces children to various cultures through children, flags, clothing and image of the Earth on 48 Colorfully detailed puzzle pieces.
Age Range 3 Years and up



Educational Insights World Foam Map Puzzle
Children get a hands-on introduction to foreign countries, oceans and exotic animals from every corner of the world. The Puzzle includes 54 interlocking, water-resistant and easy-to-clean puzzle pieces. A colorful, hands-on way to explore geography
Ages 3 Years and up


This Inflatable globe teaches kids where animals live using a 24″ Diameter Inflatable Globe and sheets of Animal Stickers.
Ages 3 to 9 years old

VTech – Spin and Learn Adventure Globe
With Touch sensitive points there are 30 locations to explore that include Cultural elements with native music and sports. This is a Colorful design with music and sound effects for 5 unique modes of play.
Ages 3 to 9 years old

LeapFrog® Explorer Smart Globe
Learn fascinating facts about continents, countries, capitals, music, currency, highest points and so much more. The Eureka game mode that prompts players to find geographic points of interest before time runs out. It includes Six multi-level games for Up to four players. It features a world clock, interactive pen, volume control, headphone jack and automatic shut-off.
Ages 4 and up

Ravensburger XXL Children's Globe 180 Piece Puzzleball
This has 180 curved plastic pieces fit together to form a perfectly smooth surface with No glue required. The finished puzzleball is a "picture-perfect" decoration for every kids room with it's colorful design.
Ages 8 and up



Educational Insights Geosafari® Wonder World Set
Here's a fun hands on way to explore the world. It's a Giant 4′ x 6′ cloth map embroidered with continents and oceans with Beautifully detailed felt animals, landmarks, vehicles, and labels. The Set Includes map, 68 felt pieces, 4 cloth bags and plastic storage container.
Ages 4 and up



Educational Insights Geosafari Jr Talking Globe
This is a teaching, talking globe for younger children with two game modes and variable subjects allow children to learn geography with spoken and visual clues, then immediately quiz each lesson. The variable subject selection lets you focus learning on continents, countries, USA states, or oceans for One to three players.
Ages 4 and up
Learning Resources World Treasure Hunt Map
This is a huge Wipe Clean floor mat is large enough for children to stand or sit on. It can be hung as a decoration too. Perfect for some life sized some with a Map of the World.
Ages 4 and up
Sticker Books for Hands on Fun with the World

Sticker Dolly Dressing Around the World

All Around the World Book of Stickers

500 Kids Around the World Adhesive Foam Shapes Multicultural Stickers
Stocking Stuffer Idea: Landmarks of the the World

Safari Ltd Toob Around The World Toy Figure Playset

Safari Ltd Toob World Landmarks Toy Figure Playset
Getting Global Around the House with Kids

Vintage Monde Book End – World Market

Nursery Easy Apply Wall Sticker Decorations – World Map with Flags
World Map Vinyl Wall Art Decal

Easy Instant Decoration Wall Sticker Decal – Colorful World Map
This colorful World Map Design would be a fun way to bring the world into your child's room or playroom. Includes images of animals and plants around the world. Easy to apply, remove, reposition, and reuse without leaving damage or residue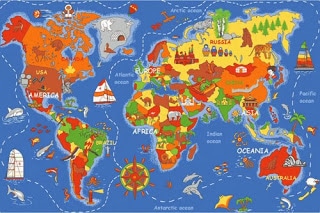 Play Carpet Where In The World Multi Kids Rug
This play rug would be perfect for any kids room or playroom as they explore the world with play!
Books About the World for Kids
You know us, we couldn't share an idea without including some of our favorite books to go along with it. Here are some of our favorites to encourage children to learn about the Children Around the World.
Children Around the World

Children Just Like Me: Celebrations!

Children Just Like Me: A Unique Celebration of Children Around the World
National Geographic Kids Beginner's World Atlas

Geography of the World

Ultimate Sticker Book: Flags of the World (Ultimate Sticker Books)
There are so many ways to get your child interested in learning about the World. It's these basic foundations that you can set up to create a lifelong interest in the world and a respect for others and our diversity. For more ideas you can follow our Bilingual Babies and World Geography Pinterest Board or our Gifts for Raising Global Citizens Pinterest Board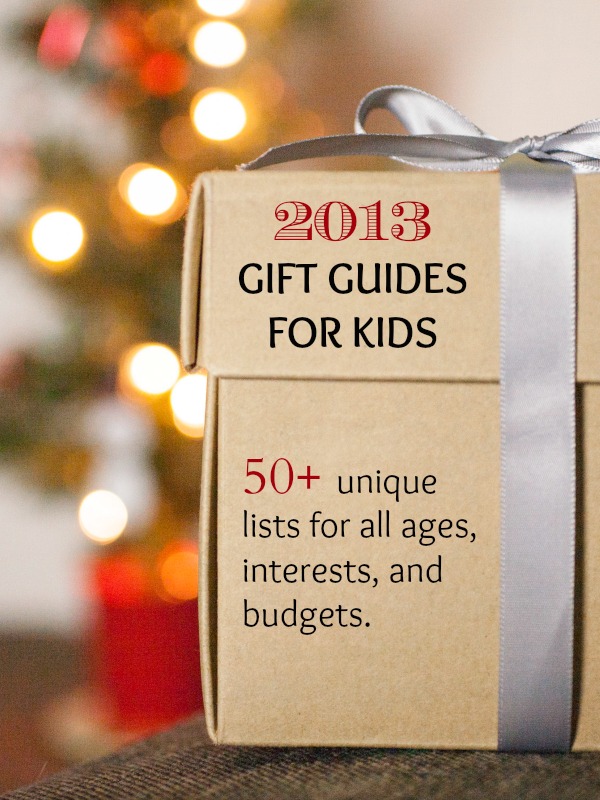 We're so excited to welcome you to the 2013 Ultimate Gift Guide hosted by 60+ Bloggers in the Kid Blogger Network!
This post and entire project is designed to help save you time this holiday season while you're shopping for your child. I encourage you to explore their recommendations that they've tested and experienced with their own children.