My in-laws are coming. Today.
In 5 hours.
Here's the thing. When I married a Russian, I knew his parents were amazing. They are the sweetest, most kind-hearted people I've ever met and they raised a pretty good man. But, I didn't really THINK about what that meant.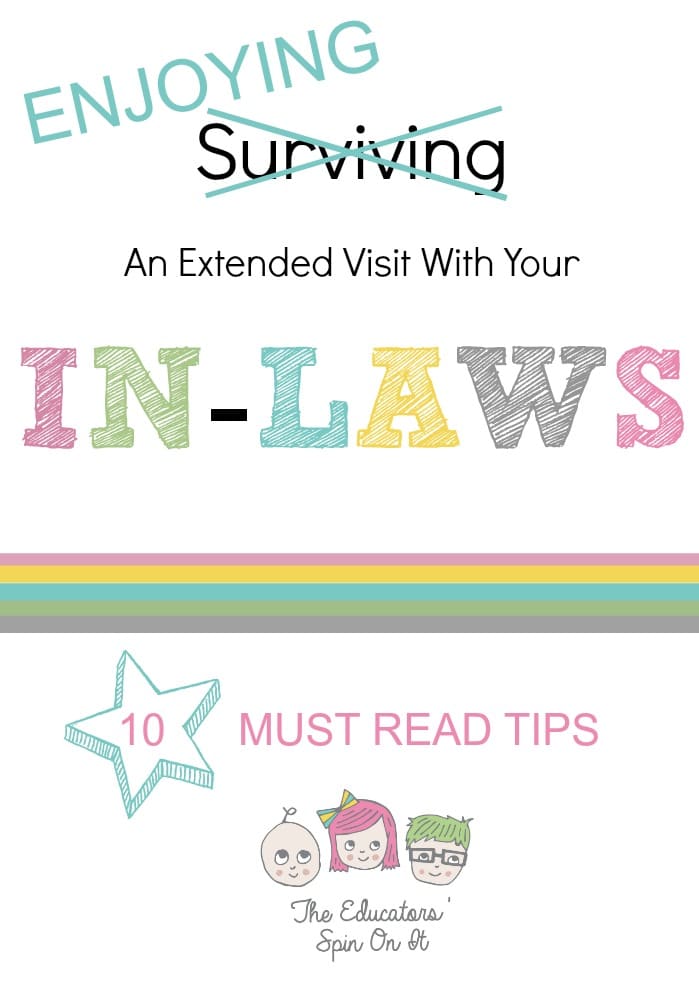 They travel over 15 hours by train to get to Moscow. Then they travel by metro to the airport. It can take a while, but no worries, because they have time with a usual 8-12 hour overlay in the city. This is followed by a 11-12 hour overseas flight to reach the U.S.A. Then, they go though customs and have their bags checked, only to go back through to catch another 3-5 hour domestic flight to get to our city.  
This means 2 things.
1. They don't make the trip often. and
2. When they come, they come for a L.O.N.G. time.
When I say L.O.N.G. I mean a minimum of 3 weeks – 3 months living with our family of 5 in a 3 bedroom house. I'm a pretty flexible person, but let's just say that I get a little bit cranky on day 5 of other people in MY space. I'd like to think that each time I get better about having my house invaded guests, but I will admit, it is a challenge for me to be kind and welcoming 24/7.
Here are some of my top tips for surviving extended stay visits from in-laws.
1. If you can afford it, rent a hotel room at a decent hotel for them, even if it is just for 1-2 nights, this will give you and them a little break. Plan this for the middle of their stay. If you are close to a famous attraction (mountain, beach, mall…) then this could be a perfect mini-vacation for them. Knowing that there is a break planned in the stay always helps both of us.
2. Stock up on their favorites.  Yes, I came home from the grocery store with chocolate ice cream and my husband looked at me like I was crazy. "We don't eat chocolate ice cream?" Yes, we don't honey, but it's your mom's favorite kind of ice cream of all time. "Oh," he says, "I didn't know she liked chocolate ice cream." Yes she does and I bought dark beer and beef jerky for your Dad.
3. Stock up on your favorites.  I am a fan of good dark chocolate and a glass of Chardonnay every once in a while, maybe a little more often when I have live-in guests who don't speak English. (Did I mention that yet?) Oh, they don't speak English. I use these sparingly as treat to reward myself.  That and little things like, if I can survive the next 3 hours without throwing a grown-up tantrum I can hide in my room and read a book for 15 minutes!
4. Make a "bucket list" for their visit, meaning a list of little things and big that you want to do with them while they are here. This helps to break the ice and give them ideas of the possibilities available. Take a walk, go to the park, pick strawberries, go shopping, go out for ice cream, go to the garden store, have a picnic…
5. Make a get-away plan for YOU. Kim and I have already planned to get together Wednesday night for tea. This gives me something to look forward too and my husband a chance to talk to his family after the kids are in bed without worrying about translating for everyone.
6. Communication.  This is hard when you all speak the same language, harder when you don't. Stock up on a good dictionary. Write cue cards for some keywords. Learn several helpful frases in each-other's language. And find an online translator. These aren't the best, but can help immensely.  Hey, it's better than nothing.
7. Have an extra set of clothes or 2 pre-purchased in their sizes ready and laid out. My parents do this for me when I visit with the kids and it is such a nice treat, not only to get something new, but also to have something different to wear that didn't come out of my limited suitcase stash.
8. Meal plan and bake ahead of time if your in-laws don't cook. I tend not to manage 3 young kids, 2 in-laws, and cooking well at the 4:00 meltdown hour (#1 on the list does help with my meltdowns) We made 3 batches of muffins, breads, baked chicken, enchiladas, stuffed shells and much more ahead of time. These freeze well and I can pull them out with minimal preparation and clean-up.
9. Tell them how much you appreciate them.
Leave them little notes.
Say thank you often.
Make them gifties.
Take pictures of them with the grandkids (and print them out for them)
Make a welcome banner for their arrival
Get the kids excited about their visit
10. When in doubt, smile! They probably mean well and hey, they won't be in your home forever. Why not make the best with what you have!
Setting Monthly Goals
Does your month have anything exciting coming up? A new move? A visit from the in-laws? Or are you hoping to focus on one part of your life in more detail? We'd love to have you join in. Goal setting is a great way to set your parenting purpose. I know when I set goals for myself, then I am more realistically going to attain them. Making them public, well, even more accountable.
My personal goals for this month:
ENJOY the small every day moments. I am going to be keeping a daily happiness journal with our family this month. I will re-read it as needed!
Celebrate having the opportunity to have my kids be able to interact with native speakers of their 2nd language. We are going to have every Thursday night be a language celebration night with traditional Russian Foods and
Take each day at a time (see 10 tips for surviving in-laws above)
How long do your in-laws stay for???
What is your best, stay happy tip? Please share! I have all month to try your tips out!
For more tips for planning time with your in-laws you might also like…