Let's explore the letter A with these adorable alligator themed toddler activities.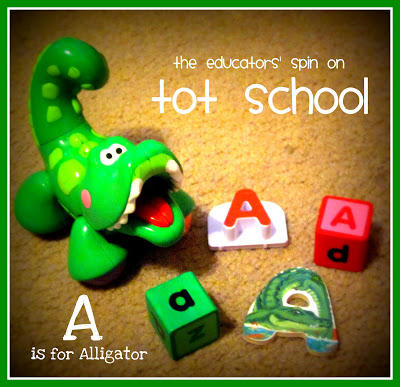 Where do you start when you decide to stay at home with your child but make sure your little one still gets all the advantages of a preschool environment… the answer is TOT SCHOOL! 
My daughter is now 21 months and when big sister started 1st grade this year we decided it was time for her to officially begin Tot School at The Educators' Spin On It.
Now here's the key question… where do you begin?
For me the easiest was to focus on Letter Based Themes. Truthfully anything will work. Tot School is just making sure you set aside time block during day to focus on learning new things with your child in all areas of development.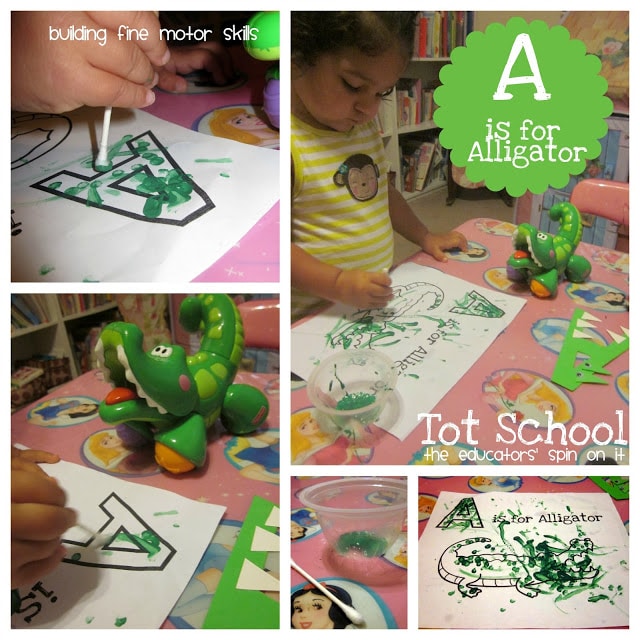 Alligator Themed Toddler Activities
This week's Tot School:A is for Alligator!
Monday- Alligator Music
Five Little Monkeys
Alligator Chant
Alligator, Alligator
There are some fun alligator songs to learn with your child.  We printed out some Monkey to recreate the song Five Little Monkey.  Here's the monkey printable we used. I think we might make them more permanent and create these felt monkeys soon. 
Here are two versions of the songs from Cullins ABC's and Mr. Mike. 
Then we also sang the Alligator Alligator song and learned about body parts. 
Jean Felden has an adorable Alligator Chant that we adapted to fit a 1 year old humor.  We pretended to let the alligator chomp the apples, ants and airplanes while we sand it. 
Here's a printable version of it.  I wonder what else we can find for the alligator to eat?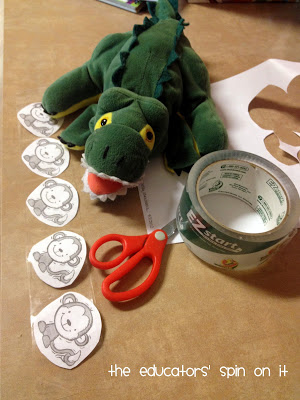 Tuesday- Alligator Science
We found some alligator books at the library that were nonfiction and looked at the pictures of real alligators. We sorted some animal picture cards into two groups. Alligators and not alligators.
Wednesday- Alligator Math
Since we sang Five Little Monkeys a lot this week we worked on counting to five and counting backyards from five to zero.  She's starting to saw her numbers just a little bit as we count.  We also spent a lot of time using puzzle this week. It's something I have been wanting to do with her more so this was a perfect Tot School tasks to focus on.
I was amazed at how quickly she was able to pick things out and find where they belonged. We had a jungle puzzle that she just loved finding the alligator first always to put into place.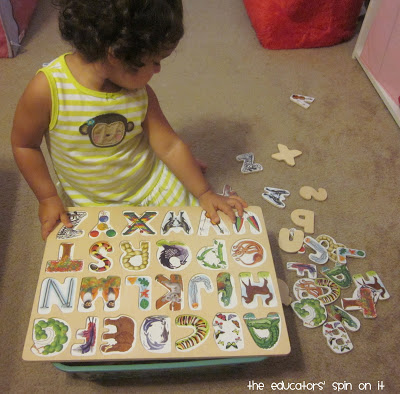 Thursday- Alligator Art
We created an alligator for art by reusing some materials around the house to create the reptile skin. We reused bubble wrap and yogurt and fruit containers for the stamps. We drew the alligator together look at her alligator toy that she tugged around all week long.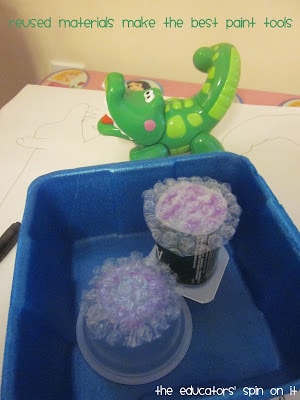 Here's another cute alligator project I wanted to share with you.
Alligator Collage Craft from Little Family Fun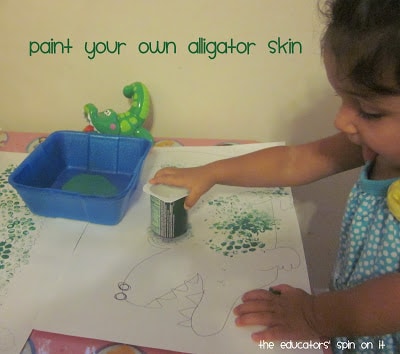 Friday- Alligator Field Trips
We are pretty lucky that we can visit our local museum and a local walking trail to observe alligators. So we took a little family field trip to observe the alligators in action this week.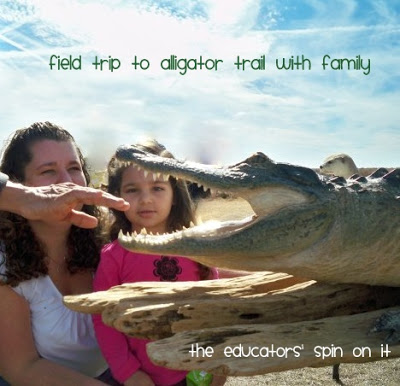 Everyday Language Arts with Alligator Theme
We shared our Letter A printable with our Tot Time group and decide it would be fun to paint the alligator and A at home. While we were together we created the Letter A Alligator that you can see on the table below.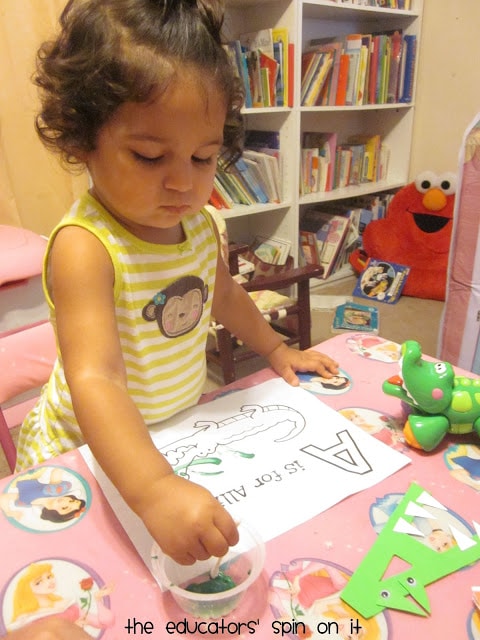 Additional Alligator Resources we LOVE
Letter A Activities with Alligators from Totally Tots
Alligator Cupcakes from Little Family Fun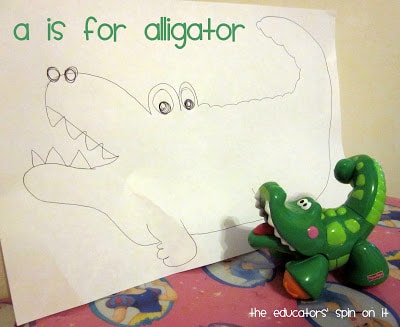 Don't forget to PRINT your free A is for Alligator Printable Unit