Alligators are fascinating animals. We're exploring alligator crafts and making alligator crafts for our after school fun this week. They tie in well with our Letter A Crafts too!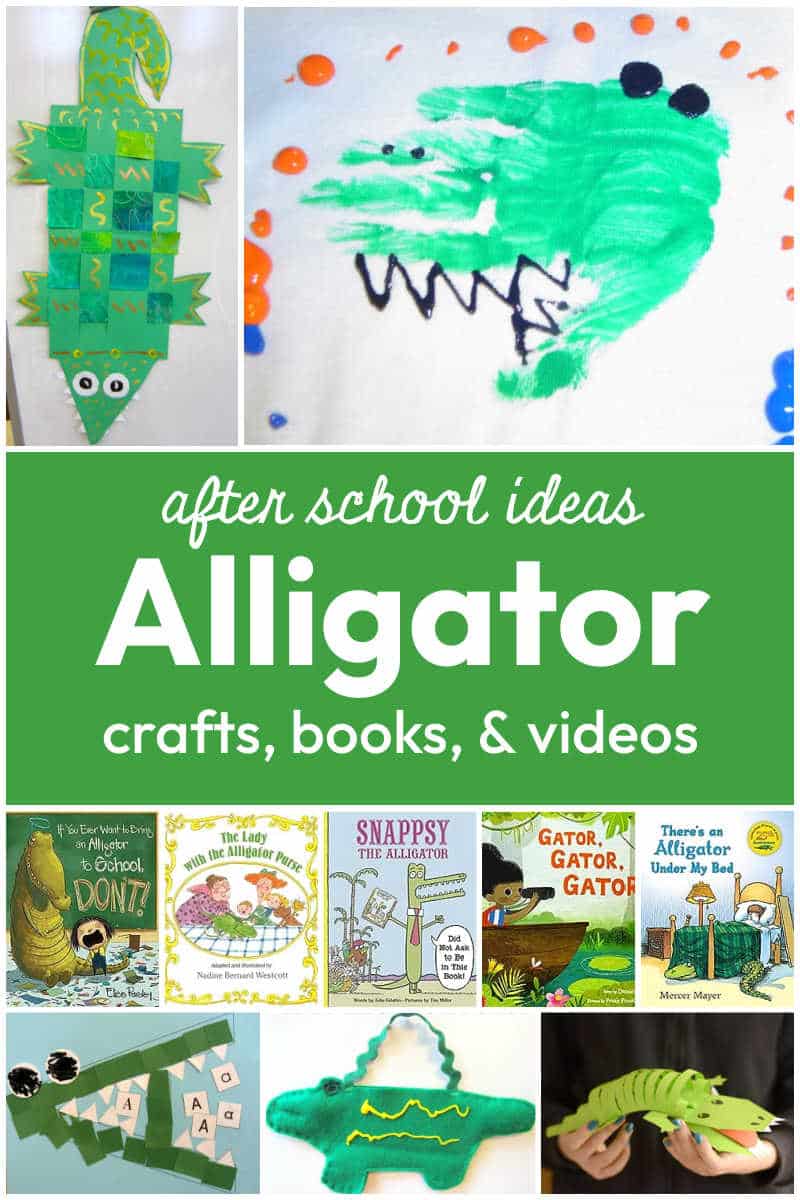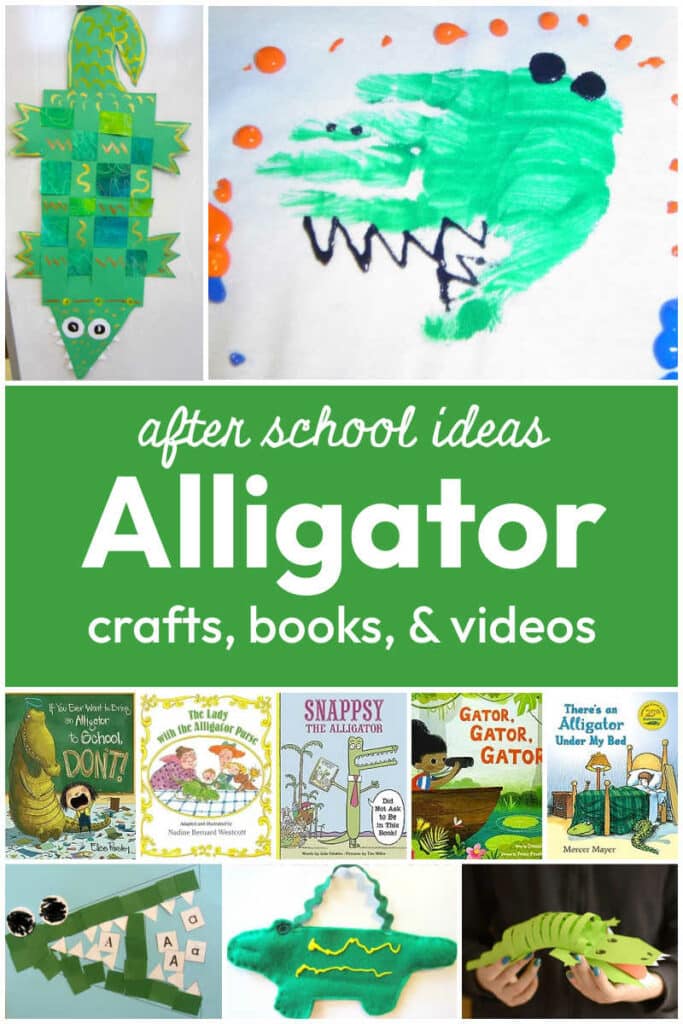 Alligator Crafts and Activities for Kids
What a fun way to end Alligator Week with a big win for the Gators last night! Confession time… we are a Gator Family. Since football season has started we had some fun this week in After School Express
Have a younger child, take a look at our A is for Alligator Tot School.
This post contains Amazon Affiliate links.
Here's a peek at our trip to the Everglades Alligator Farm in Florida.
Alligator Books for Kids
Over the years, we found that one of our favorite after school activities is to go to the library.
We pack an after school snack to eat on the way there and then I have two happy girls reading books and finding new ones to check out for the week. We love focusing on special animal books to come up with fun ideas for this week. This week here are the alligator books we enjoyed reading.
We tried to check out both Non-Fiction and Fiction and talked about the differences. Especially since we have alligators EVERYWHERE here in Florida. Have you ever been to the Florida Everglades?
Take a Florida Everglades Virtual Field Trip. Or take a peek at our AirBoat Rides in the Everglades.
Writing Prompt – Using Alligator Photos
We looked through some old photos from our trips to the local zoo and parks and found these two pictures to write a story about. We used them as story prompts.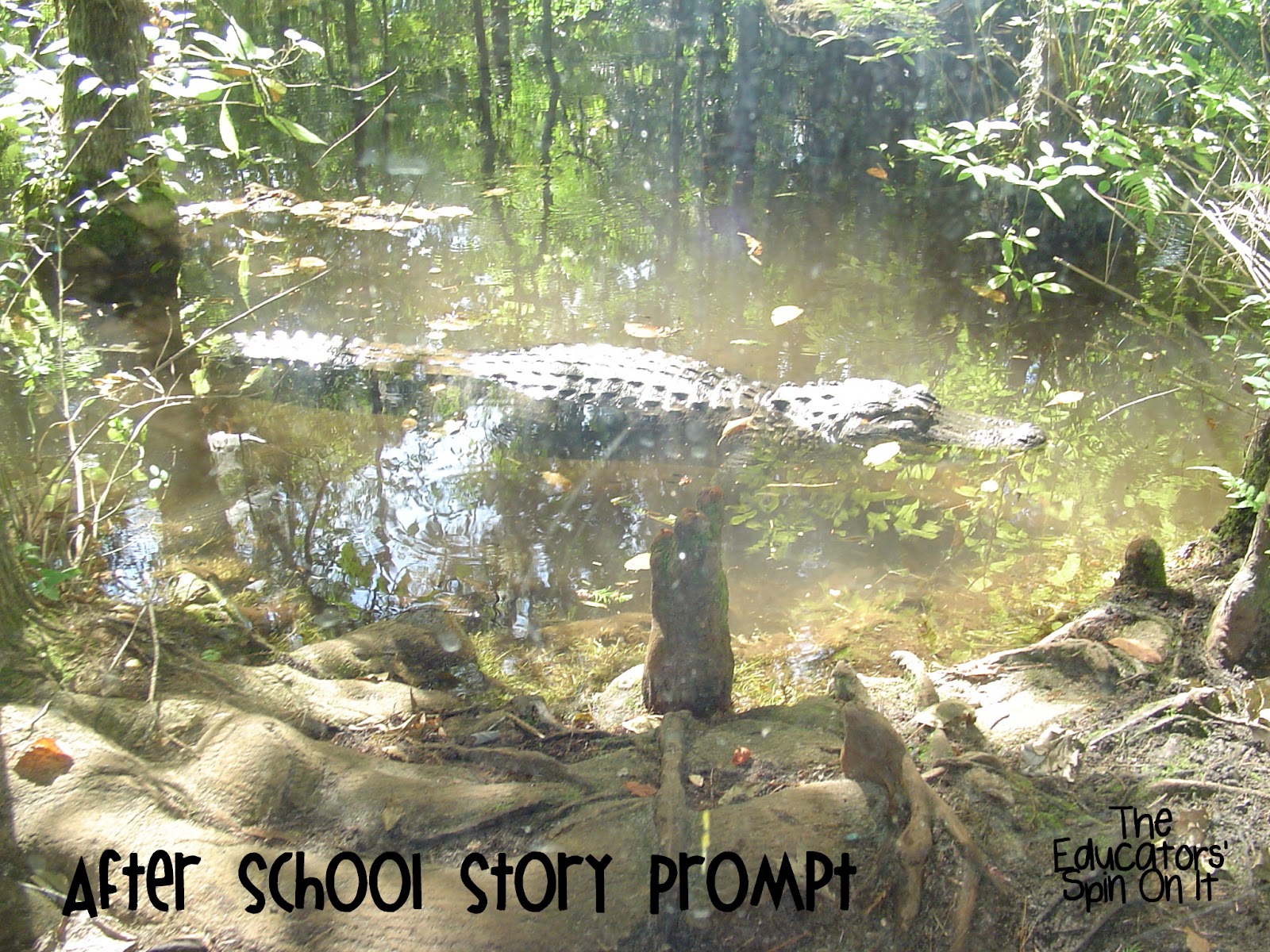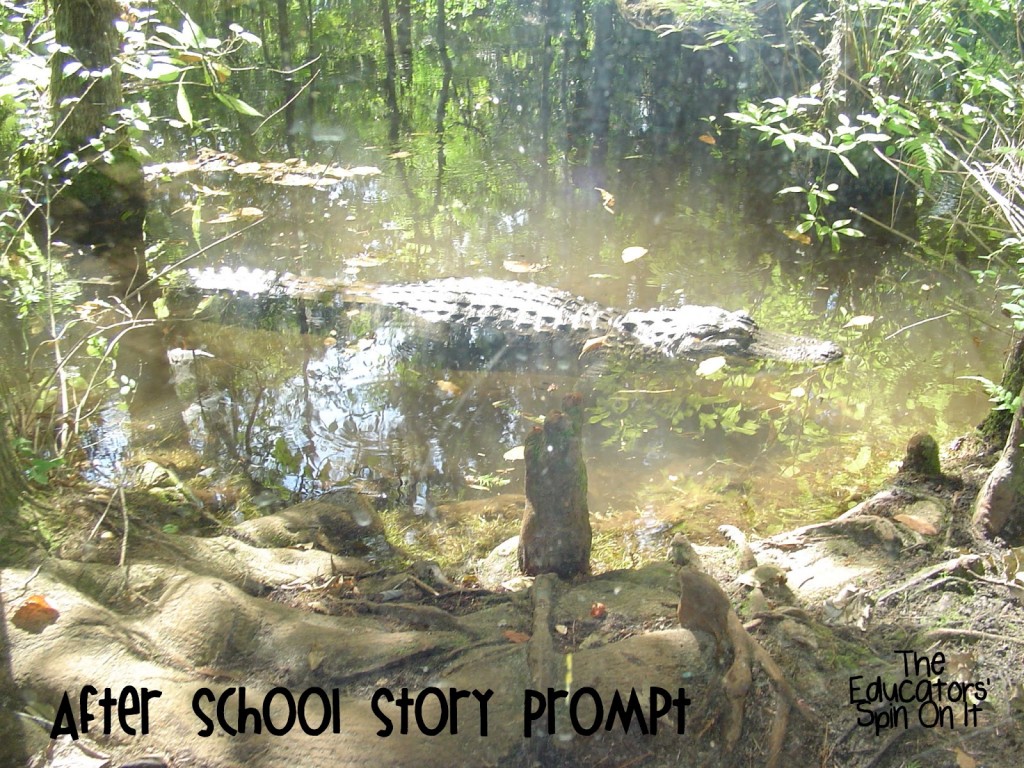 Photos can make great inspirations for young writers. The story they write can also be non-fiction or fiction. It's fun to see where their imagination takes them.
Alligator Fun Facts for Kids
Here are some alligator facts for kids:
Alligators are reptiles that live in North America.
They are related to crocodiles, but they are smaller and have shorter snouts.
Alligators are carnivores and eat fish, turtles, snakes, and small mammals.
They are ambush predators and will wait for their prey to come close before attacking.
Alligators are solitary animals and only come together to mate.
They are an important part of the ecosystem and help to control populations of other animals.
Alligators are considered to be a threatened species and are protected by law.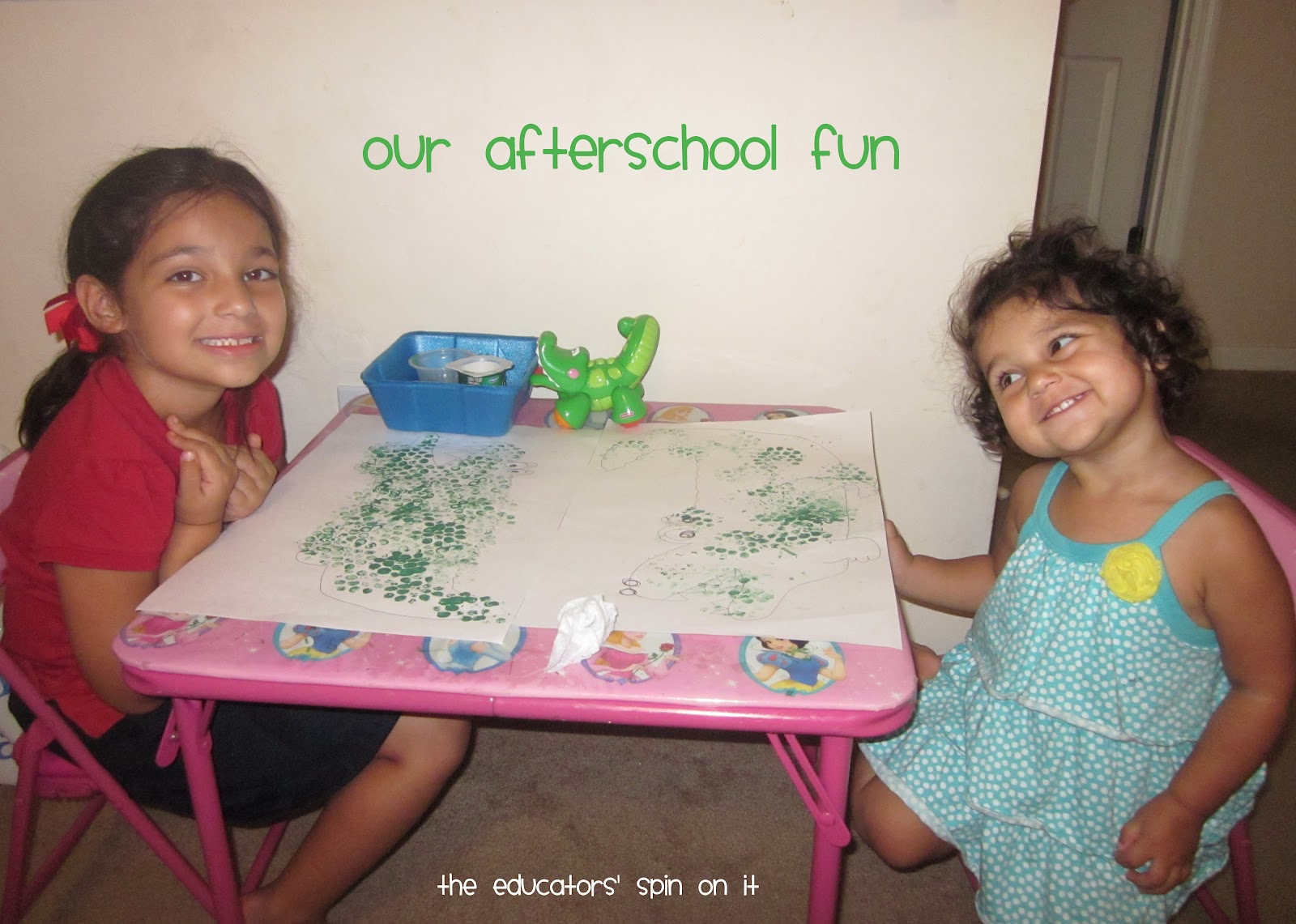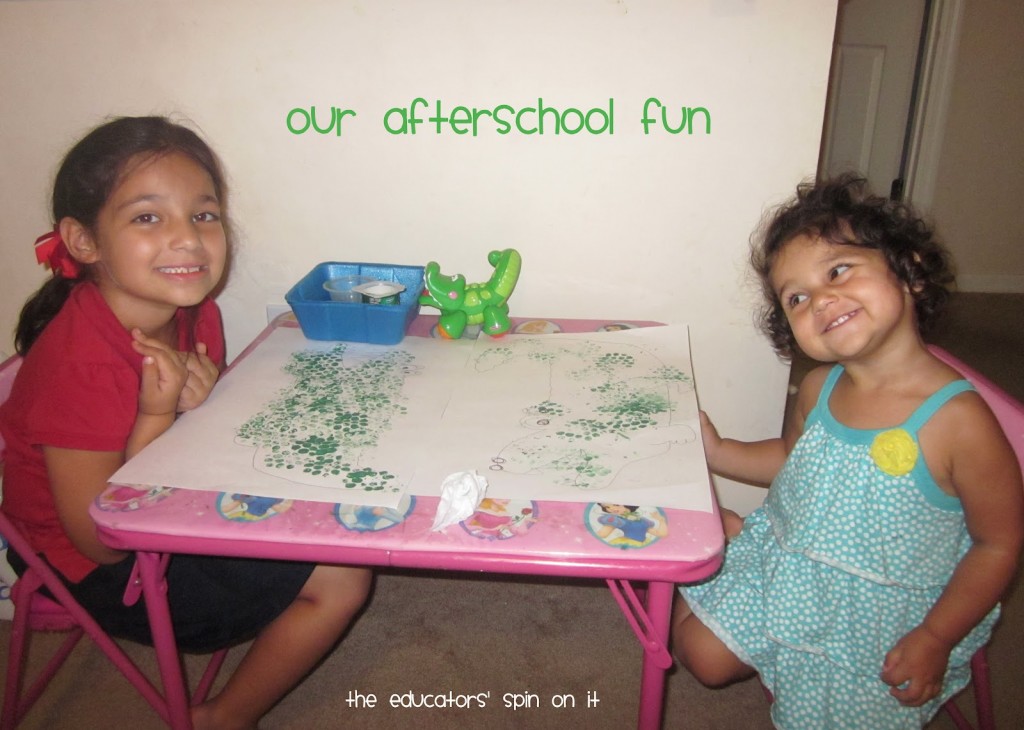 Alligator Bubblewrap Craft
One afternoon we decided to create alligator scales with bubbleprint. Both of the girls had a lot of fun doing it and singing alligator songs together. Singing songs on a chart is a great way to learn to read!
I love when siblings can do things together afterschool and both be learning at different levels.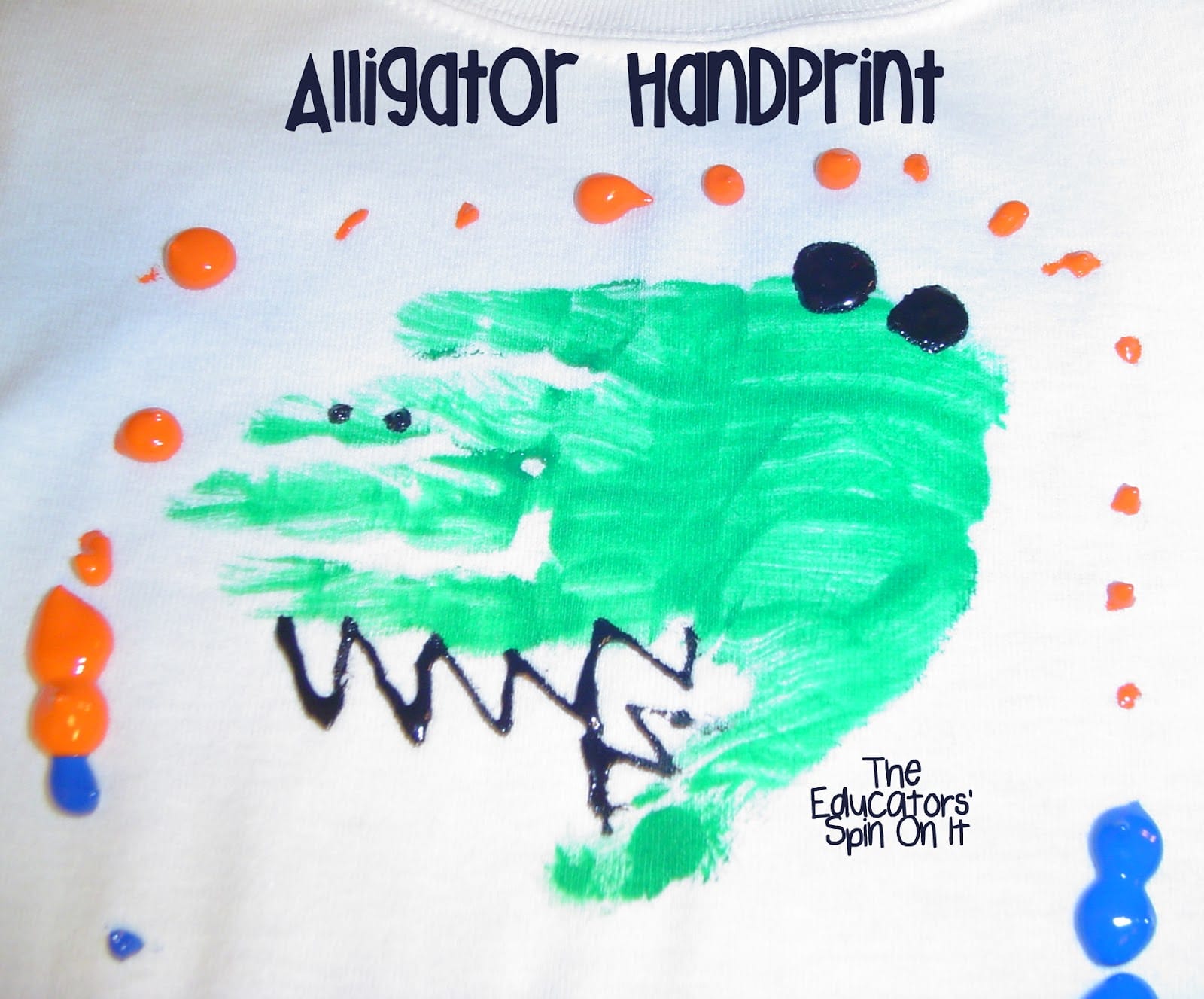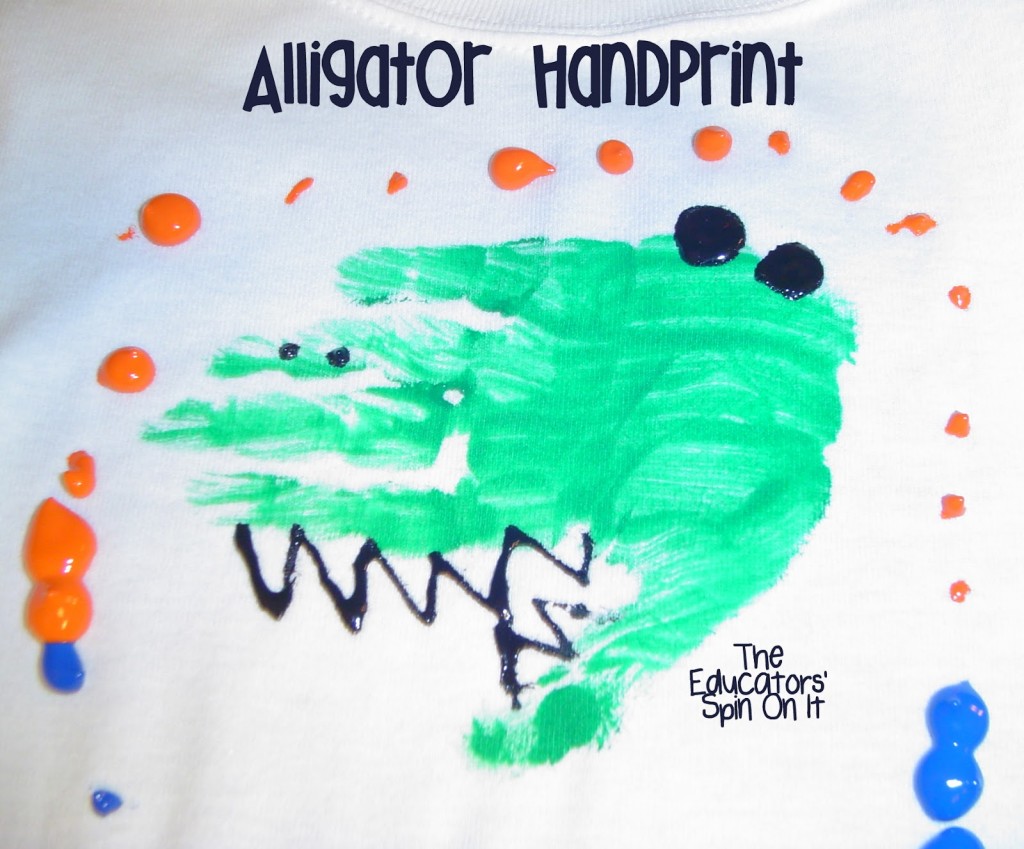 Alligator Handprint Art
We made these really fun gator handprints into T-shirts for this season but you could easily just do them as a craft project after school. Grab some green and black paint and have some fun.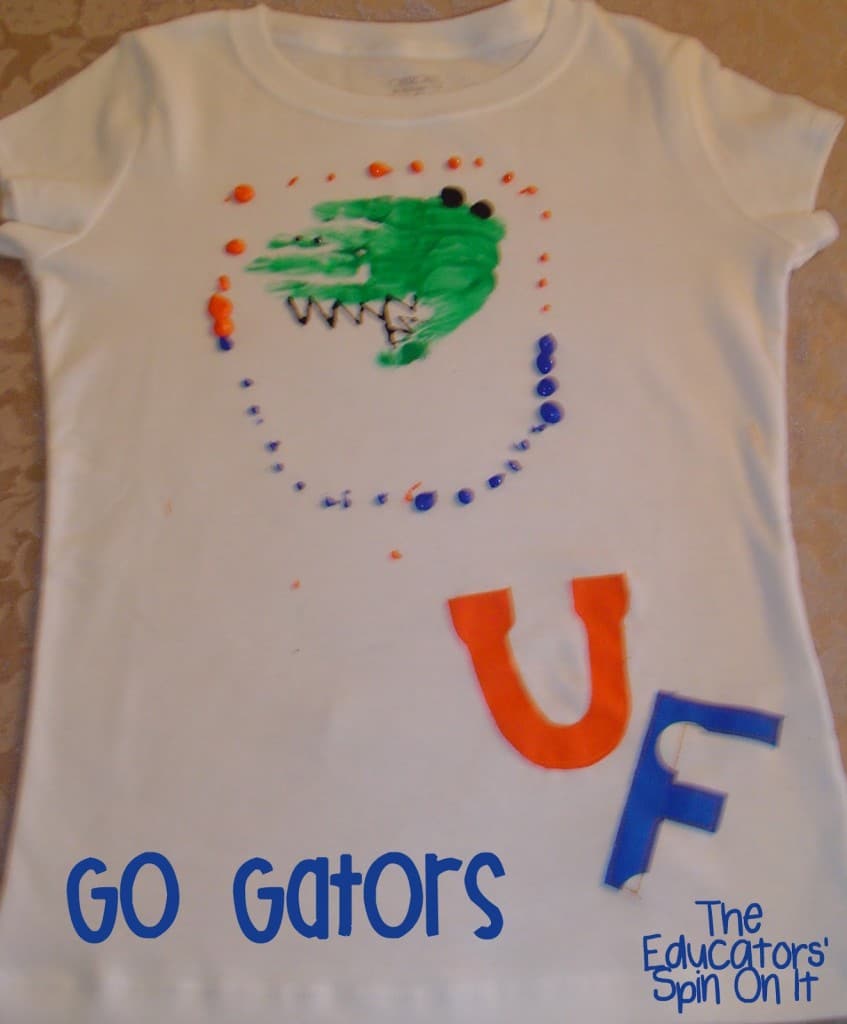 We cut out and added the fabric letters UF and sewed them on for a project too. I had my daughter decide where she wanted them to go. Then she added the orange and blue dots. She called it a necklace.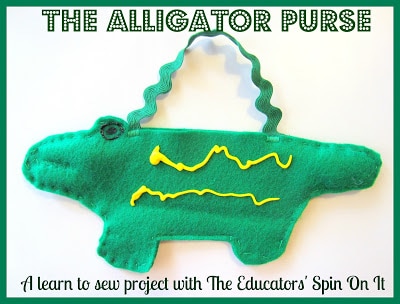 Alligator Purse Sewing Projects
Another project you can do with alligators is to recreate the alligator purse from the popular book. Follow this simple step-by-step tutorial for learning to sew with kids to make this Alligator Purse.
Alligator Ideas for Kids
Alligator Videos – Using Technology as an After School Resource
As our children get older and enter school I do believe that there is a time a place for technology and that it plays an important role in education.  At times we simply cannot take them to physically see the things we're talking about so it's important to give them at least the chance to watch someone involved with a topic.  
The Kratts Brothers have been around since my son was little, he's 19 now, and are a fun and educational resource for teaching children about animals. Here's a little clip about Alligators.
Zoboomafoo was my son's favorite and Wild Kratts is my daughter's favorites.
Alligator Book Read Alouds
We are one of the hosts of the Virtual Book Club for Kids. We love finding great read alouds for books to go along with our book themed activities.
Here is Mercer Mayer himself reading the story There's an Alligator under My Bed.
I love watching authors read the story that they have written and how they bring them to life!  This one in particular reminds me of those anxious feelings we all had as children as we went to bed along in our rooms and has a playful way about it.
Here are a few more Alligator Book Read Alouds for Kids.
Alligator Songs for Kids
Alligator Chomp | Patterning Skills | Kid's Songs | Learn To Count | Jack Hartmann
Alligator – The Alligator is My Friend – Dr. Jean
Five Little Monkeys Swinging In The Tree
See You Later Alligator – THE KIBOOMERS Goodbye Song
After singing some songs about Alligators it can be fun to add movement with these zoo themed yoga poses.
Head out on an adventure to see some real alligators, this picture was taken less than 10 miles from our house.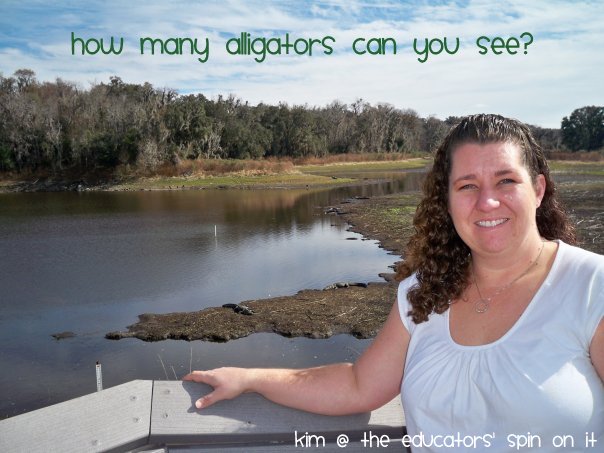 Hope you have lots of fun as you create these alligator projects and activities with your children! 
Here's a fun little picture from one of our trips to the Nature trail near us where the alligators really live!
PSSST… How many alligators can you see behind me?
You may also enjoy these after school activities with your child…