Work on letter recognition this fall with our Acorn Alphabet Sensory Jar Game! Head outdoors to search for acorns and then return to create this special hands-on literacy focused game for your preschooler.
Here's how to play!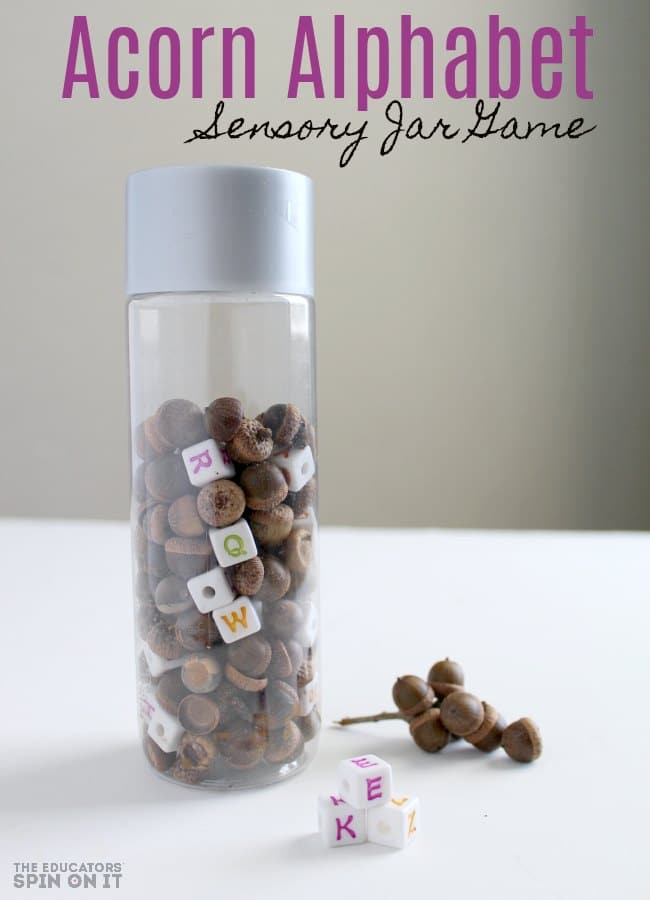 This week at the Virtual Book Club for Kids we're featuring Acorns and Squirrels! One funny picture book series that the kids are enjoying is Scaredy Squirrel.
We've been collecting tons of acorns that are falling form the trees so we thought this would be a fun connection to make with this acorn alphabet sensory jar game.
We'll be painting our acorns and doing a few acorn math activities with our rainbow acorns too.
Acorn Alphabet Sensory Jar Game
Encourage your child to practice their fine motor and eye hand coordination with this sensory jar game for fall plus learn to identify the letters of the alphabet!
If you're ready for sight words, your little one will love this I-SPY Acorn Jar too!
Disclosure: Affiliate links to amazon are included in this post.

Scaredy Squirrel
by Melanie Watt
Here are some of our favorite Acorn Themed Books
Click here to see the other books we're using for the Weekly Virtual Book Club for Kids

Acorn Alphabet Sensory Jar Materials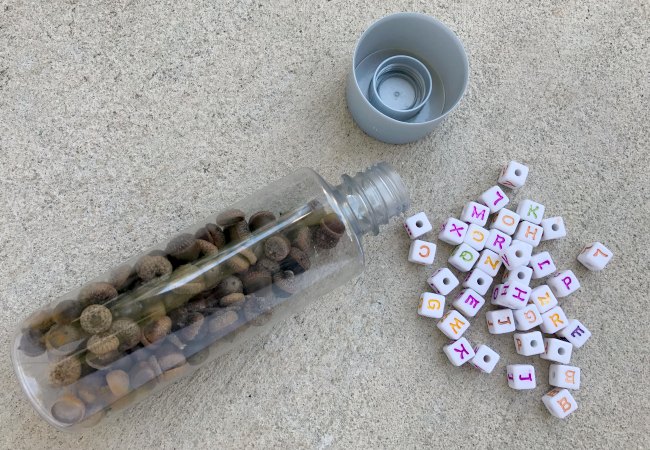 Acorn Alphabet Sensory Jar Directions
1. Go out in your yard or community and gather acorns into a container. Take time while you're exploring to talk about the change in season. Try to see if you can find any squirrels climbing the trees too. See if you can find any little holes that the squirrels have dug searching for acorns.
If you live in a place without acorns you can use these instead.
2. Once you're back at home with your acorns it's time to create a few fun acorn activities with them! Find a recycled water bottle and have your child fill it up with acorns using their fine motor skills.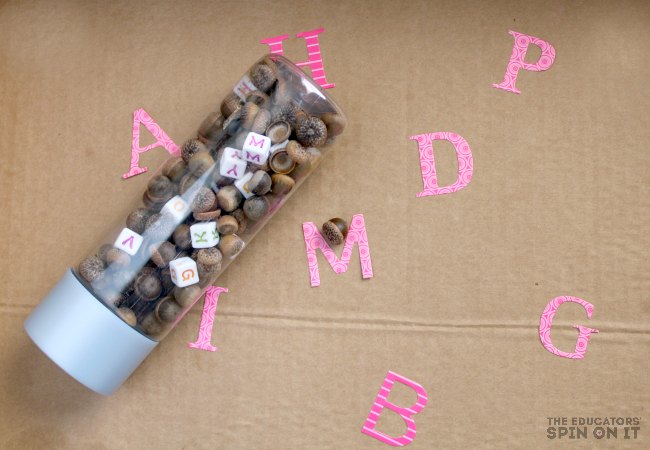 3. Next add some letter beads to the acorns. Be sure to check to make sure you've added all of the letters of the alphabet.
TIP: For younger kids you can add 5-10 letters to start with less. Give them a chance to be successful and then you can add more letters as they build confidence.

4. Now grab a recycled box lid and have your child add the alphabet letter stickers all around it. Use this time to talk about the letters they are adding to learn to name each letter and the letter sound.
Plus it's a great find motor activity too.
5. TIME TO PLAY OUR ACORN ALPHABET SENSORY JAR GAME! Challenge your child to cover the letter in the box with an acorn by marking one each time they shake the acorn alphabet sensory jar.
You can play this game with a few letters to start and build up. You can also use acorn sight words and acorn numbers.
For some extra fall fun print out these fall alphabet activities.
Here are some additional alphabet learning games for your child.

Share a photo with us how your child creates their Acorn Activity in our VBC Facebook group! Join now!
You can visit more Acorn Themed Activities at The Educators' Spin On It or you can take a look below and be inspired by the 20+ Acorn Themed Activities.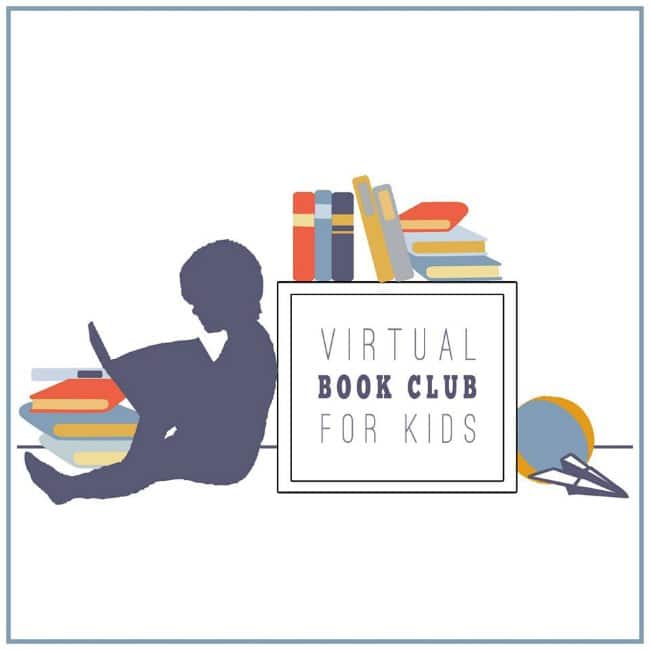 Join our Weekly Virtual Book Club for Kids Facebook Group
YOU'RE INVITED. We're inviting you to join along and share your own acorn themed ideas with your child or students using the featured story Scaredy Squirrel
or one of the other Acorn Books.
You can share on our facebook page or join our VBC Facebook Group and share there with 10,000+ members!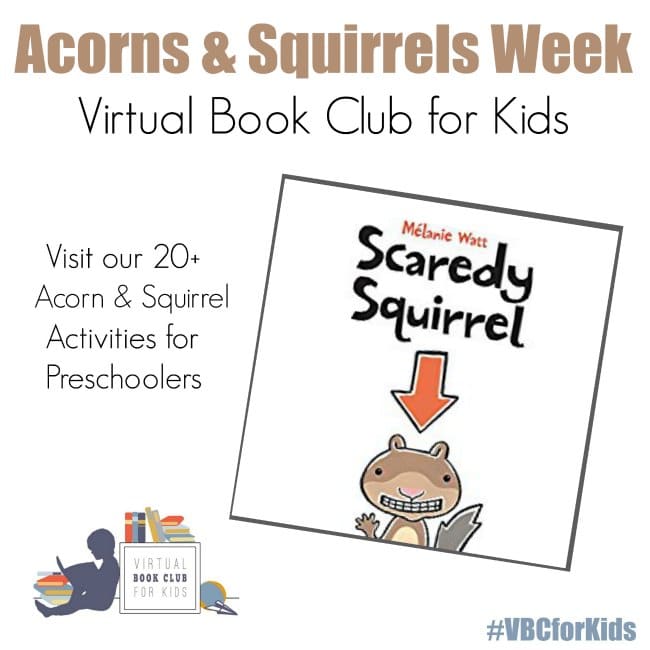 Acorn Activities for Preschoolers
Acorn Alphabet – The Educators' Spin On It (That's HERE)
Acorn Ramp Play for Toddlers- Toddler Approved
Acorn Sharing Game – Witty Hoots
Squirrel and Acorn Ten Frame Printables and Activities by JDaniel4's Mom
Acorn Fine Motor and Counting – Views From a Step Stool
DIY Song Cube with Fall Song Printable from My Storytime Corner
Acorn Discovery Table – Inspiration Laboratories
Acorn Color Sort- Teach Beside Me
Acorn Process Art- Messy Little Monster
Help the squirrel find his acorn – Mama Smiles
Squirrel Brain Breaks- The OT Toolbox
Squirrel Action Rhyme – Preschool Powol Packets
Find the Acorns Printable Sight Word Game – Artsy Momma
Acorn Ordering and Sorting – Rainy Day Mum
Making Shapes With Acorns – To Be A Kid Again
Fall Sensory Bin Acorns Squirrels Color Picture Match- Sea of Knowledge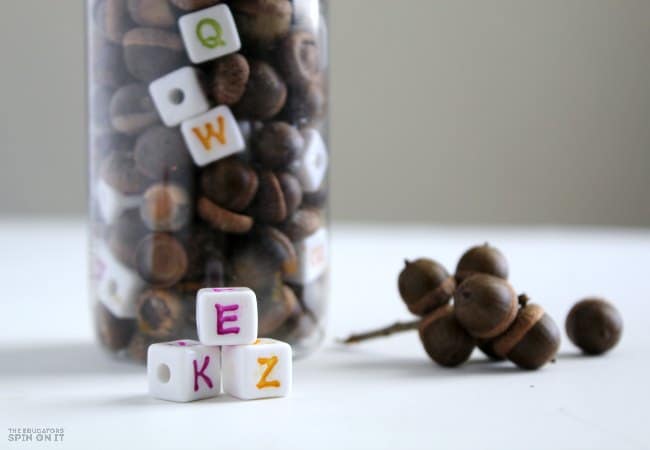 Are you joining our WEEKLY Book Club for Kids? Be sure to join our BOOK NEWSLETTER to get our activity ideas in your inbox each week!
Click here to see which books we're reading together with you and your preschooler!
Looking for more acorn activity ideas? You may enjoy these…