Create your very own starry night painting inspired by the famous artist Van Gogh using items from around your house, including an apple core!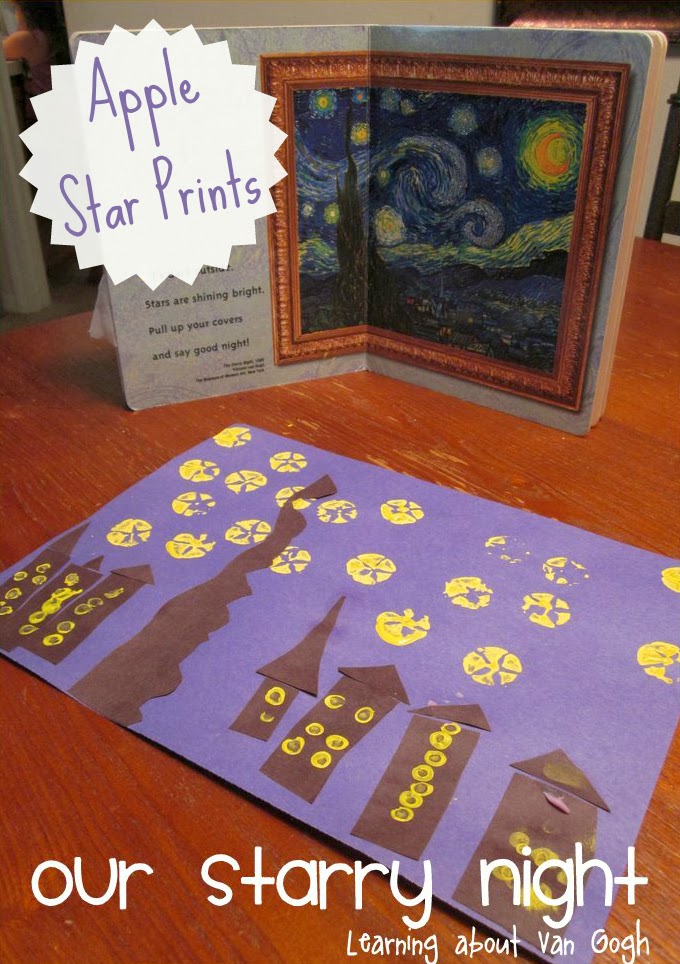 (Disclosure: Affiliate Link to Amazon)
I'm always trying to find ways to expose my children to various mediums of art and famous artists and pieces of art. This week we did a quick lesson using this adorable book called Touch the Art: Make Van Gogh's Bed by Julie Appel and Amy Guglielmo.
Touch the Art: Make Van Gogh's Bed
I think this is such a great series to teach children about art and incorporate reading! Since it's a tactile series it is perfect for this age of exploration.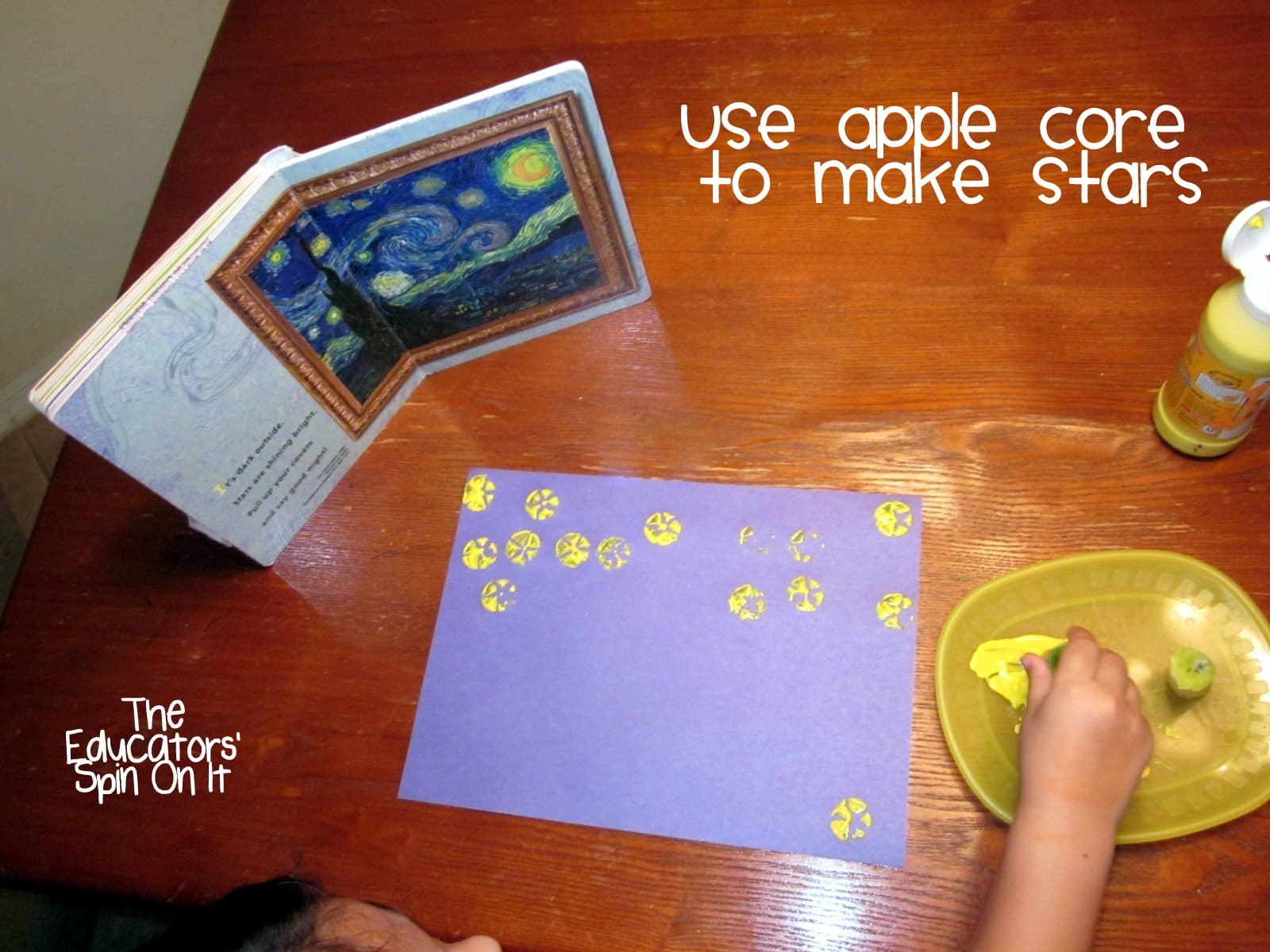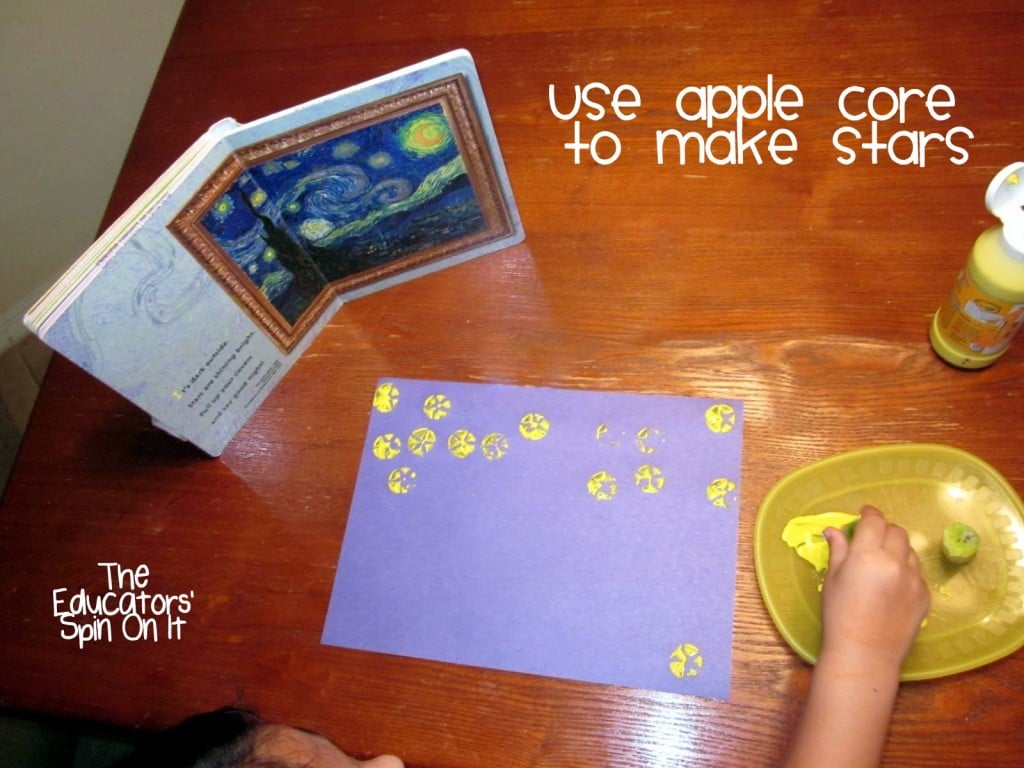 Van Gogh's Starry Night with Start Prints
Supplies
yellow paint
apple core
blue paper
black paper
pencil top eraser
scissors
Directions
The piece we selected to recreate was Van Gogh's Starry Night. We've been learning about apples this week, an easy tie in was to find the star in the middle of the apple core.
We cut the core into half and had two stars to use for stamping with yellow paint.
My daughter decided to use blue paper since it matched the background in Van Gogh's painting. Then she took yellow paint and stamped stars all over the blue background.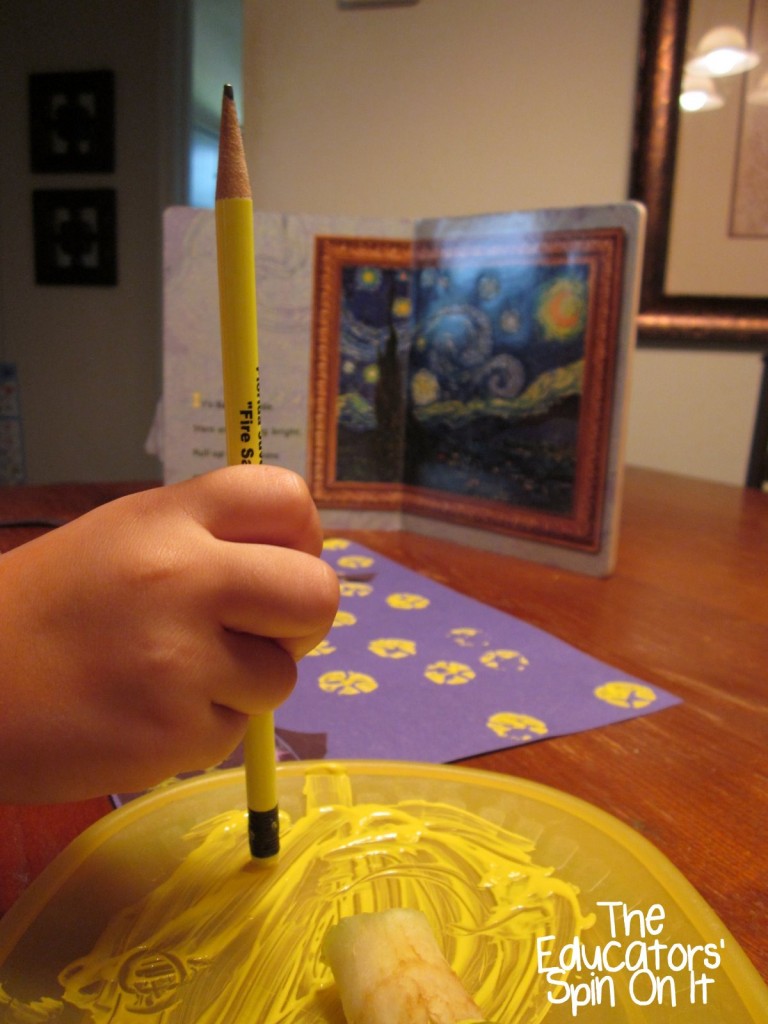 To create the village below she used black paper and cut out squares and triangles all by herself. I cut the paper into smaller strips for her to manage.
Then once she glued them down she used a pencil eraser tip to stamp windows onto the homes.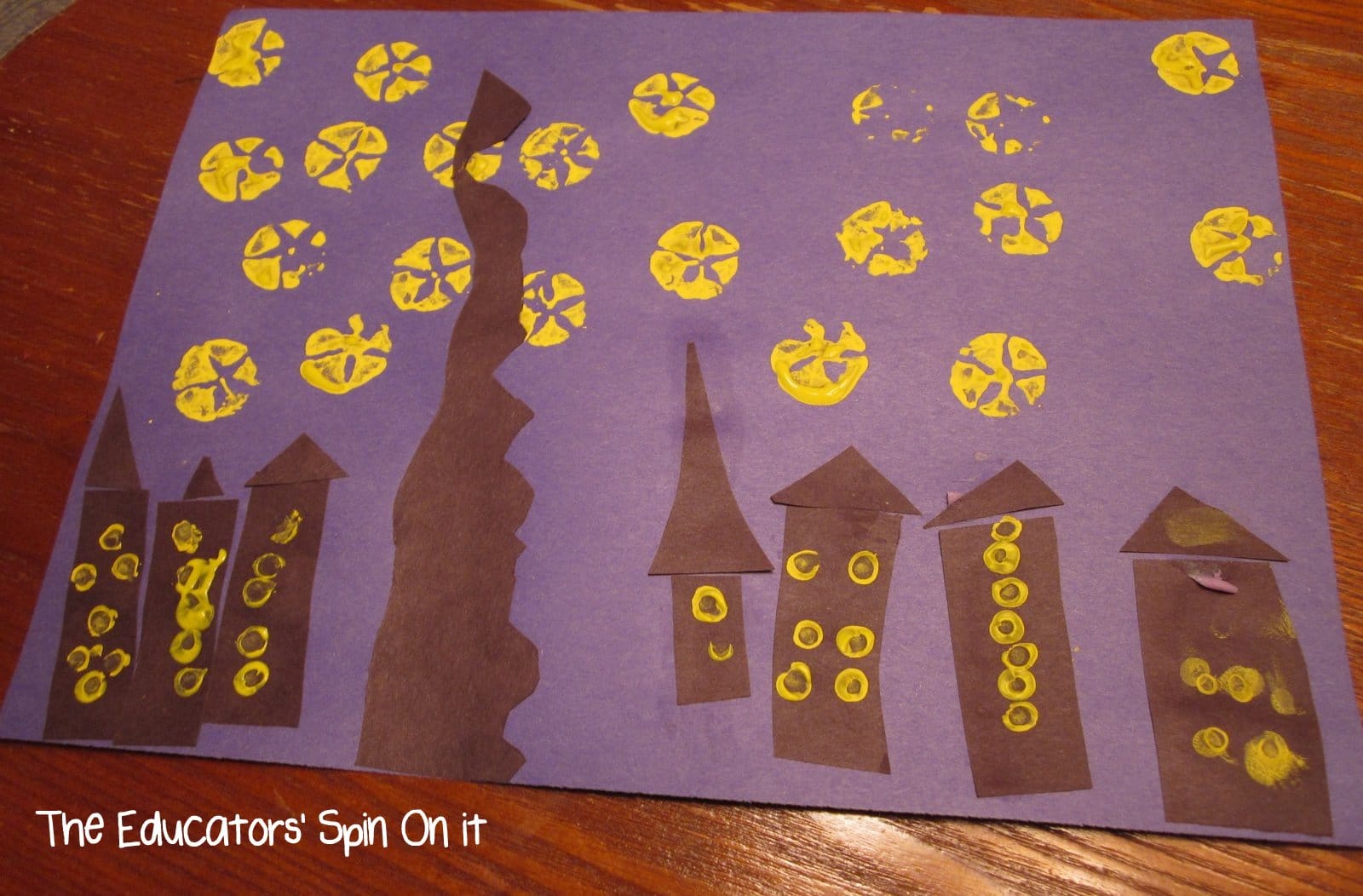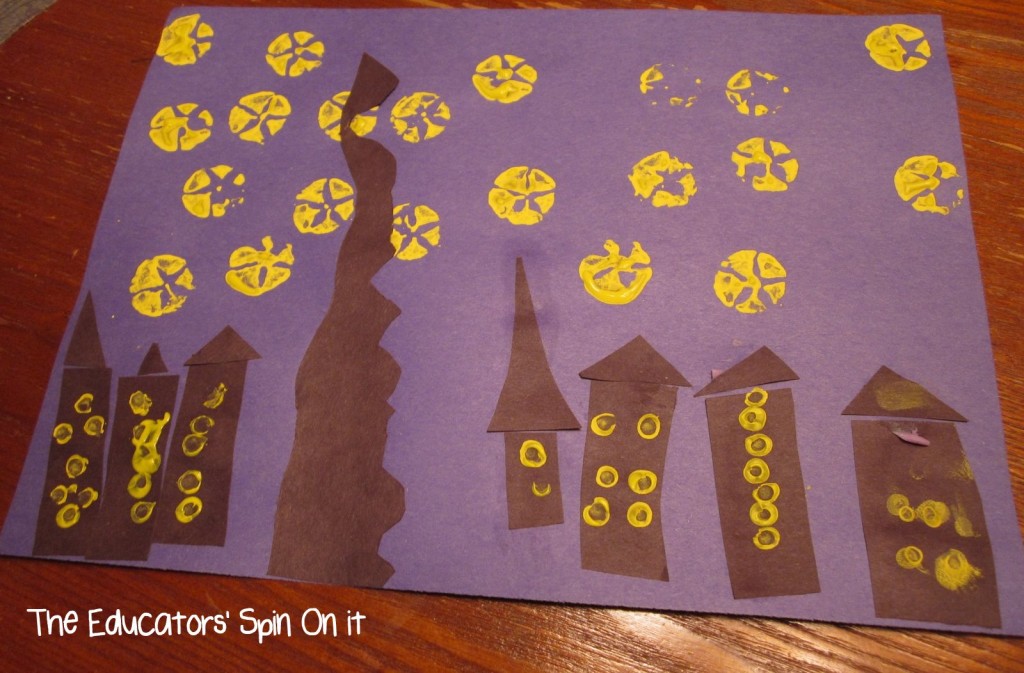 Here's her finished project! I can't wait to have her create more pieces of art from this famous artist in this book and from the other books by the authors.
For more Starry Night Activities visit Relentlessly Fun, Deceptively Educational for a Printable Book and Van Gogh Study
For more about the Touch the Art Series by Julie Apple and Amy Guglielmo check out the author visit with Amy Guglielmo. They have several books that they have published in the Touch The Art Series.
Here's our Interview with Amy Guglielmo, come watch as she shares a few more kids activities with her books. I can't wait to do more of them with my daughter!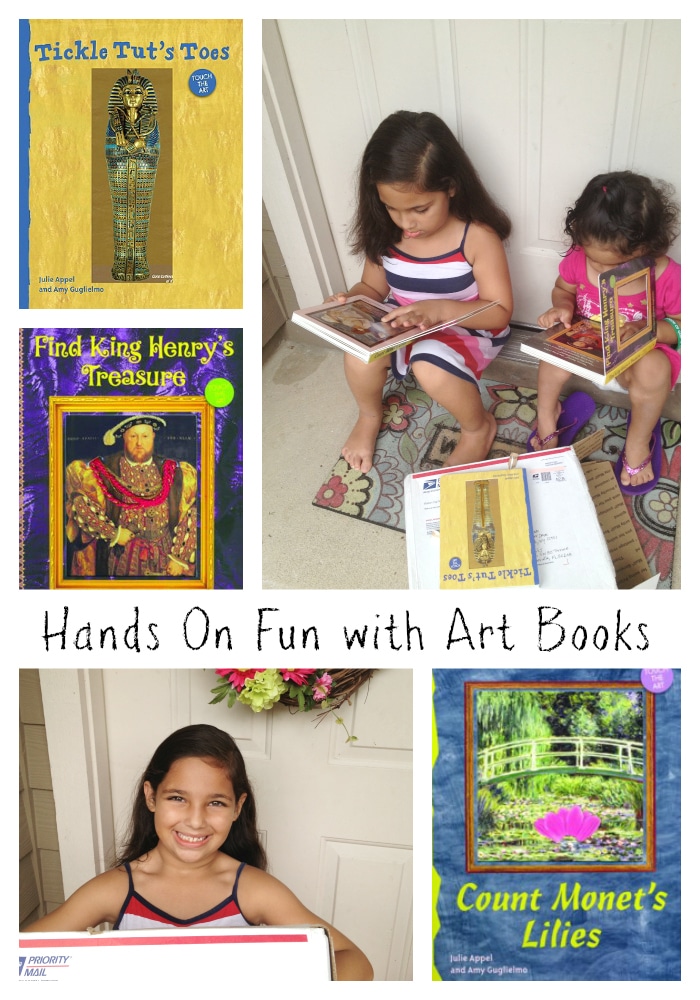 Click here to watch our Video Interview with the Author of Make Van Gogh's Bed Amy Guiglielmo
Check out our Top Resources for Teaching Art to Kids
Star Themed Art Projects for Kids