There's one shape in childhood that kids love its STARS! Let's learn how to make your own star shaped stamp for your child to use for stamping with paint. Are you ready to get stamping with the stars?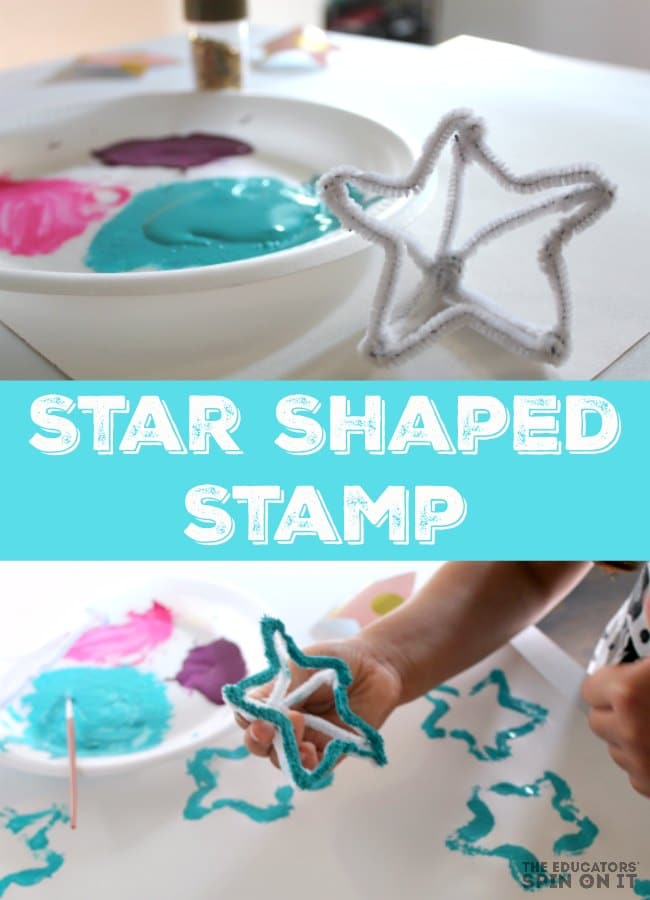 This post contains affiliate links to Amazon.
This art project is sure to be a hit with your little super star. A perfect way to celebrate a special person in their life or perhaps an upcoming patriotic holiday or even a special gold star for Christmas crafts and DIY star wrapping paper. You get the picture the ideas are endless with this star shaped stamp.
Star Shaped Stamps for Kids Art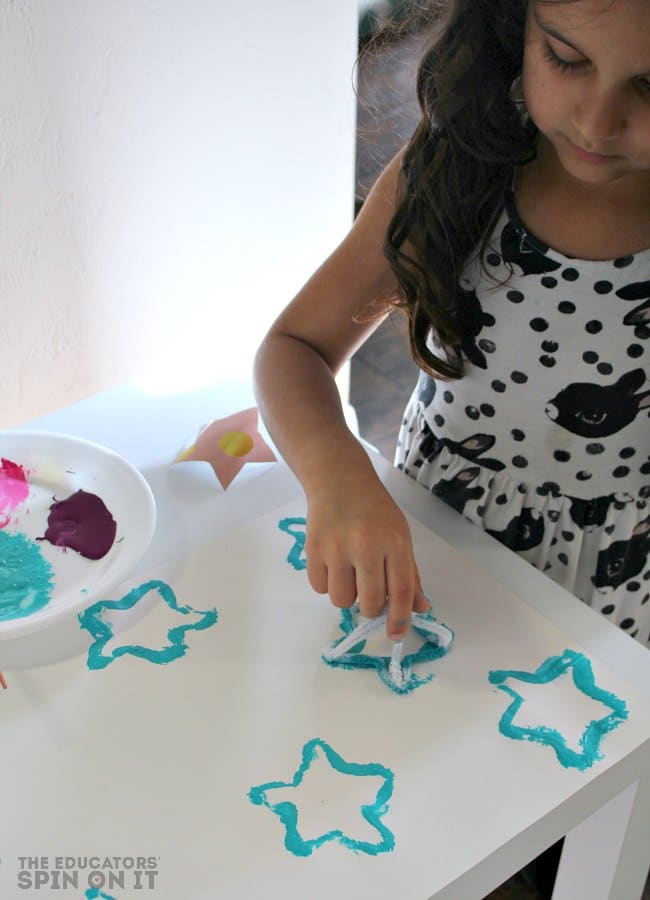 Materials for Star Shaped Stamp
That's it!
If you want to make a project with it then you'll want to also grab from your craft supply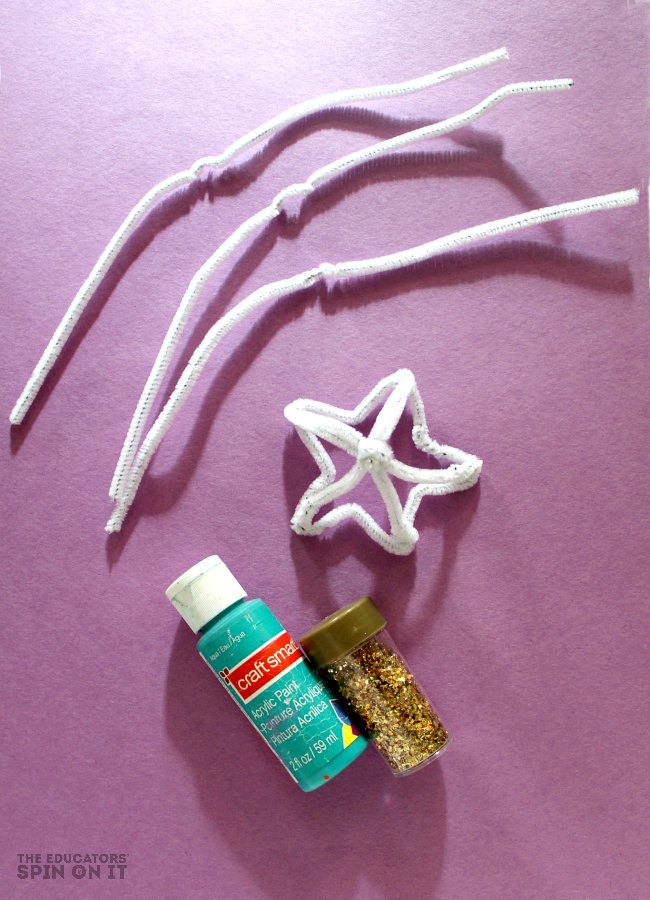 Directions for Star Shaped Stamp
1. Take your 3 pipe cleaners and begin with the first pipe cleaner by forming a star. Depending on what size you're wanting it will vary how far you will get around the star design. I was able to bend the star angles 3 times before I needed to add in another pipe cleaner to finish the other two star points.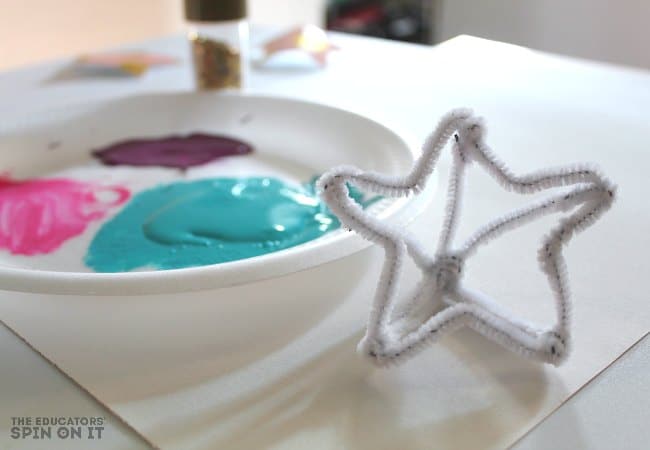 2. With the remaining pipe cleaner begin to form the handle of the star shaped stamp. I was able to use the extra to go up and down and then back up again before running out. Then attach the last piece of pipe cleaner to create the other sections to support the star shape. I tried to support each of the star points with our handle.
TIP: If you want extra support you could also use a 4th pipe cleaner to support the interior angles on the star. We noticed when we were stamping these areas didn't always get the same pressure to create a solid stamp at times. We just tapped with our fingers if we noticed which seemed to work too.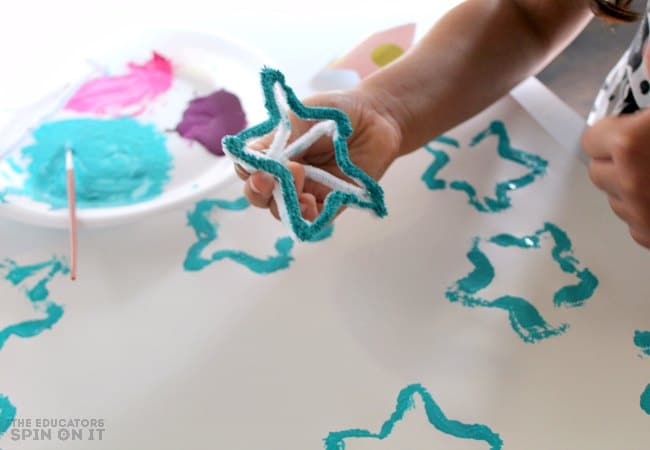 3. Now it's time to have fun stamping away with your star shaped stamp! You can use the same color paint or many colors. I think this washable metalic paint would be a big hit with your little star!
4. You can add a little sparkle to your star design if you're wanting some extra SHINE!
For best results, we use Shakable glitters and simple a large tray that we can capture any extras that fall and then pour them back into the container for next time. You can use hairspray to help set the glitter as well .
Additional Star theme Activities for Kids
Here are some adorable start theme and space themed books to go with this activity.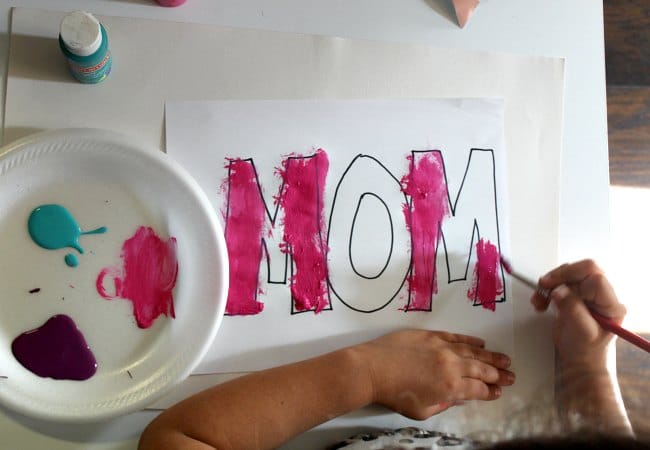 Mother's Day Craft Idea with Star Shaped Stamp
With Mother's Day so close my little ones wanted to do something special for MOM and had remembered another Mother's Day Craft they had made a few years ago. Still one of our most popular posts on The Educator's Spin On It. You can use my free Printable for the word MOM to make it easier for your child to make it on their own.
You could even include this special Star themed Message to MOM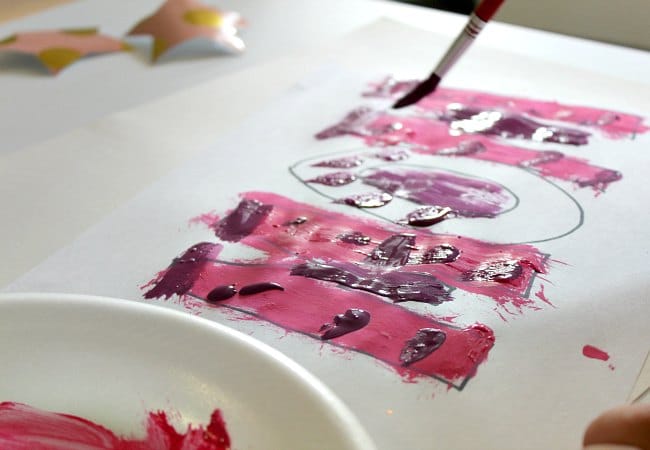 Here's a peek at how colorful they created their MOM to go along with the star themed project. Once they were done and the paint had dried, they simply cut out the word along the black lines to glue onto the star stamped paper.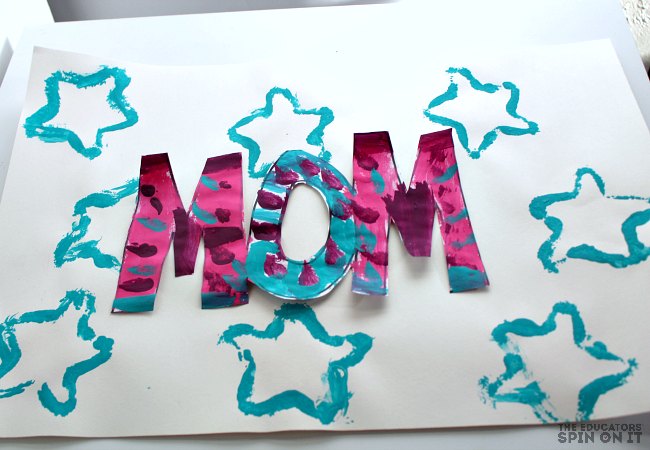 If you liked this activity you might also like these Mother's Day Ideas
Hope your little one has fun making a special art project for someone who SHINES in their life!