It's here!  It's here!  We're ready to share the Virtual Book Club's featured authors for 2013-2014!
We have worked really hard to discover authors that we know your child will love and that our Virtual Book Club Participants will be inspired by to bring you amazing Crafts and Activities to go with the author's books!
Toddler Approved, Rainy Day Mum and The Educators' Spin On It along with the Members of the Virtual Book Club and even our readers worked together to create this amazing selections of children's authors!
Just discovering our virtual book club?  Join the 2016-2017 Weekly Virtual Book Club Here.  SIGN UP for our Book Activities Newsletters for the latest book themed ideas.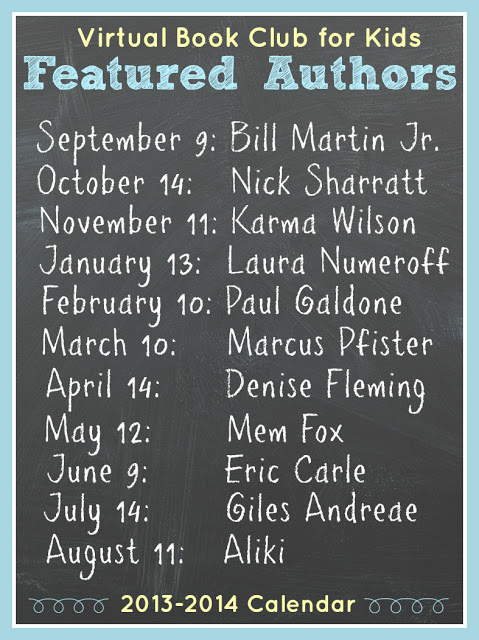 Virtual Book Club Authors for 2013-2013
Do you see a new author's name on the list?  I've linked them all up to Amazon so you can check them out & get ready!

Big Announcement… The Virtual Book Club will now have a NEWSLETTER!  
Not only will we spotlight the authors on our blogs, but we'll also be sending out a monthly Virtual Book Club for Kids newsletter.

In our monthly newsletter we'll share crafts, activities, recipes, and more inspired by the books we've read during the month. All activities shared will focus and connect with basic skills of childhood educations including  math, literacy, cooking, gross motor skills, fine motor skills, arts & crafts, and science. Come join in as we help kids connect and have fun with books this year!
If you're interested in joining us for Virtual Book Club for Kids this year, start by…
2. Then let us know in the comments section that you'll be joining in.
3. Like the Virtual Book Club on 
Facebook
 and 
Pinterest
 so that you can keep up with the ideas we share.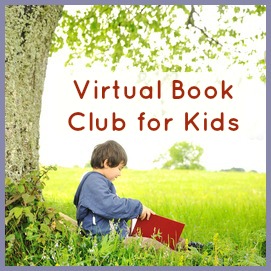 After you've signed up, here's a reminder of what participants get to do each month…
1. Pick your favorite book by that month's author (or a new one you want to check out) and read it with your child or class.
2. Create an activity, project, craft, cooking project, etc. related to the book and do it.
3. Come back and share it with us as part of a big blog hop on the 
second Monday
 of the month. The linky will be live for 3 weeks, so if you aren't ready to post on the exact date… just join in when you can! If you don't blog, you can share what you did on our Facebook wall, email us, or just comment on the post.
If you're joining in, start reserving some books at your library right now.  Or might we suggest adding to Birthday and Christmas Lists…. Books make great gifts!
Disclosure: This post contains sponsored links.