BIG NEWS! We're now hosting a weekly virtual book club for kids for you to join!
Looking for some book themed fun at home with the kids each week this school year? The Virtual Book Club for Kids is excited to announce we'll be sharing popular children's picture books with you with weekly plans that include book related activities for tons of FUN!
CLICK HERE to see our LATEST preschool books and activity ideas.
Virtual Book Club for Kids
Each MONDAY we'll be sharing a featured book and a featured theme with book related activities for you to join along with. Our activities will focus on ages 2-5 to help you with your preschooler at home. We'll also add some ideas for the older kids as we know sibling activities can be a lot of fun too after school.
We've been hosting the Virtual Book Club for 9 years along with a VBC Summer Camp for a few years too. Trust me we Love books! We're excited to be teaming up with many Virtual Book Club Cohosts to join us on their blogs sharing new ideas on Mondays too. Can't wait to share which bloggers are joining the FUN!
So much book focused content it's going to be pretty amazing for you and your child!
Best part is that it's all free to join!
Join the Weekly Virtual Book Club for Kids Facebook Group
To help connect us and keep us accountable a bit with our book loving friends, we've created a facebook community for you to join. The cost is free. Click Here to join us!
We will be in the group sharing ideas each Monday to go along with the new book and new theme. Plus a few additional book recommendations and we invite you to SHARE what you're up to with your kids and books too! You'll get exclusive access to our chosen books ahead of time too that we'll be featuring each month!
The group will be closed and ONLY members of the Facebook group can see what is posted in the group.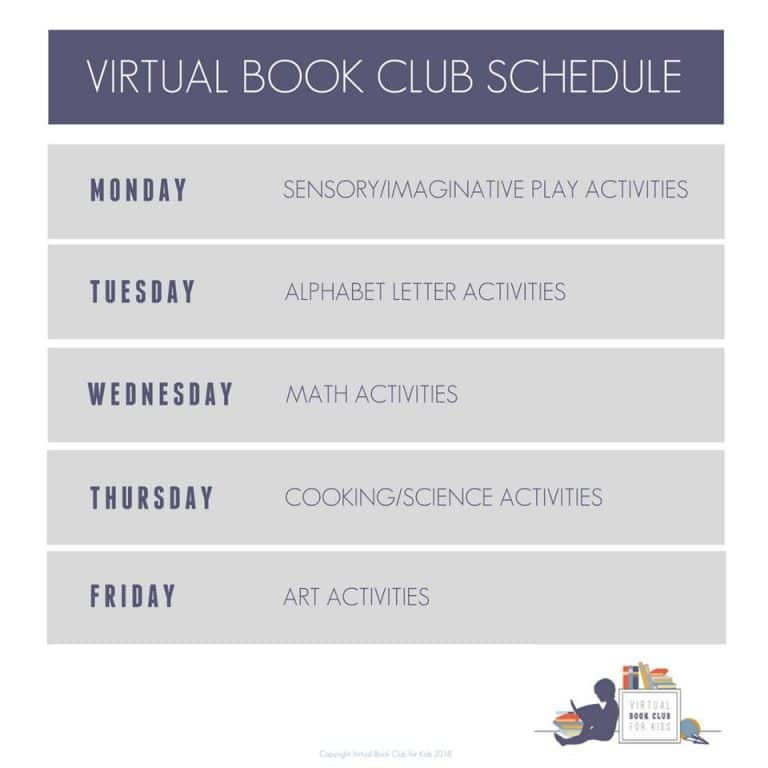 Preschool Concepts for Kids with Book Themed Activities
We are thrilled to share with you that each week our themes and books will be focusing on all of the basic concepts of preschool that we want our little ones to be focusing on. Concepts to be covered include the following:
Alphabet
Names
Pre-Writing
Numbers
Shapes
Colors
Fine Motor
Gross Motor
Cooking
Science
Sensory
JOIN US FOR THE 2023-2024 VIRTUAL BOOK CLUB!
Affiliate Links used for book links to Amazon
WEEKLY BOOK LIST FOR SEPTEMBER/OCTOBER:
Each week starting on September 12th we will feature book inspired activities on our blogs on Mondays.
Here's a look at our previous year's books and themes…
SEPTEMBER BOOKS
Sept 12- Theme: Apples
Featured Book: Ten Apples Up On Top by Dr. Seuss
Sept 19- Theme: Friendship
Featured Book: Should I Share my Ice Cream? by Mo Willems
Sept 26- THEME: Leaves
Featured Book: Leaf Man by Lois Ehlert
OCTOBER BOOKS
Oct 3- Theme: Pumpkins
Featured Book: Five Little Pumpkins by Dan Yaccarino
Oct 10- Theme: Farm
Featured Book: Little Blue Truck by Alice Schertle
Oct 17- Theme: Spiders
Featured Book: The Very Busy Spider by Eric Carle
Oct 24- Theme: Bedtime
Featured Book: Time for Bed by Mem Fox
Oct 31- Theme: Owls
Featured Book: Owl Babies by Martin Waddell
NOVEMBER BOOKS
Nov 7- Theme: Gratitude
Featured Book: Bear Gives Thanks by Karma Wilson
Nov 14- Theme: Dinosaurs
Featured Book: Goldilocks and the Three Dinosaurs by Mo Willems
Nov 21– BREAK
Nov 28- Theme: Construction
Featured Book: Goodnight Goodnight Construction Site by Sherri Duskey
DECEMBER BOOKS
Dec 5- Theme: Gingerbread Man
Featured Book: The Gingerbread Man by Jim Aylesworth
Dec 12- Theme: Trains
Featured Book: The Polar Express by Chris Van Allsburg
Dec 19- Break
Dec 26– Break
JANUARY BOOKS
January 2- Theme: Winter
Featured Book: The Snowy Day
by Ezra Jack Keats

January 9- Theme: Bears
Featured Book: Time to Sleep
by Denise Fleming
January 16 Theme: Kindness
Featured Book: The Lion & the Mouse
by Jerry Pinkney
January 23 Theme: Penguins
Featured Book: Penguin and Pinecone
by Salina Yoon
January 30 Theme: Baking
Featured Book: If You Give a Mouse a Cookie by Laura Numeroff
FEBRUARY BOOKS
February 6 Theme: Love
Featured Book: The Day It Rained Hearts
by Felicia Bond
February 13 Theme: Weather
Featured Book: Little Cloud by Eric Carle
February 20 Theme: Forest
Featured Book: The Gruffalo
by Julia Donaldson
February 27 Theme: Dr. Seuss
Dr. Seuss week- Pick your favorite Dr. Seuss Book!
MARCH BOOKS
March 6- Theme: Rainbows
Featured Book: A Rainbow of My Own by Don Freeman
March 13- Theme: Garden
Featured Book: The Tiny Seed by Eric Carle
March 20- Theme: Boats
Featured Book: Toy Boat
by Randall de Sève
March 27- Theme: Bunnies
Featured Book: Knuffle Bunny: A Cautionary Tale
by Mo Willems
APRIL BOOKS
April 3- Theme: Easter/Eggs/Chicks
Featured Book: Peep and Egg: I'm Not Hatching
by Laura Gehl
April 10- Theme: Airplanes
Featured Book:
The Noisy Airplane Ride
by Mike Downs
April 17- Theme: Earth
Featured Book: The EARTH Book
by Todd Parr
April 24- Theme: Nursery Rhymes
Featured Book: Pick your favorite Nursery Rhymes
MAY BOOKS
May 1 – Theme: Butterflies
Featured Book: The Very Hungry Caterpillar by Eric Carle
May 8– Theme: Space
Featured Book: How to Catch a Star by Oliver Jeffers
May 15 – Theme: Pond
Featured Book: In the Small, Small Pond by Denise Fleming
May 22– Theme: Ocean
Featured Book: A House for Hermit Crab by Eric Carle
May 29 – Theme: Shapes
Featured Book: Mouse Count by Ellen Stohl Walsh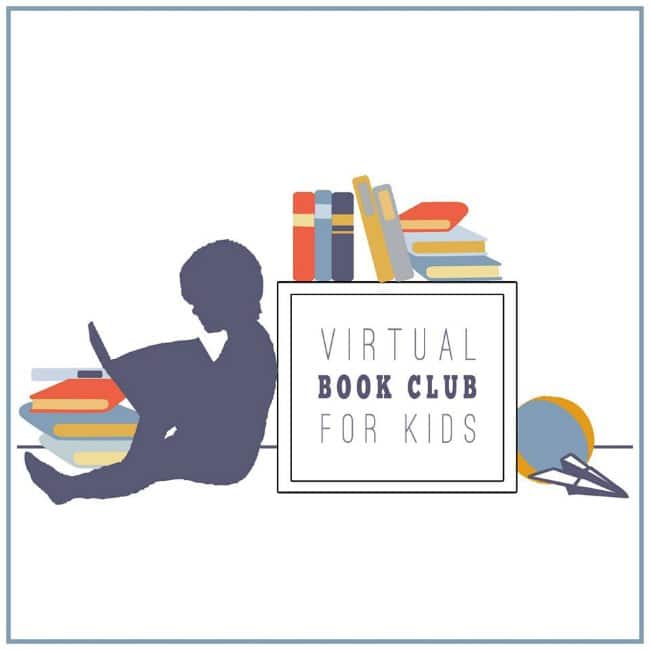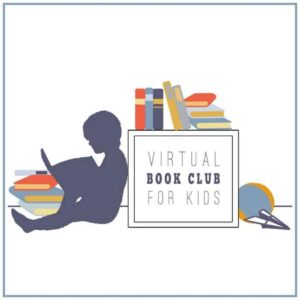 HOW TO PARTICIPATE IN OUR WEEKLY VIRTUAL BOOK CLUB FOR KIDS:
1. Start by locating the featured book for the week of September 12th and read it with your child sometime during that week! Leave a comment on this post committing to join for this month!
Most of the books we are featuring can be found at your local library. I have provided Amazon Affiliate links for your ease as well if you want to purchase the books and add them to your home library. We will share our book lists with you now and then we'll make sure you have the new list about a month ahead of time so you can plan. We'll be sharing additional books based on the weekly theme in our Facebook group.
2. Try out one or more of the featured activities shared by our Virtual Book Club for Kids co-hosts with your child. Activities will be posted each week on Mondays.
We will be sharing all of the featured activities over in our Weekly Virtual Book Club for Kids Facebook group so that they are easy for you to find. If you haven't joined our Facebook group yet you might want to go do it so that you won't miss anything. I will also be linking to each activity on my weekly Monday blog post.
3. Post a photo or tell us about the book-inspired activity you did with your child over in the Weekly Virtual Book Club for Kids Facebook group.
4. (Optional) Create your own book-inspired activity using the featured book and either share it on your blog and share a link with us, or if you don't have a blog, just share a photo with us in our Facebook group.
5. (Optional) Create your own Mommy and Me Book Club featuring the Virtual Book Club Books. Get together with friends and read the book each month and then do book-inspired activities together.
Find more details about creating a Mommy and Me Book Club HERE.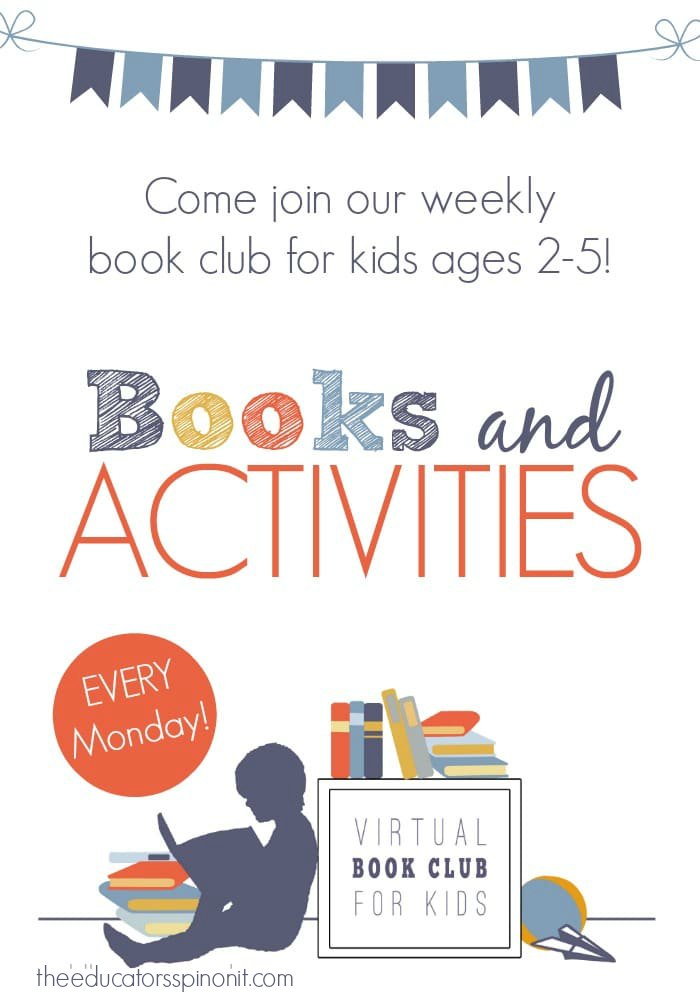 JOIN THE 2023-2024 LATEST BOOK CLUB FOR KIDS! Print the LIST HERE!
Don't forget to come back on MONDAY to see all of the featured activities shared to go along with our Weekly book-