Explore 3 colorful books about art with kids. We've put together 3 ways to explore art with books and activities just for you in our love books program.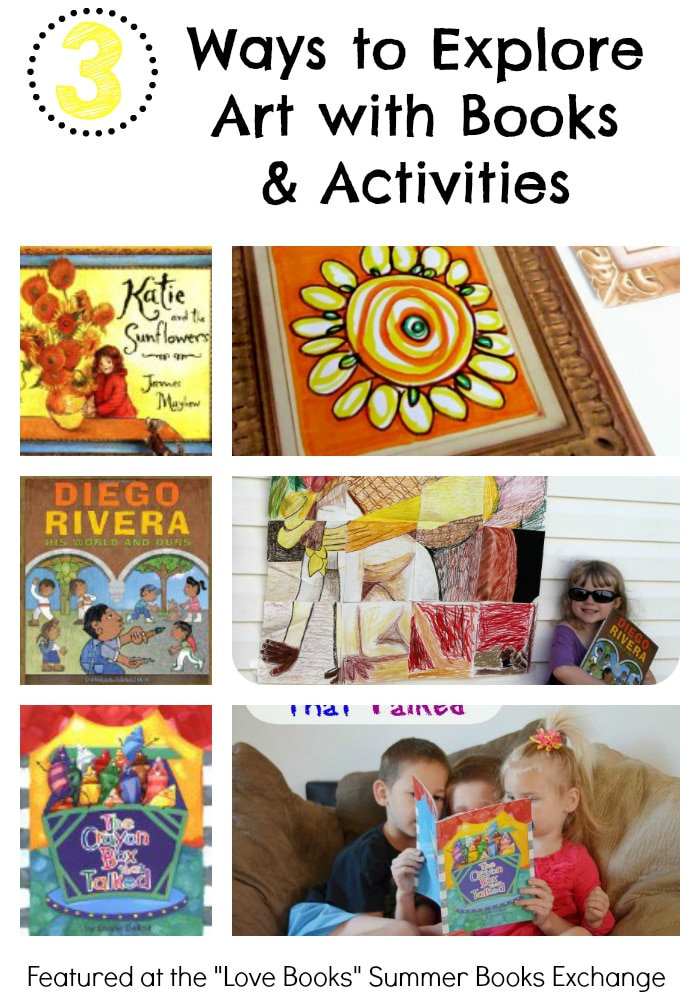 Have you been following the "Love Books" Summer Book exchange We had 36 Bloggers exchanging books all over the world!
Disclosure this post contains affiliate links to Amazon.
Books About Art for Kids
We're always looking for more ways to explore art with our kids, including our favorite art resources. If you haven't explore them yet, the Touch the Art Series by Amy Guglielmo is a big hit at our house!
One thing we noticed is that we had a few books that focused on sharing Art with books during the Exchange this year that I can't wait to share with you!
Thank you so much to our blogging friends for their wonderful ideas and contributions!
Diego Rivera: His World and Ours Activity
Becky from Kid World Citizen sent Diego Rivera: His World and Ours
 to Kara at The Dynamo Rhino.  So many fun art activities to connect children to his art work. You'll have to check out the mural they created!  What a fun way to explore and artist!
We even had two International Exchanges to Germany and Switzerland this year!
The Crayon Box that Talked Book Activity
Dusty from To the Moon and Back sent The Crayon Box that Talked to Heather at Only Passionate Curiousity . There are numerous ways to explore color with the Activity Box she received!
Katie and the Sunflower Book Activity
Ariadne from Positive Parenting Connections sent  Katie and the Sunflowers to Krissy at B-Inspired Mama.  Inspired to create their very own Art Gallery with the activities.
You may also enjoy these book activities for kids…