Making your own instruments can be so much fun with your little ones. All you have to do is save your snack containers to make an instrument! Eco friendly and fun for everyone!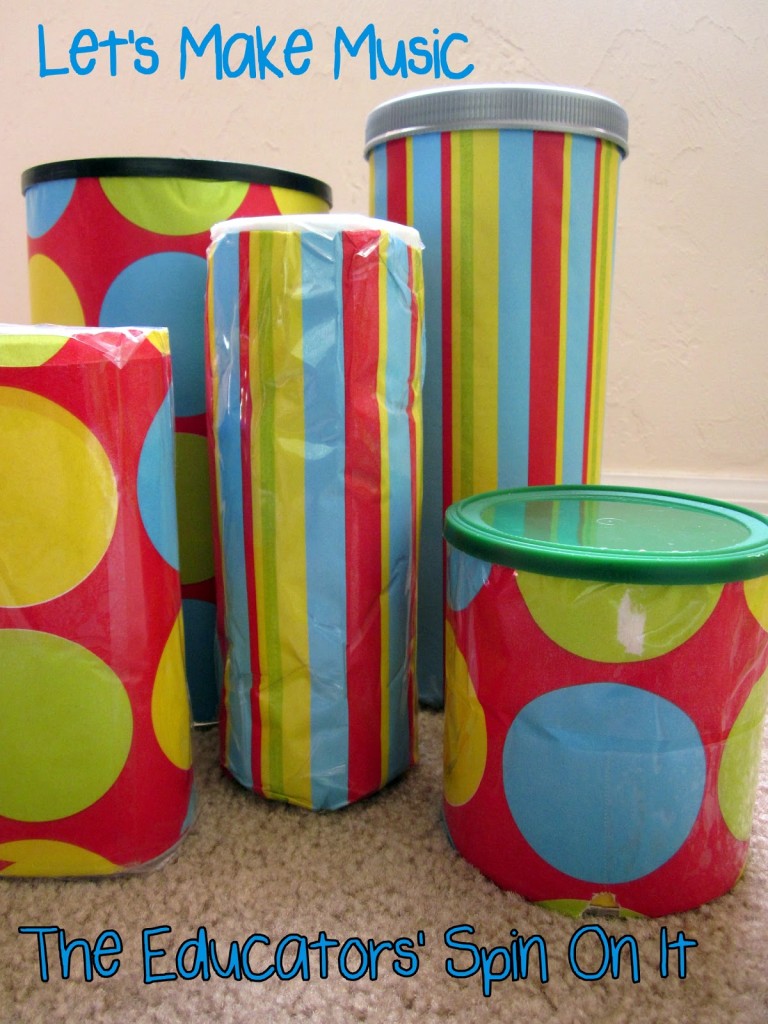 We found all sorts of containers over the past month to save for our musical instruments. Baby snack containers, soda bottle, oatmeal container, popcorn treats, chocolate milk you name it I saved it from our holiday parties and such.
You need to use caution and make sure it's a container that will stand up to a little one exploring it.
Make your Own Instruments for Babies & Toddlers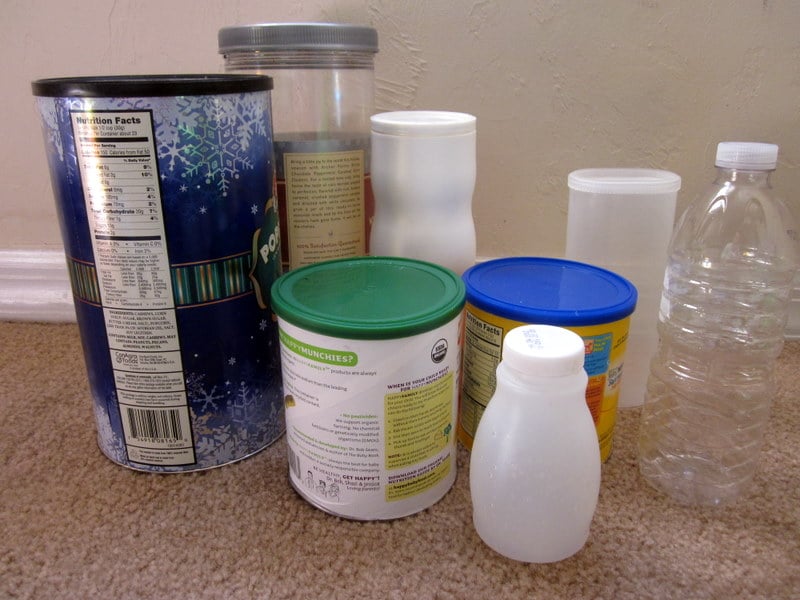 Grab your containers and let's get started!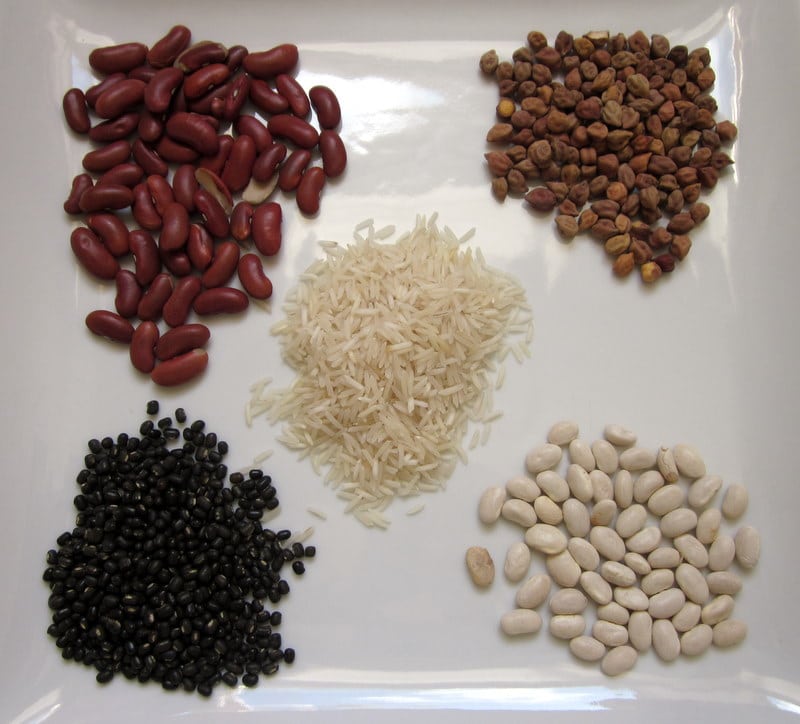 I used beans and rice from our cupboard to fill inside to make the shakers. If you are doing several containers use a variety of materials inside. It's great practice in auditory discrimination to listen and try to see what's inside of the various containers. Some other ideas for materials are beads, bells, or pebbles.
Just a reminder to make sure you seal the container with hot glue or tape to avoid any spills or choking hazards and have adult supervision at all times with any homemade toy.
(Avoid using kidney beans as they can be dangerous if consumed uncooked.)
I used some wrapping paper to decorate our Musical drums and shakers. I cut the paper to fit and then covered the entire container with packing tape, contact paper would work too. Just to make it more durable and kid friendly. I love how bright they turned out with very little effort. A great spot I find fun paper at is the Dollar Spot at Target!
If I was having my Toddler, Preschooler or School Aged child making it, I would let them decorate it with stamps, stickers and coloring or painting them before I covered them with contact paper or packaging tape.
Fun Activities for Homemade Musical Instruments
Shake It Varying the speed and also how you shake it
Roll It Roll the containers between your hands or on the floor for a different sound
Drum Fun Using their hands or an object like a wooden spoon or drumstick practice hitting it
Match my Sound Fast or slow have your little one copy you with the sounds you do or copy them
Stack it Using the containers have fun arranging them in various ways
Dance Time Hold the shakers and dance with music
My daughter was so excited when she woke up from her nap to play with these today. She took lots of her time shaking them and hitting them but she also stacked them up and arranged them all over the room. So much FUN!
Since we used containers they also become stacking toys, great for gross and fine motor skills and visual discrimination by learning about sizes.
The best part is that we made these for almost no Money, they were all things I had laying around the house.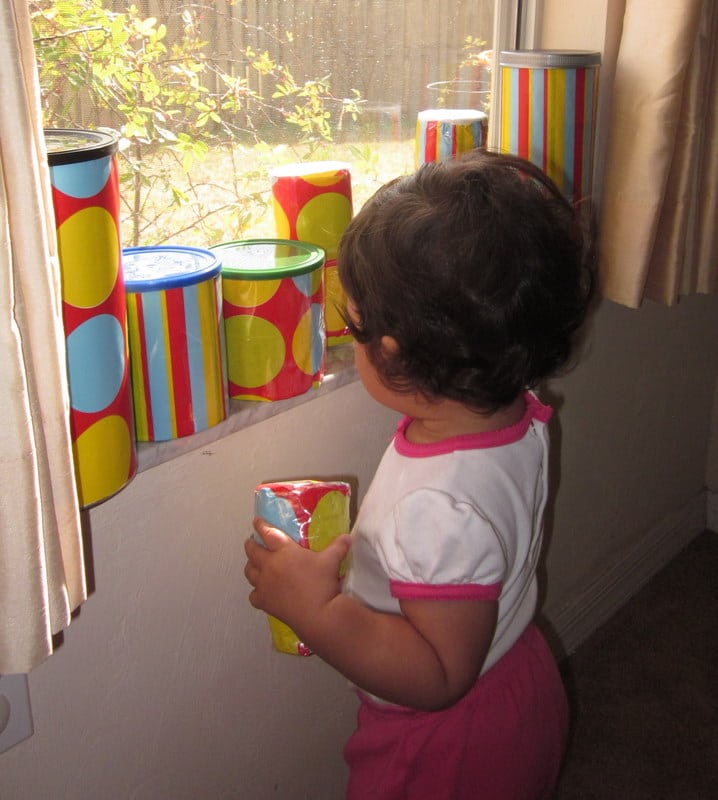 I can't wait until big sister comes home from school so that we can play our instruments with her during Family Jam Time! This musical instrument activity with the containers is great for any age, especially when your looking for something for Sibling Playtime .
If you're looking for more ways to use Reused Materials, check out how we used the Lids from veggie & fruit pouches! Don't forget to RECYCLE your containers when you are all done playing.
Hope you have fun with your little ones! Musical Fun should be a part of EVERYDAY!
Check out more of our Baby Time Activities here!