Creating keepsakes for the Christmas tree is a classic tradition that I want to continue with my child. Here's how to make a fingerprint gingerbread man ornament you'll treasure year after year as your little one grows.
Here's how to made this kid made Gingerbread Man Ornament 
Disclosure: Affiliate links in this post to Amazon
Fingerprint Gingerbread Man Ornament
The Gingerbread Man is a favorite at our house and this year we're adding a new gingerbread man ornament to our tree. We've created a classic Gingerbread Man Ornament and even a Gingerbread House Ornament but this one is so precious as an adorable christmas ball ornament.
For this craft, I chose a plastic ornament but you could also use glass ornament depending on how much you trust your kiddo. Here's how you can paint your own Gingerbread Man Ornament with your child's fingerprints for a special keepsake for the Christmas Tree.
Materials for Fingerprint Gingerbread Ornament
Black permanent marker
tooth picks
paper plate or plastic lid
baby wipes
Instructions for Fingerprint Gingerbread Ornament
1. Read the story the Gingerbread Baby or the Gingerbread Man. Here's my favorite version.
Gingerbread Baby
by Jan Brett
Here are additional Gingerbread Man Books we LOVE!
2. Set up your paint station by putting the paint onto the plastic lid. Start first with the brown paint (If you don't have brown you can always just mix red, yellow and blue of your paints to make brown)
I started by just putting out the brown so that my daughter wouldn't use the other colors just yet.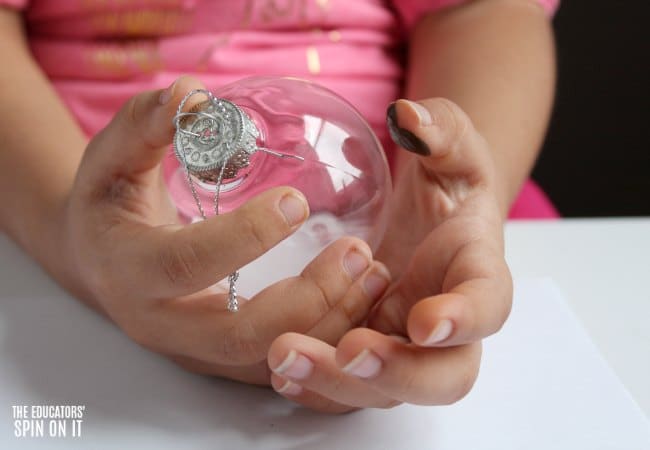 3. To make the gingerbread man I had my daughter use her thumb for the body and head. Then she used her pointer finger for the two arms and two legs of the gingerbread man.
4. Next you will need to set up a painting tray for the gingerbread ornament details. We used black, white and red acrylic paint for the details. Grab a toothpick for each color.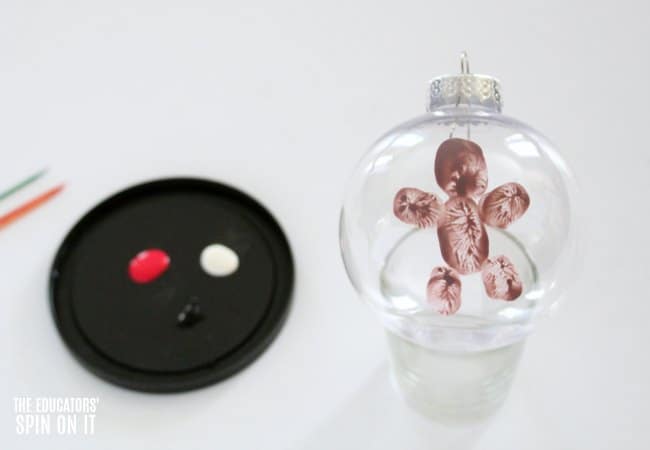 TIP: It's helpful to keep some baby wipes nearby to wash off those painted fingers. Plus if there's a mistake it can just wash it away.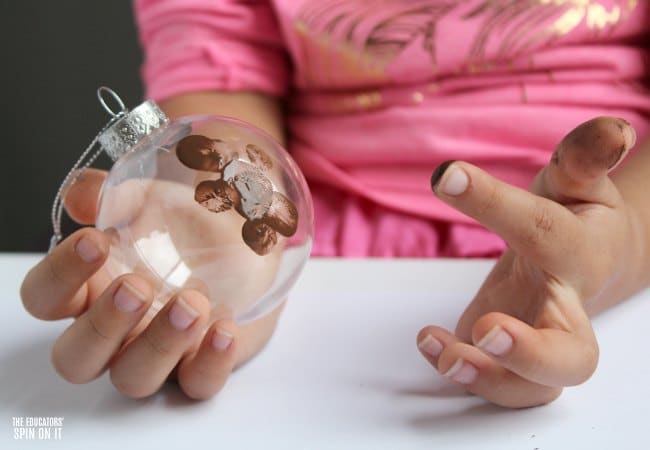 5. Are you ready to make your gingerbread man decorations? First start with the buttons, it helps your child get a feel for how to paint. We used a cake pop stick to make our buttons. A round toothpick or skewer cut in half could work too.
Dip the stick into the paint and then add the details to your gingerbread man. We then added two eyes with black paint. Once the eyes are dry you can then add a teeny tiny little white dot to bring them to life.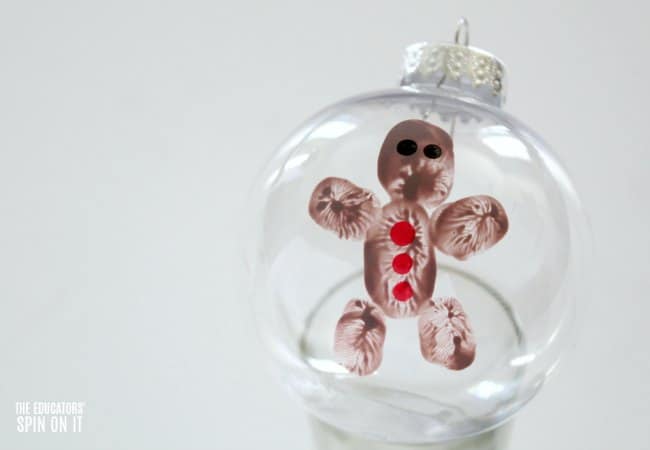 6. Then using the black paint and a toothpick you can make a smaller circle for the mouth with 5 black dots. Add adorable cheeks to your gingerbread man with two small dots too!
7. Now it's time to add the frosting details. Using a toothpick or very fine paintbrush add the white paint to the arms to create the frosting look on your gingerbread man.
TIP: Allow your child to be creative with their handmade ornament. This is just an example, I have a feeling your child's will be for more adorable when they made it when it comes from their hearts.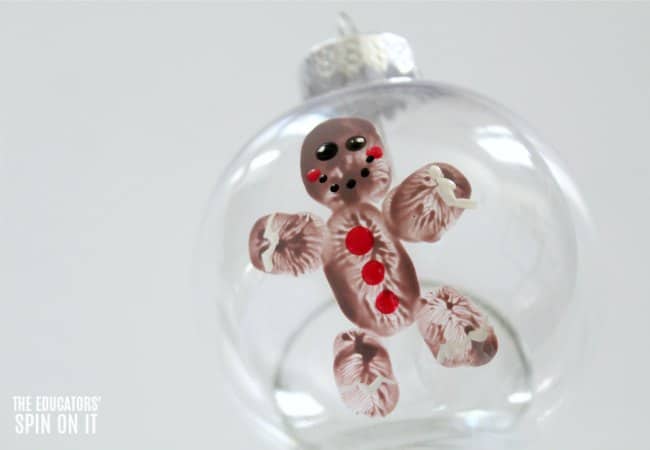 Gingerbread Man Activities & Crafts
Share this Gingerbread Man Ornament with someone special for the holidays as a gift tag or wrapped up in a small holiday gift bag. Make another one from your tree too as a special keepsake ornament with their adorable fingerprints.
We have so many more ideas for the Gingerbread Man here at The Educators' Spin On It. You can click here for 50+ Gingerbread Man Activities for Kids.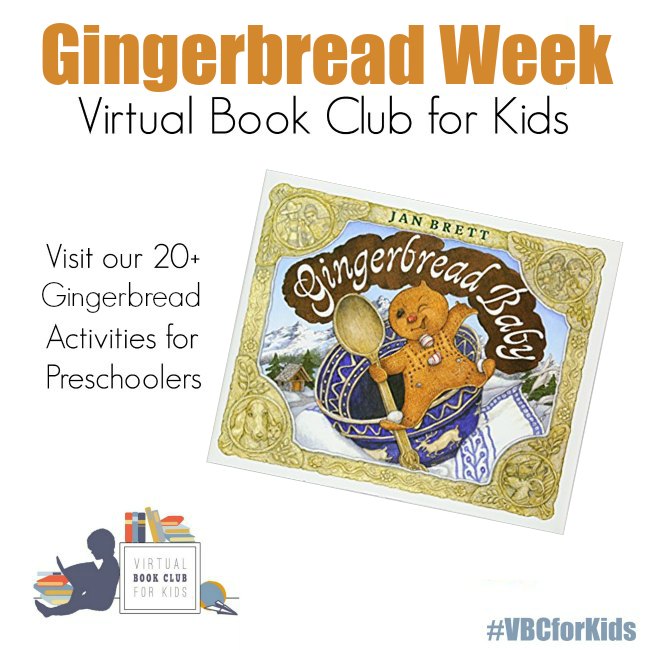 The Gingerbread Baby Activities for Preschoolers
Gingerbread House Glyph – Mama Smiles
Gingerbread Patterning – My Storytime Corner
Gingerbread Man Craft -Exploring Colors by JDaniel4's Mom
Gingerbread Baby Scissor Skills – School time snippets
Foam Gingerbread Christmas Busy Bag- Views From a Step Stool
Gingerbread Man Shape Game – Rainy Day Mum
Gingerbread House Brownie Snacks – Toddler Approved
Fingerprint Gingerbread Man Ornament – The Educators' Spin On It (YOU'RE HERE)
Be sure to share your Gingerbread Man Adventures with us in our Virtual Book Club for Kids Facebook Group with 10,000+ Book Loving Families!
Looking for more Christmas books be sure to check out our 100 Christmas Books To Read Before Age 10!
Looking for more fingerprint ornament ideas? Try these….
*LIKE IT? PIN IT!! SHARE YOUR PHOTO! *