Explore the changes of fall with these fantastic fall books for kids. Red, yellow, and orange leaves come to life as children read stories about this special season full of fun activities.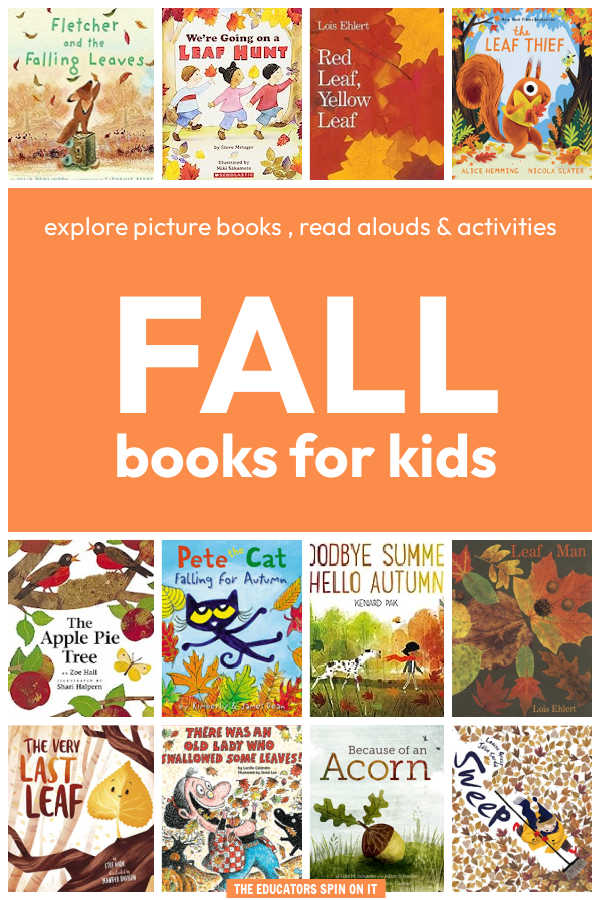 Reading books about fall can be a fun and educational experience for children. It can help them learn about the season, the cycle of life, the importance of relationships, and the power of imagination.
Fall is such a beautiful season, and books about fall can help children appreciate the changing leaves, the crisp air, and the fun activities that come with the season.
Encourage your child to become an observer. Explore all the ways that fall is a time for change. Books about fall can help children learn about the cycle of life and the beauty of change. You can start this fall with a fall journal for kids.
Disclosure: This post contains Amazon affiliate links. As an Amazon Associate I earn from qualifying purchases.
The Best Fall Books for Kids
Here's my favorite collection of fall books for kids. You can kick start your reading fun with a beautiful fall leaves virtual field trip.
We're Going on a Leaf Hunt by Steve Metzger
In this story, three friends go on an adventure hiking over a mountain and through a forest to collect leaves of all kinds and colors. What will they do with all their leaves at the end of the story? Jump and play in them, of course! With easy rhyming text and fun sound effects, children will delight in this rollicking autumn story.
The Leaf Thief by Alice Hemming
Squirrel loves counting the leaves on his tree―red leaves, gold leaves, orange, and more. On a quest to find the missing leaf, Squirrel teams up with his good friend Bird to discover who the leaf thief could be among their forest friends.
Fletcher and the Falling Leaves by Julia Rawlinson
Celebrate fall with the sweet and charming Fletcher the fox! As the leaves fall from his favorite tree, Fletcher worries that something is terribly wrong. But then winter comes, and with it a wonderful surprise.
Goodbye Summer, Hello Autumn by Kenard Pak
As trees sway in the cool breeze, blue jays head south, and leaves change their colors, everyone knows–autumn is on its way!
Join a young girl as she takes a walk through the forest and town, greeting all the signs of the coming season. In a series of conversations with every flower and creature and gust of wind, she says good-bye to summer and welcomes autumn.
Leaf Man by Lois Ehlert
Fall has come, the wind is gusting, and Leaf Man is on the move. Is he drifting east, over the marsh and ducks and geese? Or is he heading west, above the orchards, prairie meadows, and spotted cows?
No one's quite sure, but this much is certain: A Leaf Man's got to go where the wind blows.
There Was an Old Lady Who Swallowed Some Leaves! by Lucille Colandro
The Old Lady is back and this time she's swallowing some leaves, clothes, a pumpkin, and a rope! Welcome the Fall season with funny illustrations and a spin on a classic rhyme!
Pete the Cat Falling for Autumn by Kimberly & James Dean
Pete the Cat isn't sure about the changing of the seasons from summer to autumn. But when he discovers corn mazes, hay rides, and apple picking, Pete realizes there's so much to enjoy and be thankful for about autumn.
Because of an Acorn by Lola M. Schaefer
Because of an acorn, a tree grows, a bird nests, a seed becomes a flower. Enchanting die cuts illustrate the vital connections between the layers of an ecosystem in this magical book. Wander down the forest path to learn how every tree, flower, plant, and animal connect to one another in spiraling circles of life. An acorn is just the beginning.
The Very Last Leaf by Stef Wade
Lance Cottonwood is the best and brightest of the leaves, but even the top students on the tree have worries. Can Lance conquer his fear of falling and just let go when the time comes for his final exam, or will he let his worries take over? In this funny and encouraging picture book, best-selling author Stef Wade (A Place for Pluto) tells an engaging story and deftly addresses social and emotional struggles many kids encounter each day…feeling anxious, wanting to be perfect, facing fears, etc.
Sweep by Louise Greig
Ed's bad mood begins as something really small, hardly a thing at all. But before long it grows, gathers pace, and spreads through the whole town.
Can Ed sweep his troubles away?
Here's a few more of my favorite fall books
Fall Activities for Book Extensions
As you read each of these adorable fall books it's a good idea to have your child use one of these fall book extension activities.
Explore red, yellow, orange, and brown with these fall leaf activities.
Leaf rubbings: This is a classic activity that is perfect for all ages. Simply gather some leaves and place them on a piece of paper. Then, use a crayon or pencil to rub over the leaves, creating a beautiful print.
Leaf pressing: This is another great activity for preserving the beauty of fall leaves. Simply press the leaves between two pieces of wax paper and place them in a heavy book. Check on them every few days to make sure they are still dry.
Leaf STEM Challenge: Encourage them to use their creativity and problem-solving skills to create a leaf sculpture greater than 6 inches tall.
Leaf sorting: This is a fun activity that can help kids learn about the different types of leaves. Simply gather a variety of leaves and sort them by color, shape, or size.
Leaf identification: This is a more challenging activity that can help kids learn about the different types of trees. Simply gather a variety of leaves and identify the trees they come from.
Leaf art: This is a fun activity that can help kids get creative. Simply use leaves to create a piece of art, such as a picture or a collage.
Leaf science: This is a more hands-on activity that can help kids learn about the science of leaves. Simply conduct some experiments with leaves, such as seeing how long they take to decompose or how they change color in the fall.
Fall Leaves Virtual Field Trip: Change is in the air, can you feel it? Get ready to a few places around the world with the best fall leaves on display.
More Fall Books for Kids