It's a special time in your child's life to see how our government works in the United States of America. We encourage all of our readers of The Educators' Spin On It to take the time to GO VOTE! 
I speak from personal experience watching my husband work so very hard to get his US citizenship over the course of many many years and lots of money involved in the process.  Voting is a right and privilege that we hold very close to our hearts in our home.  I don't think many American born citizens realize how difficult of a process this is.  It's been a joy to see many of our friends voting for the first time after receiving their US Citizenship.  It's been exciting this year to also watch my son and his college friends have the opportunity to vote for the first time.  It's something my own family didn't talk about much growing up but I feel lucky to be involved now.  It was so proud many of my daughter's classmates parents who took their kid with them to meet Mrs. Obama and Mrs. Romney as they visited our town on their campaign trail.

How are you teaching your child about the elections?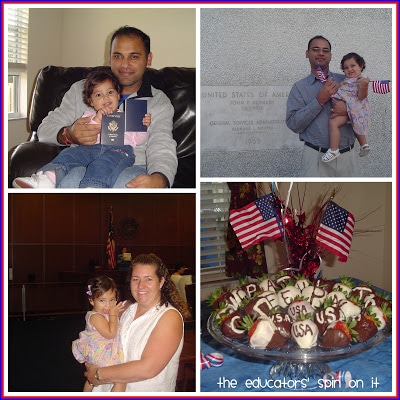 We took the opportunity to talk to our 6 year old about Voting and the Presidency and thought you might find the resources we used helpful.  Here are some of the books we read to learn about Voting.  Many of them talk about running for president.  We had fun creating our own election in our house using two of our favorite stuffed animals and campaigning for them.  It's important to talk about some simple issues that candidates stand for and how they want to make changes for a better future.  Ask your child what things are important to them.  You might be impressed with their answers. 
It's ok if your kids fuss for a moment while you step into the booth and vote. 
Every vote counts no matter how loud or soft! 


Books about Voting and Election Day for President 
Resources for Election Day Activities for Kids
Election Day Activities and Book Review from No Twiddle Twaddle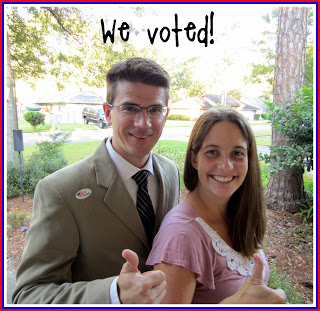 I'm off to go vote now with my hubby and my daughters for the last day of early voting!  Here's Amanda and her husband after returning from the polls.  Get out and VOTE!
Go Vote!