A collection of fun and easy September Activities for Kids that includes a free September Calendar! Kick off the school year with your child using September themed crafts, books, and activities that are fun and easy to do with your child.
Which September themed activity will you try first?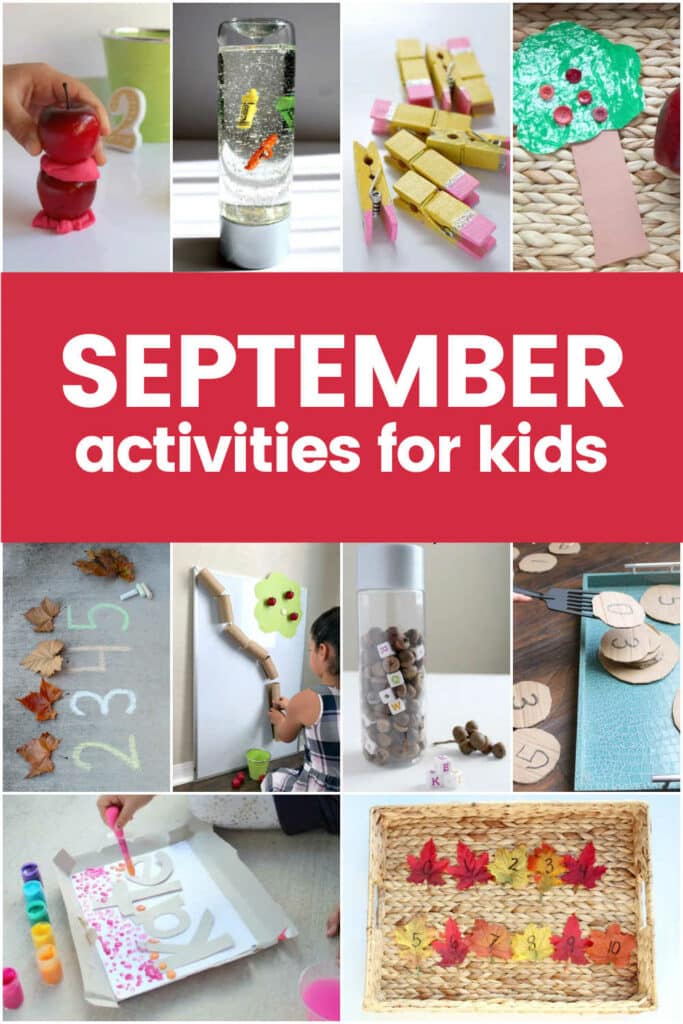 Disclosure: This post contains Amazon affiliate links. As an Amazon Associate, I earn from qualifying purchases.
Organize your month of September with our free monthly activity guide. Grab yours here!
If you're looking for a few quick ideas for September these are my favorite posts.
Here are our top picks of September Themes and Activities for you to do this month with your child.
September Activities for Kids
September is packed full of fun concepts to explore with your child, especially as the school year begins. Here are a few of my favorite September activities, themes and books to explore this month.
September Themes
Back to School
All About Me
Apples
Acorns
Leaves
Fall
Pirates
Pancakes
Grandparents
International Dot Day
Hispanic Heritage Month
Basic Concepts
Back to School Activities
September is a time for all things school! For many, it may even be their first day of school. We have a collection of back-to-school activities to help your child kick off their school year.
You can explore more Back to School Activities and Resources here.
All About Me Activities
All about me activities teach your child about themselves and the world around them. They can help a child develop their self-awareness, self-esteem, and social skills.
Help your child learn to express themselves and showcase all the things that make them unique. You see this topic at school because it also builds a strong sense of community in a child's classroom.
Apple Activities
Apples are a great topic this September for young children to learn about because they are:
A healthy snack that is high in fiber and vitamin C.
Easy to grow and can be grown in many different climates.
A versatile fruit that can be eaten fresh, cooked, or made into juice or cider.
A fun fruit to learn about through activities such as apple picking, applesauce making, and apple pie baking.
Learning about apples can help young children develop their knowledge of the world around them, their appreciation for nature, and their healthy eating habits.
For more ideas visit our 75+ Apple Activities for Kids
First Day of Fall Activities
Fall is a great time for children to learn about the natural world, holidays, traditions, and the changing seasons. It can be such a fun topic to explore with young child. Head outdoors and look for the changes in your local area but also discuss other areas around the world through these fall virtual field trips.
Fall is a beautiful season with many changes in the natural world. Children can learn about the changing leaves, the migration of birds, and the preparation for winter by animals.
Fall is a time for many holidays and traditions. Children can learn about the history and meaning of these holidays, as well as the traditions that are associated with them.
Fall is a time for many activities, such as apple picking, hayrides, and pumpkin carving. Children can learn about these activities and how to participate in them safely.
Fall is a time for learning about the changing seasons. Children can learn about the science behind the changing seasons, as well as the impact that the seasons have on the environment.
For more ideas visit our 100+ Adorable Fall Activities for kids.
Acorn Activities
One special thing that occurs in nature in fall is the drop of acorns! Take advantage of this special occurrence in nature with these fun acorn learning activities.
Pancake Day
Did you know that National Pancake Day is Septemer 26th and February 28th.
Pancakes are a great way to teach kids about math, science, and even history.
Math: Kids can learn about fractions by measuring out the ingredients for pancakes. They can also practice counting by flipping the pancakes.
Science: Kids can learn about the science of cooking by watching how the pancakes change as they cook. They can also learn about different cooking techniques, such as flipping and stirring.
History: Kids can learn about the history of pancakes by reading about how they were first created. They can also learn about different cultures that have pancakes as a traditional food.
Pancakes are a fun and delicious way for kids to learn about different subjects.
Talk Like a Pirate Day
Celebrates on September 19th, Talk Like a Pirate Day can be a fun way themed to read a few pirate book and make a pirate craft with your child.
Teddy Bear Day
Teddy Bear Day is a special day for kids to celebrate their love for their teddy bears. It is celebrated on September 9th every year. On this day, kids can take their teddy bears to school, daycare, or the park for a day of fun. They can have picnics, play games, and read stories together. Teddy Bear Day is a great way for kids to bond with their teddy bears and make new friends.
Here are some fun activities you can do with your teddy bear on Teddy Bear Day:
Teddy Bear Day is a day for kids to have fun and enjoy their teddy bears. So get creative and have a blast!
Grandparents Day
On September 10th we celebrate Grandparents Day! Grandparents and children have a special connection. Grandparents Day is an opportunity to treasure this connection and spend some quality family time together.
International Dot Day
Kids around the world celebrate International Dot Day on or around September 15-ish
Hispanic Heritage Month
Hispanic Heritage Month takes place September 15 to October 15 every year as a time to recognize and celebrate the many contributions, diverse cultures, and extensive histories of the American Latino community.
During Hispanic Heritage Month, it's a chance to deep dive into Hispanic cultures. You can encourage your child to learn about the rich cultures and history of Americans whose ancestors came from Spain, Mexico, the Caribbean, Central America, and South America.
Basic Concepts
As we head into the classic school year, September is a time to start focusing on the basic concepts that all young learners should have knowledge of. Alphabet letters and sounds, numbers, shapes and more. Here's a fun collection of activities that you can do with your child to reinforce learning at home either it's part of your after school enrichment or homeschool curriculum.
September Calendar for Kids
I've made a fun activity calendar for September to use with your child so that it's all planned out and you can spend more time with your child. You can download this September Calendar for free!
September Books for Kids
This is a collection of some of our favorite books to read in September with your child. Focused on our recommended September themes of back to school, all about me, apples, fall, grandparents and more.
Click on any book cover image to learn more and purchase on Amazon.
September Activity Guide for School Ages
There are so may creative ways to have fun this September with your child. We hope that this September activity guide for school ages helps you to plan out your after school enrichment and preschool curriculum for your child as we welcome fall this school year.
You may also find these monthly planners helpful for planning activities for your child…