100 FUN & EASY LEARNING GAMES FOR KIDS is an educational resource for Early Childhood that is made by moms – for moms (and dads!) That's right.  So many moms helped us out in writing, photographing, and publishing the book.
I'd like to introduce you to one of those "behind the scenes moms" who helped to make this book a success: Etsy super star: Kristi of Blu Moon Design.
She MADE some of the dresses that some of our kid models are wearing!
That's right.  Mom made.  Right here in the USA!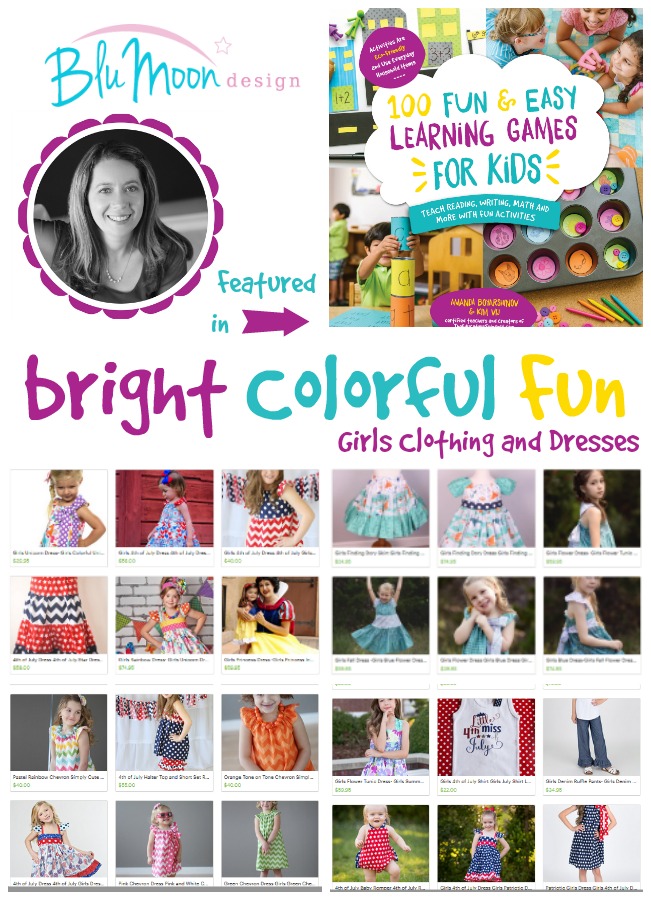 Amazon Affiliate links.
We wanted our book to be a FABULOUS resource for parents and teachers – MADE BY MOMS!
If you don't have the book yet – you can sometimes see the pages if you click the "preview book" on Amazon.  They don't always show the same pages.
Rainbows, unicorns, polkadots at Blu Moon Design… what little girl doesn't love that?
SPECIAL OFFER FOR OUR COMMUNITY!!!!  10% off all purchases from Blu Moon Design if you use the code 100LearningGames. Enter in optional note to seller. Expires July 31st, 2016
Meet ETSY star, Kisti of Blu Moon Design
How many kids do you have and what are their ages?
 I have three girls who are 17, 15 and 12.
What is your business and how did it get started?
My business is Blu Moon Design, and I make little girls' clothing. I got started 10 years ago selling on eBay. There was a large community at that time of handmade boutique clothing, and I thought I'd give it a shot, since I knew how to sew. I sold my first few items, and was hooked! I no longer sell on eBay, but do have an etsy shop, my own website and also sell on Amazon
What is the best part about your job?
I think the best part for me is being able to stay home with my girls. I am able to make all their sporting events and other things they are involved in. Being my own boss is a big perk!
What would your "ideal" day look like?
My ideal day is really spent in my sewing studio getting lots of things done!
What are your favorite 3 craft items to use with kids and what do you use them for?

They are a bit older now for crafts, but when they were younger we loved to use
play doh.
They can be so creative with it.
We also love to use fabric scraps! There are so many fun things we can make with scraps.
Markers and coloring pencils. Two of my girls love to draw. They all really enjoy
adult coloring books
now too!
What advice would you give to other moms? 
I think I'd have to say enjoy it. The time goes by with them being little so quickly!!My oldest will be starting college this fall and it feels like just yesterday she started kindergarten. Have fun with them.
What Others are Saying About Blu Moon Designs
" I purchased this beautiful dress for my daughter's recital. She sang a song from Finding Nemo the Musical so the motif of the dress was very important. I can't tell you how great it looked on stage and how much it completed the entire scene. It made you believe she was actually Nemo which is exactly what I wanted to do in an understated way. She received innumerable compliments and we were asked many times where we got it. Of course for her the most important thing was "twirlability" which it delivered on as well. Thank you for making her night so special! Highly recommended!" ~ Antarea on May 22, 2016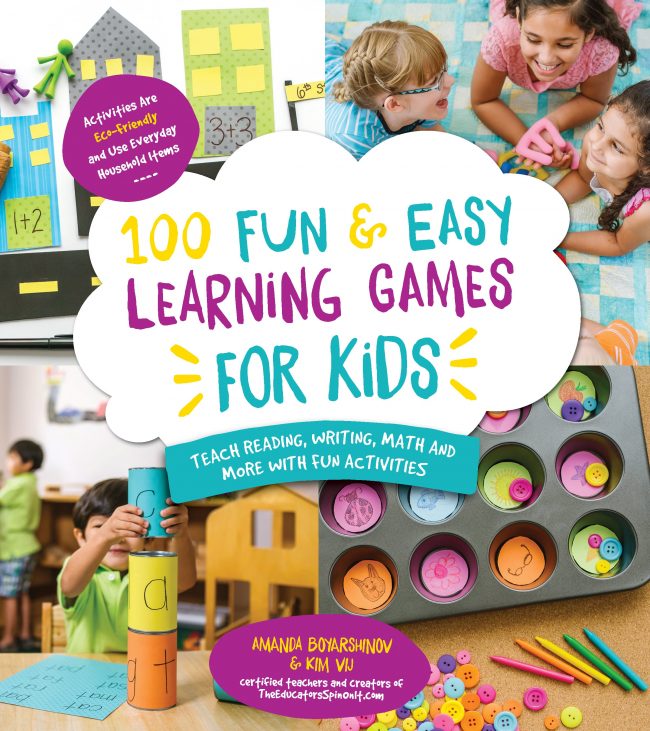 More about 100 FUN & EASY LEARNING GAMES FOR KIDS
100 FUN & EASY LEARNING GAMES FOR KIDS is a great resource for playdate inspiration! It's written by two moms, who are former teachers and feature full color images of real parents (and grandparents) playing the learning games. You could pre-make some of the games and activities for kids to play when they got together OR gather some mom friends and have a game making MNO (Moms Night Out).  Make a bunch of games so that you can keep your little ones engaged and learning this summer. In addition to Word Family Puzzles, some activities in the book include:
Fantastic Reading: Zip-Line Letters; Caterpillar Cover; Build a Letter; Real or Nonsense?
Amazing Writing Adventures: Shop the Alphabet; Mystery Words; Storytelling Seashells; Sneak-a- Peek-Letters
Really Cool Math: 25 Squish; 3,2,1, Blast Off!; Bees in the Hive; Estimation Station
Super Science: Magnetic Construction Site; Rocket Ship Adventure; Ice Castle Challenge; Superhero Water
Magical Music and Art: Outdoor Sound Garden; Print Mysteries; Dragon Castle; Pattern Wheel
Going Global: Celebration Jar; State Toss; Technology Timeline; Roll a Landform
The huge variety of activities means you can choose from high-energy group games full of laughter and delight, or quiet activities that kids can complete on their own.
CLICK BELOW TO ORDER 100 Fun & Easy Learning Games for Kids: Teach Reading, Writing, Math and More.
Amazon
Barnes and Noble
Books-A-Million
The Book Depository (free worldwide shipping!)
Target 
Walmart
Indie Bound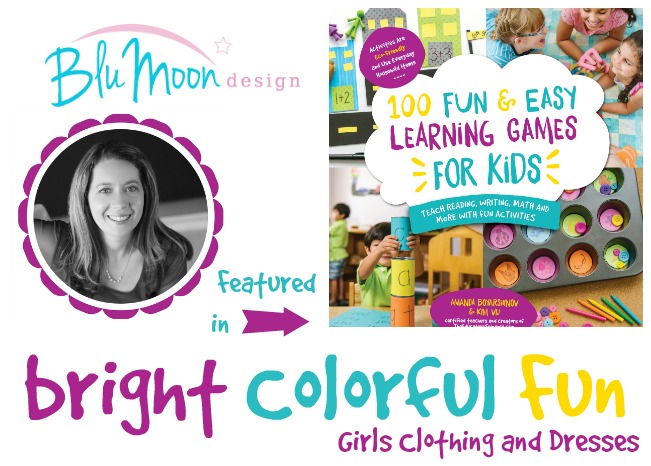 Don't forget to head over and visit Blu Moon Design.  Kristi has made us a SPECIAL OFFER FOR OUR COMMUNITY!!!!  10% off all purchases if you use the code 100LearningGames. Make sure to enter in optional note to seller. Expires July 31st, 2016 Because cute never goes out of style!
Save
Save
Save
Save
Save