Have a little one that grabs a green car and says red?
My preschoolers seem to need lots of practice hearing and saying the color words before they seemed to "sink in." This car color sort is such an easy way to bring colors and sorting (a math concept) into playtime.
We take this easy math activity out anytime the kids are playing on the driveway with chalk. Scroll to the bottom for ideas on how to adapt it for kids who have mastered the car color sort and need an additional challenge!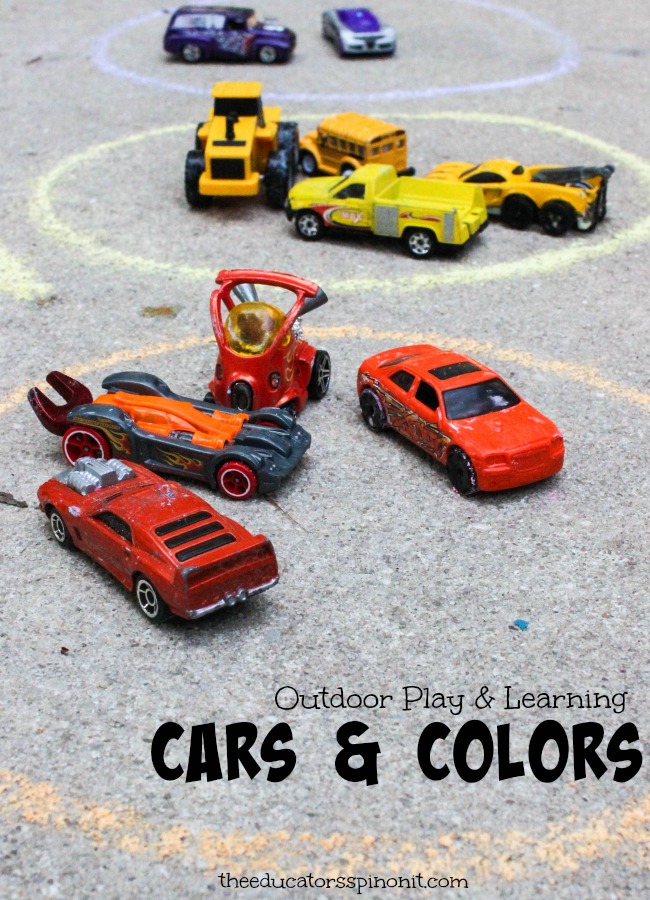 Affiliate Links
Materials Needed for Car Color Sort
Sidewalk chalk
3 cars or other small vehicles
Ages: Best for ages 3-6
Learning Objective: Children will sort cars by color.
Directions for Car Color Sort
Draw color circles with the sidewalk chalk on the driveway.
Set cars near the circles. Point to the color circles and say the name of each color.
Let your child sort the cars by color. Encourage them to say the name of the color as they put the cars in each circle.
Pick up a car with more than 1 color. Ask what circle the car would go in. Then have your child explain why they selected that circle.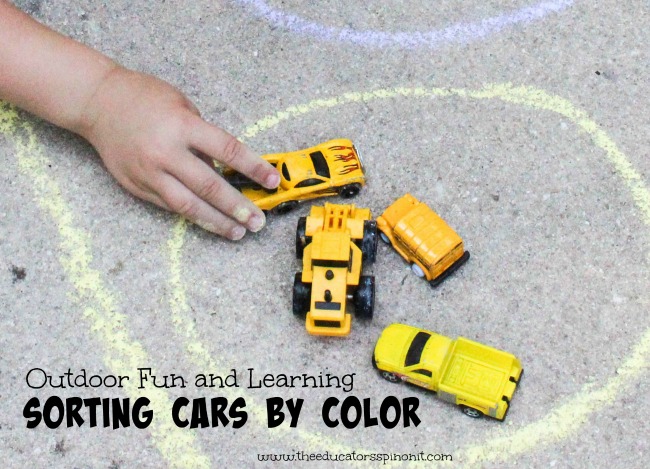 "Does this go in the yellow circle Mama?"
Activity Extensions for Color Car Sort
For kids who already know their colors: Select one color chalk and make circles with just that color. Write a different color word underneath each circle. Have your child complete the above directions for the car color sort. The learning objective changes to: reads the color words.
Make color word cards. Use a black permanent marker and write a color word on a 3×5 notecard. Use all lowercase letters. Set these color cards in a pile next to the color car circles. Read the word to your child. Then have them place the card inside the correct circle.
Love learning with cars?
Zoom your cars to build letters with this easy letter matching roads driveway maze.
Grab your water buckets. Splash, giggle and learn with this Car Wash Subtraction activity for kids.
FOR EVEN MORE PLAYFUL LEARNING CAR ACTIVITIES FOR KIDS, YOU MAY ENJOY
Learning about Weight with Cars
Save
Save