My daughter has difficulty tracking objects with her eyes and so we've worked on quite a few mazes in the past few years. Mazes are great for requiring kids to use and strengthen hand and eye coordination. We used to go through a LOT of maze books, until I got smarter and started to make my own.
This Letter Matching Roads maze is quick to make and FUN to drive cars on. Not only is it good for strengthening hand-eye coordination, but also brings in a little alphabet learning.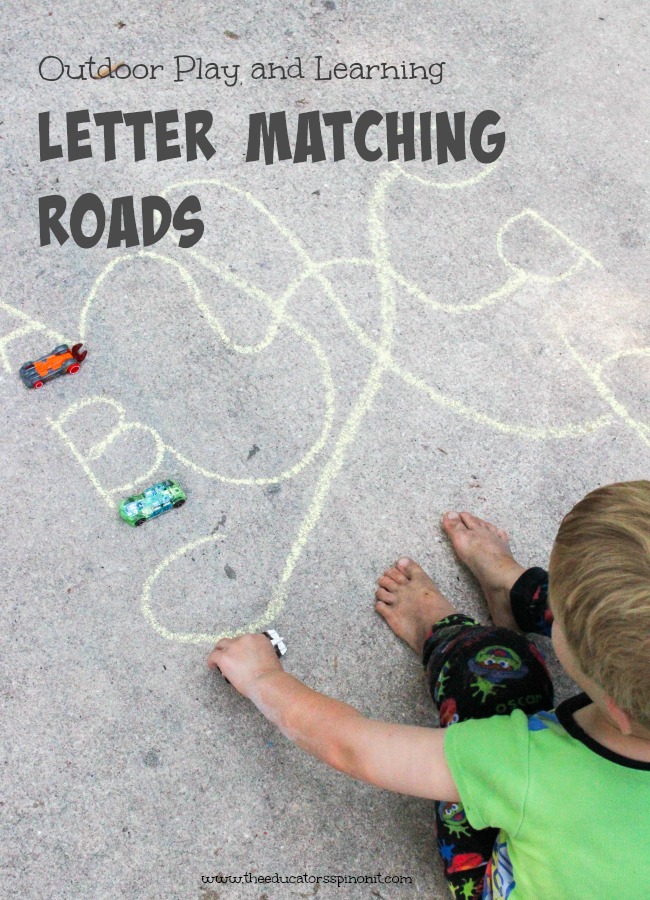 Making Letter Matching Roads an all-around great activity for little learners. It has:
Outside learning.
Movement.
Repetition without flashcards.
No paper needed!
Affiliate links
Letter Matching Roads Maze Activity
Ages: Best for ages 3-6
Learning Objective: Children will match uppercase and lowercase letters of the alphabet.
Vocabulary: Upper case and lower case letters.
Materials Needed for Letter Matching Roads
• Sidewalk chalk
• 3 cars or other small vehicles
Directions for Letter Matching Roads
1. Select 3 letters. With the sidewalk chalk, write the uppercase letters you selected in a vertical line on the sidewalk or driveway.

Example
A
B
C
2. Write the 3 lower case letters to the right in a row – BUT mix up the order.

Example
c
a
b
3. Draw a road between the correct letters. Use swoops, squiggles and turns. Make the letter matching roads easier or harder to follow depending on your child's age and fine motor ability.
4. Set one car on each upper case letter. Say the name of the letter and the sound it makes. Sample: "This is the uppercase letter A. It makes the sound /a/ like the beginning of the word apple."
5. Have your child point to the three uppercase letters, say their name and their sound.
6. Encourage them to drive their cars along the letter matching roads to find the matching lowercase letters.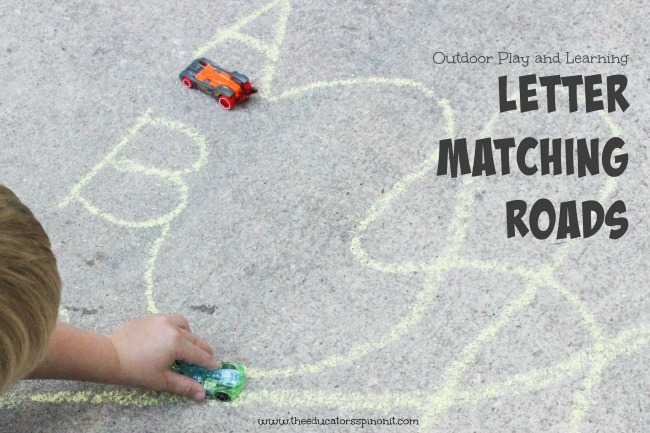 Letter Matching Roads Activity Extensions
For younger learners, start with the letters in their name.
For more advanced readers, write two words in the same word family on opposing sides of the maze. Have children find the words in the same word family. Cat – hat, tip – zip, fun – run.
Love learning with cars?
Grab your water buckets.  Splash, giggle and learn with this Car Wash Subtraction activity for kids.
FOR EVEN MORE PLAYFUL LEARNING CAR ACTIVITIES FOR KIDS, YOU MAY ENJOY
Learning about Weight with Cars