Explore colorful hands-on fun this spring with Rainbow activities for Preschoolers. Focus on learning colors with your preschool with rainbow science and rainbow crafts using everyday items around your home.
Here's a collection of our favorite rainbow activities.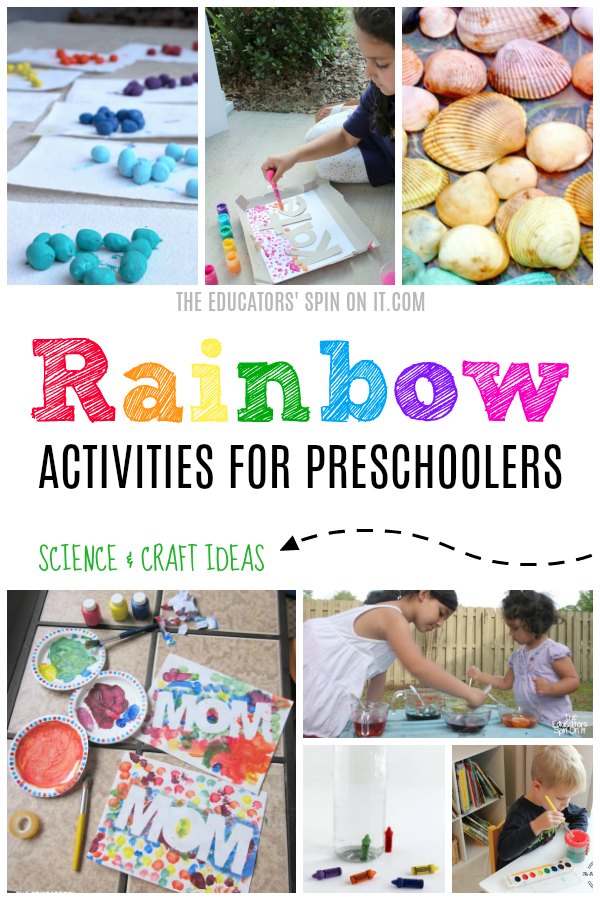 Disclosure: This post contains affiliate links to Amazon.
Rainbow Themed Week
Our Weekly Virtual Book Club for Kids has some fun weekly themes and I must admit rainbow week is one of my favorites to do with preschoolers and toddlers. There's something quite magical about a rainbow to kids and adults alike! Grab a prism (like this one on Amazon) and explore how you can make your very own rainbow with sunlight.
In the story How the Crayons Saved the Rainbo the Sun and the Clouds are best friends. Together they keep the world warm, the gardens growing, and the sky full of beautiful rainbows. However one day they get into a fight and refuse to be in the sky together. Which you can only guess means there are no longer any rainbows.
In the story, you discover that without rainbows, the colors start disappearing until Earth was left with no color … except for one little forgotten box of crayons in one little school desk. You'll have to read with your preschooler to see how they solve this problem.
How the Crayons Saved the Rainbow teaches the importance of teamwork and perseverance through the eyes of some very colorful crayons.
After reading the story you'll want to do some rainbow activities with your child and I've gathered some of my favorites just for you!
Rainbow Activities for Preschoolers
We're putting a special spin on these rainbow activities featured to have rainbow science or rainbow crafts to them as you explore.
You can also visit the Virtual Book Club for Kids website to peek at our 5 featured rainbow activities or hop into the Virtual Book Club Facebook group for even more ideas.
Are you ready for some fun with colorful rainbow activities?
Rainbow Crafts for Preschoolers
Kick off your rainbow week with this adorable Rainbow Scavenger Hunt. Then head to the craft table to make your very own Rainbow Themed Book where you can work on colors words and even more. We even focused on a new language in our DIY Rainbow Book.
Don't forget to plan for your Rainbow Snacks with these fun recipes that sneak in some fruits and veggies too!
Then it's time for a little rainbow craft! Grab your paint and recycled cardboard to explore this Drip Painting Rainbow Name Activity. It makes for a perfect rainbow craft that can hang on the wall for a keepsake.
You can sneak in a little color word fun with your preschooler by making this Rainbow Color Word Game with Lids.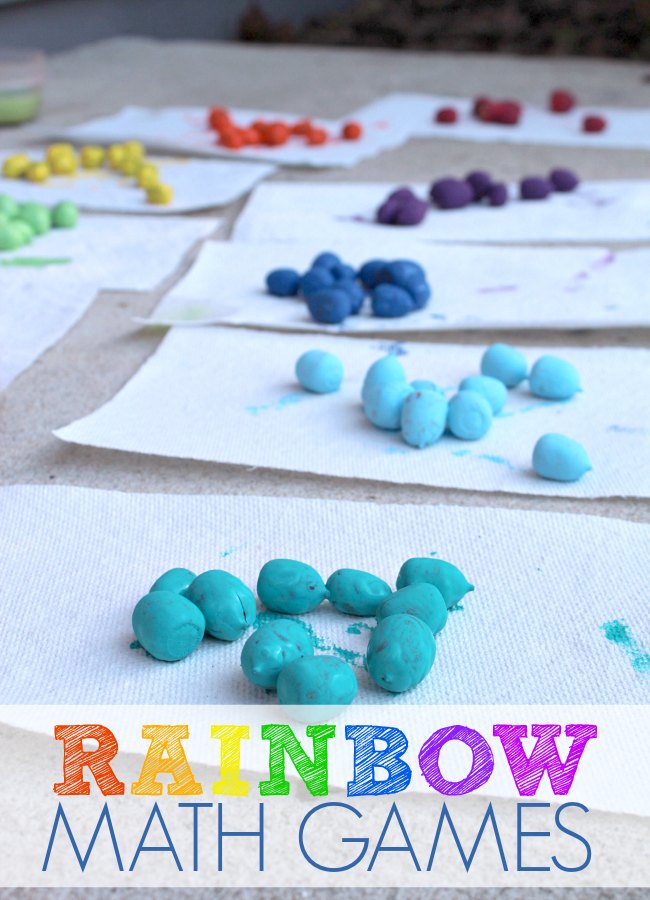 It's always fun to see how you can reuse items in nature and sneak in a little learning too. This colorful Rainbow Acorn Math Activity kept my preschooler busy for weeks, literally.
Plus you can turn it into a finished craft project when you're doing with the math games. Test out this Rainbow Blow Painting STEAM challenge with the paint you used.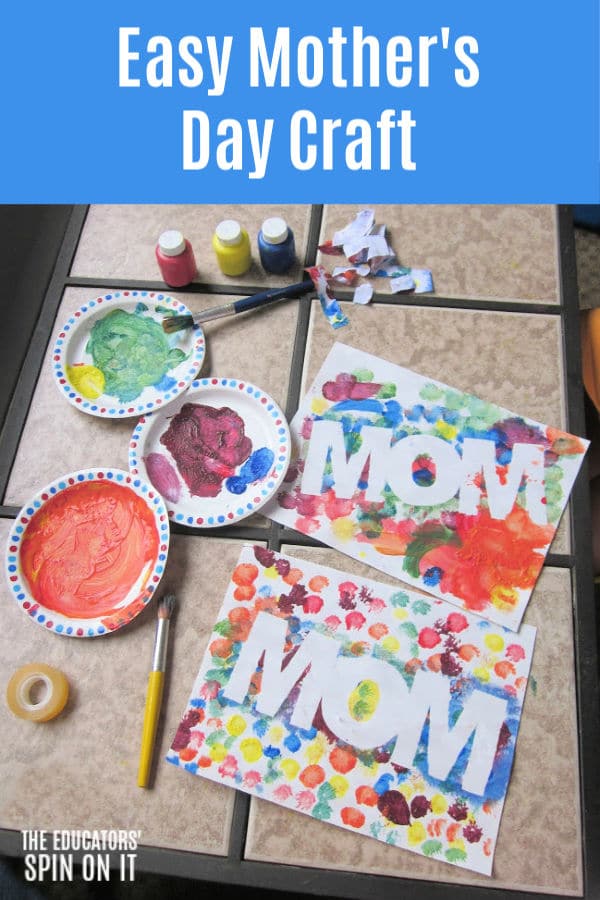 Get inspired by a popular book with this Rainbow Name Activity Inspired by the Book Mouse Paint. Plus learn how the colors of the rainbow are made through a paint craft. Who's name will you discover under the mouse prints?
Want another story craft? Try this Rainbow Stew Felt Food Activity that makes for a perfect sibling activity.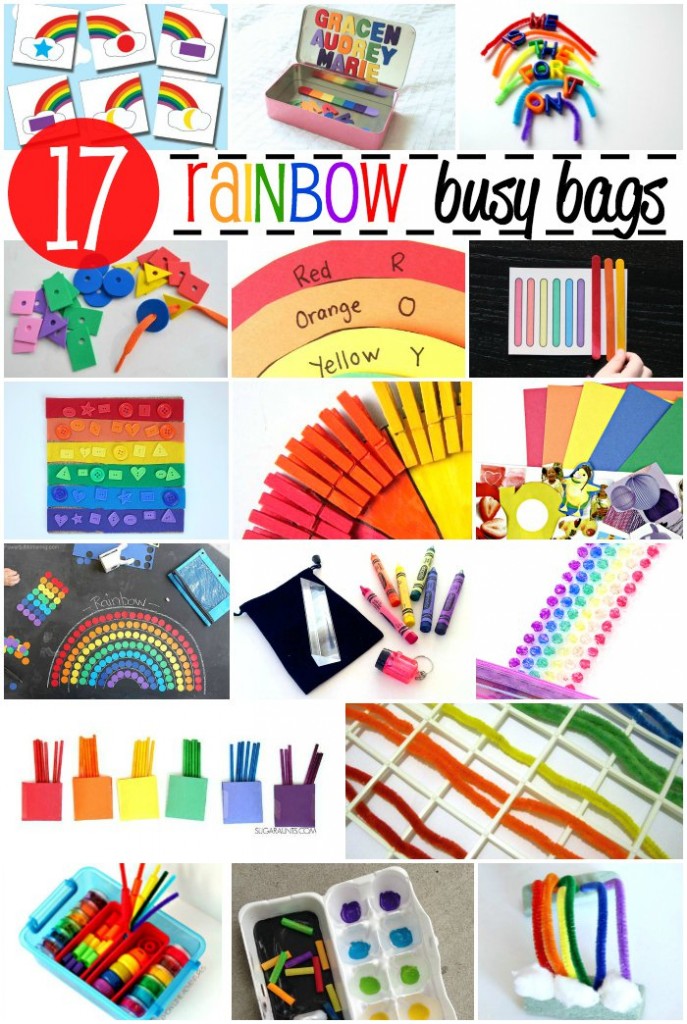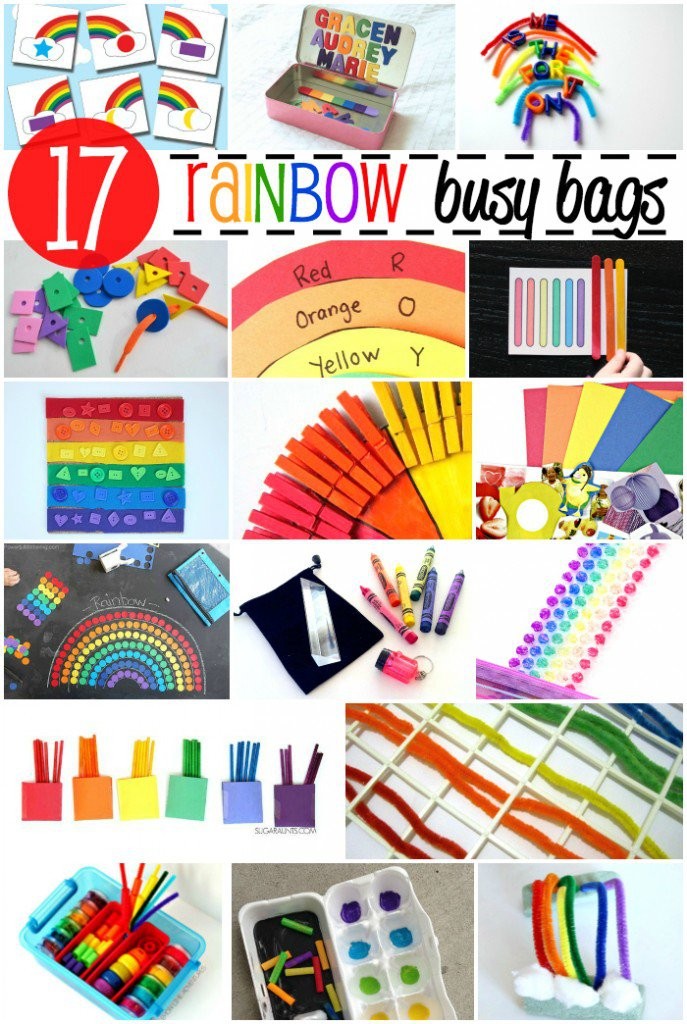 One of the best things about Rainbow Crafts is that they can easily become a busy bag too. Take a look at our 17 Rainbow Busy Bag Ideas to add to your activities.
Start off your rainbow busy bag by learning how to Make Rainbow Clothespins plus explore our clothespin game ideas.
Rainbow Science Activities for Preschoolers
Kick off your rainbow science by making your very own Rainbow Crystal Experiment . Leave it out the whole week while you explore the following rainbow science experiments with your little one for hours of discovery and learning.
<Buy these adorable tiny crayons buttons here>
Later in the week, you can "eat the rainbow" during science with this Skittles Rainbow Science Investigation.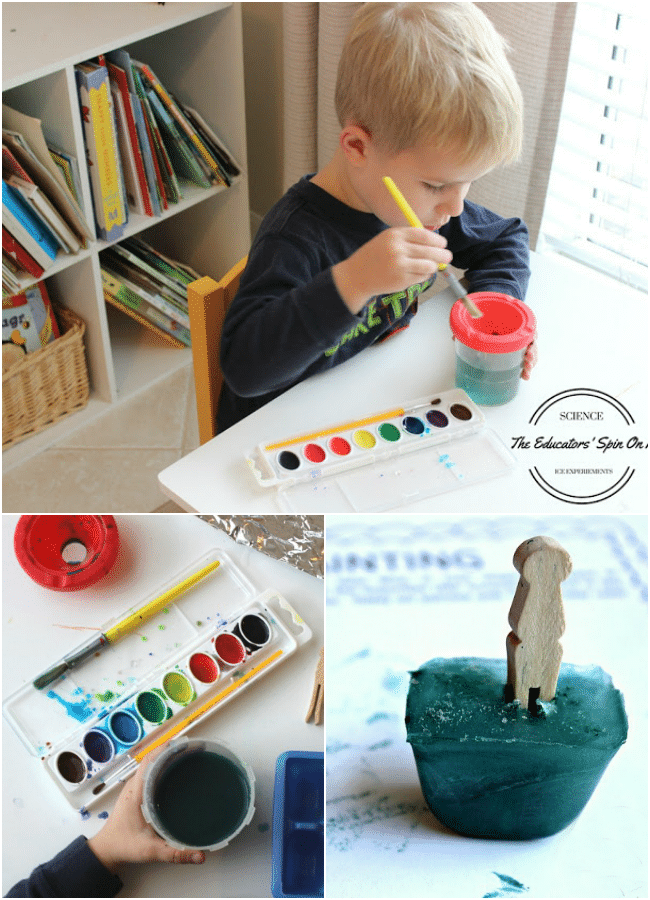 Have you ever painted with a frozen rainbow? Text your science skills with this Rainbow Ice Painting with Watercolors Experiment. Plus now that you've made rainbow ice you can test your skills at making Rainbow Ice Sculptures.
Growing crystals in your home is a very fun science experiment for kids. Learn how you can grow crystal rainbows with this neat project!
I could easily see tons of fun with this Water Beads on Ice Experiment with rainbow-colored beads too.
It wouldn't be Rainbow science without a frozen Rainbow snack too.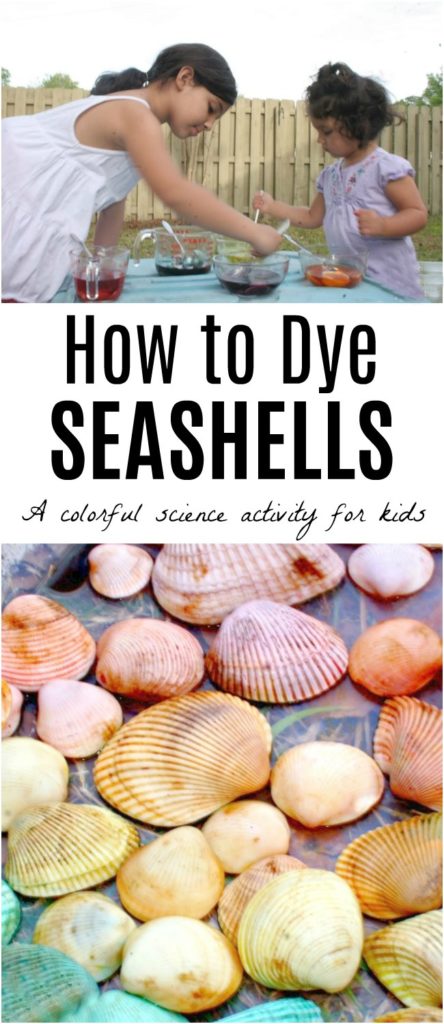 This one counts for both a rainbow craft and rainbow science. Make your own Rainbow Sea Shells !!! You'll never guess what we used to dry our shells!
There's something very powerful about using water to make a rainbow with your preschooler. Did you know that with just a few supplies you can set up a Rainbow Walking Water experiment? Or add a little milk and dish soap for a colorful Rainbow Milk Science Experiment.
Liquids make the best fun for Rainbow Science! This Rainbow Density Experiment adds colorful layers or go even further into the rainbow theme with these Rainbow Glitter Sensory Jars.
One of our favorite collections is this featured Rainbow Activities for Spring, it's pretty cool to see how much you can do with a few supplies around the house. Which one will you try first?
You can even sneak in the computer with this activity on how to Make a Rainbow with Technology.
Share your rainbow week with us! Tag us on Instagram or Facebook #vbcforkids
Rainbow Books for Kids
Do you have a favorite book about RAINBOWS? Share with us in the comments below.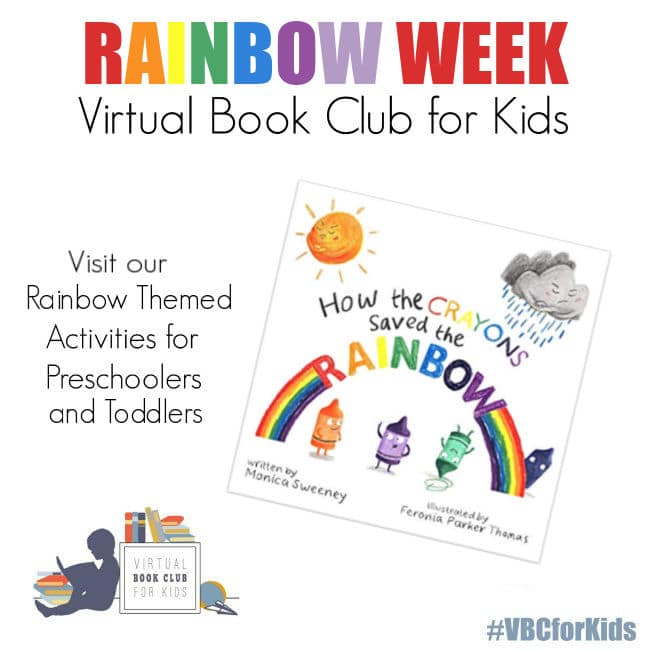 Don't forget to stop by our Virtual Book Club for Kids Facebook group to share your Rainbow Activity Photos for Rainbow Week!